Allergy-Friendly Restaurants in Jacksonville, FL
From the Saturday Farmer's Market with several gluten-free and vegan vendors to the restaurants around town with menu items marked "vegan" and "gluten-free" scattered throughout, this city is definitely catering to those with food restrictions, especially vegans! There are so many allergy-friendly restaurants in Jacksonville, FL!
Kaleb and I recently had the opportunity to spend a few days in Jacksonville, FL. (More on our adventures around the city in this post).
Are There Any Allergy-Friendly Restaurants in Jacksonville?
I have several food allergies and intolerances. So, when we travel, my first thought is, "Which restaurants can accommodate my food restrictions?" This is usually my biggest concern, reasonably so.
For those of you who don't know, I follow a pretty strict diet where I avoid gluten and dairy and try to avoid corn and soy. My husband can't have shellfish or mushrooms. So I know how difficult it can be to find restaurants that cater to food allergies, food intolerances, or diets of any kind.
My friend Lauren, a vegan who is also soy-free, showed us around town. She's lived in Jacksonville for years and knows Jacksonville like the back of her hand, so she was the perfect person to serve as our tour guide!
I hadn't been to Jacksonville in about 10 years. And, while the positive changes to the city impressed me greatly, I was most impressed by the city's emphasis on serving those with food restrictions.
---
Traveling and eating gluten and dairy-free? Check out these posts on allergy-friendly restaurants in Indianapolis, IN, Washington DC, or Savannah, GA.
---
**This information is not meant to circumvent medical advice or to identify what foods bother you personally. Each person is different and responds differently to things in their environment. This blog shares Kaleb and Alicia's experiences and options you may want to try if you are trying to live a healthier life and avoid similar things. Please do your research, speak with your healthcare professional, learn what bothers you and helps you personally, and take the steps needed from there. Also, please remember that menus change, so you will need to look at the current menu.
---
Our List of Allergy-Free Restaurants in Jacksonville, FL
Fla. Juice & Bowl
This was our first stop after getting off of our flight. Located on San Marco Blvd. in San Marco, Fla. Juice & Bowl serves smoothies, acai bowls, and poke bowls.
We opted for the smoothies, as it was after lunch but not time for dinner yet. I would have loved to have tried a few other things on their menu, but it really wasn't the right time.
Kaleb and Lauren went for the Tropics smoothie, a blend of banana, mango, pineapple juice, ginger, and coconut milk. I decided to be a little more daring and went for the Cocoa Acai smoothie, a blend of acai, banana, cacao powder, and cashew milk. I think the acai was a little much for my taste. It had a bit of a chalky/earthy taste to it that I wasn't expecting to be so strong. But I, admittedly, don't have much experience with acai. And I still drank it up!
But Lauren and Kaleb (and me because I snuck a sip of Kaleb's!) agree that the Tropics smoothie was a ten!
I would love to try their Acai bowls or Poke bowls another time though. (Their Acai bowls looked AMAZING!!) Lauren had only good things to say about this restaurant!
Delish Kabobs Brazilian Street Food Food Truck
On our first night in town, we went to an outdoor music concert on the lawn downtown. Honestly, we didn't have too many expectations for the food there. We were there for the music, not the food.
But, wow! Delish Kabobs Brazilian Food Truck lives up to its name! It was Delish!
In fact, it was actually my husband Kaleb's favorite meal during our time in Jacksonville! He got the steak kabobs while Lauren and I got the veggie ones (you may have to ask for the veggie ones. They often aren't on the menu).
I know the sauce did not contain soy (because I confirmed it with them), but whatever it did have was phenomenal!
The kabobs are served with your choice of rice or french fries.
Each kabob meal was a little more than $10 per person, and the portions were generous enough to fill us up.
First meal down, and we were already impressed!
Southern Grounds- A Great Option for Allergy-Friendly Restaurants in Jacksonville!
Southern Grounds, has three locations in Jacksonville, one in San Marco, one in Avondale, and one in Neptune Beach.
Southern Grounds has started to jump on the vegan train that seems to be all over Jacksonville. The restaurant had a few vegan, vegetarian, and gluten-free options. And they had several options that could be adapted for food restrictions.
I got the veggie tacos with sweet potatoes, black beans, pickled red onions, and avocado and put it on a bed of lettuce without the corn salsa (since corn is on my "no" list). It tasted great! My husband got the Korean steak and wasn't a huge fan of it, but he definitely wasn't complaining. We just had some other great food in Jacksonville that was higher on his list.
This place definitely looked like a great place for breakfast if you aren't gluten-free. There were a few baked goods (breads, bagels, muffins, etc) and a parfait on the breakfast menu. It all sounded great!
Also, while most of the baked goods at the front of the store wouldn't have been an option for someone with a food allergy, they did have two gluten-free and vegan muffins: Blueberry and Morning Glory.
True Food Kitchen- Our Favorite Choice for Allergy-Friendly Restaurants in Jacksonville!
My Top Pick
If this post was a countdown, True Food Kitchen would be my top pick! Located also in Arizona, California, Colorado, Illinois, and a few other states, I'm not sure how I'd missed this restaurant even existed!
I'd never heard of it before, but this restaurant far exceeded my expectations. The waitress knew the menu well and quickly threw out ideas that would fit my dietary restrictions, the kitchen staff placed my meal apart from others to prevent cross-contamination (we could see into the kitchen from our seats), and the manager brought the food over and welcomed us to the restaurant.
We were thoroughly impressed!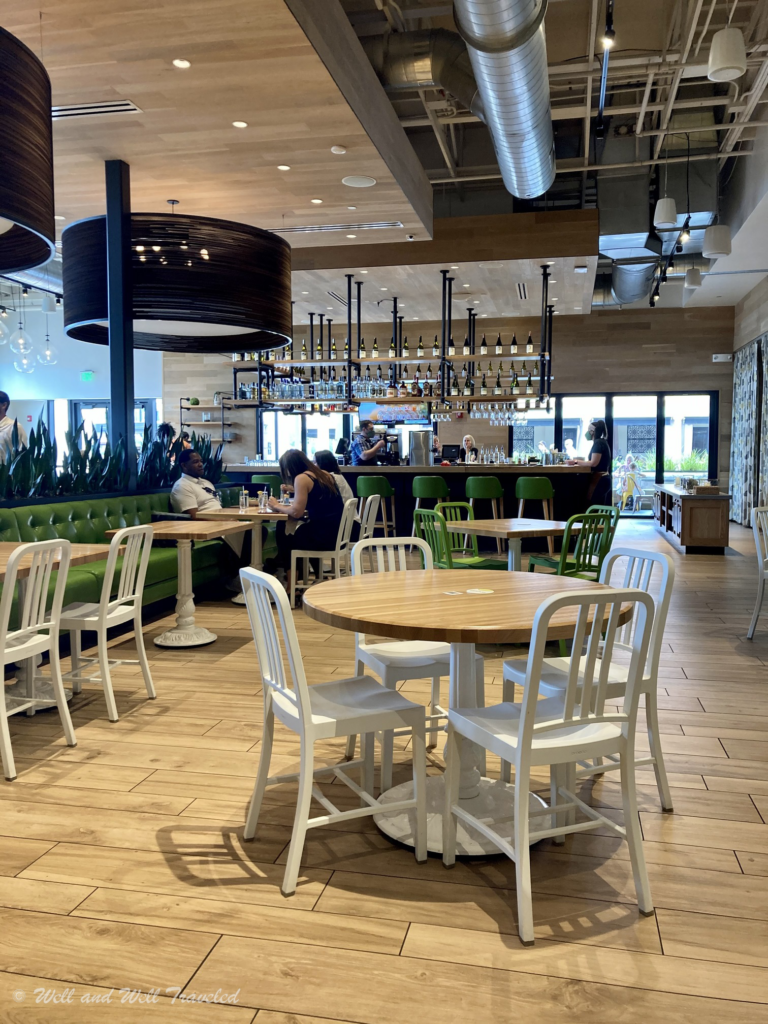 True Food Kitchen is located on the Southeastern side of the city where 202 and 295 intersect. The decor was casual and so inviting and the staff was great, but what really set this place apart was the food.
My Experience
I ordered the gluten-free, vegan, spinach and mushroom pizza with caramelized onions and almond ricotta cheese. You guys! I haven't had pizza at a restaurant in SO LONG! If a pizzeria has a gluten-free crust, I often get that without the cheese (bbq sometimes works to hold it together).
But I had been missing real pizza for a long time.
I couldn't have been more pleased both with the taste and texture of the crust and with the flavor of the pizza. The crust tasted like regular thin crust pizza, and the dollops of almond ricotta made me feel like I was finally getting a real cheese pizza!
I feared it would taste bland, but it was anything but bland! The almond ricotta cheese was the star of the dish with the caramelized onion paring with the spinach and mushrooms so well.
To end our meal on a great note, Kaleb and I shared vegan, gluten-free cookies and ice cream. Yum!
Riverside Arts Market (RAM)
Okay, I know this isn't a restaurant. It's an arts and farmer's market. But it's worth being on this list of best Jacksonville eats for those with food restrictions.
The vendors of this arts and farmer's market were very focused on natural health. At one stand, I got some natural calming shampoo for our dog who has a fear of storms. At another, I grabbed some dairy-free and soy-free cheese that was packed full of flavor.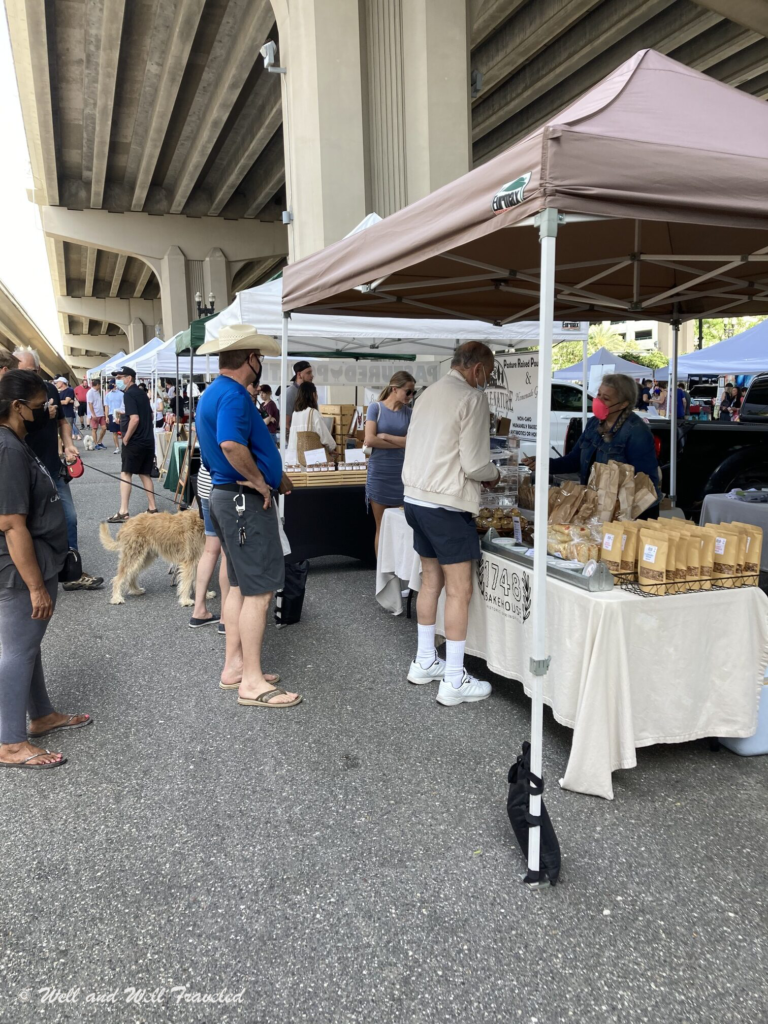 The Riverside Arts Market, also mentioned in our Jacksonville Attractions post, is located under the I-95 bridge and is only open on Saturday mornings.
There were probably 40-50 vendors that day in April when we visited (not including food trucks). Of those vendors, the majority were selling arts and crafts. However, there were probably 10 or more vendors that day carrying allergy-friendly foods and an additional ten or so carrying either fresh fruits and vegetables or allergy-friendly skin and beauty products.
So while this isn't a restaurant, it's still worth the stop. Pop in like we did and grab some veggies for cooking with later, some gluten-free and vegan baked goods, some vegan and soy-free cheese, or even some glass artwork or macrame wall hangings, among other things.
I promise there's something there for everyone!
Fusion Food Truck at RAM is Even an Allergy-Friendly Restaurant in Jacksonville, FL!
The Riverside Arts Market had about eight to ten food trucks lining the edge of the market the day were there. I noticed one called Kra Vegan and another called Guanabana that may be worth looking into if you are planning to be in the area. They both looked like they could accommodate food restrictions.
Lauren and I opted for Fusion, a food truck known for its blend of Indian, Thai, and Mediterranean food. They had four gluten-free and vegan curry options. After confirming their curry was also corn and soy-free, I ordered the banana curry with chicken added. I've never had banana curry and found it to be a great mix of flavors. I would definitely order that again!
Sweet Pete's Candy Shop
Okay, so this is not a "restaurant", but it still needed to be on our list of allergy-friendly eats.
Sweet Pete's Candy Shop, located in the heart of the city on Hogan street, had surprises left and right! Not only does this 3 story mansion-turned-into-candy shop boast an ice cream parlor, a chocolate shop, and some elaborate decorations, but it also surprised us with a wall full of vegan options as well! If you follow a vegan or dairy-free diet, you're sure to find a few great options here!
Because I am gluten and dairy-free but also try to avoid soy and corn, I was unable to find something that worked with all four of my dietary restrictions. (The vegan chocolate contained soy, and I couldn't find candy without corn syrup). But I think this would be a great option for someone with a sweet tooth who's looking for some allergy-free options, depending on the food restriction.
---
There are So Many Allergy-Friendly Restaurants in Jacksonville!
Jacksonville's ability to cater to those with food restrictions set it apart from so many other cities. I was thoroughly impressed at their conscious desire to create dishes that provide creative and delicious options to people of all diets but especially gluten-free, dairy-free, and vegan.
If you have a food allergy or intolerance, Jacksonville, Florida should be on your list of cities to visit! Even if just passing through the area, it's worth a stop around lunch or dinner time. There are so many allergy-friendly restaurants in Jacksonville, FL!