Dairy-Free Ice Cream at Disney World: Beaches and Cream, Dole Whip, and More
Every time I go to Disney World I crave ice cream! The strong Floridian heat plus the constant running drastically increases my desire for a cold treat! But I follow a dairy-free diet, which means most ice cream and milkshake options are out. However, one reason I love Disney is that dairy-free ice cream at Disney World does exist!
From NASA's Kennedy Space Center to the Seaquarium in Miami and the Science Museum in Jacksonville to Dry Tortugas National Park off of Key West, my husband and I have swept the state of Florida looking for the most interesting things to do.
But we always seem to come back to Disney World!
Disney World in Orlando, FL is really the happiest place on earth! The captivating rides, the fun character experiences, the luxurious smells (did you know they pump amazing smells throughout the parks and resorts?) and the fun or sometimes calming music… it will take your stress away and put a smile on even the biggest grinch's face!
And I don't know any other place anywhere in the world that is more accommodating of food allergies. Being dairy-free and gluten-free myself, Disney World truly is magical!
What are My Dairy-Free Options? Where Can I Find Dairy-Free Ice Cream at Disney World?
There are actually several locations where you can get dairy-free ice cream at Disney World, usually Tofutti brand and Rice Dream brand. Some are at the parks, and others are at Disney Springs and the Disney Resorts. Disney Springs is an outdoor mall with lots of shops and restaurants (and free parking!). The resorts would need to be accessed either by staying at the resort or by having a dinner reservation.
Dairy-Free Ice Cream at the Parks
Here are your choices for dairy-free ice cream at Disney World in Florida.
Plaza Ice Cream Parlor at Magic Kingdom
We love Plaza Ice Cream Parlor on Main Street at Magic Kingdom (closest to the castle)!
Tell the cashier taking your order at Plaza Ice Cream Parlor that you have a dairy allergy, and they'll bring an allergy specialist out to meet you. The allergy specialist takes allergies very seriously.
There are three options at Plaza Ice Cream Parlor… dairy-free vanilla ice cream, chocolate ice cream, and raspberry sorbet. You can choose one scoop or two.
When we visited Magic Kingdom recently, the allergy specialist took my order (one scoop of dairy-free vanilla ice cream), went to the back of the kitchen and washed her hands AND put new gloves on, worked in a separate area to prepare the ice cream, and then handed it to me personally to prevent cross-contamination.
Dole Whip at Magic Kingdom
Aloha Isle in Magic Kingdom's Adventure Land has DOLE Whip.
Note: Vanilla and Chocolate DOLE Whip actually do have dairy in them. The DOLE fruit flavors are dairy-free.
There are currently two dairy-free options at Aloha Isle… raspberry and pineapple. When we ordered DOLE Whip, the employee prepared it in the back away from the other DOLE Whips and then presented it to me personally.
Adventure Land at Magic Kingdom is definitely the place to get dairy-free DOLE whip at the park!
Sunshine Tree Terrace at Adventure Island also has several floats and soft serve DOLE Whip options. The "I Lava You" Floats made from DOLE whip and Fanta strawberry soda are popular, but there are many other float options!
Take a ride on the Pirates of the Caribbean or Jungle Cruise rides and then grab a DOLE Whip float while you're in Adventure Land!
Dole Whip at Disney's Animal Kingdom
Tamu Tamu Refreshments in Africa at Animal Kingdom serves Dole Whip. You can get pineapple Dole Whip in a cup, in a float with pineapple juice, or in a float with orange soda!
Dairy-Free Ice Cream at Disney World's Hollywood Studios
Located across from Beauty and Beast on Sunset Blvd., Hollywood Scoops at Hollywood Studios has vegan ice cream. It is Tofutti Brand. Visitors that are dairy-free have a choice between chocolate and vanilla ice cream.
As with Plaza Ice Cream at Disney's Magic Kingdom, when we ordered recently, the allergy specialist at Hollywood Scoops was called to discuss my options and went to the back to wash her hands and prepare my order away from the other ice cream orders.
Additionally, though not listed on the menu, Sci-Fi Diner at Hollywood Studios also often has dairy-free milkshakes. You will want to make a reservation if you plan to eat there.
Dairy-Free Ice Cream at the Disney Resorts
Did you know you can visit the Disney Resorts without staying at them? It's true! You will need a dining reservation though (or plan to walk or take Disney transportation… you just can't park without a reservation). But, while you're there, grab some ice cream! Here are some dairy-free ice cream options at Disney World Resorts.
Ice Cream at Beaches and Cream Soda Shop
Beaches and Cream Soda Shop, located at the Beach Club Resort next to Epcot, is a 50's diner-themed restaurant. It is a sit-down option that can get very busy (and very loud!). Reserve a table ahead of time for guaranteed entry.
They have vanilla and chocolate dairy-free ice cream that can replace most menu items made with dairy.
Personally, I also have a gluten allergy as well. So my options at Beaches and Cream were a little more limited. But I was still impressed at how many choices they had!
There are a few gluten-free and dairy-free options.
Brownie A la Mode: I was so excited to try this! But they actually didn't have dairy-free brownies the day we visited!
Dairy-Free Ice Cream Sundaes: I got this one instead. Visitors get two scoops of ice cream. I chose one of vanilla and one of chocolate. Personally, vanilla is a favorite of mine, and I definitely thought the vanilla not only tasted better but also had a more creamy texture. Unfortunately, Beaches and Cream did not have dairy-free whipped cream when we visited (though they sometimes do), so that had to be omitted. But there were lots of topping choices including almonds, syrup, pineapple, cherries, and more.
Banana Split: My husband got the banana split. He does not have a dairy allergy, so he ordered it with regular ice cream. The waitress told me I could get it with dairy-free vanilla and chocolate ice cream but the strawberry ice cream and whipped cream would have to be omitted to make it dairy-free.
No Way Jose: a peanut butter, hot fudge, and dairy-free ice cream option. Yum!
Dairy-Free Ice Cream at Disney World's BoardWalk Ice Cream
BoardWalk Ice Cream at the Boardwalk Inn has some basic vegan ice cream options. And they are cheaper than other locations around Disney, especially Beaches and Cream Soda Shop!
Dairy-Free Dole Whip in Several Places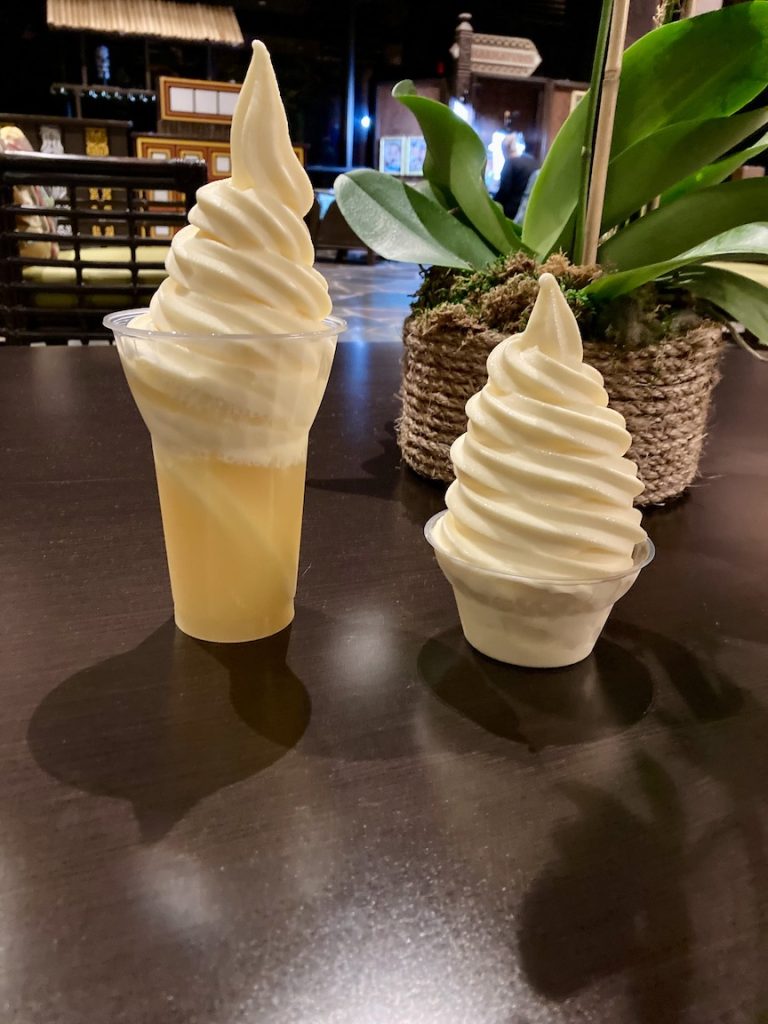 Not only can Dole Whip be found in several locations throughout the park, the Polynesian Resort also has Dole Whip at Pineapple Lanai located just outside of the resort on the way toward the pool and resort beach. Grab a cup of Dole Whip and watch the fireworks from the beach one night!
Swirls on the Water at Disney Springs close to Rainforest Cafe also serves Dole Whip. You can get a cup or have a float made with a few different alcoholic options.
Other Dairy-Free Cold Treats at Disney World
If you're looking for a cold treat at the Disney World parks or at the Disney resorts, here are a few great dairy-free options! Of course, there are so many more (especially lemonades and alcoholic options!), but here are a few options:
Frozen Lemonade at Disney's Magic Kingdom
Casey's Corner at the corner of Main Street in Magic Kingdom has a frozen lemonade mint julip that is alcohol-free and dairy-free. Enjoy the outdoor piano music and catch a view of the castle as you enjoy!
Sorbet at Epcot
L'Artisan des Glaces in France at Epcot has dairy-free (vegan) sorbet in the following flavors: mango, strawberry, raspberry, and pina colada. We tried to check it out, but the line out of the shop was crazy long and was moving slowly. I'm hoping we just caught it at a bad time.
Dairy-Free Smoothies in Several Disney World Locations
Smoothies can be made dairy-free throughout most of the parks and resorts. I've had a strawberry smoothie (my favorite!) in Africa at Animal Kingdom and by the pool at Animal Kingdom Lodge. But I've also seen raspberry and lemon as flavor options around Disney World Florida.
So Many Dairy-Free Ice Cream Options at Disney World!
I have been thoroughly impressed with the number of options for dairy-free ice cream at Disney World! Disney World is so conscious of allergies and truly wants to help those of us with food allergies to enjoy our experience. Hope you enjoy yours!