5 Best Gluten Free and Dairy Free Bakeries Near Indianapolis, IN
As an Indiana native with food allergies, I have been pleasantly surprised by how many gluten free and dairy free bakeries near Indianapolis are popping up! I can name several that have made their debut in just the last year or so! Here's our list of the best options in the area!
I have been gluten-free and dairy-free for many years now. When I first changed my diet, there were very few options in Indianapolis… for restaurants or bakeries! In fact, I made most of my baked goods at home because bakeries didn't have gluten-free goods, and definitely not dairy-free goods!
But Indianapolis has come a long way! It's now very possible, for example, to drop by a bakery for some gluten-free and dairy-free cookies on your way to other Indy attractions or pick up an allergy-safe birthday cake on your way to the big party (no home baking required!).
**This information is not meant to circumvent medical advice or to identify what foods bother you personally. Each person is different and responds differently to things in their environment. This blog shares Kaleb and Alicia's experiences and options you may want to try if you are trying to live a healthier life and avoid similar things. Please do your research, speak with your healthcare professional, learn what bothers you and helps you personally, and take the steps needed from there. Also, please remember that menus change, so you will need to look at the current menu.
What are the Best Gluten Free Dairy Free Bakeries in Indianapolis?
As an Indiana native, here's my list of the best gluten-free dairy-free bakeries around Indianapolis.
1. No Label at the Table: Gluten-Free Bakery with a Mission
No Label at the Table was established in 2019 with a mission to not only make great gluten-free baked goods but also staff those on the Autism spectrum.
This north Indy bakery offers gluten-free cakes, cupcakes, pies, muffins, waffles, and more! All items are gluten-free; however, dairy-free and soy-free options are available.
Located in the arts district of downtown Carmel, IN and just down the Monon walking trail from Matt the Miller's Tavern (with several gluten-free and dairy-free options!), No Label at the Table is open for drop-ins from those wishing to see what's available at the moment or for pick-up orders made 48 hours in advance online.
Address: 111 W Main Street Suite 145 Carmel, IN 46033
As an added bonus, No Lable at the Table ships to any location in the US!
Our Experience with No Label at the Table

We ordered a pumpkin pie and Disney's Mickey Mouse toaster waffles online to be picked up two weeks later at No Label at the Table. About 3 days ahead of time we got a text from a staff member saying the pumpkin pie would not be available. We chose to go with the peach pie instead.
The peach pie was a good size and filling. Though the crust was a little tough to cut, it was not dry in the slightest (which can be a challenge with gluten-free baking)! The peach pie was delicious!
The waffles were really thick and reasonably priced ($5 for 6 waffles). I loved that they were fluffy, but I wasn't a fan of the aftertaste of them. My husband (who is a much pickier eater than I am!) loved them! I suggest you order one pack of the toaster waffles and try them out to see what you think before you commit to ordering too many at one time.
I would definitely suggest others try No Lable at the Table! This gluten-free and dairy-free bakery near Indianapolis has a wonderful mission and makes delicious food! The consistency of the baked goods was on par!
2. Native Bread: Dairy Free, Gluten Free, Corn Free, Egg Free, and More!
We were so excited to check out Native Bread! This gluten-free and dairy-free bakery serves artisan bread and other baked goods that are dairy-free, gluten-free (including their oat flour), corn-free, soy-free, egg-free, and nut-free!
Native Bread's storefront offers loaves of artisan bread including cinnamon raisin, honey oat, rosemary garlic, and sourdough. They also have hamburger and hotdog buns, flavored croutons, cookies, scones, and more.
Native Bread has a storefront in North Indianapolis and is also a vendor at the Broadripple Farmer's Market in the summer on Saturday mornings.
Address: 9546 Allisonville Rd. Suite 106 Indianapolis, IN 46250
Our Experience with Native Bread Bakery in Indianapolis
This was probably my favorite bakery of the gluten-free and dairy-free bakery choices in this post.
We got a loaf of their olive bread (flavored with kalamata olives! Yum!!), a blueberry scone (a little more crumbly than we'd prefer but still amazing!), and a chocolate chip cookie with sea salt on top (delicious!).
We ate the scone and cookie in the car and took the bread home to cut and toast in our toaster.
The food was delicious! And it was free of so many allergens! I was very impressed!
Other Things to Note About Native Bread Bakery
Probably the biggest downside to this bakery is when it's open. It is open every Tuesday, Thursday, and Saturday from 9-2pm. We have struggled to find a time to check them out. Our choices are to go during normal working hours or cancel plans on a Saturday to make it over by 2pm. (We stay busy in the summer on weekends!). It took several months to first check them out, but it finally worked out.
Hopefully, as the business grows, it'll be more accessible. Native Bread definitely has delicious baked goods!
3. Aspasia Coffee and Bake Shop: 100% Gluten Free Bakery with Dairy Free Baked Goods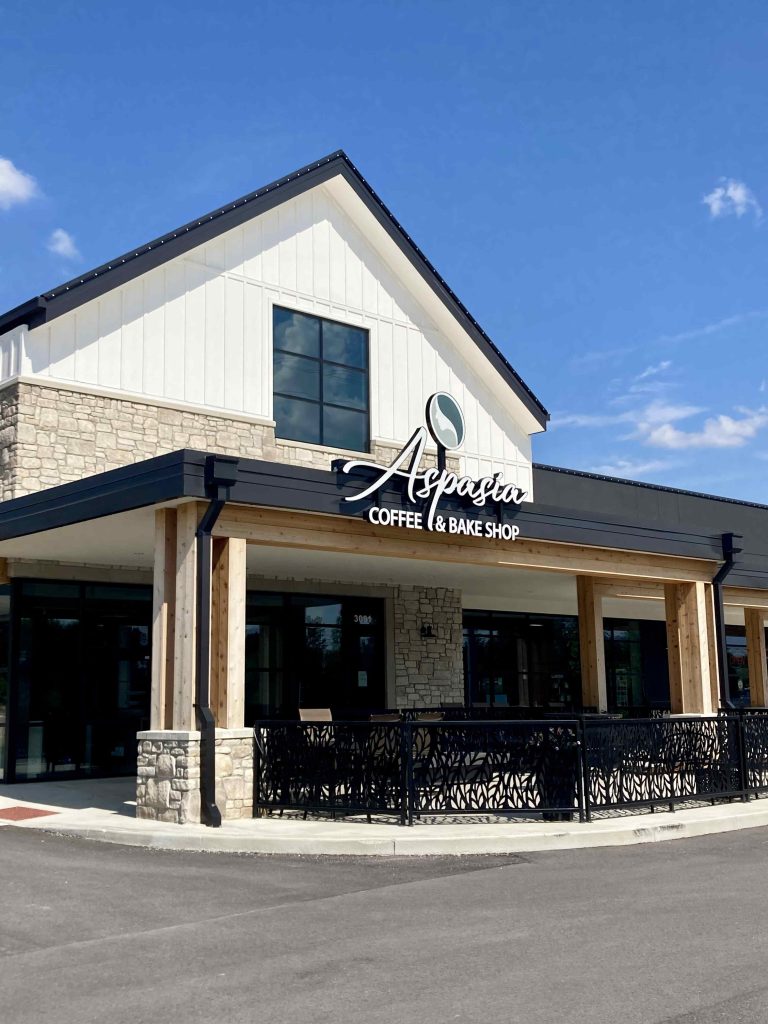 Aspasia in Zionsville has not been open very long… only a few months. They have a good size outdoor patio, and some nice indoor seating areas, including several large couches for lounging. Their menu includes baked items, cafe items such as soup and hummus, and coffee.
Aspasia is a 100% gluten-free facility with several baked items listed as dairy-free.
Address: 3091 US-421 N Zionsville, IN 46077
Our Experience with Aspasia's Gluten Free and Dairy Free Muffins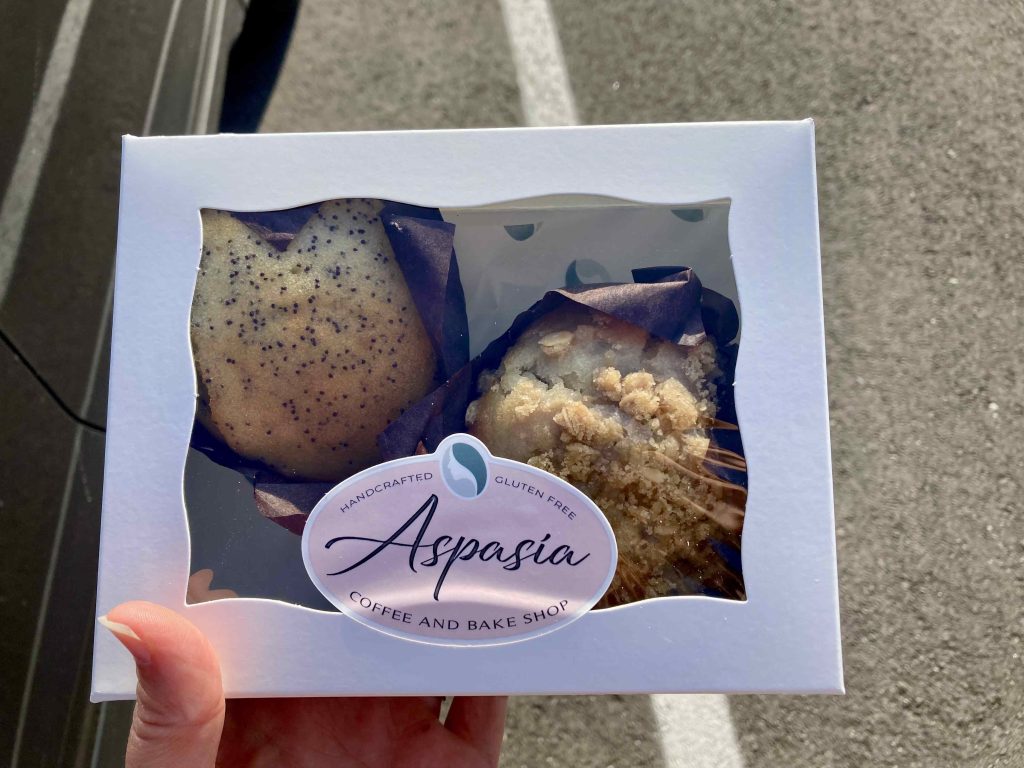 We recently dropped in for two gluten-free and dairy-free muffins. One was lemon poppyseed and the other lemon blueberry. Both were wonderful! The lemon blueberry was a bit dry and crumbly, but it was sweeter, and we love sweet! LOL. The lemon poppyseed was moister and denser.
Aspasia Coffee and Bake Shop would be a great option for a 100% gluten-free coffee date/brunch with friends!
4. 1823 Bakehouse: A Dairy-Free and Gluten-Free Bakery on Indianapolis' Southside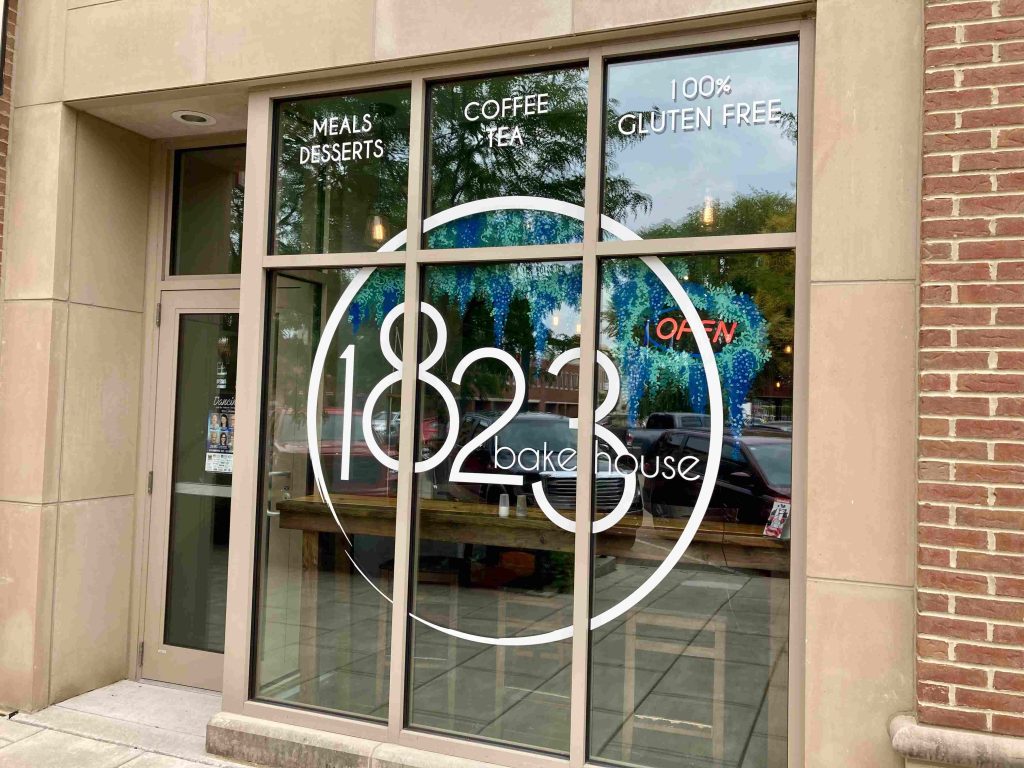 While most gluten-free bakeries around Indianapolis are on the north side, 1823 Bakehouse is located in the charming little town of Franklin, IN, less than 30 minutes south of Indianapolis. They are a 100% gluten-free diner serving sandwiches, quiche, tacos, baked goods, tea, coffee, and more.
1823 Bakehouse is loved by the gluten-free community in Indy, especially those with celiac disease, because it is a 100% gluten-free bakery that provides so many breakfast and lunch options.
However, they are not the greatest option for dairy allergies. The bakery serves sandwich bread that contains dairy. This means those allergic to dairy will have a lot less options.
Fortunately, the bakery does serve a few delicious gluten-free and dairy-free baked goods.
Address: 25 E Court St. Franklin, IN 46131
Our Experience with 1823 Bakehouse
We visited this gluten-free bakery on a late Saturday morning. The place was packed! To be fair, it was a small storefront, but I would say there were 20 people or so inside.
I let them know early on that I was both gluten and dairy-free. The woman taking orders immediately made me aware that the gluten-free sandwich bread would be off-limits due to dairy, which was a little disappointing. I had heard so many good things about 1823 Bakehouse and was sad to not be able to try much, especially considering I also try to avoid corn (so tacos and nachos were out).
My husband had the Cuban Blonde and loved it. I ate the gluten-free and dairy-free coffee cake and was very impressed. Even before I ate gluten-free, I found coffee cakes to often be dry. To be honest, I expected a gluten-free coffee cake to especially be this way. But it wasn't! It was actually really moist and delicious!
We also noticed them adding several desserts to the display after we ordered, causing us to wonder if they add many fresh baked goods throughout the day. Maybe freshness was the reason for such a deliciously moist coffee cake.
5. Ohana Donuts: Gluten-Free and Dairy-Free Donuts
Ohanalulu (Ohana for short) is a new and popular donut and ice cream shop that serves cake donuts at all hours of the day. Visitors can grab a donut and coffee before work at 6am or grab a donut and ice cream at 8pm in the evening.
In fact, Ohana was so loved in their Fishers, IN location that they recently expanded to Pendleton, IN as well. It is only time before they expand again.
Many patrons love Ohana's custom donut option where they can add anything from nuts and chocolate chips to coconut and even cereal or gummy bears!
Ohana offers gluten-free and dairy-free vanilla donuts with a few dairy-free drizzle options, dairy-free milk (almond milk) for lattes, and dairy-free dole whip as an alternative "ice cream" option.
Addresses: 11640 Brooks School Rd. Suite 100 Fishers, IN 46037
Our Experience with Ohana Donuts' Gluten-Free and Dairy-Free Donuts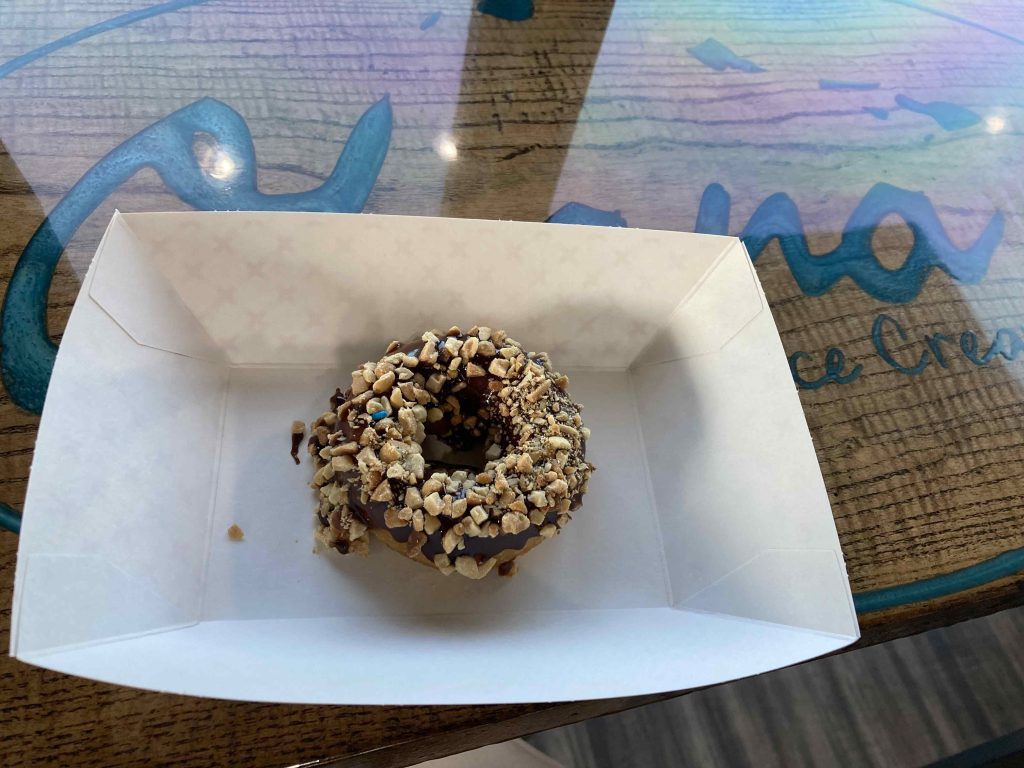 We have gone to Ohana a few times.
The first time, the cashier didn't seem knowledgeable on their gluten-free donuts and referred the question to the manager. The manager, though, had no problem making one (pictured above) on the spot and even let me pick among the dairy-free drizzle options. Though there was some confusion at first, the donut was delicious!
I did learn to consider ordering two though. They are small.
I have since gone back and had similar experiences. One time the owner made my donut. He was very knowledgeable. (I cannot remember the connection, but I have heard the owner is very familiar with celiac disease thanks to someone very close to him.) The owner definitely made me the best one so far, soft and fluffy. Others made by other employees are usually a bit harder; sometimes they even have crunchy spots. My hope is that over time better training will take place and eventually they will be consistently delicious!
Note: The photo above shows a gluten-free and dairy-free donut with nuts that are not free from cross-contamination. It was the first donut I had from them. This photo was taken before I worried about cross-contamination. I have since started bringing my own nuts and other toppings to add to the donut once served to prevent getting glutened.
Ohana makes all their donuts fresh to order. And the gluten-free donut is no exception. They may be noticeably less fluffy than regular cake donuts, but I love just knowing I can get a safe gluten-free and dairy-free donut in Indianapolis that is fresh and made to order!
5. Gluten-Free Creations: Gluten-Free and Dairy-Free Baked Goods at the Farmers Market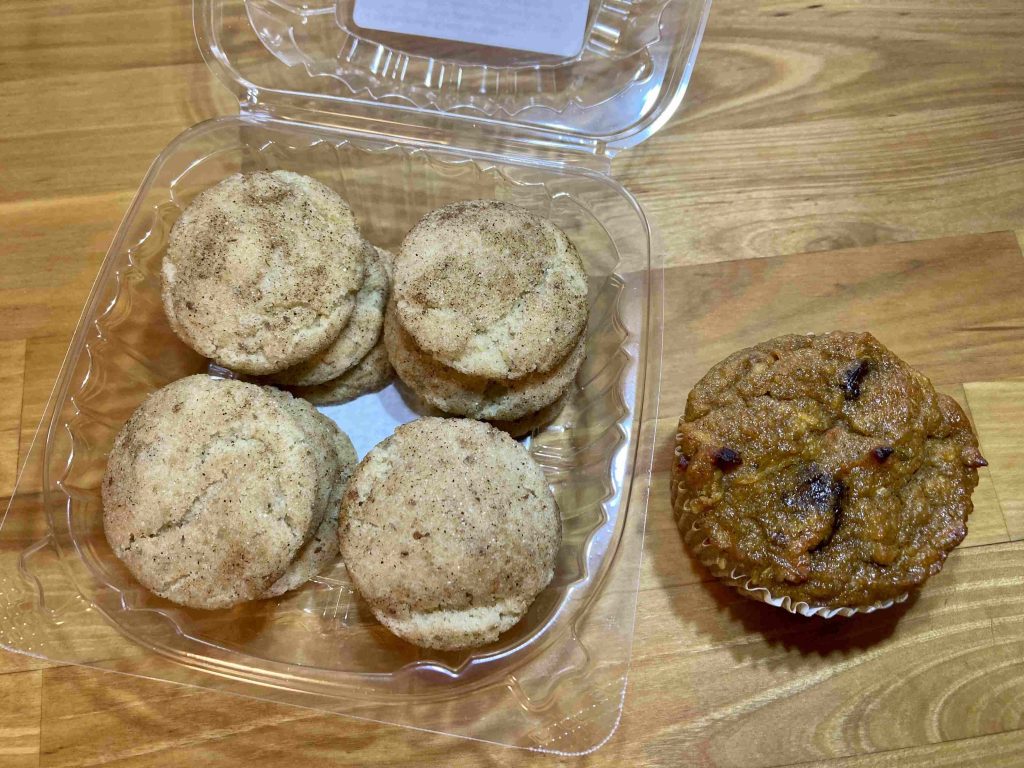 Gluten Free Creations currently offers gluten-free baked goods, including cookies, donuts, cakes, cupcakes, muffins, pretzel sticks, and more. They attend the Fishers Farmer's Market and Zionsville Farmer's Market each Saturday in the summer. You can place an order ahead of time or show up at the farmer's markets and see what they have in stock!
I have heard great things about Gluten Free Creations' donuts, though I've never tried them.
Note: If you are gluten and dairy-free, make sure you arrive early for a greater selection of dairy-free options!
Email Address: lydia@glutenfreecreationsinc.com
Our Experience with Gluten Free Creations
We have had their gluten-free and dairy-free Snickerdoodle cookies and a breakfast muffin.
I like soft cookies, and these were pretty hard. The flavor was great, but they definitely weren't my favorite because they were pretty crunchy. They were pretty hard. But my husband, who loves Snickerdoodle cookies, was in heaven!
The breakfast muffin had carrots, nuts, dried fruit, cinnamon, and more. It was not sweet, but still delicious.
We are excited to try a few other things from Gluten Free Creations in the future!
Summary of Gluten-Free and Dairy-Free Bakeries Near Indianapolis
Indiana has come a long way from the days I spent baking my own gluten-free baked goods to avoid gluten and dairy! There are so many great gluten-free and dairy-free bakeries near Indianapolis these days. Hope you found a few to try!