34 Things to Do in Indianapolis, Indiana: A Local's Guide
As an Indiana native, I've spent quite a bit of time enjoying all that Indianapolis has to offer. Here are some of the best, family-friendly things to do in Indianapolis!
Indianapolis…. also known as the Crossroads of America. It's not uncommon for travelers in the Midwest to mention heading to or through Indianapolis. The city is conveniently located with roads running like spokes on a wheel through the city.
But, for us, it's home.
What are Our Favorite Things to Do in Indianapolis?
So what are some of our favorite things to do in Indianapolis? There are just too many! Here are 34 of our favorites broken down into 8 categories: Attractions, Ball Games, Memorials, Parks, Explore, Iconic Restaurants, Unique Districts, and Seasonal Activities. Use the table of contents above if you'd rather skip ahead to check out one attraction in particular.
Things to Do in Indianapolis: Attractions
1. Indianapolis Children's Museum
The Indianapolis Children's Museum is a popular tourist destination. Voted best children's museum in the world many times over, this is a must-do for all families!
The Children's Museum offers indoor and outdoor exhibits including: Dinospere, an indoor carousel, Playscape, Take Me There (a nod to various locations around the world), Science Works, Treasures of Earth, a Health Sports Experience, and so much more!
2. Indianapolis Zoo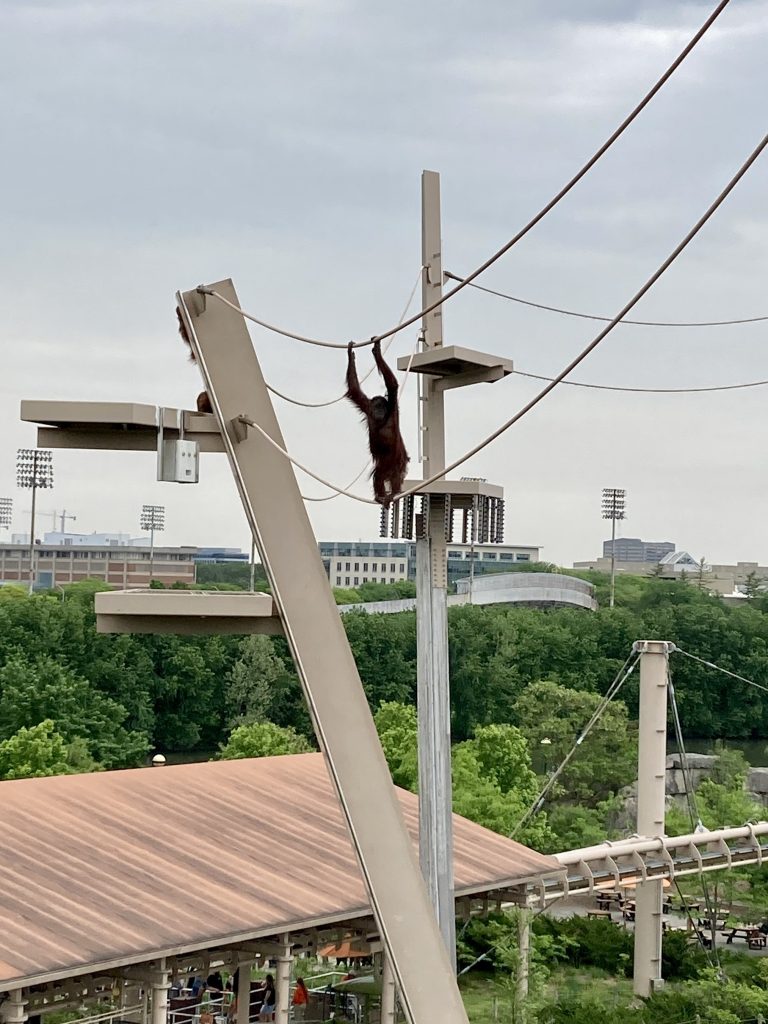 The Indianapolis Zoo is well known for its orangutan, stingray, dolphin, and cheetah exhibits.
Located in the heart of the city, visitors can ride a skyline gondola to see not only the Indianapolis skyline but also the orangutans perched on their towers high above the zoo.
And don't miss the dolphin show!
Here's a post on our experiences at the Indy Zoo.
3. Indianapolis Symphony Orchestra
Founded in 1930, the Indianapolis Symphony Orchestra is the largest orchestra in the state and a leading orchestra in the nation. Located on the circle downtown at Hilbert Theater, this would be a great date night activity! Or, if you are a student, check out their student discounts!
ISO also performs at Conner Prairie's Symphony on the Prairie (mentioned below at #10) in the summer months!
4. Eiteljorg Museum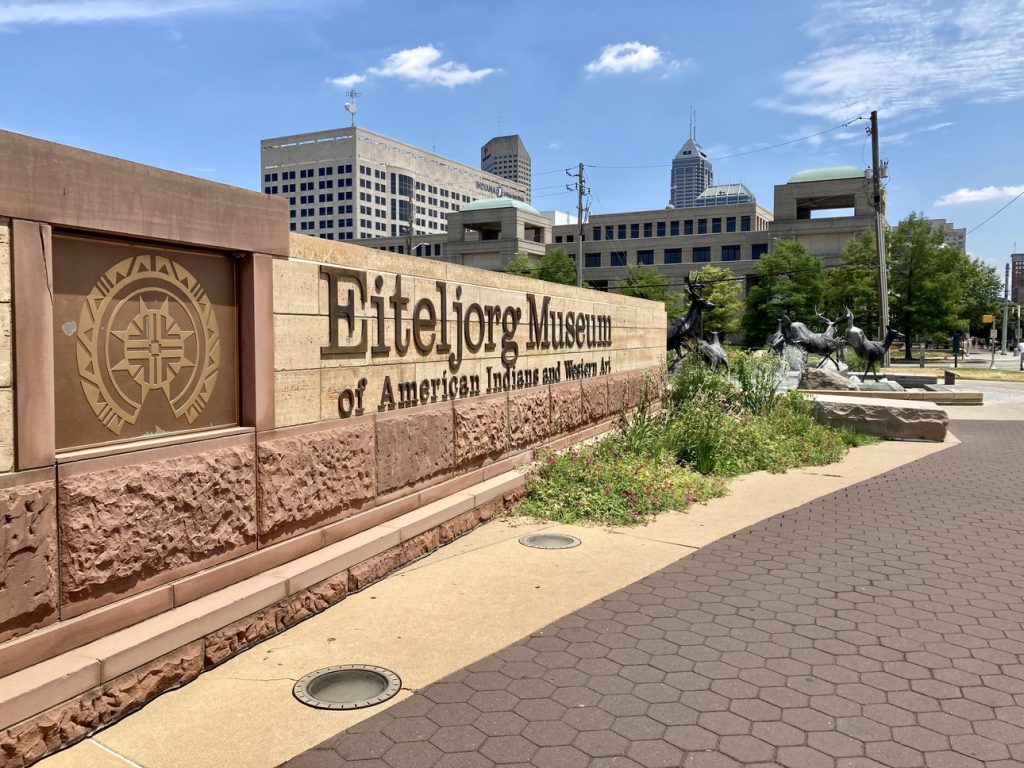 The Eiteljorg Museum is a nod to the artistic endeavors and culture of Native Americans and the West. The museum strives to collect and display objects that represent the culture and history of the Indigenous peoples of North America and the American West.
Spend half a day viewing portraits, paintings, clothing, pottery, woodworking, and more as you immerse yourself in culture and history at the Eiteljorg Museum.
5. Indiana State Museum
The Indiana State Museum (click here to read our post) is one of our favorites! If you love science museums, this is the place for you! While the museum highlights historical events, probably the most impressive part of the museum is the paleontology section! It includes a selection of fossils from mammoths, mastodons, and sea life ranging from 20,000 to hundreds of millions of years ago… all discovered in Indiana!
The Indiana State Museum is also centrally located, right next to White River State Park, the Indianapolis Zoo, and Eiteljorg Museum.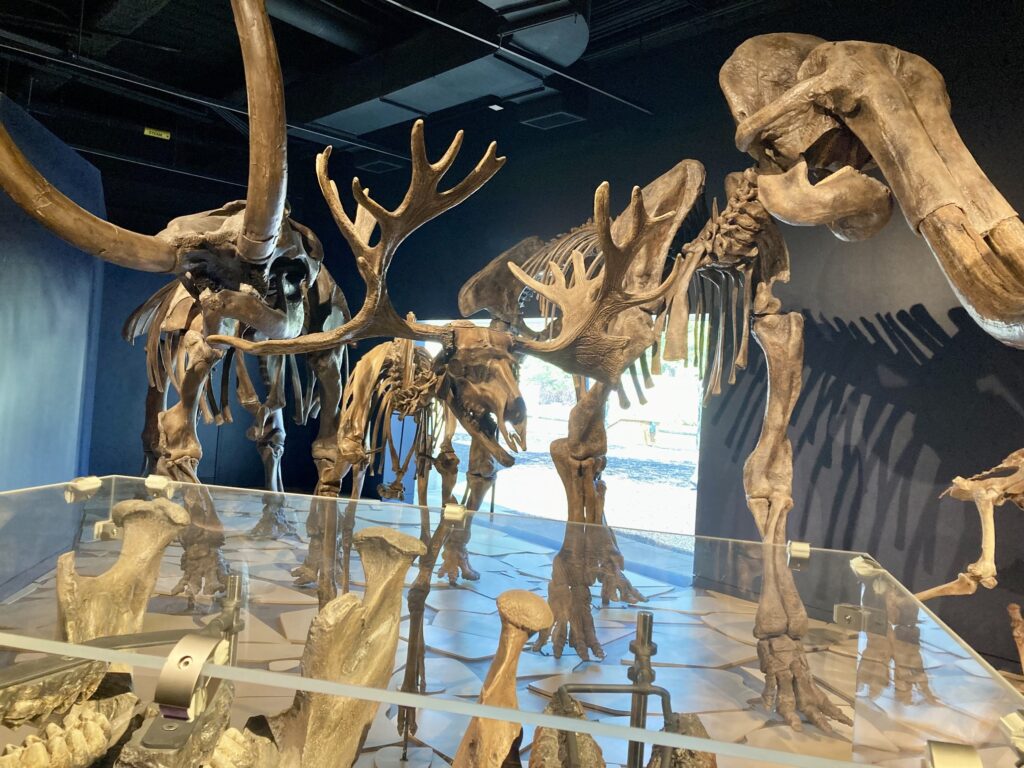 6. Indiana Historical Society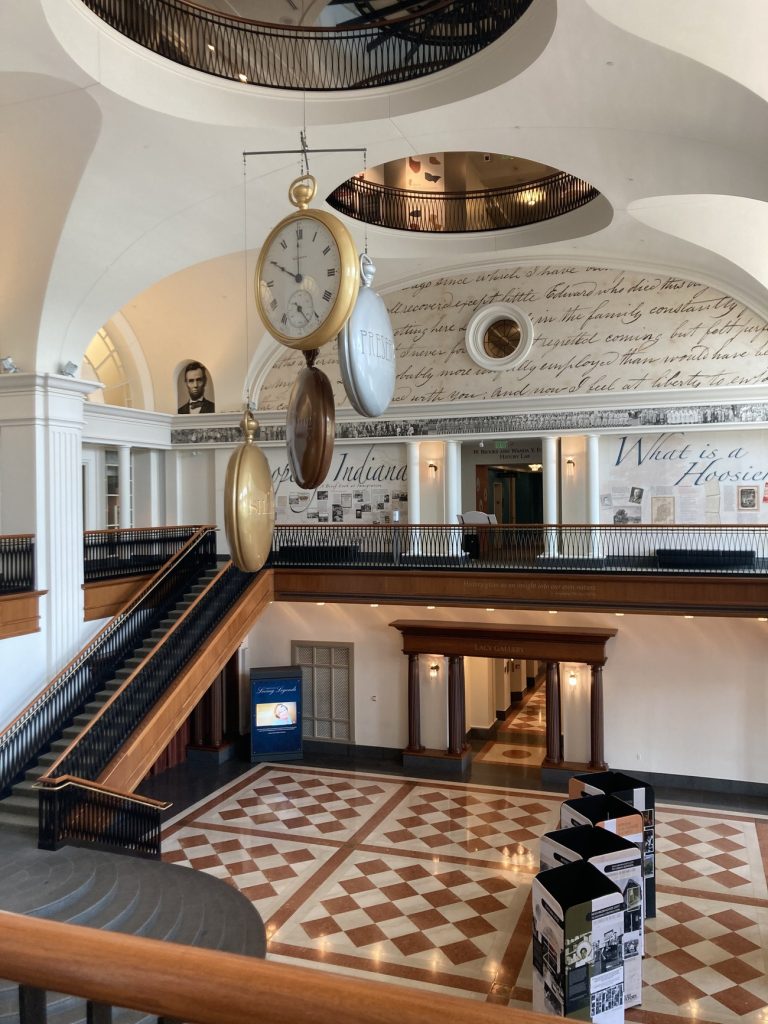 The Indiana Historical Society strives to educate others on the history of our state. Exhibits include interactive screens that share snippets of Hoosier history, reenactments of famous Hoosiers that helped build our state, and even a collection of Indiana archives.
We love to go to the Historical Society around Christmas time! Beautifully decorated Christmas trees donated by various organizations line the halls and exhibit rooms. Visitors can vote on their favorite trees while viewing them.
7. NCAA Hall of Champions
Located next to White River State Park, the NCAA Hall of Champions is a great stop for any family with kids into sports! Open Tuesday – Sunday, the NCAA Hall of Champions offers a cheap, fun, and interactive half-day.
Plan around 90 minutes as you step into the world of college athletics. This museum features two different floors. The first floor contains current NCAA records, videos, and trivia, while the second floor features hands-on activities such as virtual sports and a small basketball court.
8. Madam Walker Legacy Center and Theater
Madam C.J. Walker was an influential, African American businesswoman. The Walker building was constructed in 1927 as the headquarters for her hair care and beauty product business. Today, the building holds captivating performances. Concerts performed in the past at Walker Theater include those by Patty LaBelle, Michael Bolton, Rob Dixon, and more.
But the Madame C.J. Walker Legacy Center is more than a spectacular theater. The organization strives to provide cultural education, encourage social justice, and empower young entrepreneurs.
9. Indianapolis Art Center
The Indianapolis Art Center strives to bring our community together through art. The center offers numerous art classes including drawing, painting, sewing, clay, glassblowing, woodwork, and more. While they have ongoing classes available if desired, art galleries and the Ruth Lilly Library are available to all visitors. No class needed!
I have visited this museum a few times during the Broad Ripple Art Fair (which is located on the center's lawn) and viewed sneak peeks of their art classes indoors. Both times I left wanting to join the glassblowing and pottery classes!
Additionally, the Indianapolis Art Center holds a 9.5-acre park available from the Monon Trail (mentioned below at #25) for free.
10. Conner Prairie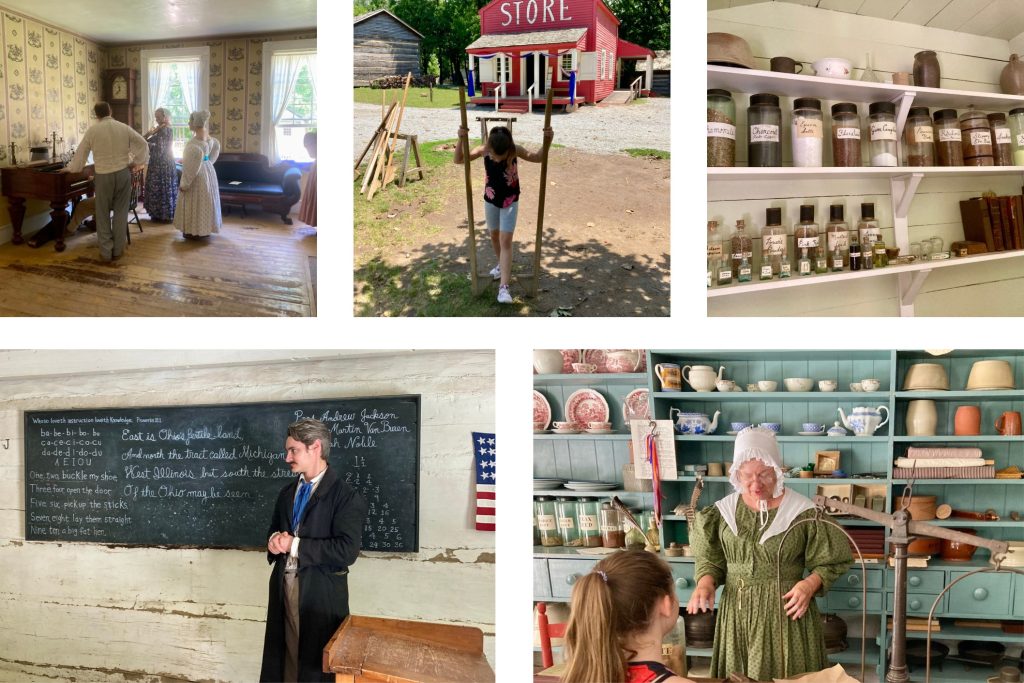 While this one is not in downtown Indianapolis, Conner Prairie had to be on our list! The drive from Indy is only 30 minutes, and it is very worth the drive!
Conner Prairie is a living history museum that is well-loved by Hoosiers around the state.
Families can immerse themselves in the history and culture of the 1800s with several activities including an air balloon ride, prairie town, large treehouse, Civil War interactive experiences, and more. Additionally, Conner Prairie hosts concerts on the lawn throughout the summer months with various tribute bands performing.
Here's our post on Conner Prairie!
11. Indianapolis Motor Speedway Museum
The Indianapolis Motor Speedway Museum, located inside the speedway, shares the history and success of automobiles and racing over the years. There are hundreds of historical racecars and pace cars on exhibit.
Big News! The IMS Museum is currently undergoing drastic improvements! An $89 million dollar improvement project was recently announced! If you love racing, this is the museum for you!
Things to Do in Indianapolis: Ball Games
12. Indians Baseball
Catch an Indian's Game at Victory Field within walking distance of several iconic Indianapolis attractions! Spend the day exploring Indy and end with a baseball game! Victory Field is within walking distance of the J.W. Marriot, the Indianapolis Zoo, the Indiana State Museum, and the Eiteljorg Museum.
13. Colts Game
Whether you're a die-hard Colts fan or simply looking for an unforgettable sports experience, catching a game at Lucas Oil Stadium offers one of the biggest spectacles Indianapolis can offer. Join 65,000 other people, and watch one of nine home games the Indianapolis Colts play every year.
As a bonus, Lucas Oil Stadium also offers tours year-round on Fridays.
14. Pacers Game
Immerse yourself in the spirit of Indianapolis by attending a Pacers game! The adrenaline-pumping action on the court, the roaring cheers from devoted fans, and the team spirit make it a truly exhilarating experience.
Things to Do in Indianapolis: Memorials
15. Soldiers & Sailors Monument on the Circle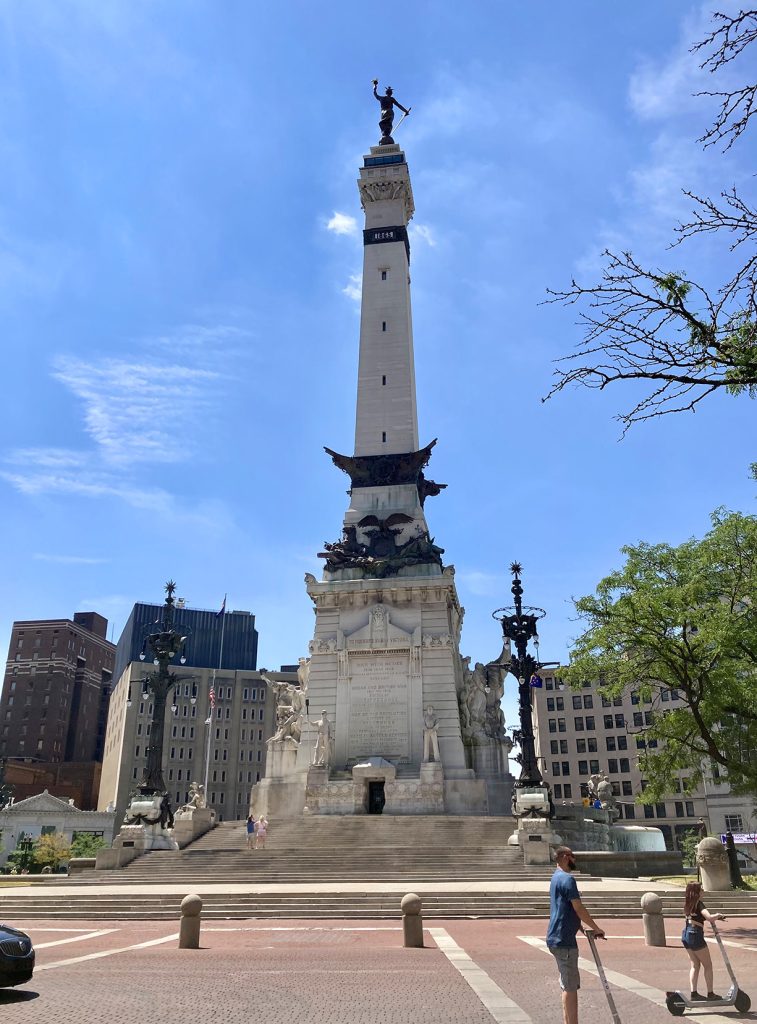 Located in the heart of downtown Indy, the Soldiers & Sailors Monument stands as a majestic tribute to honor the state's fallen heroes. Upon entering the monument, visitors will find a small Civil War museum on the lower level. Once you're ready, take the elevator up. At 284 ft, this limestone tower offers an outstanding view of the city from its observation deck.
16. The Congressional Medal of Honor Memorial on the Canal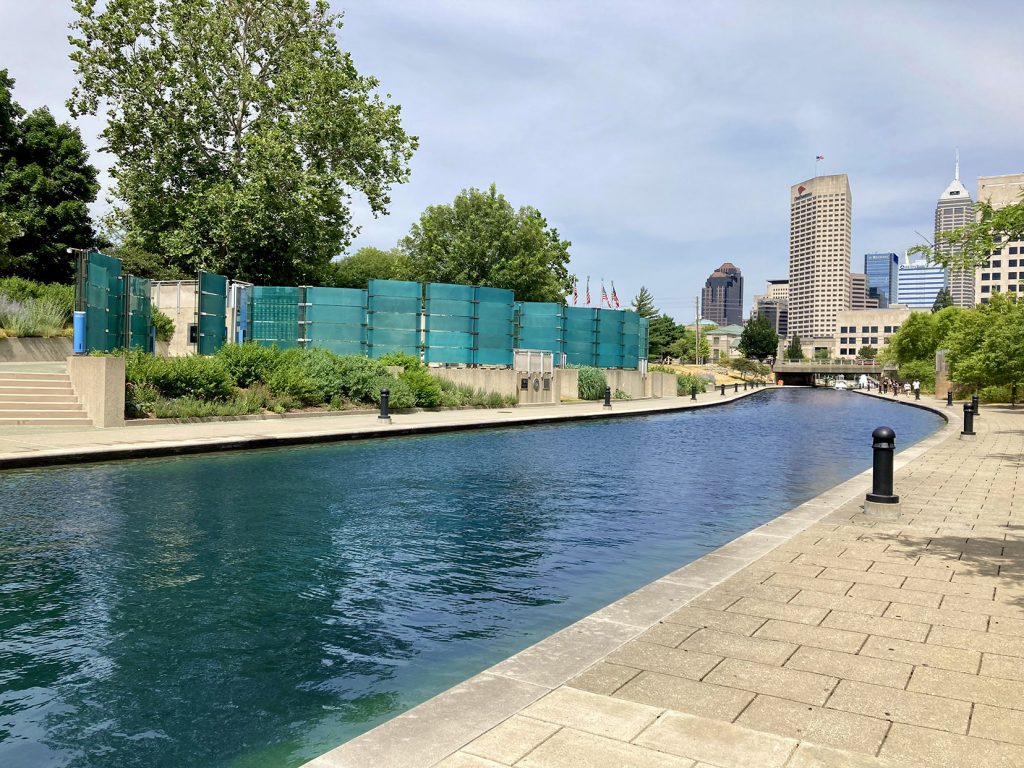 The Congressional Medal of Honor Memorial in Miltary Park, next to the canal, is a site dedicated to honoring the bravery and sacrifices of American heroes. It serves as a reminder of the courageous individuals who went above and beyond to protect our nation. Check it out while walking along the canal (mentioned below at #20)
Things to Do in Indianapolis: Parks
17. White River State Park
White Water State Park located in downtown Indy is a beautiful park that connects the Indianapolis Zoo to the downtown canal (click here for our post on the park). One highlight of the park is the bridge that stands over White River. Check out the large art pieces spread throughout, take in a concert at the TCU Amphitheater, or rent bikes and check out the park as well as the rest of the city!
18. Eagle Creek Park
Eagle Creek Park is a huge (39,000 acre) city-owned park in the northwest part of Indy. There are trails, playgrounds, a beach, a treetop adventure course, watersports, fishing, and more available! Admission to the park is currently $5 for Indianapolis residents and $6 for those living outside of Marion County.
19. Fort Harrison State Park
Located on the east side of Indianapolis, Fort Harrison State Park offers a large sledding hill in the winter plus dirt and paved trails, horseback riding, and fishing opportunities in the warmer months. Visitors may also want to visit the golf course or war museum on the property.
This is a great place to escape city life and enjoy nature for a day.
Or, if you're looking for more state park suggestions, here are a few great ones that are a little further out from Indy: Brown County State Park to the south is known for its scenic views and Salamonie Lake to the north is known for being great for boating.
Things to Do in Indianapolis: Explore!
There are so many great things to do in Indianapolis. How about exploring the city?
20. Walk Along the Indianapolis Canal While Checking Out Other Things To Do in Indianapolis!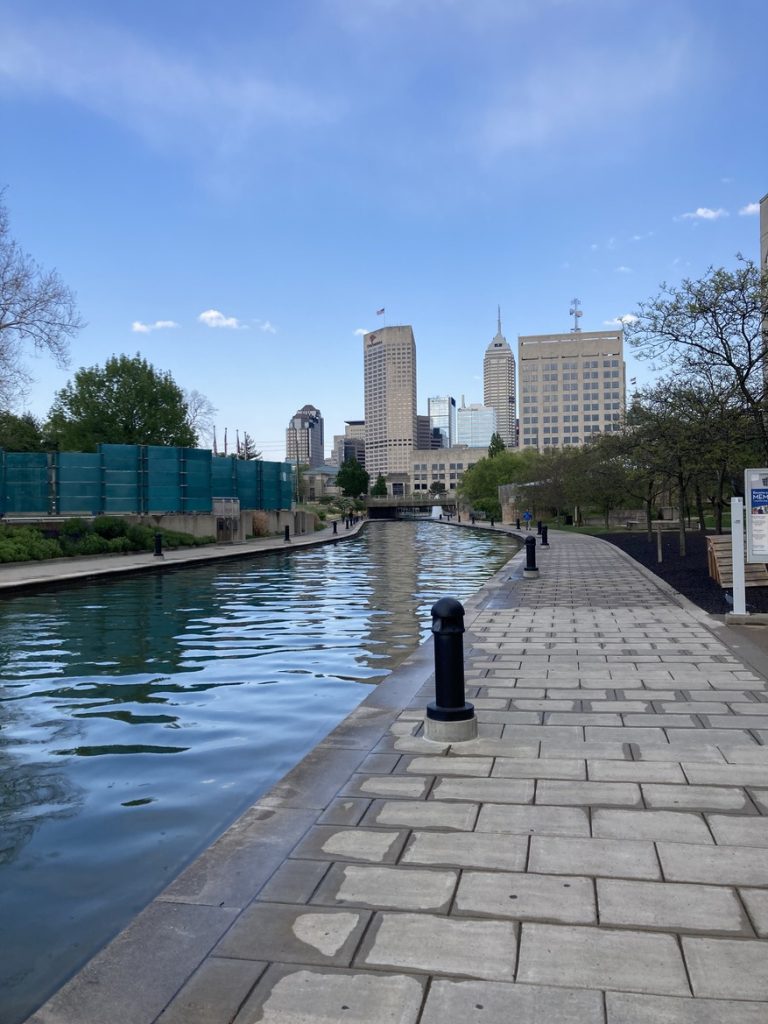 A great place for a day date, the canal in downtown Indy is a great way to experience the city! Stroll down the canal after checking out the State Museum or Indiana Historical Society, two of the museums on the canal.
Note: I wouldn't recommend you come at night due to crime.
Insider Tip: The State Museum, located along the canal, also provides artwork representing each county in the state. If you know Indiana well, you may enjoy looking at the artwork and guessing which county is represented before reading the plaque for each.
21. Paddle Along the Indianapolis Canal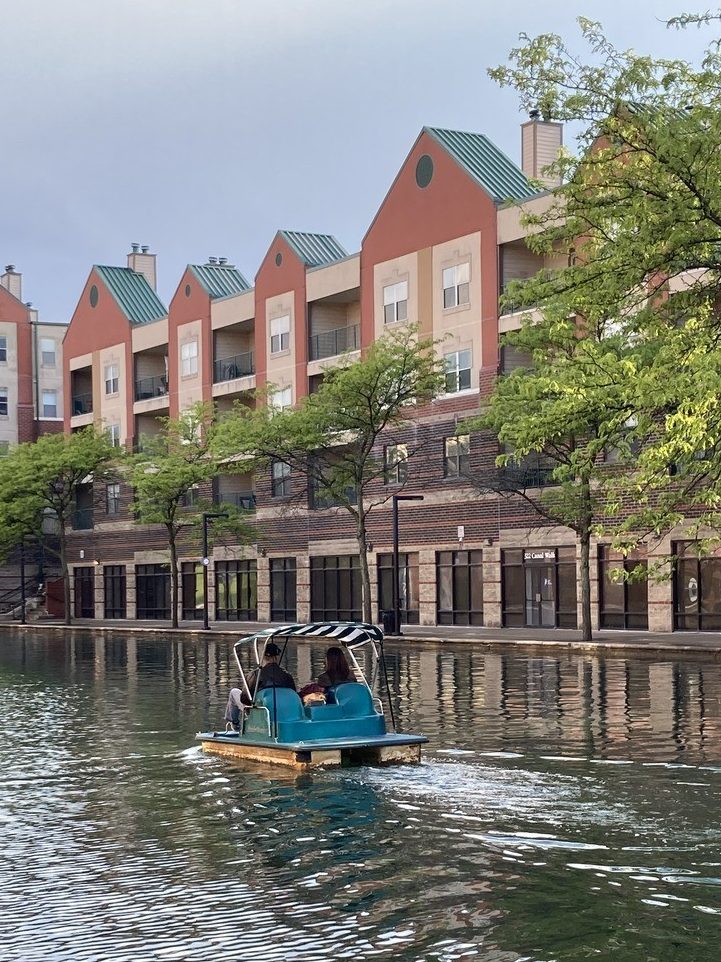 Paddling along the canal is a popular summer activity. Paddle boat rentals can be found just northeast of the Eideljorg Museum.
22. Rent a Bike at White River State Park in Indianapolis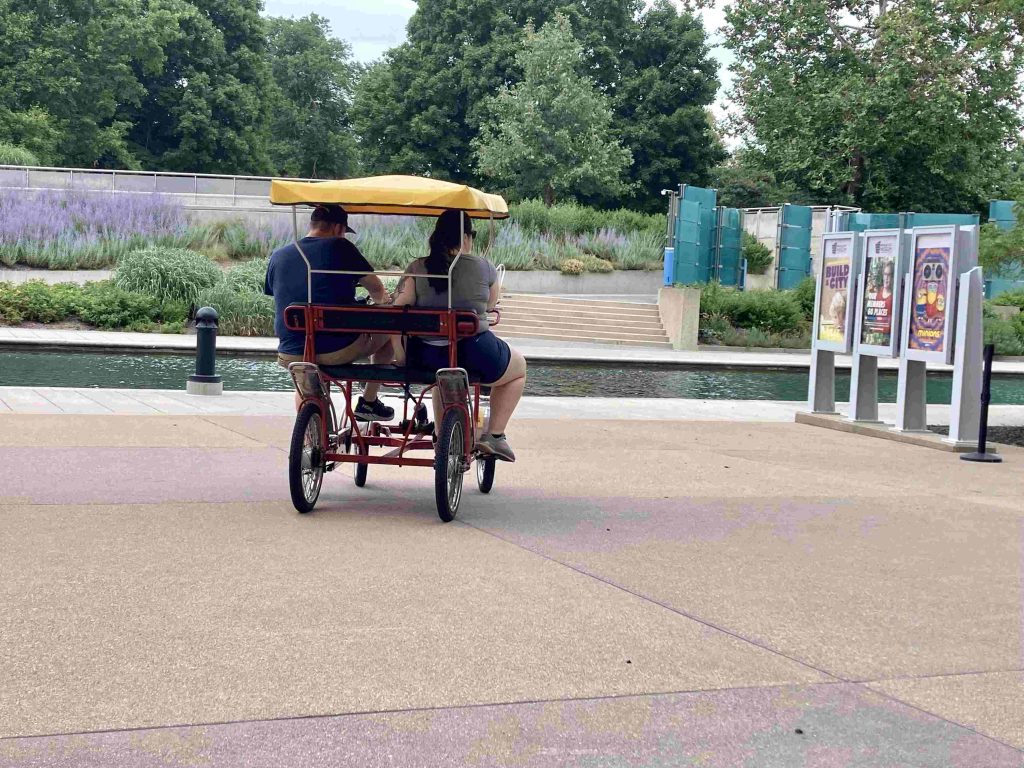 Wheel Fun Rentals at White River State Park have surreys, city bicycles, and electric bicycles available for rent. Rent a bike and take it down by the canal for a fun day exploring the city!
23. Make Yourself Apart of an "Indy" Sign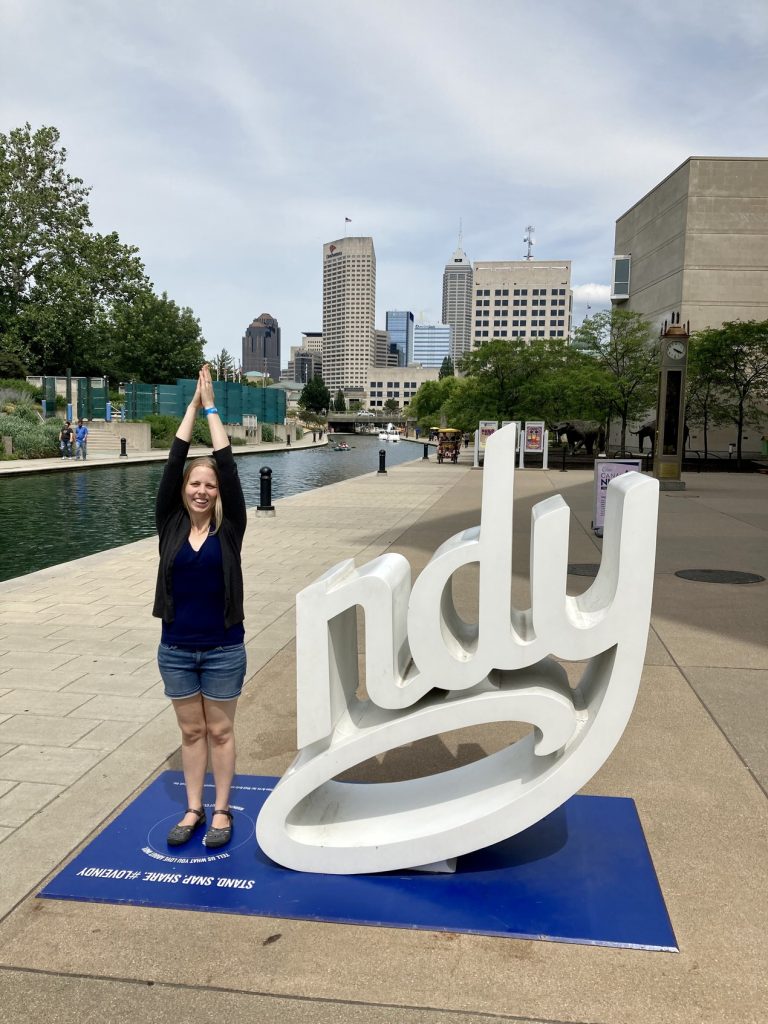 A popular activity for visitors! Make yourself a part of the I in Indy at one of the many Indy signs around town. They can be found… (1) at the Indianapolis Airport, (2) at Highland Park just behind the Indiana State Museum (pictured above), and (3) on Massachusetts Avenue and Alabama Street.
And, for those following this blog for dairy free and gluten free restaurant options, check out Bru Burger or Condados Tacos mentioned in our post listing dairy free and gluten free Indianapolis restaurants. Both restaurants can be found on Massachusetts Avenue! Get some pictures with the Indy sign AND get a great meal!
24. Rent a Scooter Around Town as You Check Out Other Things to Do in Indianapolis
We love using scooters! In fact, that was our number one form of transportation while in Washington D.C. last year! Two well-known scooter rental companies are Bird and Lime.
There are apps you can use on your phone to claim a scooter near you. There is usually a designated downtown area where you can use the scooters on any sidewalks in that area. (If you go outside the limits, the scooter will stop running until you go back into the designated area). Then, you can drop it off wherever you chose.
It's such a convenient way to get around a downtown area!
25. Walk, Run, or Bike the Cultural Trail in Indianapolis
The Culture Trail in Indianapolis circles the downtown Indy area providing residents and visitors alike an opportunity to explore the city and get exercise doing it. The trail connects the downtown canal to other popular Indianapolis destinations and is 8 miles long.
Things to Do in Indianapolis: Iconic Restaurants
28. St. Elmo's Steakhouse and Harry & Izzy's Restaurants
St. Elmo's Steakhouse is a very popular, upscale restaurant in downtown Indy. High-profile visitors from all over the nation dine at St. Elmo's while in Indy.
St. Elmo's Steakhouse also owns another sophisticated American grill called Harry & Izzy's located next door. Both restaurants are well-loved among locals.
Plus, those that follow this blog know I am gluten-free and dairy-free. While I've never been to St. Elmo's, Harry & Izzy's took my food allergies very seriously. The manager came to the table before each course to discuss what I could and couldn't eat. I have heard the same protocol is used at St. Elmo's as well.
29. Punch Bowl Social
This is a great restaurant for diners looking for a fun experience! Order food while you bowl, sing karaoke, or play arcade games! Punch Bowl Social is a great unique eating experience.
I have organized company events at Punch Bowl Social in the past. The restaurant brings a great, casual atmosphere.
Things to Do in Indianapolis: Unique Districts
Just outside of Indianapolis are two districts worth noting. Both are within 20 minutes of the downtown area.
30. Broad Ripple Has Some of the Best Nightlife Things to Do in Indianapolis
Known for its eclectic shops, scenic walking trail, and night bars, Broad Ripple is a bustling little town. It is located about 20 minutes north of downtown Indy. We love to eat dinner (usually at Public Greens) and then walk the Monon Trail.
31. Fountain Square Has Lots of Things to Do in Indianapolis!
Fountain Square is located just minutes southeast of downtown Indy. It is a fun, artsy neighborhood with lots of fun shops and restaurants (including the vegan restaurant Three Carrots). There are a plethora of bars and nightclubs.
But one of my favorite things to do in this area is Duckpin Bowling at Atomic Bowl! Duckpin bowling uses smaller balls and smaller pins. Atomic Bowl is a retro bowling alley that offers a unique bowling experience. Just be ready; the lanes are a bit uneven. Competitive people may be annoyed when their ball goes awry!
Things to Do in Indianapolis: Seasonal Activities
32. Go to the Indy 500!
There is probably nothing more iconic to do in Indy than attending the Indy 500! Watch the greatest spectacle in racing in May at the Indy 500 located at the Indianapolis Motor Speedway! There are also a lot of events leading up to the main event throughout the month of May, including a parade and mini-marathon!
33. Christmas Tree Lighting
Hoping to visit Indy around the holidays? The circle downtown gets a makeover every year in late November with lights strung from the Soldier and Sailors Monument, giving the illusion of a huge, lit-up Christmas tree. Visitors can either gather for a fun night during the Circle of Lights celebration when the tree is first lit or check it out in the nights to follow.
34. Summer Farmer's Markets
There are lots of great farmer's markets in the summer months in and around Indy. One of my favorites is the Broad Ripple Farmer's Market. Those who follow my blog know I am gluten-free and dairy-free. I love the Broad Ripple Farmer's Market because Native Bread is there!
Suggestions for Gluten-Free and Dairy-Free Restaurants
I follow a gluten-free and dairy-free diet. Here's a list of the best gluten-free and dairy-free restaurants in Indianapolis, several of which are within walking distance of the attractions listed above.
So Many Things to Do in Indianapolis!
We are so glad to live close to such a great city. From museums and restaurants to parks and farmer's markets, Indianapolis is full of activity! With this list of 34 things to do in Indianapolis, we hope you can find something that fits your style!