Ouabache State Park (Indiana): Bison, Trails, Camping, and Lake Activities
Ouabache State Park in Northeastern Indiana is unlike any other state park in Indiana. From bison roaming over several acres of land to a tall watch tower reaching far above the trees to several lake activities and ball courts scattered throughout the property, there is so much to do at Ouabache State Park (Indiana)! Plus, the park is so quiet!
"This is a very different state park," my husband said as we navigated our way through Ouabache State Park, "but it's really cool," he added. I agreed.
I don't think I've ever seen such a unique Indiana state park… other than, of course, Charlestown State Park, the abandoned amusement park (which is unique for a very different reason!).
But this one was unique in a completely different way… an inviting way.
Address: 4930 IN-201 Bluffton, IN 46714
What is Unique About Ouabache State Park (Indiana)?
To start, Ouabache State Park is the quietest park we've ever visited! It was so quiet that my husband and I were talking in a low voice 50 feet away from each other and could hear each other with no problem!
The quietness is likely due to the fact that it's far from any interstate, and, for the most part, surrounded by Indiana cornfields. The noise pollution you often hear, even at state parks, was completely gone.
Ouabache also has bison! Visitors can get within feet of them while walking the state park trails.
Ouabache State Park also has a lake called Kunkel Lake. The park has several parking areas where visitors can experience the lake, including fishing spots, boat rental spots, and even grassy spots where you can just sit and enjoy the water.
Ouabache State Park Map
Looking for an Ouabache State Park map? Here's ours!
Activities at Ouabach State Park
Here's a list of some of the best things to do at Ouabache State Park!
Watch the Bison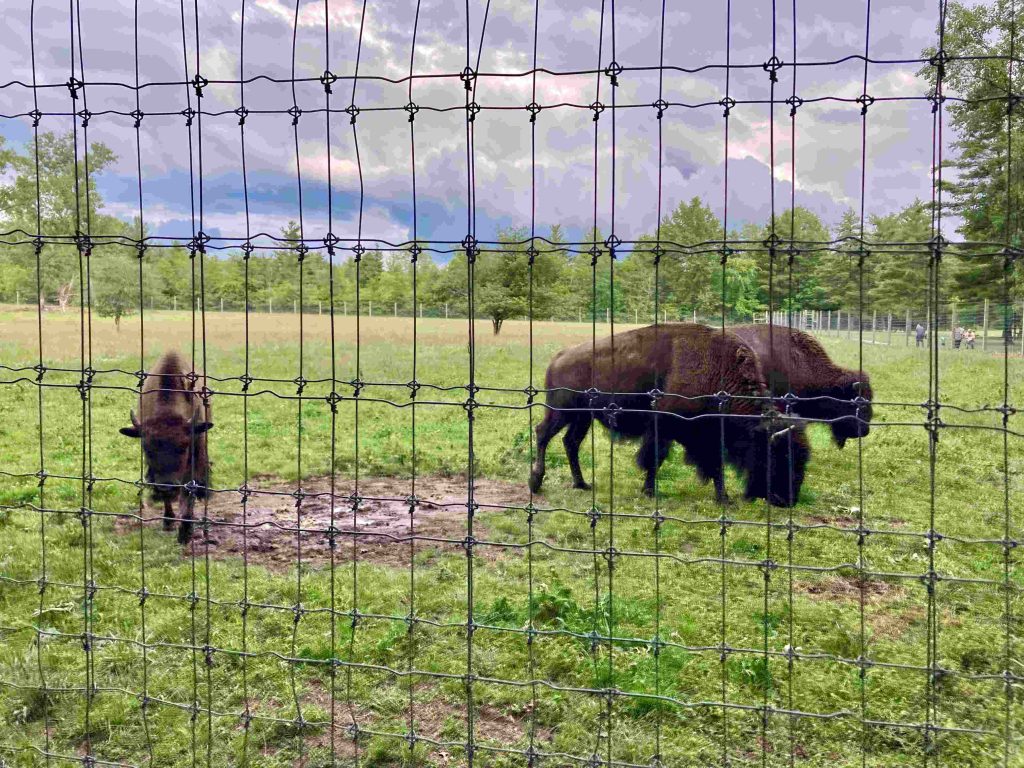 Watching the bison in their 25-acre space probably holds the title for most interesting activity at this state park. How many state parks east of the Mississippi can say they have bison?!
Even more fun, visitors can get reasonably close them them with a fence in between. When we visited, we saw several bison just a few feet away from us!
Before becoming a state park in 1962, the land that now is Ouabache State Park was managed by the Wells County State Forest and Game Preserve. There, they raised several smaller animals but also often housed black bears, elk, wolves, and bison. As early as 1933, visitors could climb a lookout tower and view the bison herd. With the decline of the bison population in the early 1900's, this would have been a very beneficial preservation for their species.
Climb the Lookout Tower at Ouabache State Park in Indiana
We have been to a few Indiana state parks with watchtowers, O'Bannon Woods, Brown County, and Clifty Falls (fire tower) state parks being a few of them, but this lookout tower was huge! It was very well built and sturdy (which may have added to the sense that it was bigger than most), but it was tall… around 100ft to be exact!
If you're willing to venture to the top, you'll get some great views of the bison and the lake!
Swim at the Beach
Ouabache State Park surrounds Kunkel Lake. There is a small beach on the lake that is available for swimming. And, because this state park is so quiet, sitting on the beach could be so relaxing!
Note: There are only port-o-potty bathrooms by the beach. I suggest you come dressed to swim because the bathrooms will not be a great changing station. (More on the bathrooms below).
Take a Paddleboat or Canoe out on Kunkel Lake
While Kunkel Lake is considerably smaller than Salamonie Lake (also in northeastern Indiana), it's the perfect size for canoeing and paddleboating! There are boat rentals available at the beach.
Fish on Kunkel Lake at Ouabache State Park
We saw several people fishing along trail #4, the trail that circles the lake. And the lake was so peaceful and quiet that I can imagine fishermen would have great luck!
Play Ball!
Unlike many of the other Indiana state parks, Ouabache has a baseball diamond, tennis courts, and a bocce ball court available for use. If you love to play ball, this may be a great park for you but know that the sports courts are rundown and not in the best shape.
Play on the Playground
Pictured is the largest playground we saw at the park. It is next to the watchtower and within walking distance of the campground. As the sun went down, we saw several families with strollers and bikes walking over to the playground from the campground.
Rent the Lodge Recreation Building
If you're looking for a serene venue for your upcoming event, Ouabache State Park's Lodge may be a great option. The lodge is located on the water in its own private area. If you have a daytime event you are planning in the area, consider Ouabache State Park's lodge.
Ouabache State Park Trails/ Hiking at Ouabache State Park
Ouabache State Park does not have the best trails. They seem very flat. However, it would be a great way to get some exercise and likely see some wildlife. (We saw beavers, raccoons, and a red fox during our time at the park!)
The trails include…
Trail #4 goes around the lake pictured above (with lots of great spots to fish!)
Trail #1 goes around the bison exhibit
Trail #5 goes around the perimeter of the state park
There also is a great bike trail that takes visitors into the cute, nearby town of Bluffton. It starts at the campground but can also be accessed at the first (easternmost) Kunkel Lake access point.
Camping at Ouabache State Park
We did not stay at the campground, but we did drive by. We were overall impressed at how spread out the sites were. Additionally, they seemed to have several large, mature trees on the sites.
When you consider how quiet the park was (so quiet!) and all of the activities available to you, this would be a great place to camp! And stargazing would likely be pretty great at Ouabache, provided you find an open spot for viewing! The lookout tower is in a great area for this.
Tips for Ouabache State Park
While we've covered most everything, I do want to add a few pointers for those wishing to visit this park.
Bathrooms at Ouabache State Park and A Hidden Gem Not Even on the Ouabache State Park Map!
The biggest tip I have is to be ready for rough bathrooms! There ARE outhouses available in more locations than the Ouabache State Park map reflects (including by the statue, at the beach, and by the watchtower). But the bathrooms are outhouses. They are not inviting at all! (When we visited in July, probably more than 100 flies came swarming out of the outhouse right as I opened the door. To say the least, I was not prepared for that!)
BUT we got lucky while exploring and found real bathrooms behind Rustic Oak Shelter, ones that aren't even on their state park map!
The shelter was in really bad shape (look at that roof!). We were not at all expecting to come across the best bathrooms in the park (outside of the campground I assume) with flushing toilets and electricity! (It's the little things! LOL)
Bringing Dogs to Ouabache State Park
I would not say this is the best park to bring your dog. Dogs cannot climb the watchtower, play ball, or ride in a canoe. They may even try to bark or bother the bison. Ours did fine, but if you can, leave your dogs at home when visiting this Indiana state park.
Any Suggestions for Those That Are Gluten-Free and Dairy-Free (Like Me!)?
The town of Bluffton, where Ouabache State Park is located, does not seem to have any gluten-free and dairy-free options. However, the city of Fort Wayne, 28 miles north of the park, has a Core Life Eatery (all gluten-free menu with some vegan options) and Blaze Pizza (gluten-free but, unfortunately, not dairy-free (Keto) pizza crust and also a vegan but not gluten-free pizza option).
Additionally, if you are looking for something south of the park, I love British-inspired Payne's Restaurant in Gas City, IN. The restaurant has several gluten-free and vegetarian options, but I have personally had them help me make a dairy-free meal.
List of All Indiana State Parks
Chain O' Lakes State Park
Clifty Falls State Park
Falls of the Ohio State Park
Fort Harrison State Park
Harmonie State Park
Lincoln State Park
McCormick's Creek State Park
Pokagon State Park
Potato Creek
Prophetstown State Park
Shades State Park
Shakamak State Park
Summit Lake State Park
Tippecanoe River State Park
Versailles State Park
Whitewater Memorial State Park
Summary of Ouabache State Park
Ouabache State Park in northeastern Indiana is a unique state park with bison, sports courts, and lots of activities on Kunkel Lake. Additionally, it is remarkably quiet! Enjoy camping and exploring this unique Indiana state park!