Turkey Run State Park (Indiana): Best for Hiking and Fall Activities
Voted 7th best state park in the nation in 2023, Turkey Run State Park in Indiana is well-loved for picturesque and rugged hiking trails, canoeing, kayaking, tubing, and fishing opportunities, and lodging options including a campground, an inn, and cabins. Adventurous couples and families love Turkey Run State Park, and rightfully so!
Turkey Run is one of my and my husband's favorite state parks in Indiana. I remember growing up hiking, canoeing, and kayaking at Turkey Run. So it holds a special place in my heart.
Living in Indiana, we find many state park hikes to be pretty easy. I mean, you can't expect much from Indiana! LOL. It's a pretty flat state!
We love hiking at Spring Mill State Park and Brown County State Park, but for different reasons.
Turkey Run is a bit of an anomaly! Portions on the park are located in a sandstone gorge. Hikers will pass steep walls, climb boulders and wooden ladders, wade through creeks, and more to complete hikes at Turkey Run State Park (especially trail #3)!
And Turkey Run has more than trails!
Let's dive into the best of Turkey Run State Park.
Where is Turkey Run State Park?
Turkey Run is located in Marshall, IN, about one hour west of Indianapolis and one hour east of Campaign, IL. It's in Parke County, a county well-known for covered bridges and beautiful scenery!
Address: 8121 Park Rd. Marshall, IN 47859
List of All Indiana State Parks
Turkey Run State Park Map
Looking for something in particular on the Turkey Run State Park map? Here's ours! I've highlighted the three trails mentioned below.
Turkey Run State Park Activities
What makes Turkey Run State Park so popular? Here's our list!
Hiking at Turkey Run State Park
Hiking is absolutely the most popular activity at Turkey Run! Visitors come from all over the nation to hike and experience the geological formations of Turkey Run State Park.
Here are some of our favorite trails.
Trail #3 at Turkey Run (Highlighted in Orange on the Turkey Run State Park Map Above)
Trail #3 is probably the most popular trail at Turkey Run, and rightfully so! … Hikers pass the "Ice Box", a shallow and cool cave, on their way to the valley where there is often water flowing. Hop over rocks or wade through the creek across the valley on your way to the ladders. A set of wooden ladders take hikers up to the upper stream. Visitors will then trail their way toward Rocky Hollow.
Watch our full YouTube video above for a better understanding of the trail.
Above is actually the "steps" down to the Ice Box just off Trail #3.
Just be ready for the crowds! Trail #3 is very popular! Also, a pair of good shoes that can get wet is helpful. The trail can be really wet and muddy at times.
Trail #6 at Turkey Run (Highlighted in Blue on the Turkey Run State Park Map Above)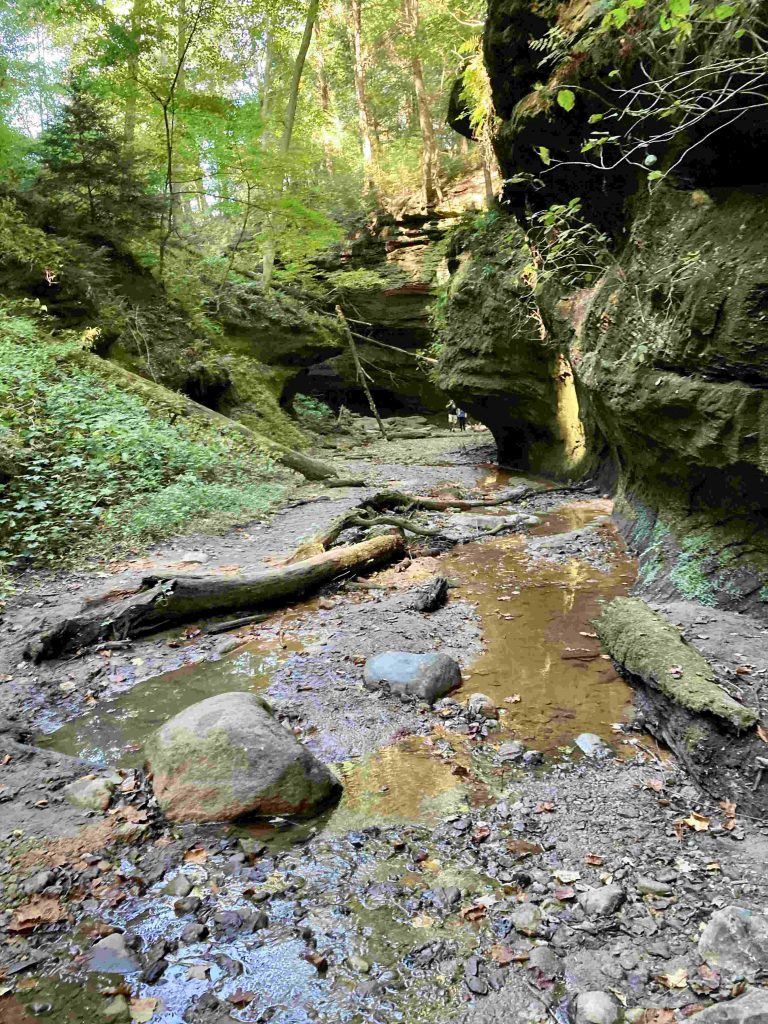 This is a great trail to do if you're camping at Turkey Run State Park. We like to take trail #7 to trail #6 when we're camping. Be ready for several stairs at the connector trail as you descend into the valley. Once down, the views are beautiful with a steep hill on one side and beautiful rock formations on the other.
Trail #4 at Turkey Run (Highlighted in Yellow on the Turkey Run State Park Map Above)
This is a much easier trail than trails #3 and #6. It's our favorite one to do with our dog because she can go down by the water in certain spots and there are no ladders. It also has several historical landmarks along the way including a beautiful covered bridge, a coal mine entrance (unfortunately, no entry allowed), and the home of Captain Lusk, the mill owner who built his home in 1841.
You can also take trail #4 along the water and past historical landmarks and then move to trail #8, which will give you more time to explore other areas of the park. That option is highlighted on the Turkey Run State Park map above.
Canoeing and Floating Through Turkey Run State Park
While swimming is not allowed in Sugar Creek at Turkey Run, visitors can bring their own canoes, kayaks, and more to explore the river. Start upstream at the Narrows Covered Bridge where you will find a parking lot and boat ramp. End downstream at Cox Ford canoe ramp. Of course, there are other access points. Click here for more information.
Don't have your own gear? There are several great rental companies! I've personally used Sugar Valley Canoe Rentals. They provide canoes, kayaks, and tubes for those wishing to spend time on the water around and through Turkey Run State Park. You can pick between 3-mile, 6-mile, and 10-mile excursions. The best part is you don't have to worry about parking and getting to and from your vehicle.
The Nature Center at Turkey Run
Turkey Run's nature center is possibly the only one in the state that has a wildlife viewing area! Visitors can sit inside (in the temperature-controlled building!) and watch the wild animals out the window all year long.
Of course, the visitor's center also offers informative exhibits sharing information about the geology and wildlife of the area. And they provide scheduled events such as a planetarium program, history talks, and even guided hikes.
It is also a great place to stop and use the restroom before heading across the suspension bridge for several of the trails on the other side of Sugar Creek.
Fishing at Turkey Run State Park
If you love fishing, try fishing at Turkey Run State Park! You can even fish from your boat on Sugar Creek utilizing the two access points at Narrows Covered Bridge (upstream) and Cox Ford Covered Bridge (downstream). Those interested in fishing must have a state license.
If you like fishing, you may also want to check out Salamonie Lake in north-central Indiana.
Swimming Pool at Turkey Run
For $3 per person, visitors can enjoy Turkey Run's swimming pool located close to the Inn. The pool facilities offer an Olympic-size outdoor swimming pool, a wading pool, and a bathhouse. Unfortunately, there are no lockers at this time.
Lodging
Turkey Run State Park Inn
Built in 1919, Turkey Run Inn offers comfortable accommodations for those interested in exploring the park and then coming back to a relaxing but rustic lodge for the night. The inn also has a heated pool with sundecks, a covered veranda with rocking chairs for guests, and an arcade.
There is a dining facility and a small gift shop at the inn as well. My husband and I often drop by to use their bathroom, enjoy the air conditioning, and check out the souvenirs at the gift shop before continuing to explore the state park.
Turkey Run State Park Cabins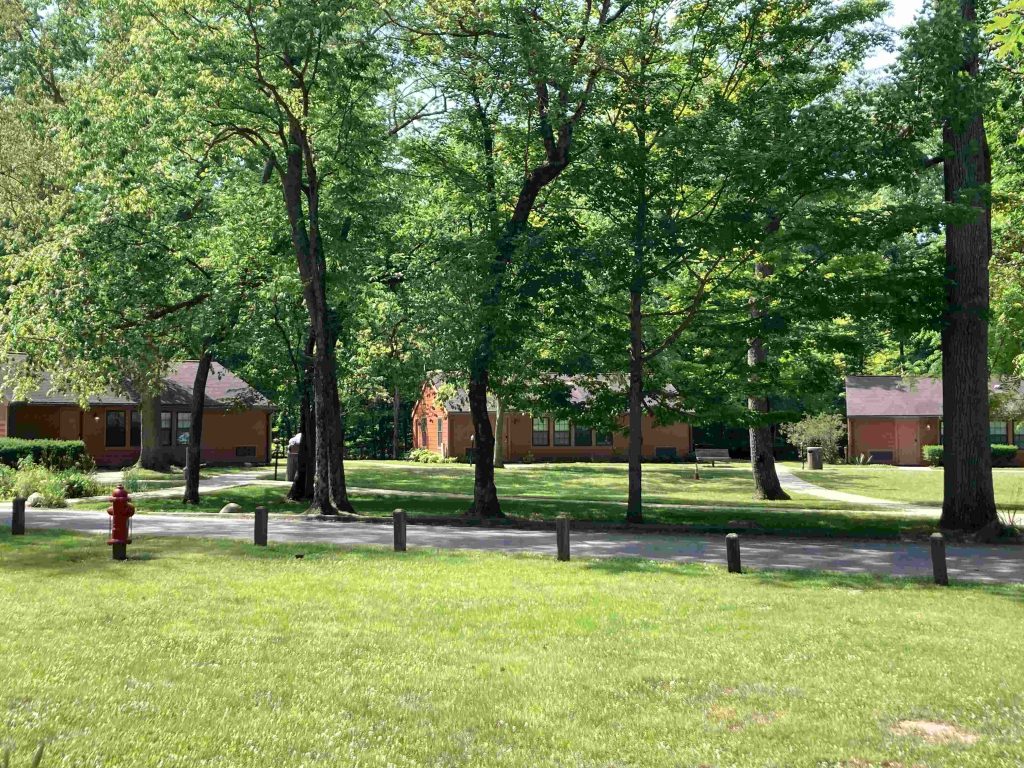 There are also cabin rooms and full cabins available for rent next to the inn. In fact, those using the cabins can use all amenities at the inn. If you're interested, make sure to request early, as they fill up fast!
Turkey Run State Park Camping
Turkey Run's campground is also really popular. The sites are fairly spacious, and there's quite a bit of shade (mainly on the outer sites). There are several bathrooms, two playgrounds, a camp store, and two dump stations at the campground.
The campground has its own separate entrance west of the main entrance on state road 47. However, trail #7 (which also connects to trail #6 and then to the rest of the park) is accessible from the campground.
If you're wanting to get a camping spot at this popular campground, check out our post on how to snag the best campsite at any park!
Activities Around Turkey Run
Covered Bridges in Parke County, Indiana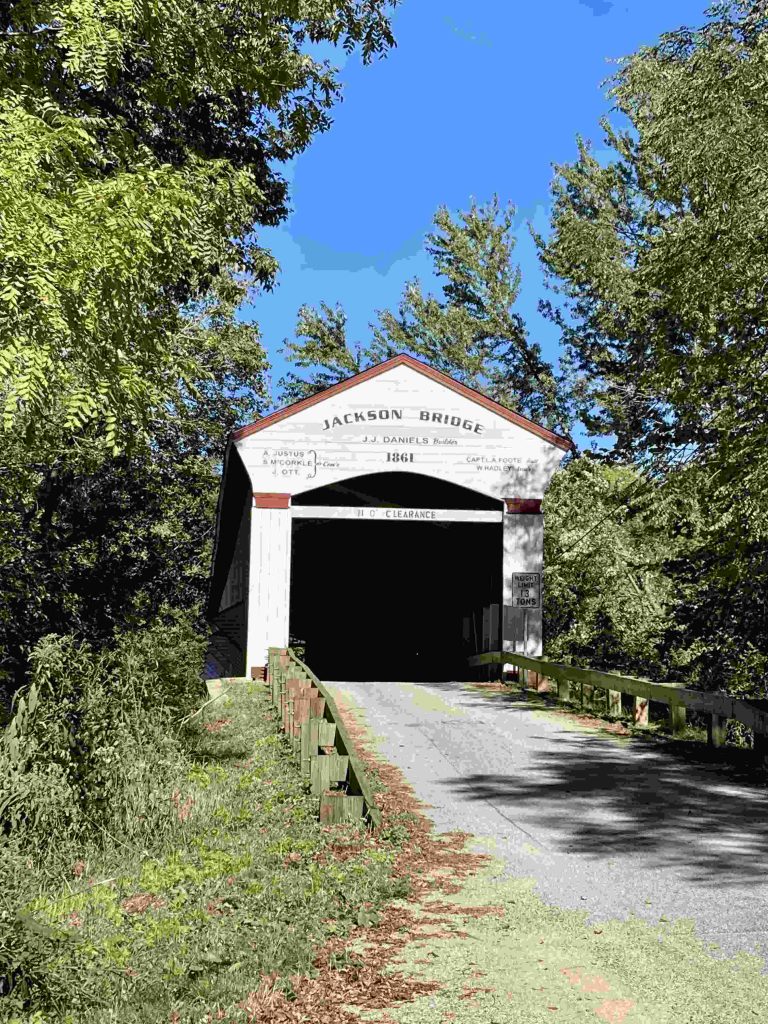 Turkey Run is surrounded by historical covered bridges. There is even a Covered Bridge Festival in Parke County every October, just as the leaves are changing color. It is well attended, as you can imagine! I went several years ago and remember not just the bridges and scenery but also the fun vendors along the route selling things like candles, honey, meat spices, and aprons.
There are two covered bridges on the Turkey Run property. If you don't have time to view several of them, at least try to see the Cox Ford Covered Bridge on the west side of the property or Narrows Covered Bridge on the east side. There is a canoe ramp and parking at Cox Ford as well.
Shades State Park by Turkey Run
If you love adventurous hikes, after hiking trail #3 at Turkey Run State Park, check out Shades State Park only 17 miles away! Shades is beautiful with lots of rocky, picturesque trails similar to Turkey Run. The trails are mostly labeled rugged or moderate/rugged. Trails #4 and #5 both have ladders, so don't plan to bring your dog on those.
We've hiked trail #4. The second ladder on trail #4 was challenging (climbing up a small waterfall.. the ladder was slippery). But it was beautiful! We also did trail #1 and went through the Devil's Punch Bowl, which was so fun. And I've heard the Pine Hills Nature Preserve next door is a wonderful hike. We are hoping to get back there soon!
Fall Activities at Turkey Run State Park
As mentioned above, Parke County has a wonderful Covered Bridge Festival in October every year where visitors can capture the beautiful views of the fall foliage and the covered bridges.
Additionally, the campground often offers a Halloween event that includes a campsite decorating contest and a costume contest.
Any Suggestions for Those (Like Me!) Who Are Gluten-Free and Dairy-Free?
Yes! There is a small restaurant in Crawfordsville, IN that has gluten-free burger buns and more. It's called the Barefoot Burger.
Not only do they offer gluten-free bread for sandwiches and burgers but they also have chipotle veggie burgers if you are vegetarian or vegan. We have stopped there before and enjoyed our experience.
Note: We were there a few years ago before I worried about cross-contamination when it comes to gluten. I cannot confirm that they have a dedicated gluten-free fryer for the french fries. I have reached out to Barefoot Burger, but I've not gotten a response.
Or, if you plan to drive through Indianapolis, you may want to check out our list of the best gluten-free and dairy-free restaurants in Indy.
Also, if you plan to attend the campground Halloween events, check out our post on non-candy Halloween treats!
Summary of Turkey Run State Park
Turkey Run State Park in Indiana has much to offer including camping, canoeing, fishing, and swimming. But the most popular activity at the park continues to be hiking the sometimes challenging but often very picturesque hiking trails at Turkey Run. Hiking enthusiasts will love Turkey Run State Park!