Charlestown State Park: Rose Island | An Abandoned Amusement Park
Have you heard of Rose Island, the abandoned amusement park in Southern Indiana? Located on the Ohio River, Rose Island at Charlestown State Park is the perfect place for a quick history lesson while traveling through Southern Indiana or around Louisville, KY.
Where is Rose Island and Charlestown State Park?
Rose Island is located in Charlestown State Park.
Charlestown State Park is located in Southern Indiana just north of Louisville, KY. You can access the park from state road 62, which runs parallel to the Ohio River.
Coming from Louisville, Kentucky? Take I-265 north to cross the Ohio River and then turn north on state road 62.
Coming from Indianapolis, Indiana? Take I-65 south. Turn south onto state road 160 in Henryville. And then take 62 North for a short time before arriving at the state park.
Note to Visitors: plan to enter through the north entrance. Google Maps tried to take us to the west entrance. But, apparently, it doesn't exist anymore. The road is closed. Plan to enter from the north.
What is Charlestown State Park's History?
Charlestown State Park is known for being the home of an abandoned amusement park called Rose Island. Prior to the Great Depression, Rose Island flourished. In the early 1920s, visitors would come to the park via ferry for a day (or more!) of fun. There was a roller coaster, zoo, resort, pool, and more. At the time, it was a bustling, popular place!
Rose Island's Demise
The Great Depression was hard on Rose Island. Revenue fell but the park remained open. However, the park could not recover from what came next.
In 1937 a major flood hit Rose Island. The water rose around 10 feet in some areas. All facilities were impacted by the flood, and the park could not sustain the devastation.
Today there are poles scattered throughout the park with markings indicating how high the water rose at each specific location. The evidence of Rose Island's demise is everywhere.
The Walk to the Island
Visitors to Rose Island today do not enter by ferry. Instead, there is a long paved path down to Rose Island that is reasonably steep at times. It wasn't terrible, but let's just say, you'll get in your steps and give your legs a workout! We took our dog with us, and I think she did better with the steep hill than we did!
We were very glad the path was paved! It helped with the steep decline. But it also helped ensure less chance of tick bites, something we did struggle with at O'Bannon Woods State Park (here's our post) earlier in the day!
At the bottom of the path is a bridge to cross to enter Rose Island.
The Trails at Rose Island
The main trail at the abandoned amusement park begins with an elaborate and old series of arches that welcome visitors to the park.
Visitors then come upon a few markers labeling previous locations such as the hotel, pool, and dance hall. We enjoyed looking at the plaques with photos of what once occupied the space.
The remnants of the pool are still there for visitors to see. When we visited, some kids were climbing on the rocks that filled in the pool.
As mentioned earlier, we found the flood markings very interesting! They helped us better understand how a wooden roller coaster or dance hall would have never made it through such a treacherous flood as what occurred in 1937.
Also, Rose Island is on the Ohio River. So we took a few minutes to take in the views of the water.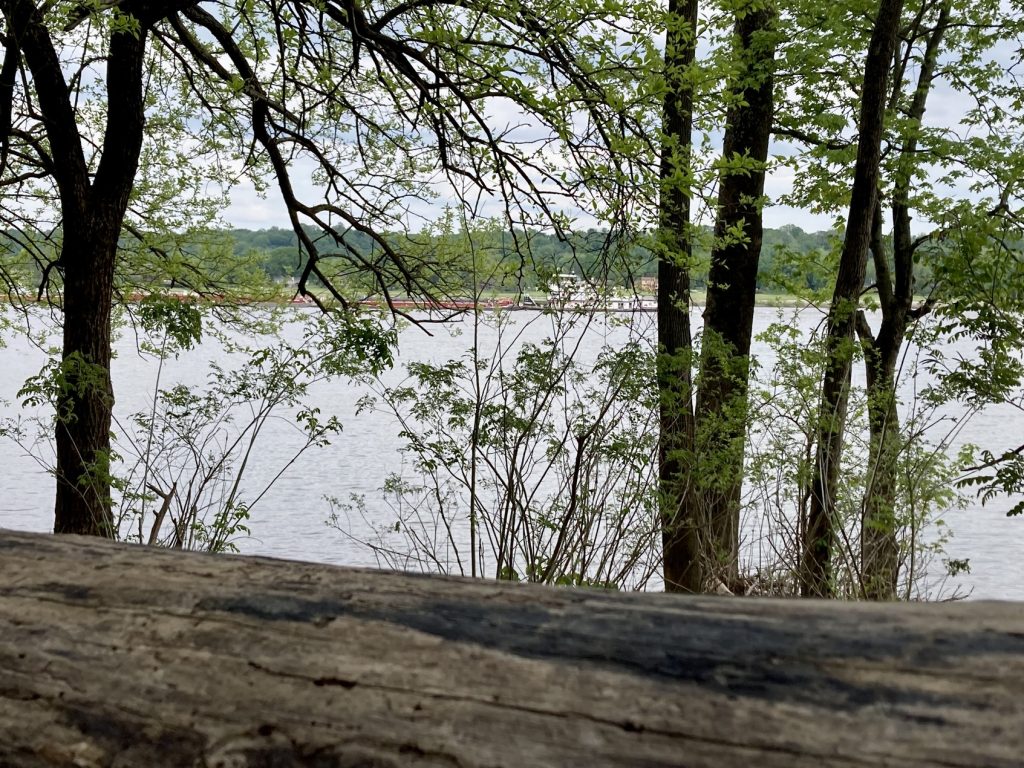 While we could get close to the water, I would not suggest planning to get in the water. There looked to be a steep dropoff to the water where the old ferry landing existed. When we were there, it would not have been safe for us to try putting our feet in the water.
If you're looking for a great Indiana state park to enjoy the water, I would suggest Salamonie Lake in north-central Indiana. (Here's our post). There is a nice beach there. Plus you can rent a boat for the day!
Our Experience at Rose Island
Charlestown State Park in Indiana is quite the experience! We chose to visit both O'Bannon Woods State Park (our post on O'Bannon Woods here) and Charlestown State Park in one day. I'm glad we did not make a trip just to visit Rose Island. While it was extremely fascinating, it only took us maybe an hour to walk the trail, read the plaques, and take a quick look at the Ohio River. However, we're glad we checked it out. We love learning more about the history of our state!
List of All Indiana State Parks
Summary of Rose Island at Charlestown State Park
We enjoyed our time at Rose Island, but I would not suggest visitors go out of their way to make a trip to Charlestown State Park. The history was interesting, but I was glad we were already in the area (visiting O'Bannon Woods State Park). Visitors hoping to stretch their legs on a long trip or see both state parks in one day will likely enjoy this quirky but interesting historical adventure!