O'Bannon Woods State Park (Southern Indiana): Great for Scenic Views and History
Located along the Ohio River in southern Indiana, O'Bannon Woods State Park could be summed up with three words beginning with the letter H: hiking, history, and horses!
This state park is great for scenic views while hiking, history lessons including reenactments, and uncountable opportunities for horses to enjoy the park alongside their owners!
My husband and I have now visited almost all of the Indiana State Parks, 19 of the 24 to be exact. We love exploring new places, and state parks are some of our favorites! We also love the Ohio River. In fact, I grew up visiting Madison, IN every year for the hydroplane races. (If you've never been, you need to!)
So when it was time for another adventure, O'Bannon Woods was high on our list!
Does O'Bannon Woods State Park Have Views of the Ohio River?
Yes! While this park does not offer access to the Ohio River (there was about a 12-foot drop off before the water), it does offer spectacular views of the water and of the river boats making their way down the river.
Ohio River Activities Around O'Bannon Woods State Park
Take in the Views of the Ohio River at O'Bannon Woods State Park
A large grassy area near the water is available. There are benches to relax and take in the scenery, or you can claim some picnic tables offering great views
Hike by the Ohio River
If you love hiking like we do, you may enjoy hiking the Ohio River Bluff Trail which loops around by the water. This is a beautiful hike with views of the river to the south and rock formations to the north.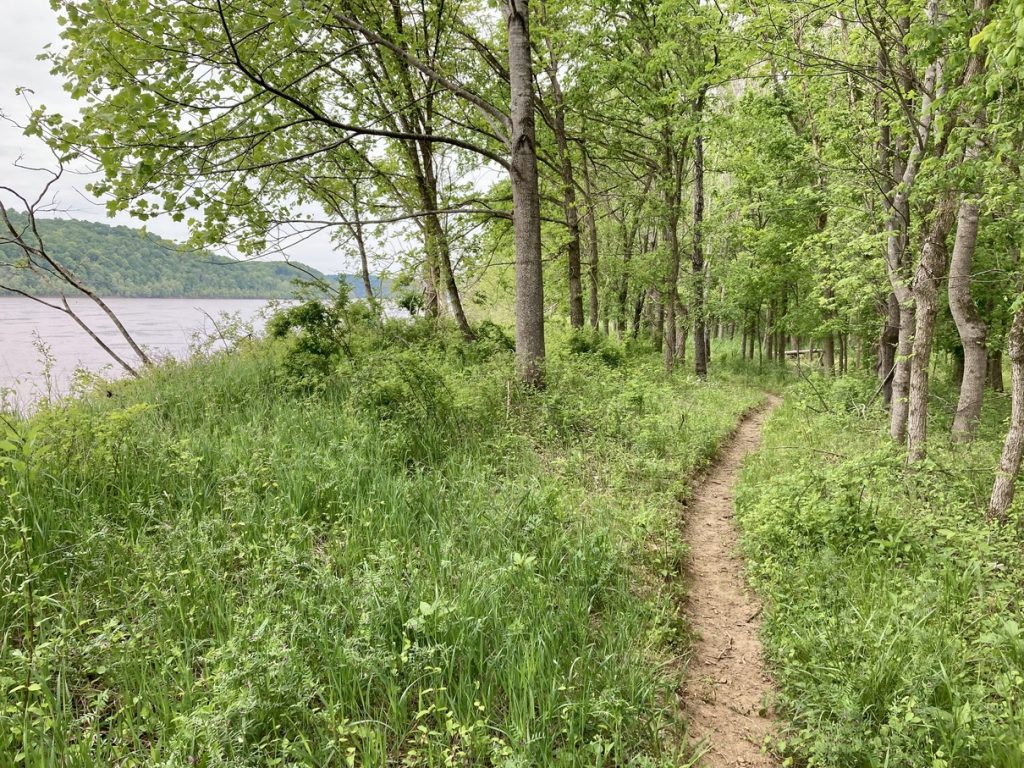 While it's marked as 1.5 miles on the map, it is actually more like 3 miles. It's also marked as rugged, but I would say it's pretty easy overall. The section of the trail down by the water is pretty flat. There are rock steps on the trail, but they are simple. When I first heard of the rock steps, I wondered if our dog could do them, but that was not a concern. And the views were wonderful!
I would suggest doing this hike in the spring. The cleared trail path is small, so seeing the path when leaves are falling in the autumn may present a challenge. Also, there are some sunny parts of the trail which could make it pretty warm in the summer. We were there on a day with projected 80° heat, but the morning sun was not so bad.
While I think all times of year would be beautiful, we were glad we went in the spring. Just remember tick repellant!
Nature Center at O'Bannon Woods State Park
The Nature Center at O'Bannon Woods State Park was not the biggest, but it still held several turtles and snakes and was a great place to ask questions about the homestead surrounding it. (See Below)
There are also public bathrooms at the nature center, something we were excited to see after only port-o-potties and outhouses in the other locations we visited.
History at O'Bannon Woods State Park
O'Bannon State Park holds an 1830's farmstead with a hay press and oxen!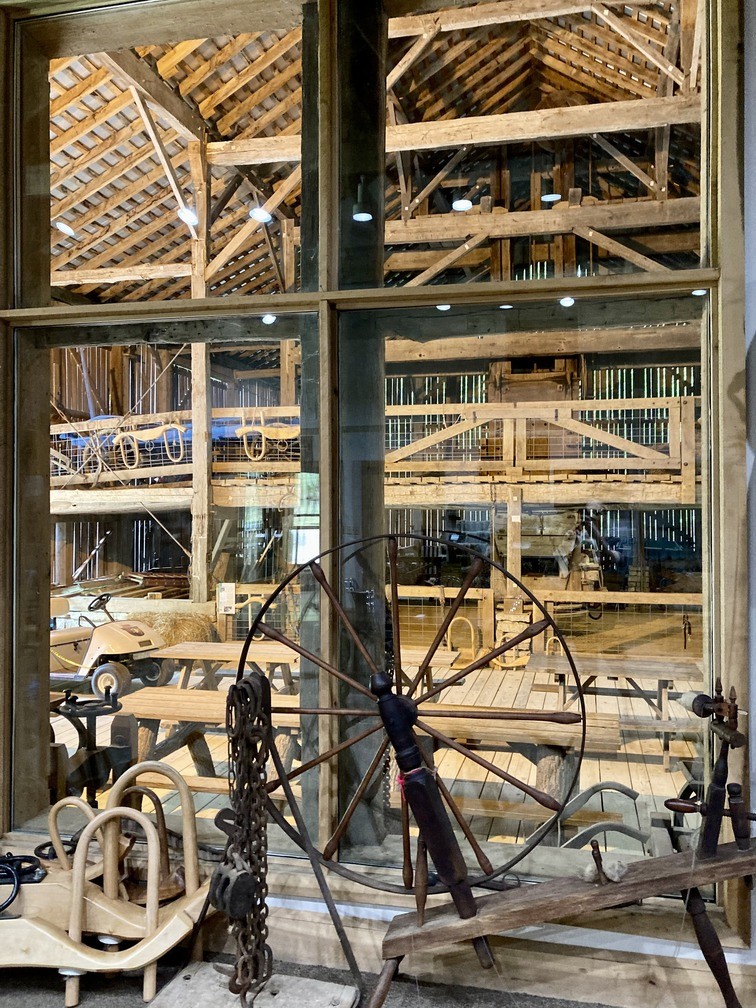 This is a great place to learn about the ins and outs of a working farm in the early 1800's. Visitors can walk through an old barn used to press hay or check out the farmstead, where the oxen are kept and several cabins are located. On special, scheduled days you can even see a reenactment of life in early pioneer days.
We also enjoyed visiting Potato Run Church, an old church still in use today.
Caves at O'Bannon Woods State Park
O'Bannon State Park is located in Harrison-Crawford State Forest. If you enjoy caves, you may be interested in Wyandotte Caves located in the state forest.
Wyandotte Caves is a pair of caves that are considered some of the largest in the state of Indiana. They are made from limestone, a common rock found in Indiana. The caves are open from Memorial Day through Labor Day. For that reason, we were not able to check them out on our trip in early May.
We love checking out caves! Some other Indiana state parks offering cave tours include Spring Mill State Park and McCormick's Creek State Park. Or check out our posts on Mammoth Cave National Park and Crystal Onyx Cave in Kentucky or Luray Caverns near Shenandoah National Park.
Horses at O'Bannon Woods State Park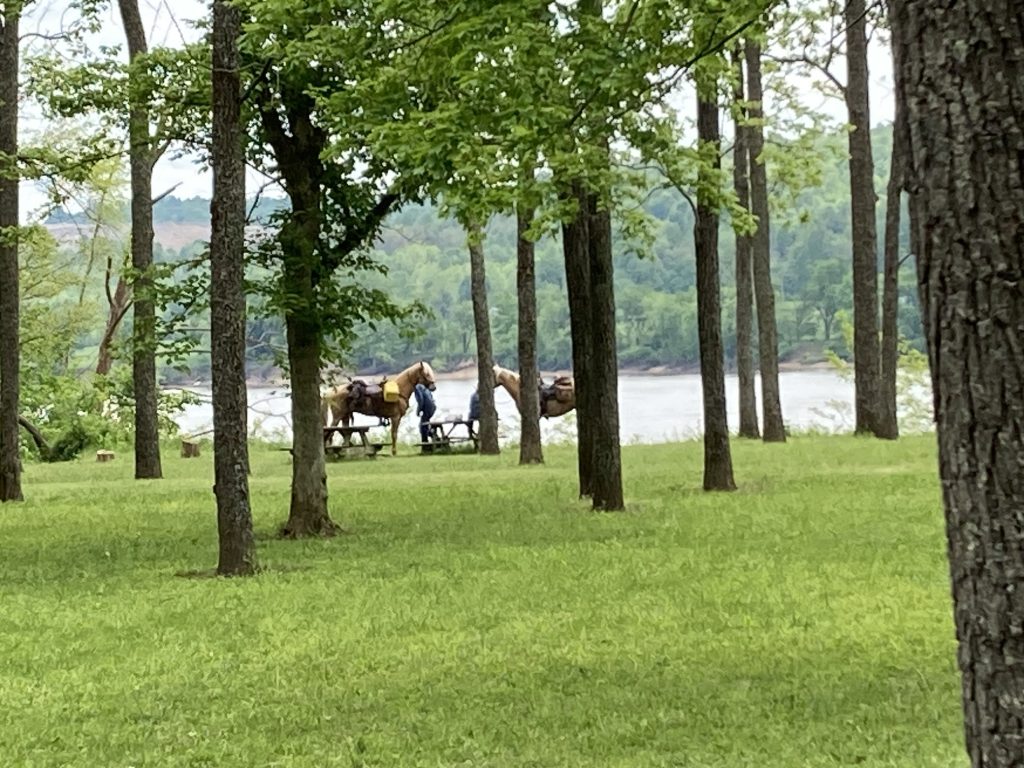 If you have horses, this very well may be the best state park for you! O'Bannon Woods offers 80 miles of horse trails through both the state park and the state forest! Additionally, the park has a horse camp for those wishing to spend a few nights.
Honestly, I have never seen a park more accommodating of horses. We passed several horses while hiking, and we saw places to hitch a horse by the nature center, park office, and more. This is truly a great place to bring your horses!
Looking to travel with your horses? Another great Indiana State Park to bring horses is Brown County State Park a few hours north of O'Bannon Woods State Park. The views at Brown County, especially in the fall, are spectacular!
Other Activities Offered at O'Bannon Woods State Park
O'Bannon State Park also has an electric campground, an aquatic center, and a lookout tower. Visitors could easily spend a few days here, especially when reenactments are taking place by the nature center (mentioned above) or if they might enjoy checking out the town of Corydon, IN (mentioned below).
Corydon, Indiana: Worth a Visit While Checking Out O'Bannon Woods State Park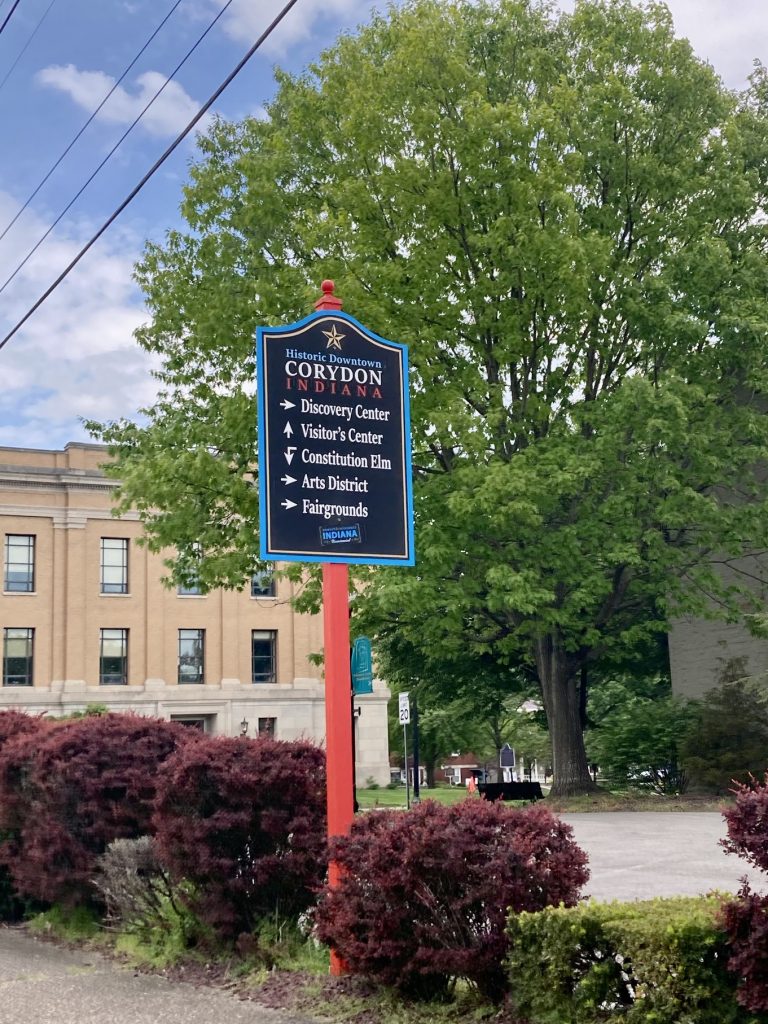 O'Bannon State Park is located in the cute little town of Corydon, IN. At one time, Corydon was the state capital. Check out the cute shops and restaurants in the historic district.
Gluten and Dairy-Free Options in Corydon, IN
For those that follow this blog regularly, you know I am gluten and dairy free. The following restaurants in Corydon offer a few options: 1816 Modern Kitchen and Drinks and B3Q barbecue restaurant.
B3Q is a small establishment, but the food is quite popular. In fact, my parents, who do not have food allergies found B3Q many years ago. My dad still talks about how great their barbecue is and actually requested we bring some back on ice for them when we visited! That's when you know it's good!
If you can't get a seat, grab some food to go. I was not the only one putting in an order at the front.
We packed food for our trip, so I cannot attest to the restaurants mentioned above. But we did stop by a charming little coffee shop in Corydon called KentJava Bar that offered lattes with dairy-free and gluten-free milk. I dropped in for one before continuing to stroll around the cute little town of Corydon.
Other Things in the Area
Visitors may also enjoy checking out Charlestown State Park located only a few miles east or spending time in Louisville, KY right over the river. (We love the amusement park Kentucky Kingdom! But we have not had great luck with their gluten-free options. A story for another day!)
List of All Indiana State Parks
Escape to O'Bannon Woods State Park
O'Bannon Woods State Park in Southern Indiana is a great place to escape busy life, relax by the water, and experience history. The park's location along the Ohio River makes it the perfect place to enjoy scenic views and slow down. If you're in southern Indiana, consider checking out O'Bannon State Park.