Best on the Map: Mammoth Cave National Park and Crystal Onyx Cave
My husband is currently studying planetary geology. While we won't be making any trips to the moon or Mars anytime soon, he was very excited about a trip to Mammoth Cave National Park and Crystal Onyx Cave in Kentucky last year.
Everyone should see Mammoth Cave National Park sometime in their life. The size alone is spectacular! It truly is… mammoth!
But, while many people know about Mammoth Cave National Park, Crystal Onyx Cave is a hidden gem. Only a few miles up the road from Mammoth Cave National Park, Crystal Onyx looks entirely different than Mammoth Cave.
Why Visit Both Crystal Onyx and Mammoth Cave?
Knowing they were so close in proximity, I was floored to learn that Mammoth Cave and Crystal Onyx Cave lie within two completely different topographical planes. This means that each of the caves look completely different than each other from the inside.
Sandstone Layer at Mammoth Cave
Mammoth Cave contains a large layer of sandstone between the cave and the above topsoil while Crystal Onyx does not. That layer of sandstone is key in differentiating these caves. Crystal Onyx, lacking that sandstone, is considered a wet (or active) cave whereas Mammoth Cave is considered dry or dormant.
Massive-ness of Mammoth Cave National Park
While Mammoth Cave is known for its massive dome rooms and expansive passageways, Crystal Onyx is most noted for its beautiful stalactites and stalagmites. The flow of water through Crystal Onyx Cave is actively changing the landscape within.
Wet vs. Dry Caves
Stalactites and stalagmites are mineral deposits carried by water that slowly solidify over thousands of years to form beautiful, conical-shaped rock formations both from the ceiling and the floor respectively. Stalagmites, located on the cave floor, are formed as the stalactites above drip on the cave floor, eventually, without disturbance, forming a solid pillar that connects both the stalactite and stalagmite.
---
Interested in other national parks in the area? We love national parks! Here are some of our blog posts on ones in the area: Shenandoah National Park, Dry Tortugas National Park, Cumberland Island National Seashore , and Gateway Arch National Park.
Mammoth Cave National Park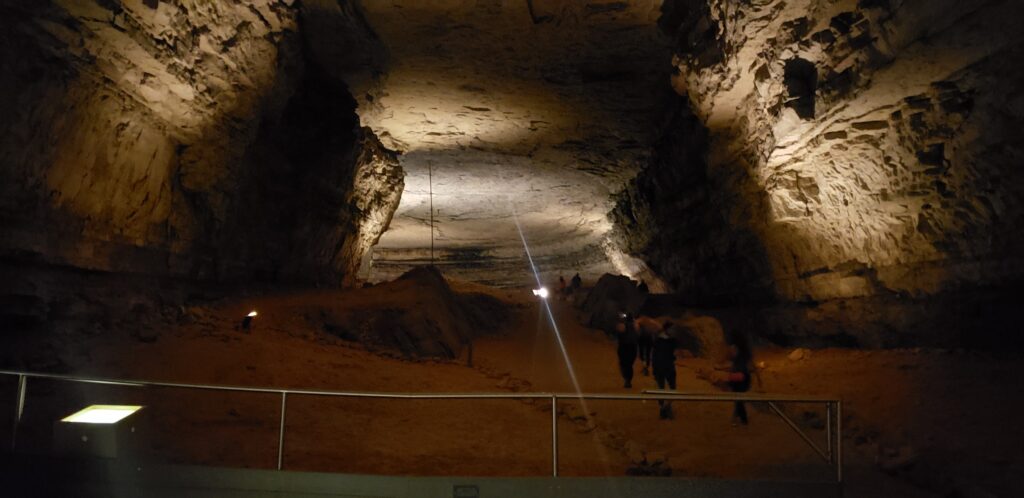 Tours and Admission Cost at Mammoth Cave
Because my husband and I visited Mammoth Cave National Park during Covid, only one tour was available.
Note: There is no additional admission fee to the national park; visitors must only pay for cave tours. Visitors to the park are welcome to use the hiking trails at no cost to them. It is not until they descend into the cave that they are required to pay their tour admission cost.
(This has come in handy a few times when traveling through the area with dogs. I love to stop at the national park and utilize their trails to stretch our legs and get some exercise before continuing on down I-65.)
Our reserved tour time was 1:00pm. After receiving instructions for our time in the cave by a park ranger, our group migrated down a paved hill and then made an orderly line to hand our tickets to the attendant. We were now on a self-guided tour. Due to Covid, masks were required throughout our time there, but it was only at that moment that I felt the weight of the number of people surrounding us and even felt concerned about Covid. Minutes later we began the descent by stairs, though an elevator was provided for those pre-approved. (Read more on its accessibility here.)
The Geology of Mammoth Cave National Park
Mammoth Cave is considered the longest-known cave system in the world! It stretches 400+ miles (640+ kilometers) long with several more miles of unexplored terrain being discovered every year.
Nestled in the middle of Kentucky, Mammoth Cave is made of limestone rock that is capped with sandstone, causing it to be remarkably stable. There is a minuscule chance of collapse compared to other cave systems.
The Passageways in Mammoth Cave National Park
Kaleb geeked out as he observed for the first time the massive rooms created by erosion. I had been there as a child, but it was just as breathtaking the 2nd time as it had been the first. How could something so large exist underground? No picture can adequately show the magnitude of the Rotunda room, but let's just say we're pretty sure a football field could fit inside it!
We then made our way about a mile down the trail through several large passageways (that were very easy to navigate due to the well-maintained footpaths) to the area of the cave where those infected with tuberculosis were sent. In the mid-1800s doctors believed the crisp ("clean") air of the cave could heal patients with tuberculosis. The cave still holds at least 2 of the tiny huts where ill patients resided while calling the cave home. Of course, this practice did not last long but it's amazing that the houses remain intact.
Crystal Onyx Cave, a Neighbor to Mammoth Cave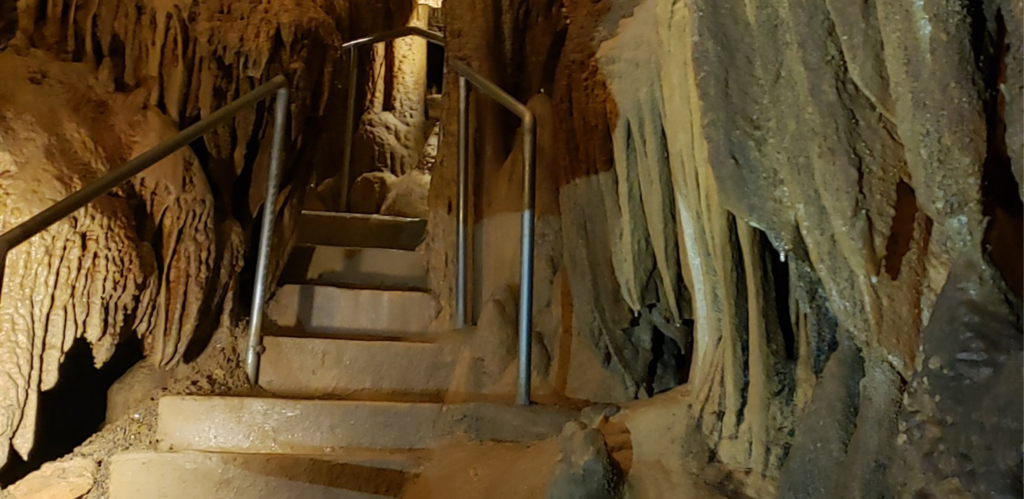 While traveling in the area, we chose to visit Crystal Onyx Cave first. Our 9:00am tour with a very educated tour guide led us down an outdoor ramp and stairs to the opening of the cave.
We were then guided into the entrance of the cave, led down a second flight of stairs where we immediately noticed a drop in temperature and beautiful rock formations. We were led through small passageways and uneven terrain past flowing and dripping water and even sat in complete darkness at the end of the tour to demonstrate the level darkness a cave can create.
It was fascinating, and we highly recommend stopping by Crystal Onyx Cave while in the area!
One note: this tour is a little more physically taxing than Mammoth Cave. The passages are more narrow and there will be steps that are unavoidable. Unlike Mammoth Cave, it's not wheelchair accessible.
---
Like Caves? Check out our post on the best Indiana State Park for caves, Spring Mill State Park or Luray Caverns next to Shenandoah National Park.
Common Questions About Mammoth Cave and Crystal Onyx:
Are Mammoth Cave and Crystal Onyx Worth Visiting?
Mammoth Cave and Crystal Onyx Cave showcase very different aspects of cave biomes, but both are very worth your time to visit. Considering how close they are to each other, I would say visiting both is a perfect way to spend a long weekend!
Is it Worth Bringing Children Along?
For those considering bringing kids, I can attest that I remembered the difference between stalactites and stalagmites to this day (and impressed my husband when reciting them!) all due to my trip there as a young ten or eleven-year-old girl. For a girl who preferred English and history over math and science, these destinations made science interesting. I could visualize the caves when they came up in later geology lessons.
Traveling makes history and science come alive. It did for me!
---
Looking for another fun, family-friendly activity in Kentucky? Check out our post on The Ark Encounter in Northern Kentucky.
Any Suggestions for Those (Like Me!) with Food Restrictions?
This wouldn't be a Well and Well Traveled Blog if I didn't mention traveling with food restrictions! Of course, you aren't going to find any dining options at Mammoth Cave! However, there was a Cracker Barrel in Cave City, KY where you can get grilled chicken or steak and/or a salad. That's what we did to accommodate my dairy-free, gluten-free diet.
Additionally, you may also want to check out our Top 10 Grain-Free Snacks for the Road post if you are trying to avoid gluten, grains, or even dairy.
Mammoth Cave National Park and Crystal Onyx Cave
If you are looking to check out Mammoth Cave in Kentucky, make sure you check out its neighboring cave, Crystal Onyx. The caves are so different and yet equally fascinating. A trip to Mammoth Cave National Park in Kentucky is not complete without a stop at Crystal Onyx Cave.