Amazing Photos of Luray Caverns Near Shenandoah NP
While not in Shenandoah National Park, a stop at Luray Caverns in Luray, VA is still very much worth taking when visiting the park or the DC area. The history and beauty of this Virginian cave make it a popular tourist destination for families. Come along with us as we share some amazing photos of Luray Caverns!
Where is Luray Caverns Located?
Luray Caverns is just a few minutes drive from one of the entrances to Shenandoah National Park. The National Park is considered long and thin, stretching from north to south. The park is mostly one highway with several lookout points and hiking spots. It has four entrances: one at the northernmost tip, one at the southernmost tip, and two in the middle where other state roads cross the park.
Luray Caverns is actually closest to one of the middle entrances, Thornton Gap. It is about a 20-minute drive from Shenandoah National Park's Thornton Gap Entrance.
Of course, this means that Luray Caverns is located in a beautiful area! In fact, you can see the mountain range in the distance as you descend the hill toward the entrance of the cave.
Luray Caverns Address:
101 Cave Hill Rd.
Luray, VA 22835
What Makes Luray Caverns So Special?
Short science lesson: caves can be wet or dry. A wet cave has water actively running through the cave, changing the topography of the cave over time. On the other hand, dry caves are more smooth and tunnel-like. They can seem a bit more boring, honestly!
Luray Caverns is a wet cave. It's filled with beautiful stalactites and stalagmites. The cartography of the cave is stunning!
At Luray Caverns, the groundwater collected and slowly dripped over time from the ceiling, depositing minerals forming both stalactites and stalagmites when the drops hit the floor. Other magnificent features developed in similar ways and there are not many places that put on a better display than Luray Caverns.
How Long is the Luray Caverns Tour?
The cave tour took us about an hour and a half to complete. We may have moved slower than some, but not much. I would plan to spend at least an hour exploring the cave.
Does Luray Caverns Offer More Than Just A Cavern?
Yes! Luray Caverns is the perfect family-friendly destination because there is so much more to do than just the cave tour! Visitors can take advantage of the free Toy Junction and Car and Carriage Museum. Additionally, they can pay extra for a day of fun with other activities including a ropes course and a garden maze.
You can also head over to the artificial mining area and grab a bag to sift for gems. I have heard great things about this section! Many parents say their kids could have spent hours there!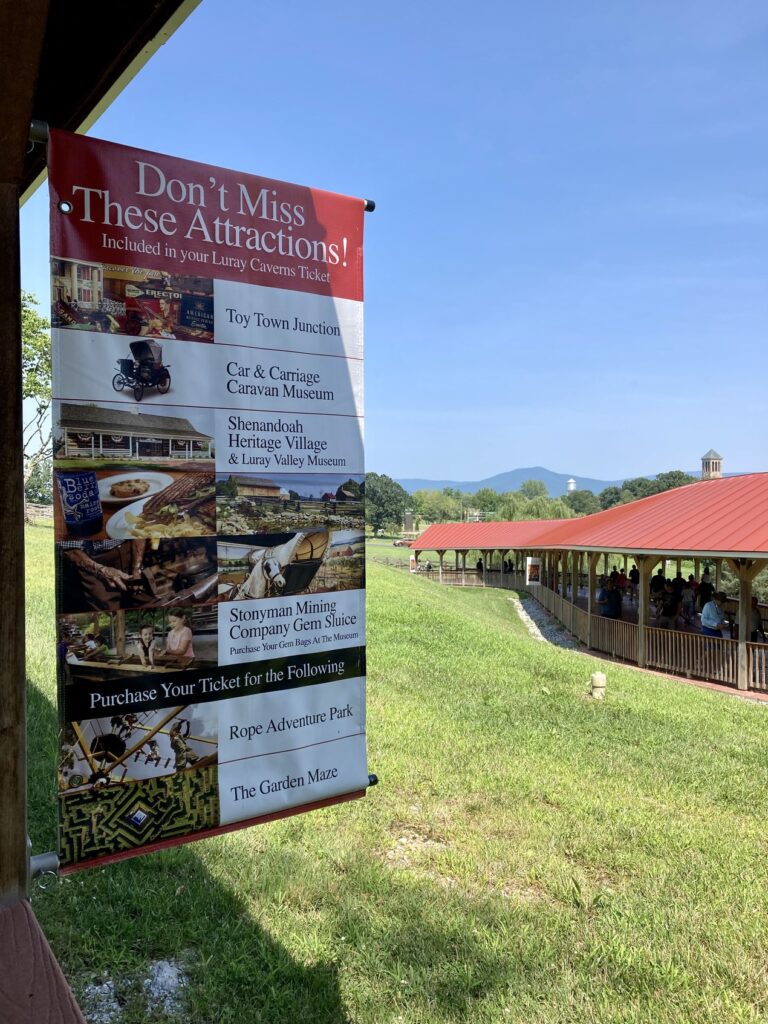 Some Beautiful Photos of Luray Caverns
Well, let's dive right into some of our favorite photos of Luray Caverns!
Dream Lake: Where I Took My Favorite Photos of Luray Caverns!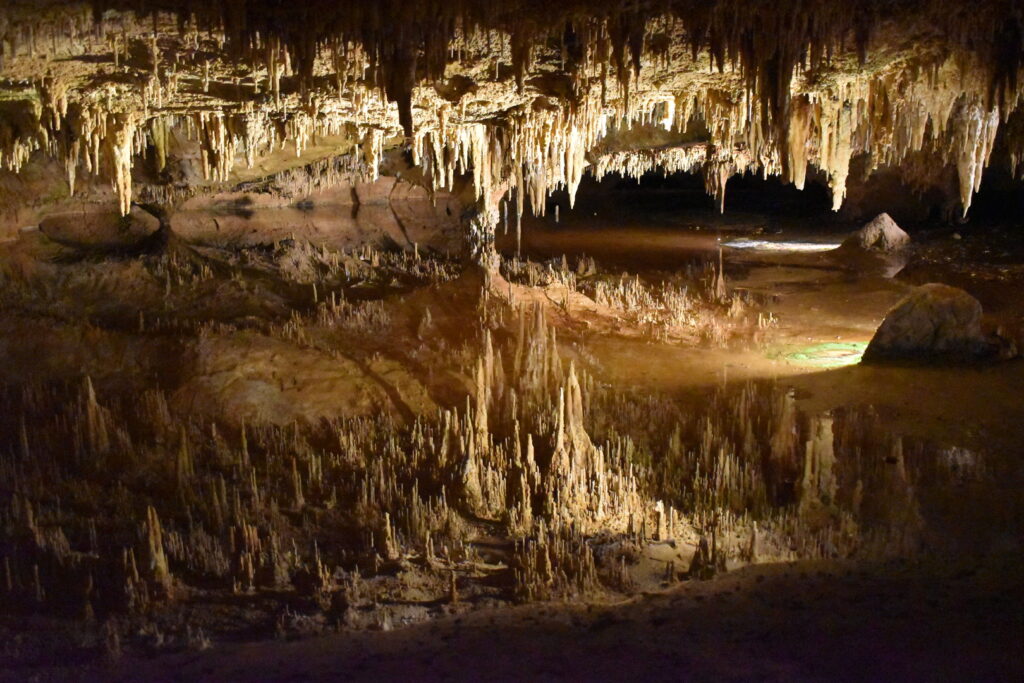 Dream Lake is quite the mirrored illusion! It is created by a thin layer of water pooled over time. Only 20 inches at its deepest, it reflects the ceiling, revealing a dream-like world.
This was actually our favorite section. Pictures do not do it justice. When you are standing in front of it, it's so perfectly mirrored that you feel like you could reach out to touch it!
Pluto's Ghost- Where you Can Get Lots of Photos of Luray Caverns!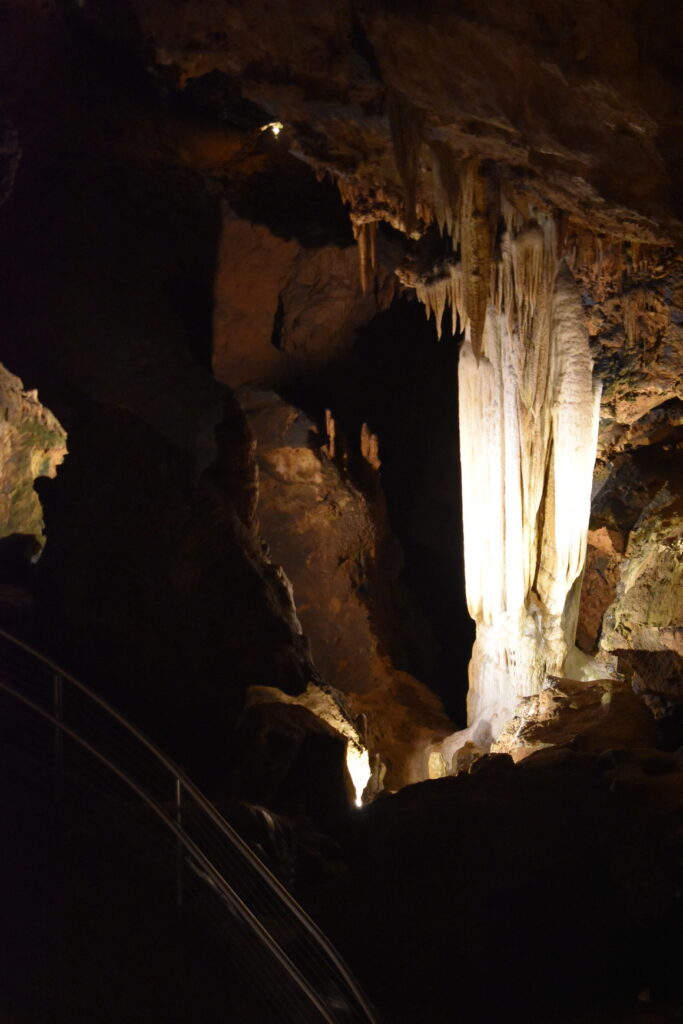 At various times on the path, you'll come upon Pluto's Ghost. It could be considered the center point of the Luray Caverns tour.
Pluto's Ghost is a large white column, extending both high into the air and very deep below. It is formed by both a stalactite and a stalagmite connecting together. However, the white color leaves visitors feeling as if they've witnessed a huge ghost.
Giant Redwood
When you're standing next to it, you understand why it's called the Giant Redwood. This cave formation is huge! It really does look like the trunk of a giant tree!
Saracen's Tent: Where So Many Favorite Photos of Luray Caverns Were Taken!
It was so hard to pick the best photo at Saracen's tent. I found this section fascinating! How could flowstone create this drapery-like consistency? Erosion has led to this thin curtain-like formation. And it is stunning!
Cathedral/ The Organ Room
Home of The Great Stalacpipe Organ, the Cathedral draws visitors from all over the world. The Great Stalacpipe Organ was invented by Mr. Leland Sprinkle in 1954. Throughout the cave, he tested thousands of stalagmites and stalactites for just the right tone and frequency. He then added pneumonic hammers wired and synced to the keys of the organ. When struck, the hammers activate, creating an audible tone similar to that of a normal organ. There are 37 stalactites and stalagmites hooked to the organ, spanning 3.5 acres of Luray Caverns. The Great Stalacpipe Organ is the largest in the world.
The Cathedral used to have year-round dance parties! Because the cave is a consistent 54-degree temperature, the Cathedral was a great place to host events.
Wishing Well
The Wishing Well is the deepest part of the cave. Traditionally, visitors have enjoyed throwing money into the Wishing Well to be collected each year and given to charity.
Fried Eggs
Located at one of the first entrances of Luray Caverns (historically… however, it's now the exit of the tour), these "fried eggs" were formed by a stalactite dripping and creating the beginning of a stalagmite. During their formation, early cave explorers would rub the eggs for good luck, ultimately stunting their growth. Human oils in our hands stop the processes that allow the crystals to form.
Today, visitors are encouraged not to touch the Fried Eggs, but they definitely make for a sight to see!
Any Gluten-Free and Dairy-Free Restaurant Suggestions for Those (Like Me!)?
If you follow this blog because you have food allergies like me, here's our post on Allergy-Friendly Eats in Washington DC (if you plan to be in the area) and our post on Shenandoah National Park (which lists a few restaurant options in the area).
Hope You Enjoyed These Photos of Luray Caverns!
We had so much fun on our day visit to Luray Caverns in Luray, Virginia! These photos of Luray Caverns are just a small sample of all we saw on the trail through the cave. When you're visiting the Shenandoah National Park area, do not miss seeing Luray Caverns for yourself!