Healthy Restaurants in DC (Gluten-Free and Dairy-Free)
Looking for healthy restaurants in DC? Or maybe you are gluten-free and dairy-free and need to avoid certain foods. Traveling while staying on your healthy eating plan is not easy! But this list of tried and true restaurants in Washington DC should be able to help.
We recently did a road trip from Indiana through Pennsylvania, next spent several days exploring Washington DC, and then ended by visiting Shenandoah National Park and Luray Caverns in Virginia. If you are planning a road trip like ours or even one along the East Coast through DC and yet try to eat a gluten-free and dairy-free diet, you've come to the right place!
I am gluten-free and dairy-free (plus more). After spending several days exploring the city, I found these gluten-free and dairy-free restaurants in Washington DC could accommodate my diet!
---
**This information is not meant to circumvent medical advice or to identify what foods bother you personally. Each person is different and responds differently to things in their environment. This blog shares Kaleb and Alicia's experiences and options you may want to try if you are trying to live a healthier life and avoid similar things. Please do your research, speak with your healthcare professional, learn what bothers you and helps you personally, and take the steps needed from there. Also, please remember that menus change, so you will need to look at the current menu.
---
What Kind of Healthy Restaurants in DC are Listed Below?
Each of these restaurants is a great on-the-go option! When we're exploring a new city, we usually hate spending our time waiting for food to arrive to the table (unless our feet hurt, and we need a break from the running! lol). So we picked healthy restaurants in DC that could get us our food fast. These 10 restaurant options are fast, convenient, and reasonably priced, allowing you to spend more time exploring Washington DC!
Healthy Restaurants in DC (Especially Gluten and Dairy-Free!)
1. 100% Gluten-free and Tree Nut-Free Seoul Spice
Seoul Spice prides itself on being 100% gluten-free. They also don't use tree nuts, MSG, or added hormones.
Visitors can build their own bowl or burrito from a choice of rice, noodles, and salad. The protein options include beef, chicken, spicy pork (which my husband loved!), and tofu. Toppings include your choice of veggies such as Korean radishes, bean sprouts, kimchi, eggs, cucumbers, avocado, and more.
With four locations this is an excellent option for gluten-free and dairy-free visitors to the city! When we visited, we went to the one just a block north of the archives metro and three blocks east of Ford's Theater. (I loved my tour of Ford's Theatre!)
I reached out to Seoul Spice ahead of our visit to ask if they had soy-free options. The helpful representative made me aware that they use a soy marinade for all of their meat. Since I try to avoid soy, she suggested I use avocado in place of the protein options. And it turned out delicious!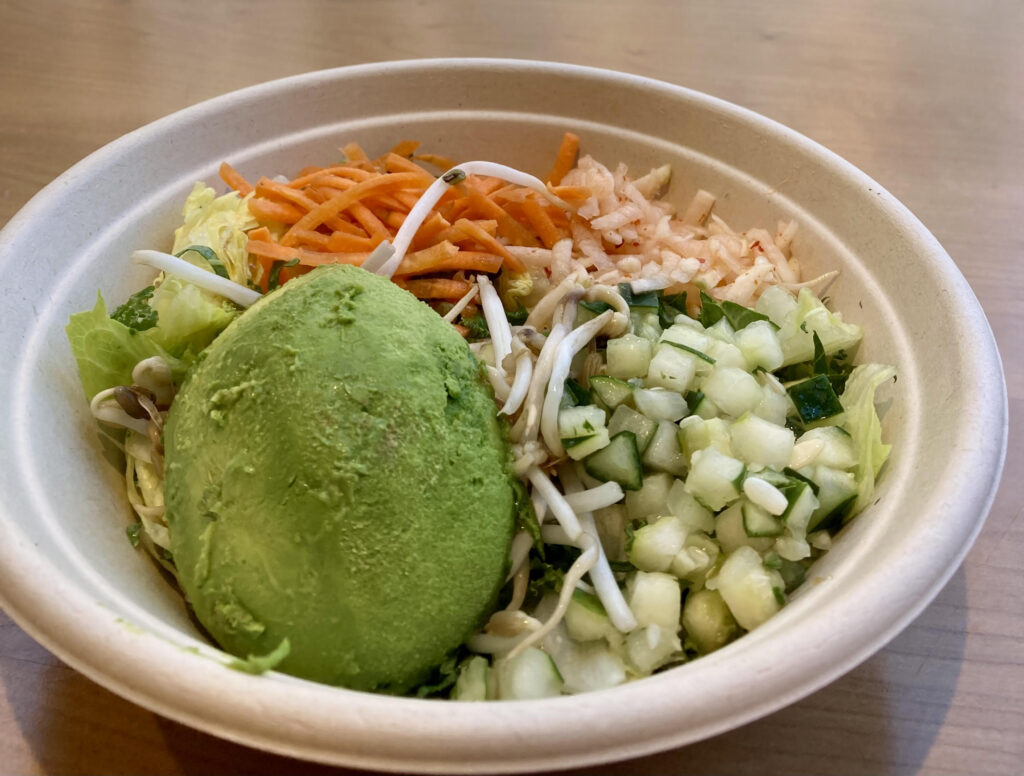 2. Gluten-Free and Dairy-Free Sandella's Flatbread Cafe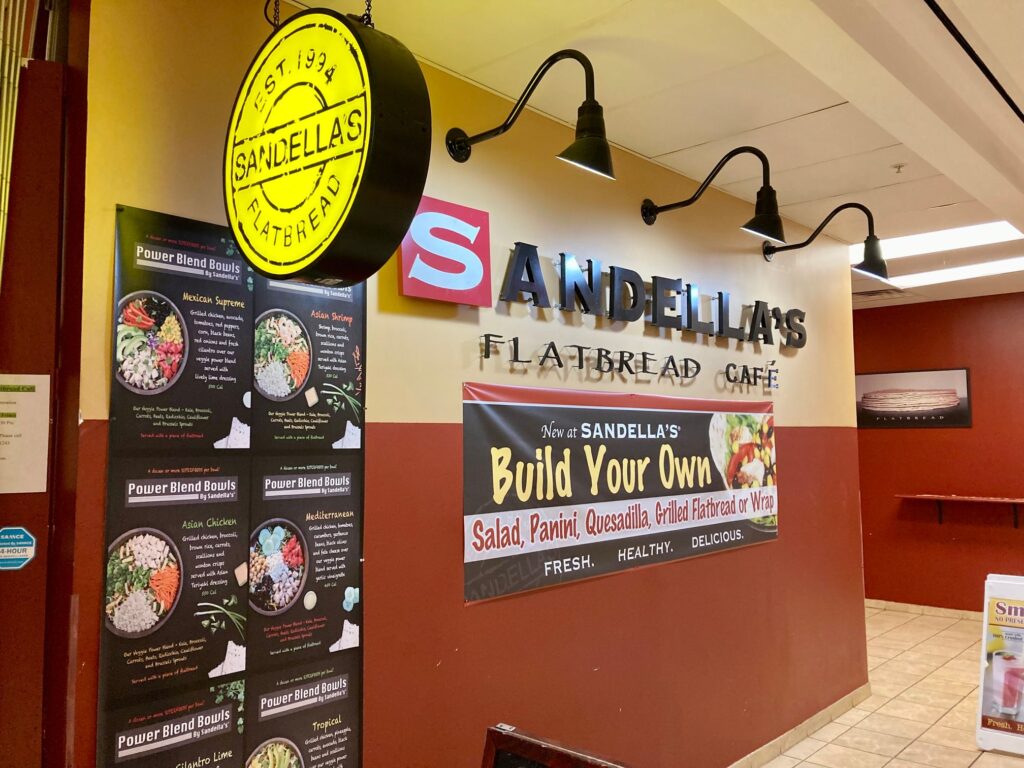 Sandella's Flatbread Cafe is a great, quick option if you're trying to get a lot of sightseeing in! It is in L'Enfant Plaza, right next to International Spy Museum! The L'Enfant metro station entrance is in the shopping mall, making it an easy option for on-the-go eating!
Sandella's offers gluten-free flatbreads, dairy-free smoothies, power bowls, and salads. When we visited, I opted for a tropical power bowl with a lettuce and spinach base, grilled chicken, pineapple, carrots, black beans, and avocado. My husband, Kaleb, and his brother got the gluten-free flatbread and said it was pretty good. Kaleb and I also shared a dairy-free pineapple coconut smoothie. The meal was very flavorful and filling!
Note: If you are entering L'Enfant Plaza from the Spy Museum, though, know that you will need to enter the business complex and take the stairs down to the shopping mall located in the basement of the building. They are open Monday through Friday.
3. Immigrant Food
Immigrant Food celebrates the diversity of America with a fusion of culture in every bowl! It has a few locations including next to the White House, Planet Word Museum, and the Market District.
Immigrant Food offers street food, bowls, sandwiches, desserts, and several drink options. Their menu indicates several gluten-free, vegan, and vegetarian options.
4. California Tortilla
California Tortilla offers burritos, bowls, and tacos. I got the Caribbean Mango Chicken bowl with a lettuce base, grilled chicken, and no tortilla strips. It was delicious!
Those with celiac will need to make the staff aware. This restaurant is not 100% gluten-free and the risk of cross-contamination does exist. However, when I researched the restaurant, many with celiac disease stated that the staff changed gloves and made them feel comfortable eating there.
At the time of writing this article, there are four California Tortilla restaurants in the DC area. Three are located close to the National Mall, and one is located in Arlington, VA. If you decide to check out the town of Arlington or Arlington Cemetary, California Tortilla might be a great option for you!
When we went, we visited the location in the Federal Triangle, just north of the Smithsonian National Museum of American History. It is located in the food court under the Ronald Reagan Building and International Trade Center. The National Children's Museum is directly next to this building.
5. 100% Dairy-free Smoothies at Forever Young
If you end up at the same food court we did for California Tortilla (above), check out Forever Young! We were so impressed by their menu of 100% natural and dairy-free smoothies. The list of flavors was extensive! I had a strawberry, banana, and pineapple smoothie. It was delicious and so refreshing on a hot July day! And they even put a slice of fresh pineapple on the side of the cup!
6. True Food Kitchen: Very Accommodating of Multiple Food Restrictions (including Gluten-Free and Dairy-Free Diets)
If you have multiple food restrictions, this is the place for you!
We love True Food Kitchen! We first went to one while visiting Jacksonville, FL and were amazed at how accommodating they were of my desire to not only avoid gluten and dairy but also corn and soy. They are very careful not to cause cross-contamination and take food allergies very seriously!
True Food Kitchen offers salads, pizza, burgers, cocktails, brunch, and more! Their gluten free and dairy free pizzas are delicious!
7. Gluten-free and Paleo Options at The Little Beet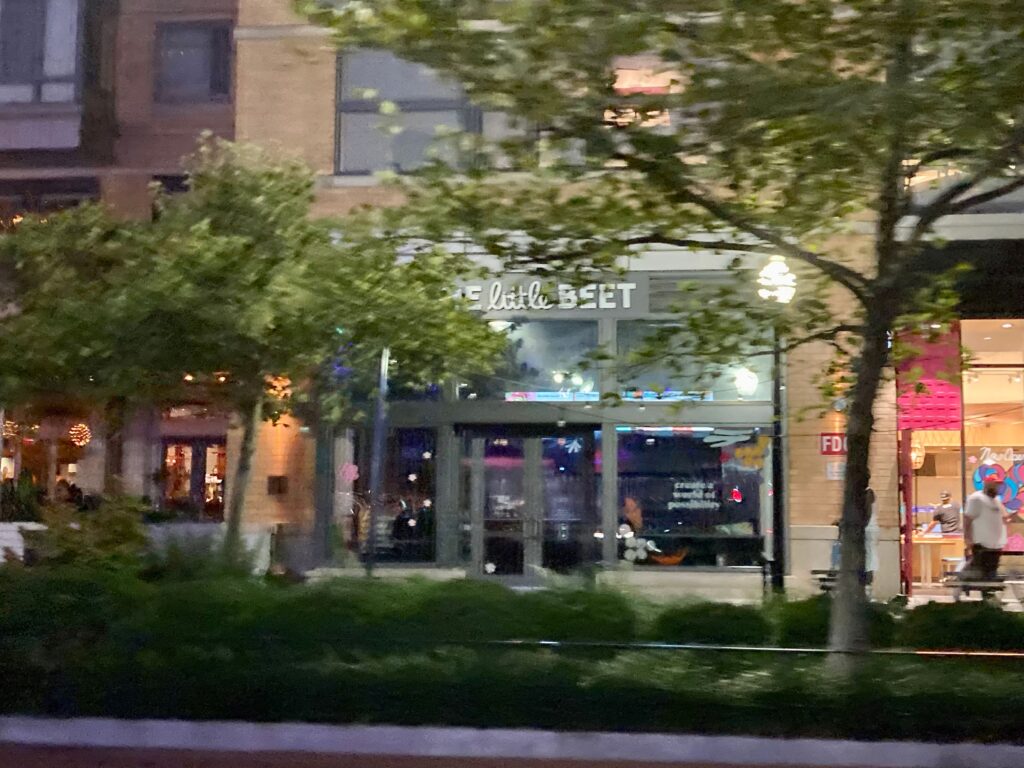 The Little Beet has a dedicated gluten-free menu and bowls for various diets including Paleo, Keto, and Whole 30. They also offer make-your-own plates with bases of rice or lettuce.
Though we did not go in, I've heard good things about this place and decided to snap a picture as we drove by! It needed to be on our list of healthy restaurants in DC!
Mainly located in New York, Little Beet has only one location in DC at this time. It is located north of Chinatown and south of state Route 50 on K Street in a bustling area of town called City Vista Shopping Mall. It seems to be one of the only areas of town that stays open past 6pm in this city(!), so this would be a great option for dinner one night, especially if you are visiting Chinatown or checking out the White House beforehand!
8. Chipotle Mexican Grill- One of Many Great, Healthy Restaurants in DC!
Chipotle is another great option for those that are gluten-free and dairy-free! When I order from Chipotle, I love getting one of their Paleo and Whole30 bowls with lots of yummy toppings!
There are 11 Chipotle locations in the central area of the city with 18 total locations spread throughout DC.
9. Chic-fil-A
At Chic-fil-A, I usually order a salad with grilled chicken and no cheese, tortilla strips, or corn. Or I order grilled chicken nuggets, a fruit cup, and sometimes waffle fries. Here is a very helpful nutrition and allergen guide for Chic-fil-A, if you are staying away from something in particular. (Note: Chic-fil-A has recently added a dairy-containing seasoning to their grilled chicken. If you are highly allergic to dairy, the grilled chicken is not an option anymore.)
If you are gluten-free but still eat grains, Chick-fil-A also offers a gluten-free bun.
I've had great luck at Chic-fil-A over the years! We stopped at the one outside of the DC USA Shopping Mall (where there's also a Target, iso we dropped in to to grab a few things!) at the Columbia Heights metro stop.
But there are several around the city, including two in the downtown area. Just don't plan to visit on Sundays; they are closed.
10. Dairy-Free and Plant-Based Options at Heat Da Spot Cafe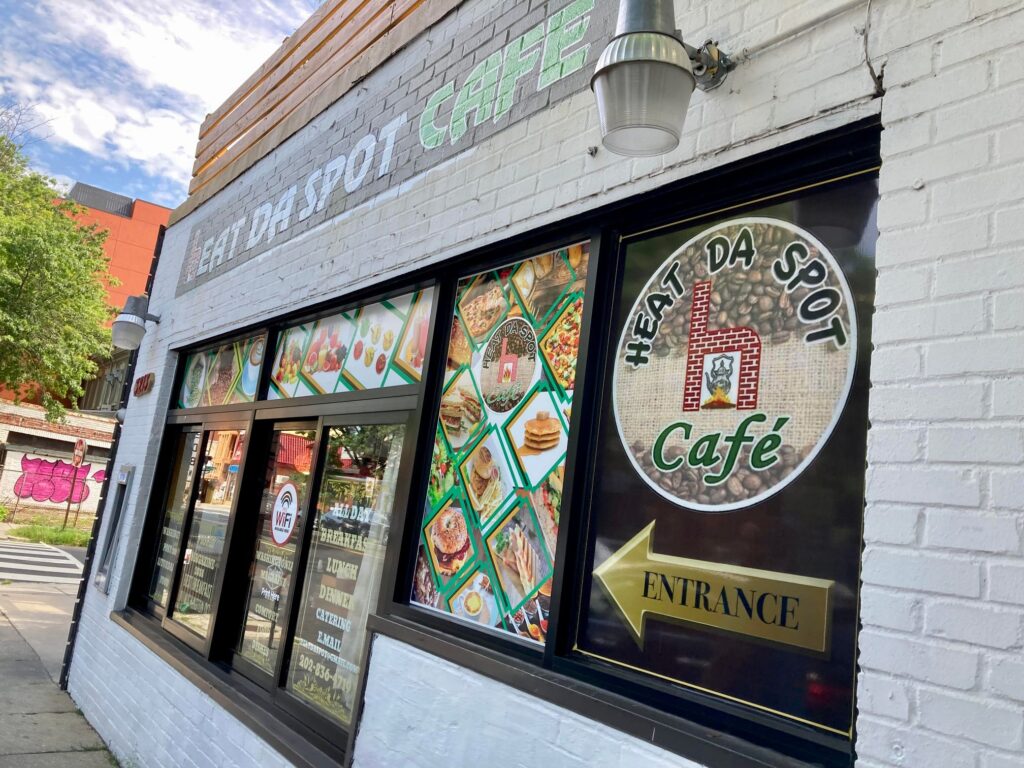 While visiting Washington DC, we stayed in a rental on the north end of town off of the Georgia Ave/ Petworth metro station. This little cafe was a great space to stop for breakfast. Their menu is extensive!
Heat Da Spot Cafe is a cute (and busy!) American and Ethiopian cafe specializing in breakfast and lunch. They offer a wide variety of items including sandwiches, omelets, burgers, waffles, coffee, and traditional Ethiopian meals. Let them know if you are gluten-free or dairy-free, and they can likely accommodate. I was able to get a dairy-free latte, and our rental home host, who is vegan, said she goes there regularly for their breakfast options.
---
Are you traveling and on a gluten-free or dairy-free diet? Check out our post on gluten-free and dairy free restaurant options between Chicago and DC, allergy-friendly restaurants in Savannah, GA, Jacksonville, FL, and Indianapolis, IN.
---
Several Gluten-Free, Dairy-Free, and Healthy Restaurants in DC
Washington DC did not disappoint us with its healthy restaurants! We found the city to have several options for those eating gluten-free or dairy-free. And, though I did not always note it above, the city was very accommodating of nut allergies as well!
If you are trying to eat healthier or avoid dairy or gluten, check out some of these healthy restaurants in DC!