Delicious Paleo Orange Beef Recipe (Whole30 Approved)
This paleo orange beef recipe is sure to be a crowd pleaser! Free from all grains (including gluten), dairy, soy, and more, this Whole30 and Paleo recipe is packed full of flavor without any inflammatory ingredients that may impact gut health, weight loss, and more.
I made this recipe on a whim while traveling in Michigan with my dogs a while ago and completely surprised my husband! I'm pretty sure this quickly became one of his top 5 recipes! He craved it for weeks following that trip! After he had brought it up several times, we finally made it again. And he was in heaven!
Now, it's become a regular recipe around our house.
How Quickly Can This Orange Beef Recipe Be Made?
This recipe calls for a longer cooking time than most of my recipes (like Paleo Pepperocini Steak or Creamy Italian Chicken recipes). While it slowly cooks, the orange flavor permeates throughout this dish. It especially influences the flavor of the meat, something that I'm not sure could be accomplished with less cooking time.
Ingredients in this Paleo Orange Beef Recipe
This recipe calls for a lot of fresh orange juice, but there is good reason! As the orange juice cooks with the beef and vegetables, the liquid reduces down and the natural sugars in the juice remain. This leaves a sticky, flavorful orange glaze that quickly becomes the star of the show!
For this paleo orange beef recipe, you can use fresh squeezed orange juice, often found at a health food store. Or you can make your own with several oranges.
Meat and Veggies
The beef could be sirloin, chuck-eye, or flank. You may use other options; just make sure the beef's cut thinly.
This recipe also calls for carrots, red peppers, and broccoli, which add some fiber and color to the dish.
Flavoring
The orange juice, garlic, and ginger add most of the flavoring. As mentioned above, this recipe calls for a lot of orange juice so that it can boil off, leaving behind the delicious orange glaze.
Coconut aminos is also added to this recipe. This ingredient is a great substitute for soy sauce for those that are both soy-free and gluten-free. It can be found in most grocery stores in the international section.
Now on to this delicious paleo orange beef recipe!
Print Recipe
Delicious Paleo Orange Beef Recipe (Whole30 Approved)
This delicious paleo orange beef recipe will have you wishing you could make it every night!
Ingredients
1

head

broccoli, cut into florets

2

tbsp

olive oil

pinch

salt

2

large carrots, cut into 2 inch sticks

1.5

lbs

thinly cut beef such as chuck eye beef, cut into bite-size pieces

1

tsp

salt

4

cloves

garlic, minced

1

tbsp

ginger, minced

1

red bell pepper, diced

5

cups

fresh orange juice (or the juice of about 9-10 oranges)

2½

tbsp

coconut aminos (or soy sauce if not soy or gluten-free)

2

stalks of green onions, sliced
Instructions
Steam the Broccoli
Add 1 tsp of olive oil and a pinch of salt to a steamer. Steam the broccoli in your choice of cooking pans on high heat for until you are able to push a fork through with ease (about 10-12 minutes).

While the broccoli is cooking, salt the beef. Let it stand for at least 15 minutes before adding to the recipe.
Start Cooking the Carrots
Heat 2 tsp of olive oil in a wok or skillet on med-high heat. Add the carrots and cook for 2-3 minutes, or until partially cooked.
Cook the Beef
In the empty wok or skillet, add a tablespoon of olive oil and the salted beef. Add beef and cook on med-high heat for 6 minutes or until it is cooked to your liking.
Incorporate the Flavoring
Add the garlic and ginger to the meat and continue cooking on med-high heat for 1 minute. If a dash of olive oil is needed to coat the pan, add before cooking the ginger and garlic.

Add the partially cooked carrots, the diced raw pepper, the orange juice, and the coconut aminos to the beef.

Turn the heat to medium and cook for 20-25 minutes uncovered, stirring occasionally. Allow the juices of the orange juice to reduce down a bit. At the very end of the cooking process, you should notice less juice and more of a glaze on the beef and veggies. Continue until it is almost all glaze and then pull off the heat.
Add the Broccoli and Green Onion
Add the broccoli and green onion to the dish before serving.

Serve over cauliflower rice, rice, or eat by itself depending on your dietary preferences. (Note: regular rice is not paleo and Whole 30 approved.)
Notes
*You are welcome to use less orange juice. Just be ready for less flavor. In this recipe, even though the juice gets reduced down, the natural sugars from the larger amount of juice remain. By using less orange juice, you will have more trouble tasting the orange in the beef.
*Feel free to play around with the veggies. Snap peas may be a great option in this recipe!
---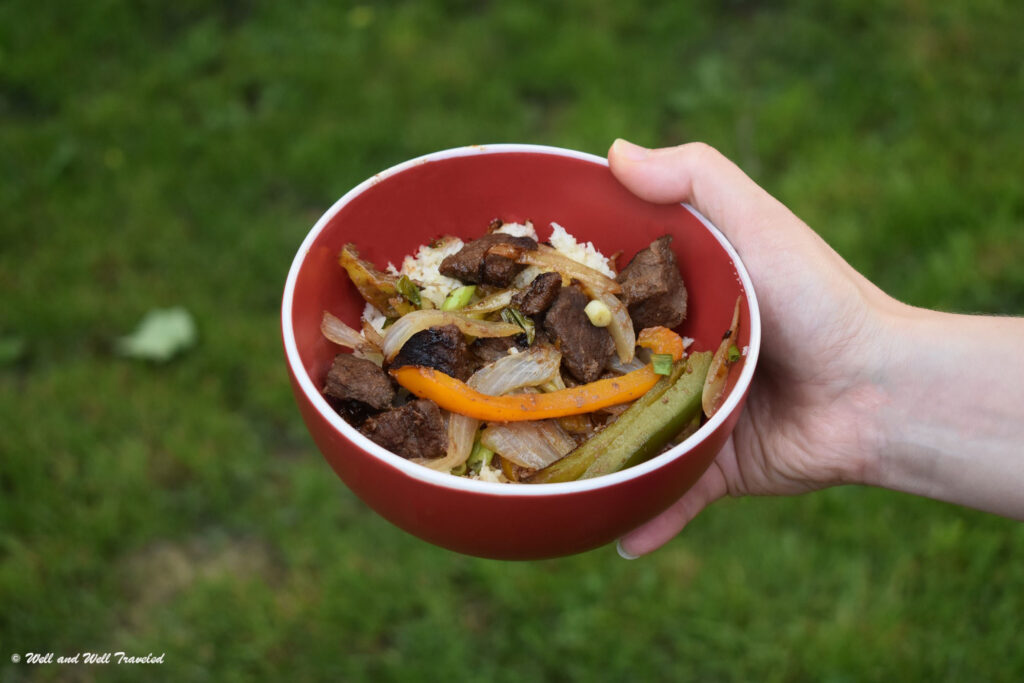 ---
Summary of this Paleo Orange Beef Recipe
This delicious paleo orange beef recipe can be served over cauliflower rice, over rice (if not following a Paleo or Whole30 diet), or served on its own. Because it contains so many veggies, no need for a side dish. Grab a pair of chopsticks and enjoy!