Same But Different: 8 Simple Paleo Lemon Recipes
Looking for some great Paleo lemon recipes? We have you covered with eight great options!
It's not uncommon for those with dietary restrictions or food allergies to say traveling is too challenging. I've heard many times, "It's hard enough to eat at home, why would I travel with all of these restrictions?"
Part of the reason this blog was created was to show that traveling IS possible and CAN be simple. It just takes some prep work.
This is the first post in our new series "Same but Different", a series designed to help those traveling with food restrictions cook simple meals that use similar ingredients but taste differently.
Why Use the Same Ingredient in Several Recipes?
My motto when traveling with food restrictions and allergies (when you've decided cooking your meals is the better option for the trip) is always… (1) reduce your grocery list, (2) save unused ingredients, and (3) creatively reuse those ingredients by putting them in several recipes!
If you're traveling and looking to make a recipe that calls for a clove of garlic, look for ways to use the rest of the head of garlic. If you're making a recipe that uses coconut aminos (a gluten-free, soy-free, soy sauce substitute), strive to make other recipes that call for coconut aminos. The goal is to buy as little as possible.
I mean, who wants to put their vacation money into groceries when several things will just go to waste?! I'd rather spend mine on an excursion or nicer lodging!
*This post contains affiliate links. We may earn from qualifying purchases when you click on the links. This is at no cost to you.
Check out this post for 8 Simple Steps when Traveling with Food Restrictions to make the trip so much more enjoyable!
Step 4 of that blog post encourages you to research recipes with similar ingredients, so today I'm going to dive into Paleo lemon recipes. This does not mean that every recipe in this post should be used for the same meal, though you're welcome to do so if you love lemon! The point of this post is to give you suggestions for what to cook when you're looking to reuse fresh lemon juice or zest.
Let's dive in!
Paleo Lemon Recipes- Appetizers
Lemon Walnut Roasted Pepper Dip
This vegan, paleo, grain-free, and gluten-free Lemon Walnut Roasted Pepper Dip from My Wife Can Cook makes a great appetizer for any get-together. The cumin and coriander work well with the lemon, but you can always add additional ingredients like chili powder, as mentioned in the post.
Pair it with raw veggies, Siete chips (pictured), or the cassava crackers in this Top 10 Grain-Free Snacks for the Road post, and you're set!
Paleo Lemon Recipes- Main Entrees
One Skillet Paleo Salmon Dinner with Lemon and Sage
Just cook the salmon, cook the veggies, and then bring it all together by incorporating a few simple ingredients that add tremendous flavor. It's really that simple! You're not counting on a rental home to have uncommon appliances and cookware (a caution discussed in step 4 of this blog post!), you're not spending your whole vacation in the kitchen, and you get a delicious dinner. All you need is a knife, one large pan, and your ingredients, and you'll have a meal in minutes!
Chicken or Shrimp Lemon Salad
Looking for a simple recipe that can be transformed easily? Try taking a simple salad recipe, such as one with grilled chicken or grilled shrimp with veggies, and transforming it with a few squirts of lemon juice. You may even combine honey and Paleo-approved mustard with the fresh lemon juice to make a great salad dressing!
Paleo Lemon Recipes- Side Dishes
Quick and Easy Lemon Asparagus
Looking for a very basic recipe for a side dish using lemon or garlic? Here's an easy Paleo, Whole30, Keto, Gluten-free, and Vegan recipe I created using only 5 ingredients (asparagus, garlic, fresh lemon juice, olive oil, and salt): Quick and Easy Lemon Asparagus. And it only takes a few minutes to make!
This is a great recipe to make while traveling. You only need a few ingredients on the grocery list, you can reuse garlic, lemon juice, or even olive oil, and you can make it in a few short minutes. This leaves you with more time to enjoy your vacation and less fuss in the kitchen!
Roasted Broccoli Salad with Lemon
Okay, guys, I'm going to be honest. I was pretty skeptical of this recipe. The combination of flavors had me really curious about how this recipe would come out. But, wow! It turned out great!
This Roasted Broccoli Salad with Lemon Vinaigrette recipe from Eat Beautiful tasted so fresh! The combination of the lemon and vinegar with the raspberries came together beautifully!
As far as texture goes, the broccoli was only partially roasted, so it still had a little bit of a crunch without being raw. And the softness of the raspberries mixed with the mild crunch of the pine nuts added a great balance in textures.
This is a great option for those on a Paleo, AIP, Whole 30, Keto, Gluten-free, or Vegan diet.
Paleo Lemon Recipes- Dessert
Lemon Cookies with Lemon Frosting
These Vegan and Paleo Lemon Cookies from Texanerin are the best lemon cookies I've ever had. They were so soft, flavorful, and delicious!
Please note: any sweetener should be used sparingly when on a paleo diet. These cookies may contain too much sugar for those on a strict paleo diet. Or you may need to hold back and not eat them so quickly… I know it will be hard!!
Almond flour often makes baked goods dense. They had a "denseness" to them, but somehow the author still achieved a soft cookie.
I like to reduce ingredients to make traveling and cooking (or baking in this case) easier, so I did not use lemon extract. Instead, I used 1tsp of vanilla extract and increased the lemon zest to 1.5 Tbsp. There is also no need to add coconut flour. The author mentions that in her blog, and when you don't want to be worrying about a lot of ingredients, this is one you can omit.
But, wow! Those cookies were delicious. If you'd rather not deal with frosting, don't. The cookies are great by themselves!
While you may find you like this author's frosting recipe as well, Paleo frostings are not easy. Most do not hold together easily unless refrigerated 24/7.
My tried and true frosting recipe is the vanilla buttercream recipe in Danielle Walker's Celebrations Cookbook (pictured). It uses unflavored gelatin to hold everything together instead of relying on the temperature to keep the oil/shortening solid. The recipe calls for palm shortening, but I've always had great luck using coconut oil in place of it. Otherwise, most of the ingredients are common and easy to find anywhere.
Take them on a beach vacation, make them in some spare time at a rental home, or whip up a batch on a whim at home. Believe me, you will want to make these cookies all summer long!
The frosting is a little more complicated, but believe me when I say I have not found any other Paleo frosting recipes that compare. It is worth the effort!
*Note: You'll have to make sure you have a mixer if you're going to make this frosting recipe. The recipe calls for 8-10 minutes of beating at medium-high speed. And while I'm the first to say you can often improvise by using some arm power (check out this post: 8 Steps for Meal Planning while Traveling with Food Restrictions), this is not one of those times! You will need a hand mixer to get the texture of the frosting correct.
Paleo Lemon Recipes- Drinks
Lemon Water
I could go on and on about all of the benefits of lemon water. It's great for digestion and the immune system, but it also encourages us to drink more water by adding some flavor to it. You can add a few squirts of fresh lemon juice to warm water in the morning or on a cold day, or you can add a bit to cool water throughout the day. This is a great way to reuse a bit of lemon!
Strawberry Lemonade
This recipe is more for the lemonade lover who wants to take (or make) a refreshing beverage on their vacation. If you're looking for recipes that use a small amount of leftover fresh lemon juice, this probably isn't the one. This recipe calls for four full lemons.
But, wow, does this strawberry lemonade taste amazing!!
I created this Simple and Fresh Strawberry Lemonade recipe because both my husband and I love strawberry lemonade!
Using no artificial sweeteners, this recipe sweetens with honey, however, you are welcome to leave it completely out if you are trying to reduce sugar for your Paleo diet. It'll still taste great!
What a great treat for a beach vacation!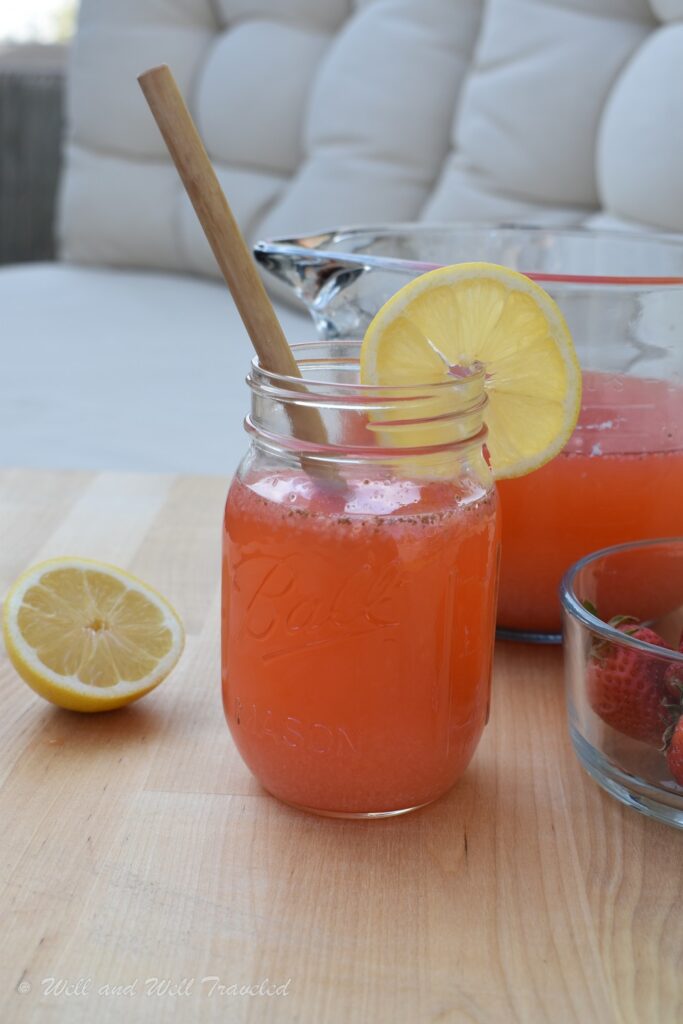 ---
Looking for other great grain-free and Paleo recipe ideas? Check out this post on My Top 10 Grain-free Snacks for the Road and Paleo Camping Recipes!
---
Other Paleo Lemon Recipes Ideas:
(Make sure to find Paleo versions of these common recipes, if you're following a Paleo diet!)
Lemon Poppyseed Muffins
Paleo Linguini with Lemon
Summer Squash with Lemon
Lemon "Ice Cream"
Lemon Bars
Anything with Paleo-approved homemade "Mayo" usually contains lemon juice: Carrot Raisin Salad, Chicken Salad, Tuna Salad, Potato Salad, Deviled Eggs, etc.
Summary
Looking for some great paleo lemon recipes? From one-skillet salmon dinner to strawberry lemonade, here are 8 of our favorites!
–