Delicious Paleo Chicken Pad Thai Recipe
This paleo chicken pad Thai recipe is delicious!
I love Thai food! I haven't found a Thai recipe I don't like yet and I've had quite a few, some even in Thailand!
I love that Thai food is often packed with pungent flavors (usually sour, salty, and spicy) and yet adds a sweet component. The combination always has me wanting more!
I love trying new Thai recipes, but good ol' Pad Thai has always been a favorite! The combination of various flavors and ingredients just come together so nicely! I especially like the crunch of the nuts with the softness of the cooked ingredients. It's beautiful, both in flavor and in presentation.
Most Pad Thai recipes call for rice noodles. For a Paleo-compliant option, I'm using zucchini noodles instead. They don't change the flavor of the dish but will need some prep to strain the natural liquid out.
*This post contains affiliate links. We may earn from qualifying purchases when you click on the links. This is at no cost to you.
Is This Simple Paleo Chicken Pad Thai Recipe Easy to Make?
Honestly, I hesitated to write this recipe for you guys. While I regularly share great Paleo recipes here, I try to make sure they are simple and use fewer ingredients. Often, my goal is that the recipes can be made while traveling (both in rental homes and while camping).
Unfortunately, this recipe is not simple. In fact, it takes a lot of ingredients and some time to make. Plan to spend about an hour preparing the ingredients and cooking.
However, after a lot of debating, I decided it was worth sharing. It may not be the easiest to make while traveling, but it is still absolutely delicious.
This would be a great recipe to make for a special occasion, such as a date night recipe to make with or for your significant other or an international cuisine day with the family!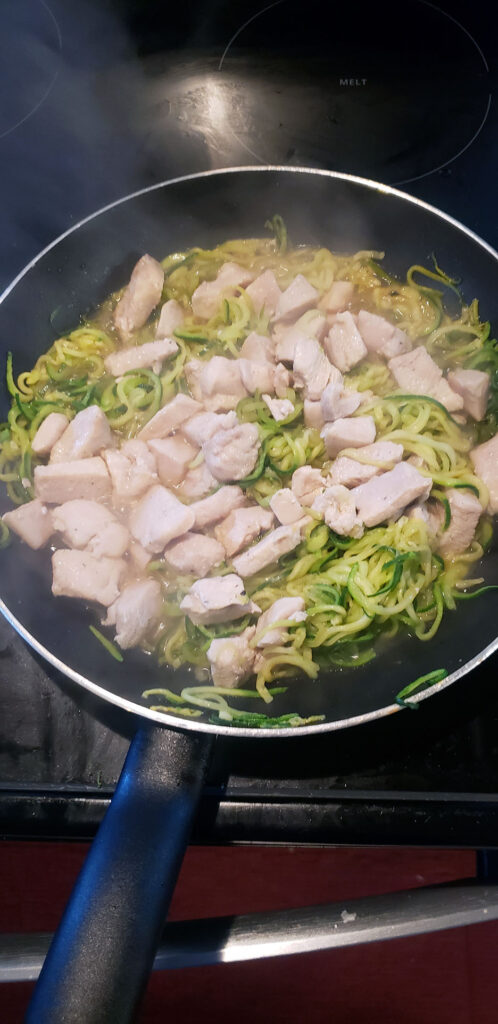 Ingredients for the Paleo Chicken Pad Thai Recipe
Zucchini– to serve as the gluten-free and grain-free noodle option.
Purple Cabbage and Bean Sprouts– the veggies of the dish (in addition to the zucchini!). Bean sprouts are not the easiest to find these days, but I have good luck getting them at Asian and international markets. This recipe cooks the bean sprouts which prevents food-related illnesses. They also do not store well, so it's best to plan to eat this dish upon serving.
Chicken– The main protein in the Pad Thai. But you are welcome to swap it out with tofu (if you can eat soy), shrimp, or any protein of your choice.
Eggs– More protein. Eggs are often found in Thai dishes, but you are welcome to eliminate them. You could also add more of them and omit the chicken if you're a vegetarian.
Cashews– The crunch of the dish! Note: there is some controversy on if cashews are paleo compliant. If you've chosen to refrain from cashews, try almonds or another paleo-friendly nut.
Garlic, Lime, Vinegar, Coconut Aminos, Fish Sauce, and Coconut Sugar– these ingredients bring the flavor. Make sure the fish sauce is paleo compliant (just fish and salt, no added ingredients such as this one) if you're following a paleo diet. Also, the coconut sugar could be substituted for another sweetener of your choice.
Scallions and Carrots– These ingredients top the dish adding additional flavors, nutrients, and crunch!
Substitutions for the Pad Thai
Rice noodles are often used in Pad Thai. If you don't follow a paleo and grain-free diet, feel free to use rice noodles in place of zucchini as well as soy sauce in place of coconut aminos.
But you are not missing out at all by making this paleo compliant! This recipe is packed full of great flavor with added veggies and chicken. There's no sacrifice here!
Now, for the Paleo chicken pad thai recipe! Hope you enjoy!
Print Recipe
Delicious Paleo Chicken Pad Thai Recipe
Flavorful, paleo-complaint Pad Thai recipe with chicken, cabbage, and bean sprouts.
Ingredients
5

small zucchini

3

tbsp

olive oil

5

garlic cloves, minced

1

cup

purple cabbage (also known as red cabbage), sliced or grated

2

cups

bean sprouts

¾

cup

cashews, roughly chopped

2

eggs, lightly beaten (optional)

2

tsp

olive oil

1½

lbs

chicken breasts, diced (tofu is a great vegan option!)

¼

cup

chicken broth or vegtable broth

¾

the juice of 1 lime

½

tsp

vinegar

2

tsp

Coconut Aminos

Coconut Secret Coconut Aminos – 16.9 fl oz – Low Sodium Soy Sauce Alternative, Low-Glycemic – Organic, Vegan, Non-GMO, Gluten-Free, Kosher – Keto, Paleo – 101 Total Servings

1½

tsp

fish sauce

Red Boat – Fish Sauce, 8.45 Ounce – Chef's Grade, Gluten Free, Sustainably Sourced & Artisan Processed, 100% Pure, Protein Rich, No Added MSG or Preservatives.

1

tsp

coconut sugar

Wholesome Sweetners, Coconut Sugar, 1 lb

2

scallion stalks, sliced

1

carrot, shredded or peeled
Instructions
Cut and spiralize the zucchini to make zucchini noodles. Salt to taste and then add to a strainer with a bowl under to collect the liquid. Use a paper towel to pat and soak up the water and mix occasionally as you cook the additionally ingredients.

Add 1 tbsp of olive oil to the pan and add minced garlic. Cook for 30 seconds before adding the purple cabbage, bean sprouts, and half of the cashews. Sautée for 1-2 additional minute(s). Once cooked, set aside.

Add another 1 tbsp of olive oil. Once heated, add 2 eggs to the pan and cook, mixing with a spatula constantly to prevent burning. Once cooked, set aside.

Pat the zucchini dry one last time before adding it to a cooking pan with 2 tsp of olive oil. Sautée the zucchini for 2-3 minutes. Set aside.

Put 1 tbsp of olive oil in a pan on med heat. Add the diced chicken to the pan and cook covered for 7-8 minutes, mixing occasionally. Then, turn to med-high heat and add the chicken broth, lime, vinegar, coconut aminos, fish sauce, and coconut sugar. Turn off the burner once the chicken is fully cooked and liquid has reduced to half.

Add the chicken mixture, the purple cabbage mixture, the eggs, the rest of the cashews, the scallions, and the carrots to the zucchini, mix, and serve!
Notes
*If you're following a paleo diet, make sure to get fish sauce with just fish and salt (no added ingredients)
*There is some controversy on if cashews are paleo compliant. If you've chosen to refrain from cashews, try almonds or another paleo-friendly nut.
*If you are not trying to avoid soy or gluten, soy sauce can be used to replace coconut aminos.
*Bean sprouts do not keep well. It's best to not store the dish and, instead, plan to eat upon serving.
Looking for other great Paleo recipes? Check out our other recipes such as Dairy-Free Creamy Italian Chicken and Squash, Paleo Salmon Dinner with Lemon and Sage, or Paleo Orange Beef.
---
Paleo Chicken Pad Thai Recipe
If you love pad Thai and eat a paleo diet, you must try this delicious Paleo chicken pad Thai recipe. It is well worth the effort!