Sweet Mint and Grapefruit Grilled Chicken Salad Recipe
This Mint and Grapefruit Grilled Chicken Salad recipe is a great summer salad. It's light and fresh and can be made quickly, leaving you with more time to enjoy the better things in life like vacationing!
When I was a teenager I went through a grapefruit stage. I ate at least half, sometimes a whole, grapefruit every day! I craved them and could not get enough!
Today, I don't eat grapefruit nearly as often, but I love having them in the summer!
This would be a great recipe to plan while on vacation, as it doesn't take very many ingredients and can be made very quickly… two items that are very much encouraged in my post on Traveling with Food Restrictions!
Ingredients for the Grapefruit Grilled Chicken Salad Recipe
Greens
Similar to my Simple Paleo Taco Salad recipe, I make this one with romaine lettuce, but you are welcome to choose another type of lettuce for the bed of the salad.
Additionally, I chose cucumber slices because they are a great addition to a summer salad!
Grapefruit Salad Need Grapefruit!
The star of the show… or maybe just one of the stars of the show! This salad has a few! Make sure to separate the grapefruit from their membranes to eliminate the rough texture and make it easier to cut.
Grilled Chicken and Marinade
First of all, if chicken is not preferred or you are following a diet where chicken is not allowed, consider salmon or add more nuts and make it vegan!
I suggest you marinate the chicken for at least 5 hours. However, this recipe will still be pretty amazing if you are unable to marinate it and want to throw the chicken on the pan without any preparation. It might not have as much flavor, but sometimes time is worth the sacrifice! Just make sure to add some oil to the pan when cooking, as the chicken won't have the marinade to keep it from sticking to the pan.
I would not turn the chicken above medium heat to encourage them to cook faster. Chicken does better at a low speed over a longer period of time. This is one area where you're just going to have to give it the time it needs. And five or so minutes on each side shouldn't impact your plans too much. Besides, you'll be working on the grapefruit honey mint dressing while it cooks!
Grapefruit Honey Mint Dressing for this Grilled Chicken Salad Recipe
Wow, this dressing is good! At first you taste the honey, then the grapefruit, and lastly the mint. All three ingredients mix together beautifully!
Cashews
A nice addition to this salad, cashews bring a crunch to the dish. If you cannot eat cashews, walnuts would work nicely as well. Both will give you some added protein and healthy fats.
Now, let's dive into the recipe!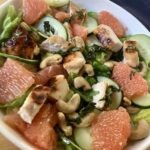 Print Recipe
Mint and Grapefruit Grilled Chicken Salad
The grapefruit honey mint dressing over this grilled chicken salad is irresistible!
Ingredients
2

lbs

whole chicken breasts

¼

cup

olive oil

1

tbs

honey

2.5

tsp

fresh mint, chopped finely

1

clove

garlic, minced

1

head

romaine lettuce

3

grapefruit

1

cucumber, sliced

1

cup

cashews (or a nut of your choice)

3

tbs

honey

1½

tbs

fresh mint, chopped finely
Instructions
Place the chicken in a large ziploc bag and use a pounder or the back of a large spoon. Pound them down to less than 1 inch thick (closer to ½ inch thick, ideally).

Using the ziploc bag you have (unless it is not usable), add the olive oil, 1 tbs of honey, 2.5 tsp of mint and the garlic, coating the chicken in the mixture. Marinate in the refrigerator for 5 hours or overnight.

Add the marinated chicken to a pan on medium heat. Cook covered for 5-6 minutes on each side or until cooked. When cooled, cut into slices.

Meanwhile, make the dressing. Cut one grapefruit in half and use a juicer to make ¼ cup of grapefruit juice. Add 3 tbsp of honey and 1½ tbs of mint to the grapefruit juice and mix.

Peel the other two grapefruit and segment off the membranes of the grapefruit.

Add the romaine lettuce, cucumber, chicken, grapefruit, and cashews. Drizzle the grapefruit honey mint dressing over the top.
Notes
If grilled chicken isn't preferred, try fish or tofu or enjoy it without.
Also, the cashews could easily be exchanged for walnuts or even pecans.
For other simple, healthy recipes, check out Simple Paleo Taco Salads or Pizza on a Stick Hawaiian Skewers!
Sweet Mint and Grapefruit Grilled Chicken Salad Recipe
This may sound like the oddest list of ingredients, but I hope you'll give this grilled chicken salad recipe a try. The pairing is delicious!
Like It? Pin it!