Simple Paleo Taco Salad- Our "Go-To" While Traveling
Paleo taco salads have become a staple at our house. When we're exhausted after a long day of work and don't have a plan for dinner, tacos it is! We keep ground beef in the freezer and lots of veggies in the fridge, so tacos can usually be made in a few minutes.
Following a grain-free, dairy-free, and soy-free diet (often paleo diet) means a lot of common "go-to" foods are not possible for us. But Paleo taco salads are one we can still have regularly… and we do!
So when I am meal planning what to cook while traveling or camping, tacos are often on that list as well!
Here's our list of Paleo Camping Meals!
*This post contains affiliate links. We may earn from qualifying purchases when you click on the links. This is at no cost to you.
What Ingredients Do I Need for Paleo Taco Salads?
Ground Beef
Ground beef is the main ingredient in this taco dish, though I like to go heavy on the veggies! I like to get grass-fed, hormone-free, organic beef that is both paleo and whole 30 compliant.
Spices
Most taco mixes are full of added ingredients. Some even include MSG. When you use fresh, organic herbs and spices, you know exactly what's on your food and know it's not going to harm you.
You can make taco seasoning pretty easily! Just make sure you use paleo-approved ground spices if following a Paleo diet matters to you.
The garlic, cumin, oregano, etc… incorporate a perfect "taco" flavor to the meat. In fact, I've had several people tell me they can't go back to the seasoning packets after trying this recipe. It's just that good!
Veggies
We like to put veggies in both the cooked meat mixture and the fresh salad. Usually, this means peppers and onions are cooked and mixed with the meat while lettuce, tomatoes, and avocados are chosen as the fresh veggies (and fruit!).
Also, I've added a can of black olives to this dish. If you are following a paleo diet, it's best to make sure those are organic, so you know the black olives have not been sitting in a brine of salt and other added ingredients.
Salad or Tortillas
While there are tortillas you can use that are considered Paleo approved and grain-free (here are my favorites!), I love the simplicity that comes with a salad. Salads mean added nutrients and flavor! But you are welcome to turn this into tacos as well!
Making Paleo Taco Salads While Traveling
When we arrive at a new place, such as a rental home or a campsite, around dinner time, our "go-to" is Paleo taco salads. They are easy to make and yet full of flavor. When you've just spent hours driving and/or setting up a tent or camper, it's nice to know dinner can be made quickly!
I just make the taco mix ahead of time and grab ground beef and veggies at the closest supermarket. This prevents wasting money and spices by buying everything and then not having room in the luggage to take it all home. Check out our post on traveling with food restrictions for more suggestions on traveling with kitchen items.
Paleo Taco Salad Recipe
And now for the recipe!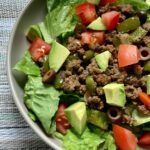 Print Recipe
Simple Paleo Taco Salad
A simple taco recipe using wholesome ingredients including fresh spices, this recipe is great for making quickly while traveling or camping!
Ingredients
1

tbsp

olive oil

1-2

green peppers, diced

1

large onion, diced

1

lb

ground beef

½

tsp

sea salt

1½

tsp

garlic

1½

tsp

cumin

¾

tsp

chili powder

½

tsp

onion powder

½

tsp

dried oregano

⅛

tsp

red pepper flakes

romaine lettuce or other spring mix

1-2

large tomatoes

1-2

large avocados

1

cup

black olives, sliced
Instructions
Heat the olive oil in a large skillet on med-high heat.

Add the peppers and onions and saute for 4 minutes.

Add the ground beef, salt, and spices, mixing regularly until fully browned (about 8 minutes)

Prepare the lettuce in the bottom of a serving dish. Add the taco meat, tomatoes, avocado, and black olives, and serve.
---
For other simple paleo recipes, check out our Hawaiian Skewers recipe or our Dairy-Free Creamy Italian Chicken and Squash Dinner.
---
Paleo taco salads are our go-to meal. They are easy to make, especially while traveling, and yet full of flavor. Skip the taco seasoning packet and try this taco mix (you can even make the mix ahead before hitting the road!). This taco mix is delicious.