How to Get the Best Campsite at Any Campground!
Wondering how to get the best campsite at any campground? This is your ultimate guide to ensuring you never reserve a bad campsite again!
You've been there…. You're so excited about your upcoming camping adventure, spend hours planning, packing, and dreaming of all the fun you'll have only to arrive and realize the camping spot you reserved is not like what you imagined. It's… (insert words here: too slanted, too small, way too sunny, etc.).
What are the Tips to Getting the Best Campsite?
Ever wonder "How do I snag the best campsite?" The trick to finding and reserving the best campsite at any campground is preparation.
I know, not what you wanted to hear. I can hear you now, "One more thing I have to prepare for, Alicia!" Yes, unfortunately. But the reward for your hard work is a vacation that's set up for success, hours and days of fun by the campfire with family and friends. No more sliding off the slanted air mattress in a tent or spending hours trying to level a travel trailer when you first arrive at a campsite. No more living under the travel trailer awning or pop-up canopy because there's no other shade at the campsite.
You are now in control of your camping spot!
So how, you say, do I go about getting that kind of control? Well, I'm glad you asked!
Let me start by saying, this process is subjective. Everyone has their preference in campsites. I cannot possibly tell you the best campsite at a campground. I may be looking for a site that's secluded and wooded while you're looking for a sunny campsite that's a good buddy site for another family that's coming with you.
1. Research Campgrounds to Get the Best Campsite
Let's start with the basics.
Where do you want to camp?
Do you want to camp at a few close campgrounds for the weekend where you can spend less time in the car and more time enjoying your site? Or are you looking for a campground close to some other great attractions and using it more as a place for lodging while you spend your days out and about?
What are you looking for in a campground?
Do you want one with a pool or beach for the kids? Or are you more interested in great hiking trails, canoe and kayak rentals, or even fun activities like mini-golf or a water park (yes, there are campgrounds out there that have water parks in them!)?
You'll need to take some time to research campgrounds that fit your style. Any online search should do, but putting the question out on social media can also be helpful. It's amazing the helpful responses you'll get! Additionally, there are campground groups you can join based on the region where you hope to camp that can be very helpful.
2. Visit the Campground Ahead of Time to Get the Best Campsite
This is the tough part. If you're going on vacation and have never been to the area, this might be impossible your first round. But if you have even the slightest inkling that you'll be back. Go ahead and book whatever spot looks good online (see step 4) and plan to do steps 2 & 3 then for your next round.
I keep an ongoing list of campgrounds I think we'd enjoy. Whenever we're in the area, usually driving past it on our way to something else, we'll drop in for a quick look around.
Able to Drive Through the Campground?
Your ability to look around ahead of time may depend on the type of campground and the time you're driving through. We've found most private campgrounds don't have a gatekeeper, making it easy to drive on in. Most state campgrounds will deny a request to enter if you're there on a holiday weekend without a reservation but will gladly grant your request if it's a weekday or a normal weekend.
Make sure to explain to them that you will be in and out in 15-20 minutes; you're just hoping to camp there soon and want to look around. They like to know you're not going to be using their facilities or causing issues and 20 minutes usually confirms that.
Always be prepared for the possibility that they will deny your request, but we've found the answer is usually "yes".
Note: I used to say you could complete this step even just a few weeks before you planned to camp there, but Covid has changed the camping world. Now, it seems like everyone wants to camp! For a country girl who grew up spending several weeks every year at a campsite with little to no neighbors around us, this newfound craze for camping is a bit overwhelming. You're going to have to plan and reserve a spot far in advance! See step 4.
3. Head to the Campground with a Map, Pens, and Highlighters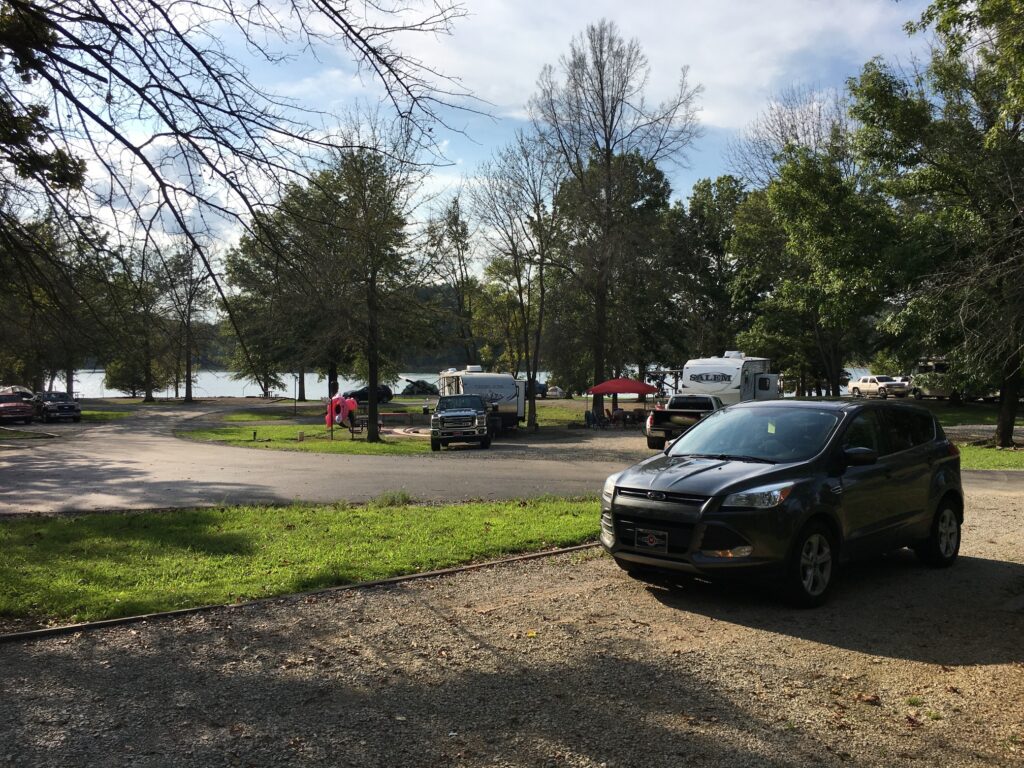 When we know we'll be in the area, we like to go ahead and jump online and print off a map of the campground. But if there is a gatekeeper, they'll likely provide you with one if you ask.
Now's the fun part!
You get to drive around the campground dreaming of which campsites may be perfect for you and your family. Consider the following.
Get the Best Campground: Campsite Space Considerations
Is this spot dipped down enough that water will puddle and cause flooding after a rainstorm?
Does this spot have good trees for morning, afternoon, and evening sun/shade? Remember trees could always be knocked down before you visit. If we find a spot we like, we like to also consider the health of the trees shading the spot. If they look unhealthy, we often make note.
Does this spot have trees that will interfere with your ability to back a travel trailer into the spot or extend your awning or slide outs? It is never fun to get to your spot and realize you can barely park it there, let alone fully utilize the space, because a tree is in the way!
Is this camping spot slanted? Like mentioned earlier, you don't want to spend the first few hours of your trip trying to level your camper or the evenings of your trip sliding off the cot or air mattress in your tent! Make sure, if it's slanted, that there is ample room to use it like you'd like.
Does this spot have electric hookup or is it for primitive camping? If we're bringing our dogs, electric hookup is usually a must. We like to run a few box fans in the tent to keep them, especially our older dog with long hair, from overheating. Of course, battery-powered fans also work, but we like our box fan. If we're bringing my parent's camper along, we need electricity as well.
Around the Campsite Considerations
Is this campsite one within walking distance of a playground/pool? … which could be great for a family with kids but could mean a higher noise level for a quiet couple.
Is this one too close to or too far away from the bathrooms? My husband does not like the noise from the bathrooms. He'd rather stay by a playground that's noisy during the day than a bathroom that can be noisy (especially with those very loud hand dryers!) all night long. I've warned him we'll likely need a spot closer to the bathrooms once we have kids but for now we steer clear of bathrooms!
Is this spot too close… too close to the road, too close to neighbors, or too close to a park trail?
Is this a campsite one that you could at least semi-easily get a travel trailer to? We have been to many campgrounds that try to pack the spots in. When you're maneuvering the camper through a loop and around several trees while also trying to back it into a spot with more trees, sometimes it seems like too much work for the effort. Can you easily maneuver your camper to the spot? You'll have to make that decision based on the size of your RV and your comfort level backing it in.
Additional Preferences to Get the Best Campsite
You may have additional preferences. My husband grew up going winter tent camping with his dad (I've warned him I will NEVER join! Haha!), so he's used to the feeling of seclusion. We often look for spots further off the road that have trees and high grass covering 3 sides of the site.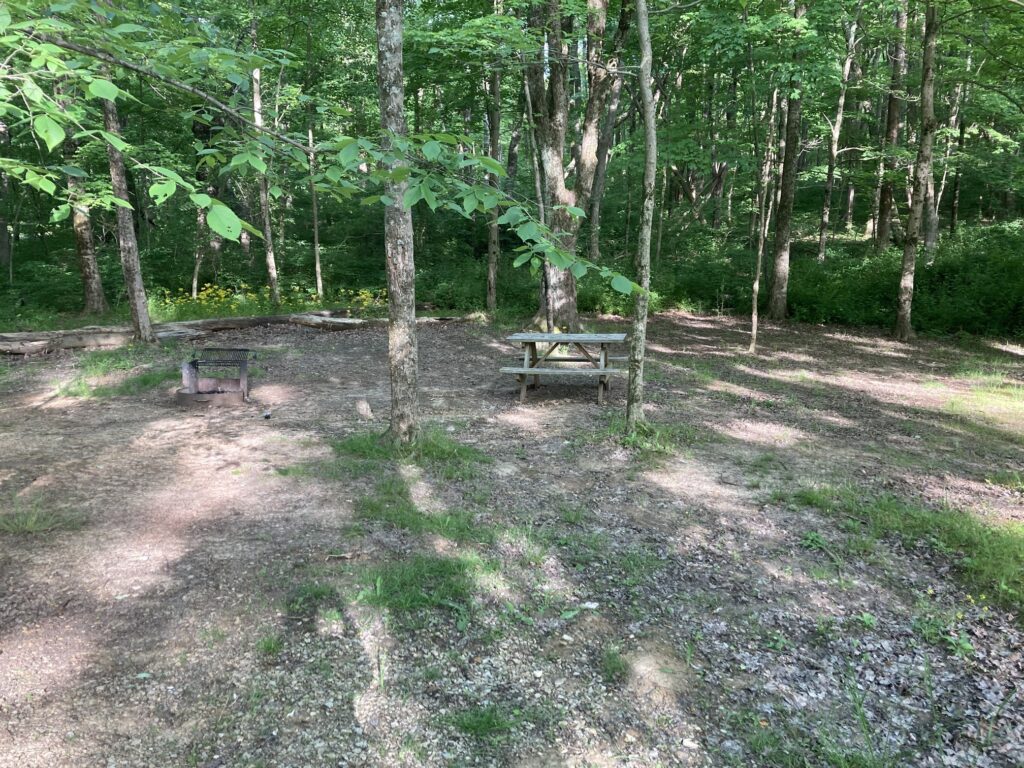 Or some people like a great view or a place to put their kayak in the water from their campsite.
Everyone has different preferences!
Mark the Campsites Based on Your Preferences
This can be done many ways. Some people only mark the spots they love.
We've chosen to go ahead and mark up most of the map. Why? Because, when we make a last-minute decision to go camping and have our choice of three campsites (that weren't our preferred ones), we know exactly what we're getting ourselves into.
Too sunny? We're definitely bringing our pop-up canopy!
Too noisy? Pack the earplugs!
Really shaded? Don't forget the bug spray!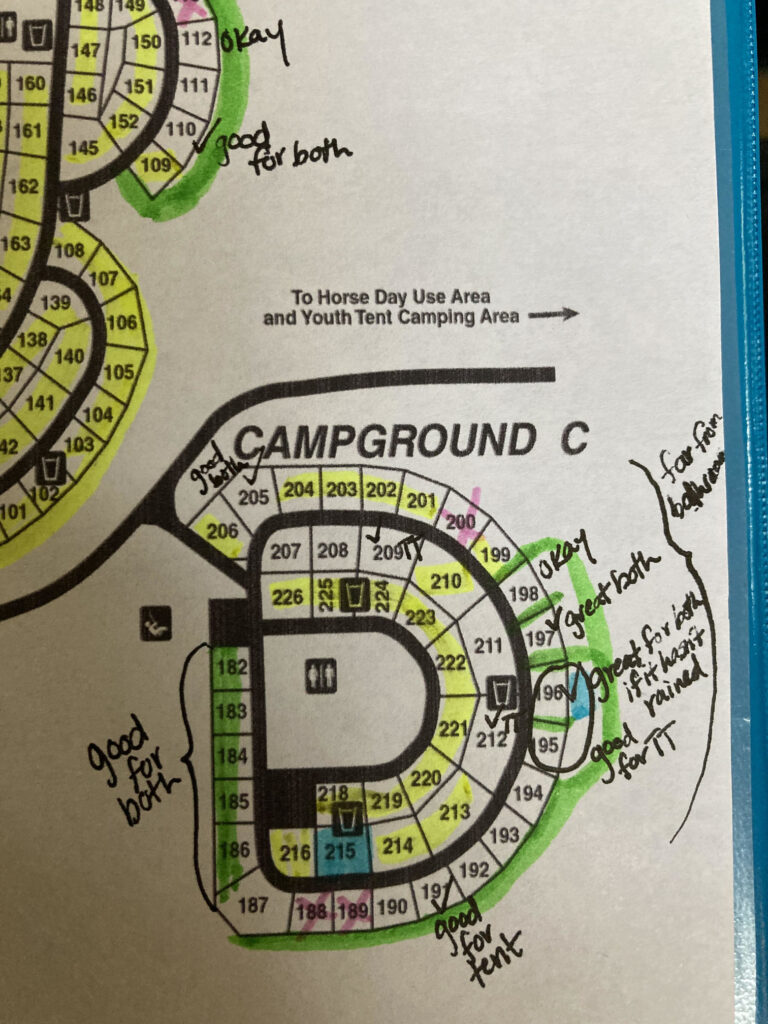 And there are those times we've turned down all of the available options because it just wasn't worth getting a much less-than-ideal campsite.
How I Mark Up Our Campground Maps to Get the Best Campsite
Pen
I like to use a pen for writing "good (or often just ✓… as you can see in the picture above on 209 and 212) for… tent or TT" next to all the spots we really like. Sometimes I even write "great for…" just so I know we would prefer it over the good ones if given the chance. I also use the pen to circle two spots that would be good to reserve as a group or for writing notes on the back of the map when they're needed. This is pretty rare, though. Usually, I can convey what I need through my color coded system.
Highlighters
As mentioned above, we've just promised the gatekeeper we would be in and out in under 15-20 minutes. That doesn't leave me time to write too many notes!
Instead, I use this color-coded system:
Yellow markings mean sun. There is usually a large portion of most campgrounds that are all full-sun spots. I like to take the highlighter and just quickly run the yellow across all of them.
Green means shade. I may note if the campground butts up against a large grove of trees or I may note where one specific tree is on a camp spot that we really like. It depends on the site.
Blue means water. I use the blue highlighter to mark spots that will likely be flooded during the rainy season.
Red/Pink means negative. I use this to draw a down arrow to represent a slant (though I sometimes use a pen if it's more handy in the moment) and to draw an "X" if we have no desire to camp in that spot and would rather not camp at that campground at all if it's our only choice.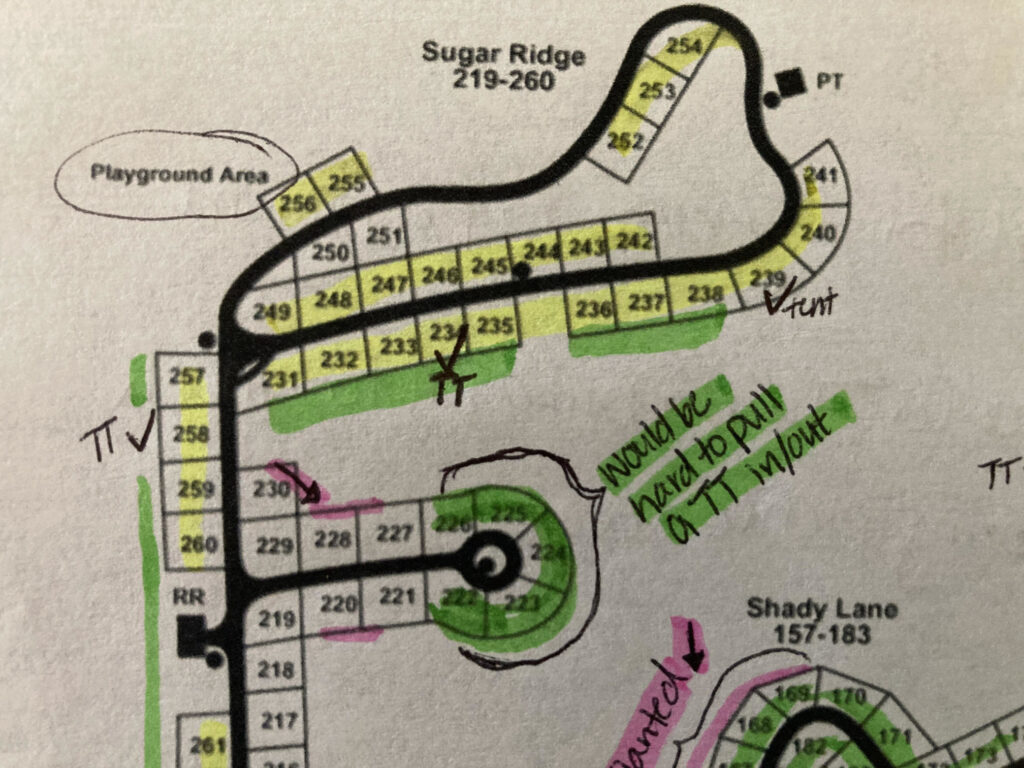 Some things I may add to the back of a map using pen include…
A campsite number with a tree that looks unhealthy and may possibly be torn down by the campground before we try to reserve the spot
A site number that was good but we chose against it because we do not have children at the moment (don't need to be close to a bathroom, playground, etc.)
Keep Organized
I keep all of our campground maps in a binder organized by region. The maps are in page protectors with the campground map on one side and any property or trail maps stuffed in the back.
This system has worked wonders for us! We can be in and out of a campground in only a few minutes and yet have a valuable map to reference when we're ready to book the campground.
4. Get the Best Campsite!
Lastly, Check the Campsite Online Before Booking
Most online booking websites, such as Reserve America or Recreation.gov, have pictures of the campsites. Though we have been very deceived sometimes by these pictures, they are better than nothing if you are unable to actually go to the campground ahead of time. Make sure to not just look at the pictures of the campsite but the details. For example, they may say "Afternoon Sun" or "Full Shade". They often will also list the amperage of the site, driveway surface (paved or gravel), how to enter the site with a camper, and the maximum vehicle length. Some will even give the slope of the site. All of this information can be handy when you can't actually see the site yourself.
If you ARE able to drive around a campground, it is still a good idea to read the detailed description on these booking sites if you have a camper to confirm that your trailer fits their requirements for the site.
As a side note: large campers sound great, but they are often limited on where they can go. There may be only a few spots in a campground or none at all if your camper is on the longer side (big motor homes, 40 ft 5th wheels, etc). And the spots you ARE allowed to reserve are often pretty sunny (a lot less trees and usually pull-through sites), so be prepared to keep your awning out and/or bring a canopy. Or you can do the research above and snag those shaded camping spots!
---
Check out our post on paleo, gluten-free, and dairy-free camping meals. And click "Subscribe" to be notified when other new great posts come out!
---
Book Your Campsite FAR in Advance!
Camping has become VERY popular. It feels like everyone wants to take up camping these days! It's great for mental health but challenging to book a get a great campsite.
Make sure to check out the campground you're wanting and see how far out booking is at the moment. Remember that if you think a campground is nice, likely everyone else does as well! That's the case with Turkey Run State Park!
Know when each campground begins taking bookings for the time you wish to be there. Many campgrounds have an opening day, usually in the winter, when they begin booking for the summer. Make sure you're on their website or picking up the phone as soon as booking begins if you're hoping to snag a coveted spot. Covid has made booking sites a game not for the faint of heart.
Getting the Best Campsites from Sold Out Campgrounds
Though I have not tried it yet (and cannot attest to its services), I have heard good things about Camp Nab, an online campground search site. You can search your desired campground and even desired campsites, and it will keep an eye on them and let you know if any become available! It's not uncommon for people to cancel their sites, so this could be a really helpful tool! You do have to pay for their services, but there may be times it's worth it!
---
If you're hoping to get the best campsite, remember to book far in advance to get your choice of the camping spots you marked as "good" and "great", and you're sure to have a fantastic time camping!