Paleo Camping Recipes: Breakfast, Lunch, Dinner, and Dessert
A paleo diet should not hold you back from enjoying mouthwatering camping food. It just takes a little more planning to make paleo camping recipes! You got this!
One thing I love about camping is the food! The slower pace that often comes with camping means more time to focus on the simpler things in life…spending time with family or friends, taking a walk, hike, or boat ride, relaxing by a campfire, and most importantly, making delicious food!
If you're ready to start planning for your next paleo-friendly camping trip, you've come to the right place! Below are some of my favorite recipes to make over the fire or on a grill that won't break your grain-free, gluten-free, dairy-free, paleo diet.
*This post contains affiliate links. We may earn from qualifying purchases when you click on the links. This is at no cost to you.
How Do I Begin Meal Prepping for Paleo Camping Meals?
The first step is to consider (1) what kitchen supplies you'll have available and (2) what other activities are planned during your camping trip.
If you'll have a full kitchen in your camper (and you're willing to use it and spend some time indoors cooking), you might not need to adjust your menu much from paleo recipes you already cook at home. But if you want to cook over the fire or on a propane grill, make sure you have the right kitchen supplies. Fortunately, this post lists several recipes that can be made over the fire or on a grill.
Additionally, you probably want to consider what else you'll be doing on your camping trip. If you'll be waking up early to go on a long hike, you probably shouldn't pick a recipe that requires marinating the meat. But a quick paleo camping recipe is a great option!
Paleo Camping Recipes: Main Dishes
If you've been missing Chicken Alfredo since going gluten and dairy-free, this is the recipe for you! This Dairy-Free Creamy Italian Chicken and Squash dish will leave the whole family satisfied! And it can be made in 40 minutes or less, meaning more time to spend enjoying family time or cooking s'mores!
This one is so simple, but that's why I had to add it! No one wants to spend hours cooking while on vacation. Using ground spices or Siete taco mix, you can have a paleo-friendy and even Whole 30 friendly recipe whipped up in minutes!
I love making taco salads when we first arrive at a new travel destination. After a long day of travel and then several more minutes (or even hours!) getting settled into a rental home or camping spot, tacos allow me to have a meal on the table in no time, even when cooked over a fire!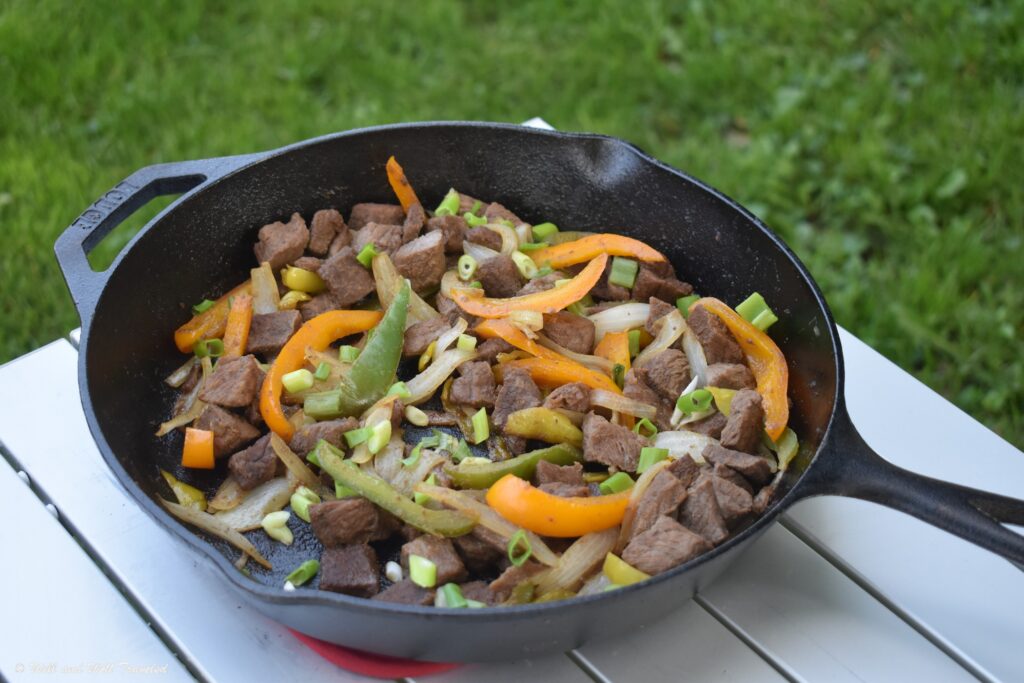 Oh, you guys! This recipe is amazing! If you like Pepperoncini (aka Frigitello) peppers, you'll love this one!
Most pepperoncini recipes out there are slow-cooking beef recipes. Well, on vacation no one wants to set up a crock pot or spend hours in the kitchen! Introducing Spicy, Paleo Pepperoncini Steak Dinner!
This one-skillet paleo camping dinner recipe can be made in less than 20 minutes and tastes phenomenal!
Hawaiian pizza used to be my favorite! But pizza isn't really an option on a paleo diet. This, however, brings all the best flavors of Hawaiian pizza to your campsite!
Grilled honey ham, pineapple, bacon, and veggies (bell peppers and onions) on skewers make this dish simple and mouthwatering!
Just remember that the ham will need time to marinate. You'll likely need to prepare the glaze the morning of before enjoying your campsite or heading out for a day of fun!
Click here for the full Hawaiian Skewers Recipe!
This one-skillet dish is simple and quick. In less than a half hour, you can have a fully made meal in your cast iron over the stove or over a campfire! This is the perfect meal for a crisp, fall day! And it's paleo-friendly! Try out this Cast Iron Pork Chops and Apple recipe!
Paleo Camping Recipes: Breakfast
This breakfast recipe mixes flavor with freshness! The spicy eggs pair perfectly with the fresh avocado!
And, because of its high protein and fat content, this is the perfect recipe for an active vacation, such as a paleo camping trip involving hiking, biking, or canoeing!
Paleo Camping Recipes: Desserts
Paleo Camping S'mores
What's a camping trip without s'mores?!
While anyone on the paleo diet should not indulge in too much sugar, most of us can sneak one s'more into our camping diet!
These recipes use natural sugars (honey and coconut sugar) to make perfectly delicious marshmallows and graham crackers. Pair them with a square of dark chocolate, and you're set to go!
I will warn you, I made a few marshmallow recipes before settling on this marshmallow recipe from Against All Grain to share. The gelatin in this recipe seemed to make a big difference. I had tried a different brand of gelatin but the marshmallows didn't hold shape well, especially while cutting them. So you definitely want to snag some of this gelatin before tackling this recipe!
Unfortunately, I have not had great luck getting the marshmallows to become burnt on the sides. Instead, they become runny within seconds of being exposed to campfire heat. In every recipe I've tried, the marshmallows melted off of the hot dog stick before showing any signs of crispiness.
However, the author of this recipe recently published something saying to try making them ahead of time and allowing them to get a bit stale before roasting. This seems to help a bit. The marshmallows I set out for 2 weeks plumped up a bit, but they still began to drip before becoming fully toasted.
But the small melting inconvenience is probably worth the opportunity to eat what others around you at the campfire are eating. They really do taste like regular marshmallows (with more of a sweet honey flavor), both when cool and in a s'more!
It just so happens that the graham cracker recipe that I liked best was also from Against All Grain. While they are a little softer than the normal, gluten-filled graham cracker, they taste exactly the same and held up great with the s'more!
Note: The graham crackers can also be a bit temperamental. I used coconut oil in place of the butter with no problem, but otherwise, I followed the directions perfectly the first time. (The 2nd time, not so much… and it showed! haha). Make sure you follow the directions to a T and be very careful taking them off of the pan once out of the oven. They crumble easily until cooled.
Soft Paleo Apple Cookies
If you are camping in a camper and/or have access to an oven, these cookies may be a great option for a paleo camping dessert! Check out our recipe for Paleo Apple Cookies made from almond flour, cinnamon, and maple syrup! They are delicious and so soft!
---
If you're looking for more camping tips, check out our post on How to Snag the Best Campsite at any Campground!
---
And, of course, there are other great recipes on our blog. For example, the Dairy-Free, Paleo Creamy Salmon with Lemon and Sage may be another great option. Or if you're looking for a fun summer drink made with fresh ingredients, try our Strawberry Lemonade recipe!
Hopefully, at least a few of these paleo camping recipes will work for your next camping trip! Make sure to Pin this so you can find the recipes later! (Click on one of the Pinterest pins at the bottom of this post to save for later!)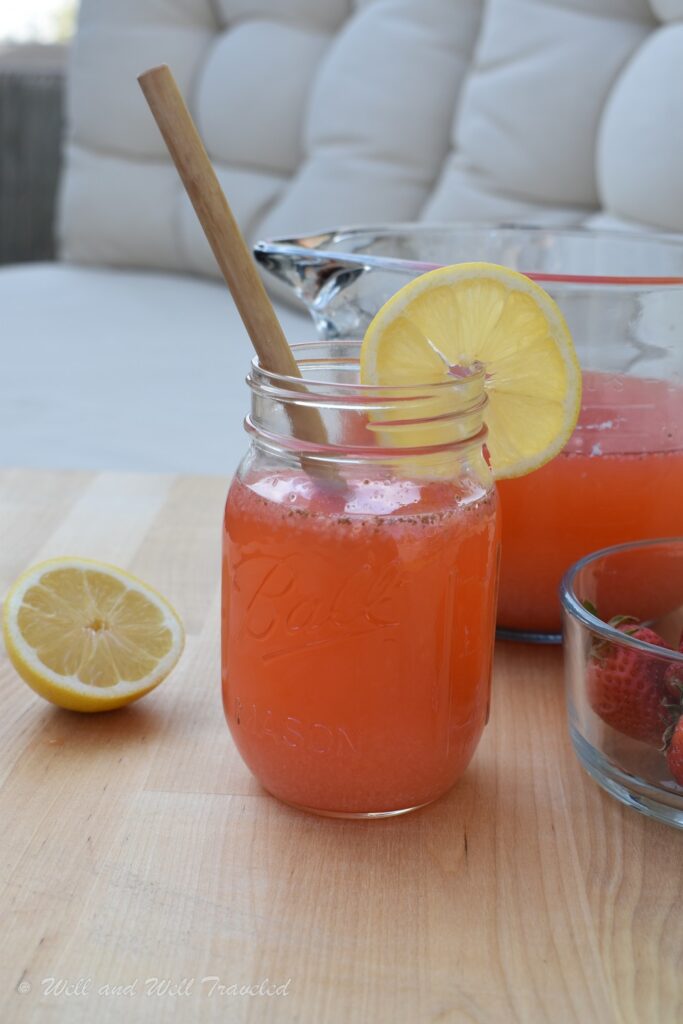 ---
Join our Facebook community for more tips for meal planning while traveling, paleo recipes great for travel, and restaurants in various cities that accommodate dietary restrictions.
---
Eating a grain-free, gluten-free, dairy-free, and/or paleo diet can be challenging while camping. But when you plan some easy and delicious paleo camping recipes that follow your dietary needs ahead of time, it can be a breeze!