Easy Paleo Cast Iron Pork Chops with Apple Recipe
My husband and I love cooking with our cast iron pans! In fact, we use them so often that one sits on our stovetop at all times. We also love to take them camping with us! So when I was dreaming up pork chop recipes for the fall, this cast iron pork chops with apple recipe was a must!
Apples are almost in season here in Indiana! Soon families will be headed to the apple orchards, and grocery stores will feature several colorful varieties. Pair those apples with pork chops in this delicious and simple dinner recipe!
We all know that dinner recipes these days can be so complicated! I assure you, this is not one of them! This recipe can be made in under 30 minutes in one skillet with only a few ingredients. This makes it a great recipe for a quick fall meal or even a great paleo camping recipe.
Why is this Cast Iron Pork Chops Recipe a Fantastic Fall Dish?
This paleo pork and apple dinner dish screams fall! From the delicious, in-season apples to the comforting sweet potatoes, mustard and rosemary, this dish is perfect for a crisp fall day!
This Cast Iron Pork Chop Recipe is Great for Camping!
For those looking for some great paleo camping meal ideas, this is a perfect one! It can all be made in one skillet (we love to use our cast iron over the fire), and it doesn't require much preparation. It's also a great recipe for warming you up on a crisp fall day sitting by the fire!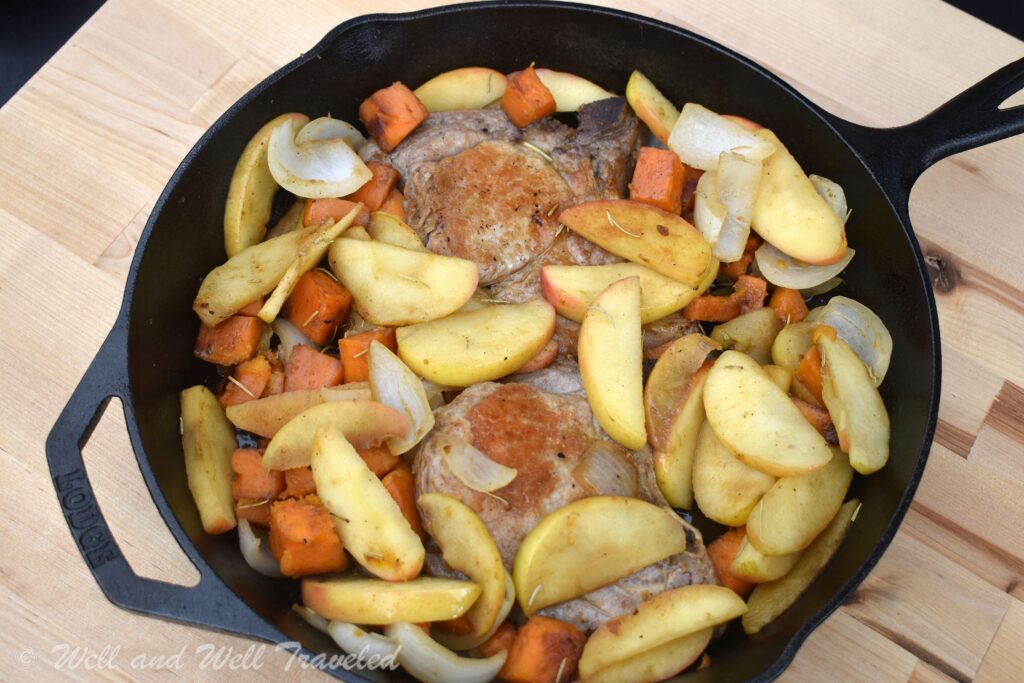 Ingredients in this Fall, Paleo Cast Iron Pork Chops Recipe
Pork Chops and Apples
Pork chops and apples pair so well together! I'm not sure I know of a better option with pork chops than apples. These two ingredients are the stars of the dish!
Sweet Potatoes
The sweet potatoes are a delicious addition to this recipe. However, if you are trying to reduce your carb intake, feel free to omit. It will not make or break the dish!
Onions, Bone Broth, Dijon Mustard, Thyme, and Rosemary
These ingredients add fall flavor to the dish. Rosemary and mustard both pair so well with pork chops!
Feel Free to Double the Recipe
Because this recipe calls for bone-in pork chops and there are added ingredients like apples and sweet potatoes, you may want to double this recipe. This recipe feeds 2-3 people. A family of four or more will likely find they need to make a second skillet and double the recipe.
With no more introduction, let's get to the recipe!
Print Recipe
Paleo Cast Iron Pork Chops and Apple Recipe
This delicious one-skillet pork chop and apple recipe is perfect on a crisp, fall day. Double this recipe for a perfect family meal!
Ingredients
2-3

bone-in pork chops

sea salt

1.5

honeycrisp apples, sliced thinly (¼ inch thick)

1

yellow onion, peeled and sliced

1

cup

sweet potatoes, peeled and diced into 1-1.5 inch cubes

¼

chicken bone broth (or chicken broth if not following a paleo diet)

1

tsp

dijon mustard (make sure it's paleo compliant)

2

tbsp

olive oil

½

tsp

thyme

1

tsp

rosemary

salt and pepper to taste
Instructions
Salt the pork chops and let sit for 5 minutes

Heat 1 tbsp of olive oil in a large skillet on medium-high heat (or the equivalent over a fire).

Cook the pork chops until brown and almost cooked through (Don't worry they will be re-added later to finish cooking), flipping every 1-2 minutes. This process will take roughly 5-6 minutes.

While cooking, mix the bone broth and mustard in a small bowl.

Remove the pork chops, set aside, and add the remaining 1 tbsp of olive oil to the pan.

Lower the heat to medium and add the diced sweet potatoes and cook for 3-4 minutes, stirring often.

Add the onions to the sweet potatoes and cook for 1-2 minutes before adding the apples.

Add the apples, thyme, rosemary, salt, and pepper and cook for 4-5 minutes.

Add the pork chops back to the pan, nestling them between the other ingredients so they can reach the heat below. Add the bone broth and mustard liquid mixture to the pan and cook until most has evaporated, about 5 minutes.

Remove from the heat and serve.
If you're looking for other great cast iron paleo recipes, check out our recipes Paleo Creamy Italian Chicken and Squash Dinner or Paleo Spicy Steak Dinner, both favorites at our house!
We have loved making this cast iron pork chops recipe on crisp fall days and hope you do too!