Spicy Paleo Steak Recipe- Great for Camping!
This spicy paleo steak recipe made with pepperoncini (also known as frigitello) peppers is a great option for those wanting to eat a paleo diet while traveling or even camping!
Growing up, my mom made the best pepperoncini (frigitello) beef recipe. It was one of those meals that everyone in the family loved. My mom would throw the peppers and roast in the crock pot before I headed out for school. And, when I got home, the whole house smelled of the pepperoncini peppers. Yum!
Also known as frigitello peppers, pepperoncini peppers have a bit of a kick (but not too much!) and quickly become the star of the show in any recipe. They also pair very nicely with beef.
But I wanted a pepperoncini beef dish that didn't take several hours to make and could be made almost anywhere while traveling… a rental cottage by the water, an extended stay hotel room in a ritzy city, or over a campfire in the woods.
Introducing… Paleo Pepperoncini Steak!
*This post contains affiliate links. We may earn from qualifying purchases when you click on the links. This is at no cost to you.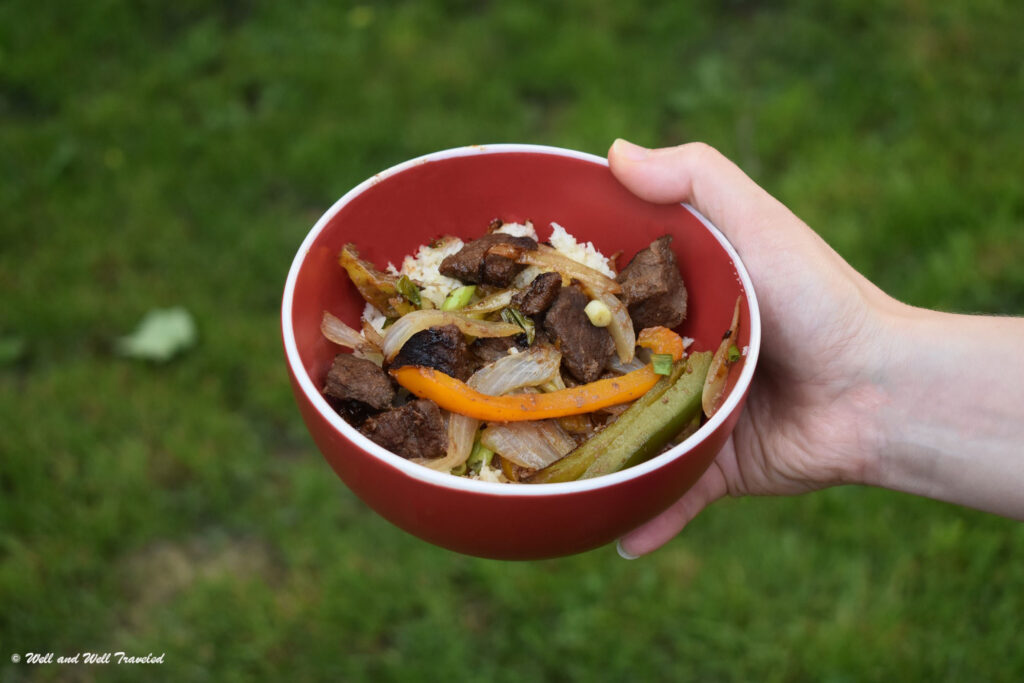 Quick, Healthy, Spicy Paleo Steak Recipe
Similar to our Paleo Dairy-free, Creamy Italian Chicken and Squash recipe and our Paleo Orange Beef recipe, this paleo, gluten-free, diary-free pepperoncini/frigitello pepper recipe is perfect for a quick dinner at home or even a meal over the campfire while sleeping under the stars.
It is great over rice, cauliflower rice, salad greens, in a corn or flour tortilla (depending on your dietary restrictions), or even eaten by itself.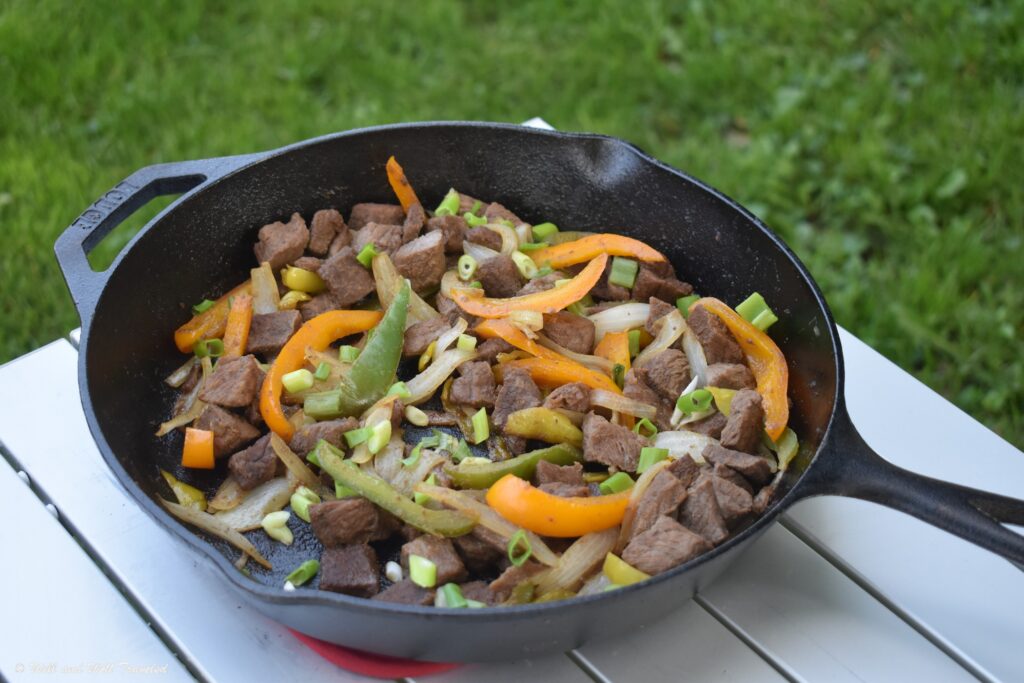 Spicy Paleo Steak Recipe Ingredients:
Steak, Salt, and Olive Oil
The steak is the protein of the dish. Though I've not tried it, you could try using another type of beef or even chicken in this dish.
Bell Peppers and Onion
Veggies provide great nutrients and fiber. I love adding them to any meat dish. They turn a dish into a full dinner!
Pepperoncinis/Frigitello Peppers, Garlic, Coconut Aminos (or Soy Sauce, depending on your diet), Vinegar, Green Onion, and Lime
These are the stars of the show! They bring a punch to the dish and turn boring steak and veggies into a flavorful, delicious dinner!
Coconut aminos is a great soy-free, gluten-free, Paleo alternative. It can be found in the international section of most grocery stores. If you are not following a Paleo diet or trying to avoid soy and gluten, you are welcome to use soy sauce.
Now on to the recipe!
Print Recipe
Spicy, Paleo Pepperoncini Steak
This paleo, gluten-free, dairy-free one-skillet pepperoncini steak recipe is packed full of flavor and yet so simple to make! In only 15 minutes, you'll have a meal the whole family will love!
Ingredients
2

lbs

top sirloin steak, cut thinly

dash of salt

1.5

tbsp

olive oil

1/2

green bell pepper, thinly sliced

1/2

orange bell pepper, thinly sliced

1

small onion, thinly sliced

4-5

pepperoncinis from the jar, sliced and seeded

2

cloves

garlic (or 2 tsp of garlic powder)

3

tbsp

coconut aminos (or soy sauce or liquid aminos, depending on your dietary restrictions)

1

tsp

vinegar

1

green onion stalk, thinly sliced

2

tsp

lime juice, preferably freshly juiced
Instructions
Heat the oil over medium-high heat.

Add steak and cook for 4-5 minutes or until the steak is beginning to brown.

Add bell peppers, onion, pepperoncinis, garlic, coconut aminos, and vinegar. Cook until veggies are cooked.

Sprinkle green onions and lime juice throughout the dish before serving.

Serve alone, over rice, cauliflower rice, salad greens, or in a tortilla (based on your dietary restrictions).
Notes
*Coconut aminos are a great soy-free alternative
*If you choose to use garlic powder instead of cloves, it can be added with the salt at the beginning of the recipe.
*Pepperoncini/ Frigitello peppers don't give off much heat, but if you'd rather not eat them, you may try keeping them whole while cooking and then pulling them out before eating. Or, if you love the heat, feel free to add more!
---
Looking for other camping tips? Check out our posts: Paleo Camping Recipes and How to Snag the Best Campsite at Any Campground!
---
This spicy paleo steak recipe is full of flavor and yet still quick and easy to make! Win, win! Make this on the go while staying in a rental home or camping out! This recipe is perfect for on-the-go moments for those following a paleo diet!