Dog-Friendly West Michigan: Muskegon, Holland, and Saugatuck
Looking for great road trip ideas for you and Fido? Check out dog-friendly West Michigan! We took our two dogs on a trip along the coast through Holland, Saugatuck, and Muskegon, Michigan. In this post, we'll share where we stayed as well as beaches, parks, and shopping areas that are dog friendly.
Have you met Lexie and Ellie?
These are our two girls.
Our Two Dogs
Ellie
Ellie's 13 years old and has been with Alicia for the last 8 years. She's a flat-coated retriever and just starting to slow down. A year ago, no one would have guessed she was over 6 years of age. She could run circles around most dogs half her age. Today, she still loves getting out of the house, but her hips bother her more and more. We actually started using these stairs to get her in the SUV (pictured below) a year ago, and they have been so helpful!
Ellie is our people-loving, sweet girl! She loves to spend her days right by our side.
Lexie
Lexie's our 2-year-old goofball! She was adopted during the beginning of the Covid pandemic and showed many signs of abuse. In fact, it took an entire month of her being in the home before we even petted her for the first time!
Now, she's not that shy, scared dog she was a year ago. She's our tail-chasing, ball-catching, dog park-loving, speed runner. She's full of energy and never slows down!
*This post contains affiliate links. We may earn from qualifying purchases when you click on the links. This is at no cost to you.
Our dogs love adventure! And they love car rides.
If this is new to you, check out our post on planning a dog-friendly road trip!
We'd heard West Michigan was a very dog-friendly area and wanted to see it for ourselves. If you're considering taking your dogs to any of the towns west of Grand Rapids, MI, such as Muskegon, MI, Holland, MI, or Saugatuck, MI, here's your guide to all things dog-friendly!
Dog-Friendly West Michigan: Muskegon, MI
Where to Stay:
Firstly, we found a great Airbnb rental for all of us! We stayed in a 2 bedroom bungalow in southwest Muskegon that not only was eco-friendly but also dog-friendly. From the little dog bowls and rawhides waiting for them to the small things like a trashcan with a lid on it (our girls actually don't get in the trash, but I know quite a few dogs that do!) and windows low enough they could look out, it was obvious the owners of Mahalo Home- Lakeside Bungalow know dogs and love them.
*Note: Though the backyard was not fenced in, it was large enough for them to do their business and stretch their legs a bit (and there's a grill and fire pit!). Just make sure to bring doggy poop bags!
Muskegon State Park:
Muskegon State Park has activities for the whole family, including dogs! There are a few dunes to climb and a beautiful beach to relax by. Unfortunately, dogs cannot go in the swimming area, but they can still camp and take walks with you.
We've heard the campground is pretty impressive with larger campsites. And the walking path from the campground goes down by the channel!
Before this trip, Lexie had never experienced sand before. We think she equated it to snow because she dove into a drift pile, sand flying everywhere, and came out with a mouthful of sand (she loves to eat snow)! Of course, she soon realized sand and snow are vastly different!
She also loved running up the dunes with Kaleb, and it sure helped get some of her energy out! It would probably do the same for a child!
*Note: Dogs at Muskegon State Park must be on a leash 6 ft or shorter. And make sure to also clean up after them!
Kruse Beach
We had also heard great things about Kruse Beach. Unfortunately, the beach was closed when we came. However, looking out from the boardwalk, we discussed that it has the potential to be the best beach view in all of the Muskegon area. It was beautiful!
Muskegon South Breakwater Lighthouse and Other Muskegon Attractions
We also spent some time at South Breakwater Lighthouse in Muskegon, Michigan. This historic lighthouse was built in 1931 to guide ships into the Lake Muskegon Channel. Dogs can join their human companions on a half a mile walk out to the end of the pier where the lighthouse stands.
Just be careful to keep your furry companions close. The drop-off is steep and could be dangerous! Because of this, I would not recommend young children go on this trek unless they are held or in a stroller. There are just too many possibilities for an accident, especially as the path turns and becomes much more narrow.
We did pass one couple with a stroller. If your stroller can handle the uneven walkway, this would definitely be an option!
The beautiful view was definitely worth the effort!
There is also a great playground and a dog beach on the south side of the Pere Marquette Park and a restaurant at the start of the pier.
In fact, the popular beachfront BBQ restaurant called the Deck was under construction, but it looks to be the perfect location for a family meal with Fido by your side in the outdoor eating areas!
The repurposed pontoon boats and cargo ship containers allow for a unique dining experience on the beach overlooking the pier.
Downtown Muskegon Shopping
Downtown shopping may be an option as well. We were there just a few weeks before Muskegon's peak season hit and were pretty disappointed in the lack of businesses open. It may have been the season or possibly the effects of Covid on businesses, but we noticed several buildings that were boarded up.
We did, however, come across the best business complex with a coffee show and a few restaurants! Outdoor seating was available and dogs are welcome to join their companions on the patio.
The coffee shop called Aldea Coffee served me a latte with a few dairy-free choices: soy milk and oat milk. Because of my intolerance to soy, I went with oat milk. They even made a heart in my coffee and an arrow in Kaleb's!
Dog-Friendly West Michigan: Holland, MI
Kirk Park
Previously, we'd heard about a great park and dog beach in Holland, MI called Kirk Park. The park was beautiful! While walking on one of the trails, we even saw four deer running together at the top of the crest above us. (Of course, the dogs loved that!).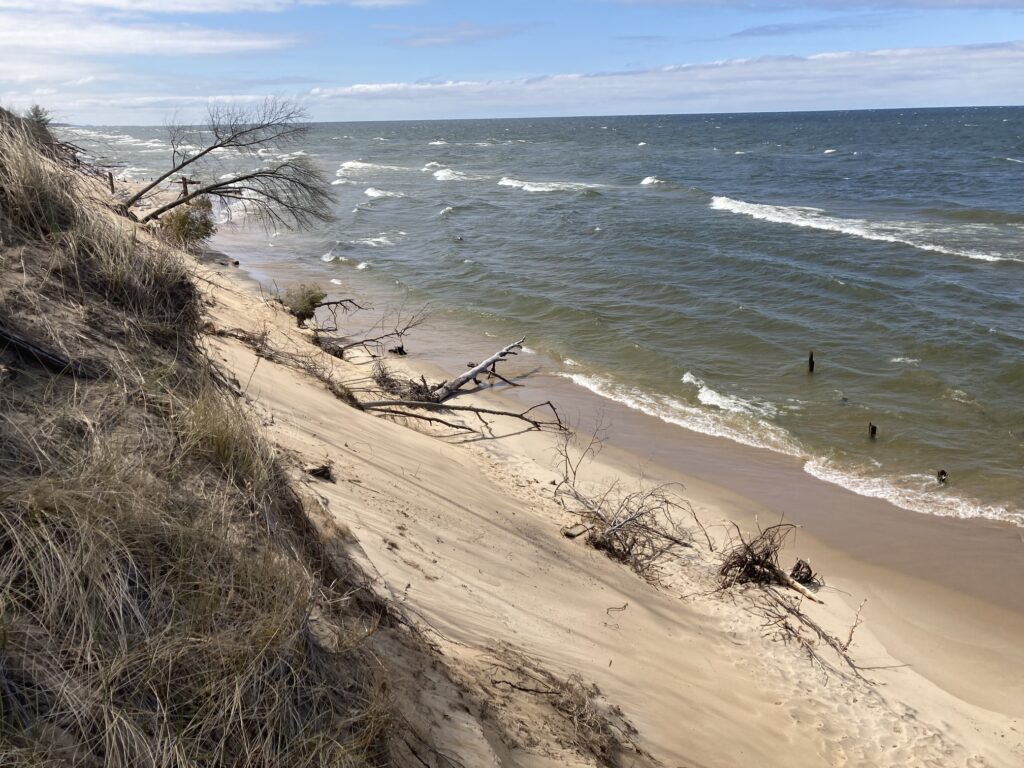 Unfortunately, this dog beach was also closed. And it doesn't look to be opening anytime soon (likely not this summer season 2021, based on the looks of it). It looked like major erosion or a bad storm caused the stairs leading down to the dog park to become very unsafe. The entrance to the dog park was completely blocked with caution tape.
However, of the view we did get, we can say without a doubt that we want to come back! We've heard this park and beach can be packed with dogs. Lexie would especially love playing there with other dogs! And we'd get to enjoy a great view!
---
Holland, MI Bonus Tip 1: Veldheer Tulip Garden
If you can get away from the dogs for a minute, you may want to try Veldheer Tulip Garden, especially in the months of April and May. We were there in April, and the gardens looked absolutely beautiful from the road! And, when I convinced Kaleb to stay with the dogs for a quick look in their flower store, I was absolutely blown away at the variety of flower bulbs available to buy. This would be a flower gardener's dream!
Holland, MI Bonus Tip 2: Allergy-Free Restaurant Options
If you have food restrictions like I do, try Anna's House on SR31. They have several gluten-free, dairy-free, and vegan options. We grabbed lunch there. Not only was the menu very conducive to those with food allergies, intolerances, and diets, but they were also very accommodating when the meal I ordered could not be made without soy.
Other restaurants that might cater to your needs and are also located on SR31 include Red Robin, Panera, and Chipotle.
---
Dog-Friendly West Michigan: Saugatuck, MI
Walk Downtown
The quaint, coastal feel of Saugatuck's downtown shopping area captured us right away! While Fido might not be able to go in the shops, outdoor seating at a few of the restaurants is definitely possible. If you have food allergies or restrictions like I do, Tree of Life Juice had some great vegan and gluten-free cold-pressed juice, smoothie, and acai bowl options along with outdoor seating for the dogs!
Local Eatery Bonus Tip: On the south side of Saugatuck and Douglas is another great place if you have food allergies or restrictions or are just looking for some local ingredients. Isabel's Market & Eatery prides itself on providing local ingredients and menu items. Their menu had a few gluten-free and vegan options.
Saugatuck Dog Park
Additionally, Ellie and Lexie loved hanging out at the Tails 'n Trails dog park! On the outskirts of town, this 6-acre off-leash dog park with an area for small dogs and another for large dogs gave them ample room to run and romp with the other dogs at the park. Lexie took full advantage of the property and ran at full speed most of the time we were there. (I swear she is the fastest dog at any dog park! That dog can RUN!!)
Our girls also loved the hose and water bowl and made several trips over for a drink!
---
Clearly, the cities of Muskegon, Holland, and Saugatuck, MI, are making a conscious effort to accommodate their canine visitors. This is a great area to spend a long weekend or even a full week exploring, especially during tulip season! You're sure to find things for both your four-legged family members as well as the adults and kids in the family to do!
---
Travel Tips:
If you're coming from the south on SR 31 like we were (coming from Indy), here are the two places we stopped to let everyone stretch their legs…
Prairie Edge Nature Park
The Prairie Edge Nature Park in Rochester, IN is just off of SR 31. At the time of writing this post, the park is free to all visitors.
This park is a great place for a walk and/or to even have a small picnic. There are even wildflowers growing there in the summer!
Unfortunately, it does not have a playground for children, but there are bathrooms available.
The trail around the pond is the perfect size to stretch your legs quickly before jumping back in the car or make a few laps to let out even more energy. Bring a picnic and make it an even longer break! There is even a wheelchair-accessible picnic area over the pond!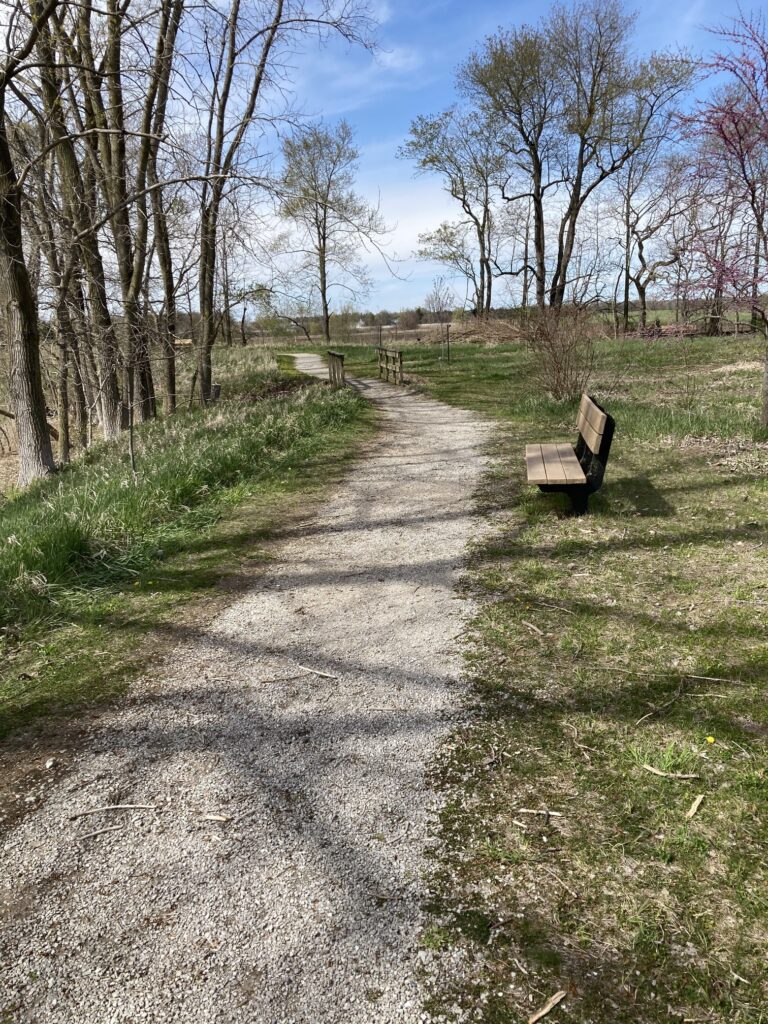 Potato Creek State Park
This state park is just off of state road 31 in northern Indiana.
Quite a misnomer, Potato Creek State Park is mostly a lake, Worster Lake, that is fed by Potato Creek. This beautiful state park has some great hiking trails by the water (we especially like trails 1 and 2). We like to stop at the grassy area between the nature center and the beach (pictured) where the water is so peaceful and there are ample picnic tables for a quick bite to eat before jumping back in the car.
There are bathrooms at the beach house and at the nature center, or you can rough it at the permanent port-a-potty bathrooms spread throughout the park, including some close to the picnic area pictured.
Just remember, state parks are not free. Currently, the rate for Indiana residents is $7. Out-of-state guests pay $9.
---
Dog Travel Accessories
Looking for some great items for traveling with dogs? Here are a few of our favorites!
Dog Seat Cover for the Car
This dog seat cover/hammock has been a lifesaver on several occasions. From muddy paws jumping in our car to upset stomachs, this hammock keeps me from stressing about the damage the girls may be doing to the backseat of the car.
Note: there are some cheaper options you may be able to find. I cannot attest to them though. We went with this one based on comments, ratings, and the size of our vehicle.
Just snap the straps around each headrest (the two front ones and two in the backseat) and go. Throw it in the washer when needed. It's convenient to use and saves many hours of cleaning up messes!
Dog Water Bottle and Bowl in One
We used a plastic bowl with a lid and a separate water bowl for years. But this has really made everything so much more convenient. We can throw their water bottle in our hiking bag for travel and yet don't have to pull out a separate bowl when they need a drink.
We just pull out the bottle, push on the button, and the water streams from the bottle into the bowl section. It's so convenient!
You may need more than one of these if you're on a longer walk, but these bottles have worked perfectly for shorter hikes and excursions.
Check out our H20 for the Win post for the best backpack that can not only fold up and fit in a suitcase easily but also folds out into a full backpack that has two water bottle holders! (It took lots of searching, but we found it!)
Collapsible Dog Bowl
These have been ideal when we're camping or traveling with the girls! It looks like ours is not on the market anymore, but there are several to choose from online, such as this dog bowl with high ratings or this one that comes with a carrying container that holds up to 5lb of food.
Cute Shark Life Vest for Your Dog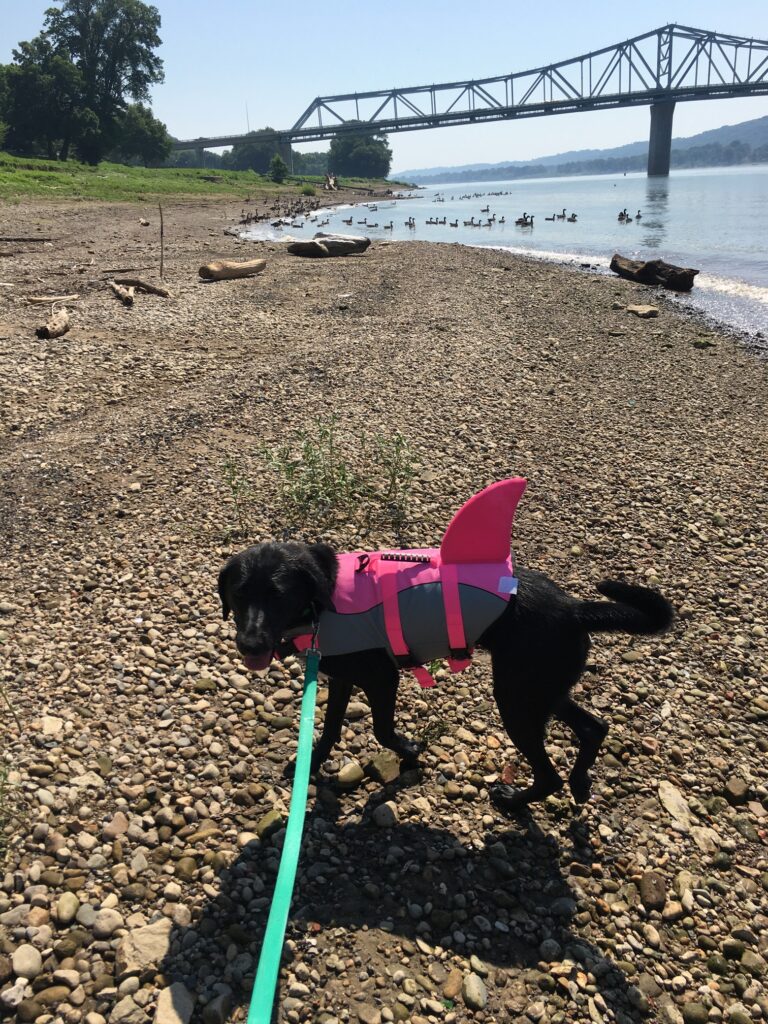 Can you get much cuter than this?! I mean, really?! Lexie LOVES the water, but swimming did not come naturally to her! One time we walked past a creek with rushing water. Ellie went to a shallow spot where she could get a drink. Lex decided to try driving into the water in a much deeper spot and then floating on her back (no attempt to swim whatsoever!). The current was strong enough she started floating down the creek!
Thankfully, I was able to pull her back to the bank using her leash, but that day we decided she needed swim gear. And look at this life vest!
Now, she's the cutest shark you ever did see!
Kongs
When we travel with the dogs, we like to bring a few of their favorite toys and treats. Kongs are great for overnight trips! When we arrive at the location, especially if we're arriving late and headed to bed soon after, we like to use the Kongs as a way of winding them down from the excitement of arriving at a new place. As soon as they've had time to do their business and sniff around, we give them a Kong to calm them down.
We like to stuff ours with peanut butter and throw it in the freezer for the next day, but you could also mix it with treats. They also work great as a road trip snack when the dogs turned down their breakfast but we need to hit the road before giving them a longer opportunity to go back to it.
---
If you're looking for more tips for traveling with dogs, check out our post on Planning a Dog-Friendly Road Trip!
Traveling with dogs is not easy but it can be so much fun when you are prepared! Research the area, bring the needed supplies, and go enjoy a fun getaway with the pups! Dog-Friendly West Michigan (Muskegon, Holland, and Saugatuck) is the perfect place to take your furry friends.
---