Traveling with Dogs: Planning for a Dog-Friendly Road Trip
Considering taking a road trip with your dog but need to know all the things?! Well, you've come to the right place! Here are our tips for traveling with dogs!
Road trips are a great way to bond with your dog! And they will love being a part of all of the family fun! But preparation is key when traveling with dogs!
What are the Best Traveling with Dogs Tips?
In this post, we'll discuss three important things any traveler must do to have a successful road trip with their dog… 1) Give Your Dogs a Similar Routine… 2) Create Your Dog Travel Packing List… and… 3) Get Vet Care While Traveling
Our Dogs
We have two dogs (our "girls", as we affectionately call them), Ellie and Lexie. They're in our car three to four times a week! That's usually to visit family members (they love playing with my parents' dog!), go hiking with us after work one day, or head out on a long road trip for a vacation destination such as our Dog-Friendly West Michigan Trip.
*This post contains affiliate links. We may earn from qualifying purchases when you click on the links. This is at no cost to you.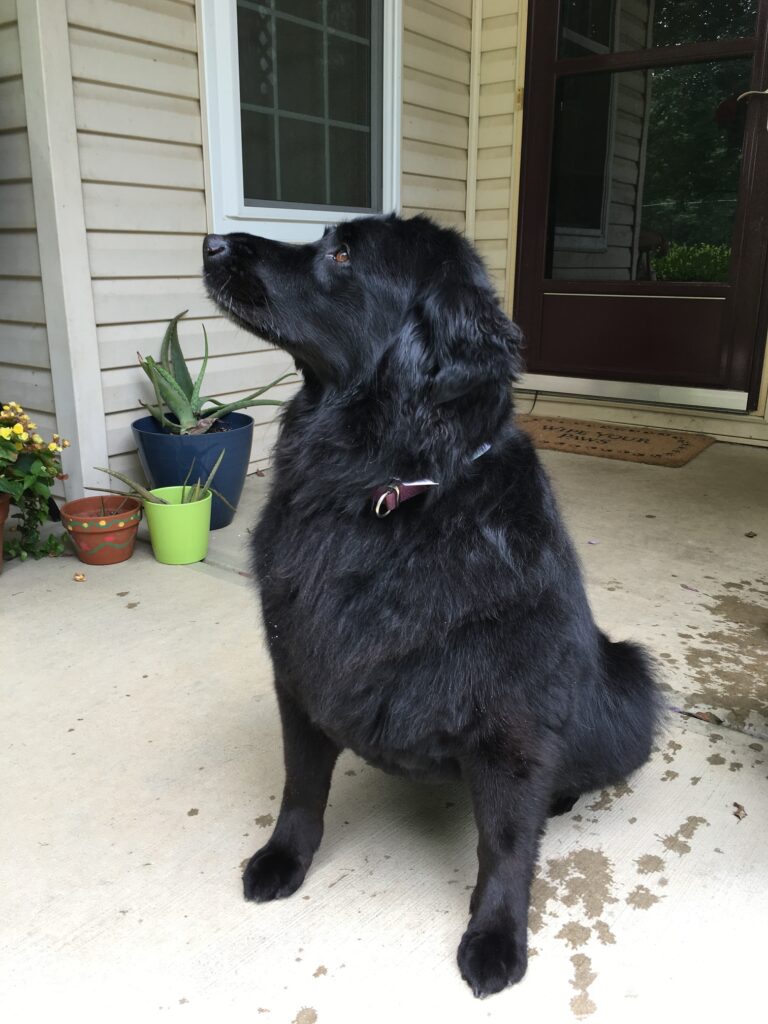 But traveling with dogs comes with many things to consider and plan for. Like bringing a child on your adventures, you can't just jump in the car and hope you have everything! I wish it was that easy!
Here are three great planning tips!
1. Give Your Dogs a Similar Routine
Dogs respond well to routine. Whether you know it or not, you probably have a general routine at home. Maybe when you wake up, you let them outside to potty and then feed them. Maybe a few hours later they get a treat for going in their crate and you head off to work. …And so forth.
While some things won't be the same while on vacation, your dog will handle the newness of vacation better if things remain as similar as possible. When you wake up, take them outside immediately, if they normally go out first thing. Then, feed them. Later, take them for a walk when they may normally be let in the backyard to play. If you put them in their crate at night and while away, do the same while on vacation.
All of these little things help the dog to see this new place as their home away from home.
2. Create Your Dog Travel Packing List
You're going to want to create a list of things to bring. Here's what we bring with our dogs for road trips. Your list will probably look very similar…
Food and Water
Dog Food
Obviously, they're going to need to eat!
Dog Treats
We like to bring both regular treats when traveling with dogs. We use them to reward them for good behavior, and we also Dentastix as part of their evening routine. (They get one each night after going outside to potty. We went from our vet worrying about their teeth each appointment to getting a good bill of health every time after regularly using these Detastix). And our girls would not be very happy with us if any of the treats were forgotten!
Water
It is so important to not only monitor your dog on hot days but also evaluate the environment before you even take them outside! Is there a better time of day you could do that fun outing with your dog? Is the pavement or sand too hot? The Huffington Post has a great article on how to identify if it will be too hot for your pooch. If you determine it's hot but bearable for your dog, make sure you bring lots of water!
We like to bring water bottles or jugs of water in the car that we can refill as they use it.
Dog Food Bowl and Water Bottle are Musts When Traveling with Dogs
We used a plastic bowl with a lid and a separate water bowl for years. But this has really made everything so much more convenient. We can throw their water bottle in our hiking bag for travel and yet don't have to pull out a separate bowl when they need a drink.
We just pull out the bottle, push on the button, and the water streams from the bottle into the bowl section. It's so convenient!
The water bottle fits nicely in car cup holders and in our favorite backpack (that folds up small but also unfolds into a large backpack that has 2 water bottle holders and a waterproof pack!)
You may need more than one of these if you're on a longer walk, but these bottles have worked perfectly for shorter hikes and excursions.
Car Accessories for Dogs
Dog Car Seat Cover/ Hammock
This has been a lifesaver on several occasions! From muddy paws jumping in our car to upset stomachs, this hammock keeps me from stressing about the damage the girls may be doing to the backseat of the car (like after our trip to the Indiana Dunes National Park). Note: there are some cheaper options you may be able to find. I cannot attest to them though. We went with this one based on comments, ratings, and the size of our vehicle.
Dog Seat Belt
Keep your dog safe and secure with a dog seat belt like this one. Remember: you do not want to attach the seat belt to their collar, which could choke them in a car accident. Instead, attach it to a harness on your dog.
If your dog does not usually wear a harness, the harness needs to be added to your list! We took one of our dogs into the pet store to find the one that fit her best. That is likely your best bet.
Collapsible Stairs for Climbing in a SUV or Truck
Our older dog has issues with her hips and really struggles to get in taller vehicles. When we first bought these stairs, she was a bit confused. But after a few tries, she now loves them. The younger dog will leap in the car, and she'll patiently wait for us to get our her stairs. The best part is the stairs fold up for easy storage. They take up a considerably small amount of space and yet are so helpful for her!
Pit Stop Essentials
Dog Leash
Of course, you're going to need a leash when traveling with dogs! You may like the retractable ones, or you may be more interested in the regular nylon ones. We like to bring both. Most of the time our dogs are on the nylon ones to keep them close by our side, but when we take them to the lake, we like to bring the retractable ones so they can swim a bit.
Potty Bags
You'll likely need potty bags everywhere you go on your trip. We keep a roll in the car door for easy access when making a pit stop and take another roll into a tent, camper, or rental home to have available when they go in the yard. Some are cheap and flimsy, which is not what you want from something holding your dog's "business"! We like these because they are durable and also dark so not see-through. (Why they make see-through ones is beyond me!!)
Sleeping Gear for Your Dog
Dog Crate
If your dog sleeps in a crate at home, I highly encourage you to bring the crate on vacation! It will help them wind down and build a normal routine. They know the crate means bedtime.
We like this crate because it folds up nicely but also has two doors (one on an end and another on the side). So, regardless of where we put it, there's a convenient door for entering and exiting.
Sleeping Pad
We have one dog that uses a crate and another one that does not. (This is due to their personal preferences and some trauma that each of them endured before coming to us. We adopted both of them from rescues.)
The one that does not sleep in a crate is the older one. Hard floors bother her hips, so we often bring a pad for her to sleep on. At our house, she sleeps on a memory foam pad from Dog Bed 4 Less, but it is HUGE and, therefore, we grab something smaller when traveling.
Other Fun Accessories When Traveling with Dogs
Life Vest for Your Dog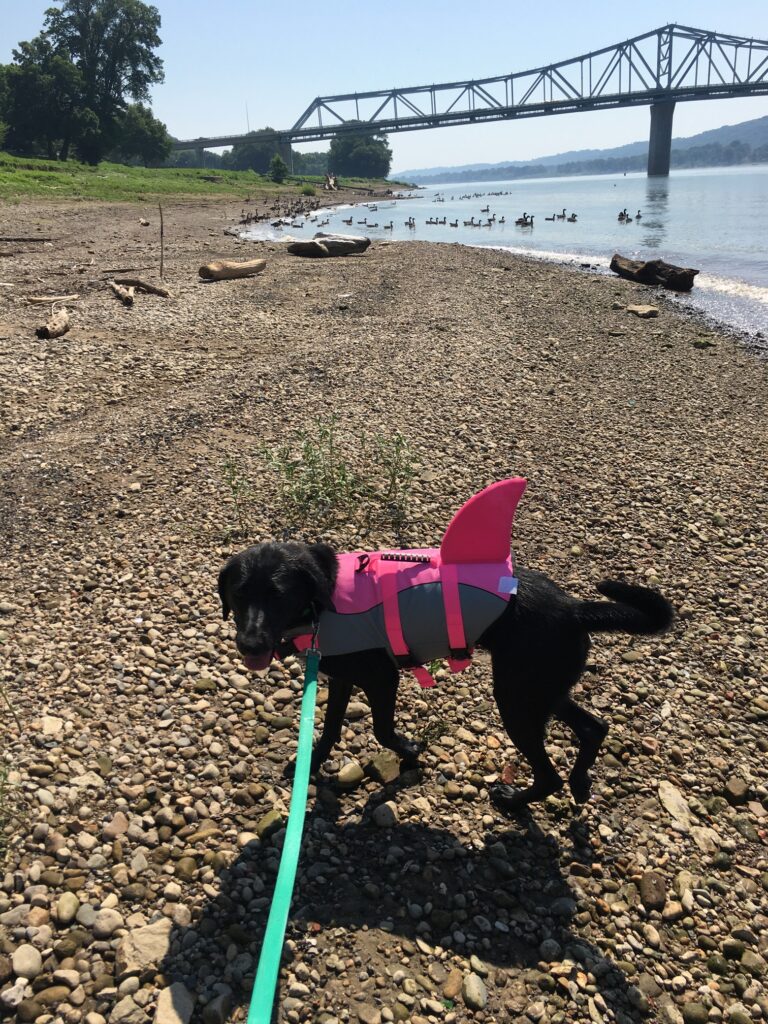 Can you get much cuter than this?! I mean, really?! Lexie LOVES the water, but swimming did not come naturally to her! One time we walked past a creek with rushing water. Ellie went to a shallow spot where she could get a drink. Lex decided to try diving into the water in a much deeper spot and then floating on her back (no attempt to swim whatsoever!). The current was strong enough she started floating down the creek! (She thought she had her own lazy river! haha)
Thankfully, I was able to pull her back to the bank using her leash, but that day we decided she needed swim gear. And look at this life vest!
Now, isn't she the cutest shark you ever did see?!
Kongs
When we travel with the dogs, we like to bring a few of their favorite toys and treats to remind them of home. Kongs are great for overnight trips! When we arrive at the location, especially if we're arriving late and headed to bed soon after, we like to use the Kongs as a way of winding them down from the excitement of arriving at a new place. As soon as they've had time to do their business and sniff around, we give them a Kong to calm them down.
We like to stuff our Kongs with peanut butter and throw them in the freezer for the next day, but you could also put treats in them. We've found they also work great as a road trip snack when the dogs turned down their breakfast but we need to hit the road before giving them a longer opportunity to go back and eat again.
Other Traveling with Dogs Essentials
Dog Tie Outs
If we're going camping, we like to bring dog tie-outs so the dogs can be close to us. This prevents us from having to find a tree close by and allows us to put the dogs wherever we think is best. Just screw the metal part into the ground and either use the cable provided (which our dogs don't seem to like because it pulls on them) or connect your dog's leash to the tie-out. (Click to see on Amazon)
Dog Cooling Pad
In the dead of the summer, we keep our dogs cool with this cooling pad. Just fill it with water and lay it down for your dogs. No need to refrigerate it, which means it's great for travel, especially camping!
(Click the picture to see on Amazon)
Medications or Supplements
Does your dog take any medications or supplements? For example, our oldest dog takes a natural supplement for her hips. She is also terrified of storms. So when I'm traveling with dogs I bring those medications as well as peanut butter to administer the medications on the road with us.
3. Get Vet Care While Traveling with Dogs
We all hope our dogs will never get sick while traveling, but it's always good to be prepared! Thankfully, we've never had to use them before, but I've heard good things about FirstVet. FirstVet is an app for your phone or iPad that can provide you with telehealth consultations when your pet needs it. You can go ahead and download it now to be prepared if a situation arises.
---
Traveling with dogs is not easy but it can be so much fun when you are prepared! Research the area, bring the needed supplies, and go enjoy a fun getaway with the pups! They will love it, and they might be so exhausted they sleep for a few days following! Win, win!
---