Best Allergy-Friendly, Dairy Free Gluten Free Restaurants in Savannah, GA
My husband and I spent a few days in downtown Savannah, GA recently. I have several food allergies and wondered if we'd find food for me. But it actually went rather well! Today, we're sharing allergy-friendly, especially dairy free gluten free restaurants in Savannah, GA!
Traveling with dietary restrictions and food sensitivities is not always easy. That's why we're collecting lists of the best restaurants we've found to accommodate the most common allergens and diets.
Being gluten and dairy-free and trying to avoid corn and soy myself, I love finding great restaurants that can accommodate multiple food restrictions! I also love the research process! (I know! I'm weird!)
Do you love traveling but have food allergies? Check out our posts on allergy-friendly restaurants in Jacksonville, FL, Indianapolis, IN, or Washington DC. Or, if you're looking for tips for travel in general, check out our post on Meal Planning While Traveling with Food Restrictions.
In this post, we'll be sharing a few great allergy-friendly, dairy free and gluten free restaurants in Savannah, Georgia!
---
**This information is not meant to circumvent medical advice or to identify what foods bother you personally. Each person is different and responds differently to things in their environment. This blog shares Kaleb and Alicia's experiences and options you may want to try if you are trying to live a healthier life and avoid similar things. Please do your research, speak with your healthcare professional, learn what bothers you and helps you personally, and take the steps needed from there. Also, please remember that menus change, so you will need to look at the current menu.
---
What are the Best Allergy-Friendly, Dairy Free Gluten Free Restaurants in Savannah, GA?
Walking down the downtown streets of Savannah, we stumbled into Coco & Moss and were absolutely blown away by the food!
Just south of Ellis Square in downtown Savannah, Coco & Moss is surrounded by the hustle and bustle of the town with frequent foot traffic and horse-drawn carriages going by every few minutes. This Asian-inspired eatery serves lunch and dinner with a menu consisting of sushi, warm bowls, poke bowls, and salads. Their menu indicated both gluten-free and vegetarian options.
I chose the Siam Salad, consisting of shrimp, pickled mango, bean sprouts, cabbage, greens, peanuts, and a Thai chili sauce. And, though it was not free of all of my allergens and the waitress had to speak with the kitchen staff, they were very willing to make it dairy, gluten, corn, and soy-free. The flavors in that salad, especially from the Thai chili sauce, were delicious! Next time we go back to Savannah, I'm going there and ordering the exact same dish!
My husband felt the same way! He ordered the Seoul Mate, a warm bowl of rice, steak, bean sprouts, carrots, greens, teriyaki, and a balsamic dressing. He ranted and raved about that meal for days!
This was probably my husband's favorite meal on our quest to find the best dairy free gluten free restaurants in Savannah, GA!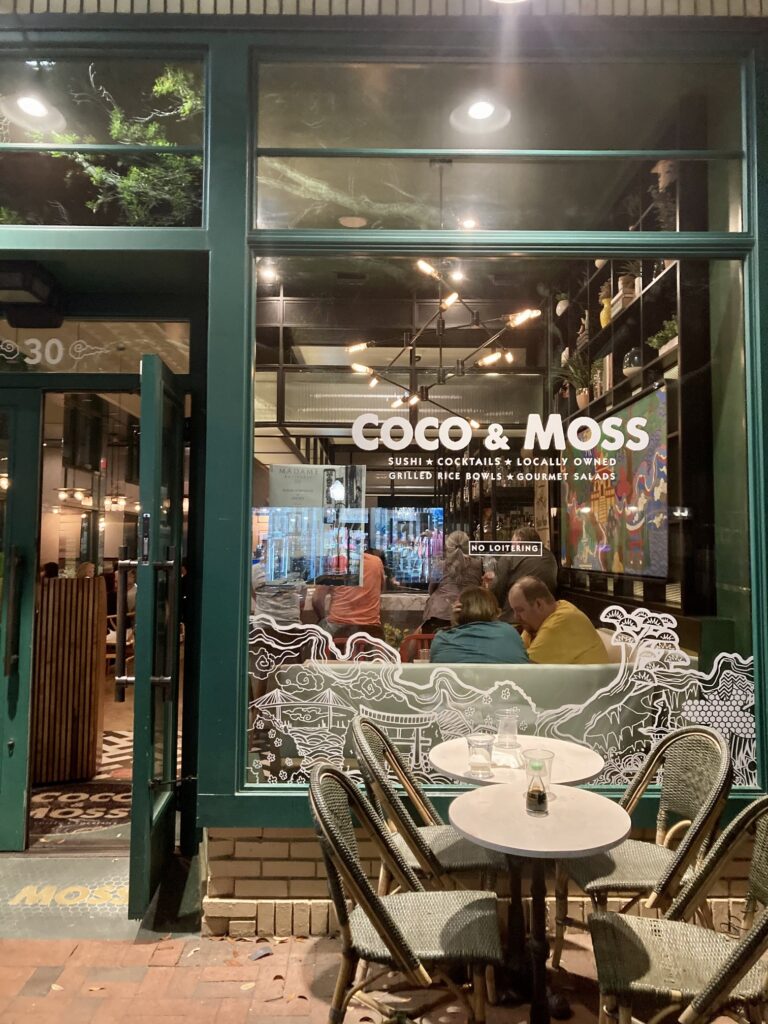 Collins Quarter at Forsyth Park in downtown Savannah, GA
Collins Quarter has two locations, a downtown location and a cafe at Forsyth Park. Their menu indicates vegetarian options and shares that they serve gluten-free bread. While this may not accommodate enough of your dietary restrictions, it is definitely worth a look at their menu and possibly a call to the restaurant.
We did not actually get the opportunity to try out this restaurant in Savannah. We were at Forsyth Park in the mid-morning and chose to go to their take-out window and check out their juices instead. I got their Carrot Cake cold-pressed juice and we continued on.
However, I would highly consider this Collins Quarter at Forsyth Park if in the area again. They seem very conscious of the ingredients they put in their food while also putting an emphasis on serving flavorful dishes. The restaurant was completely full when we went by, even around brunch time. That often means the food is worth the wait!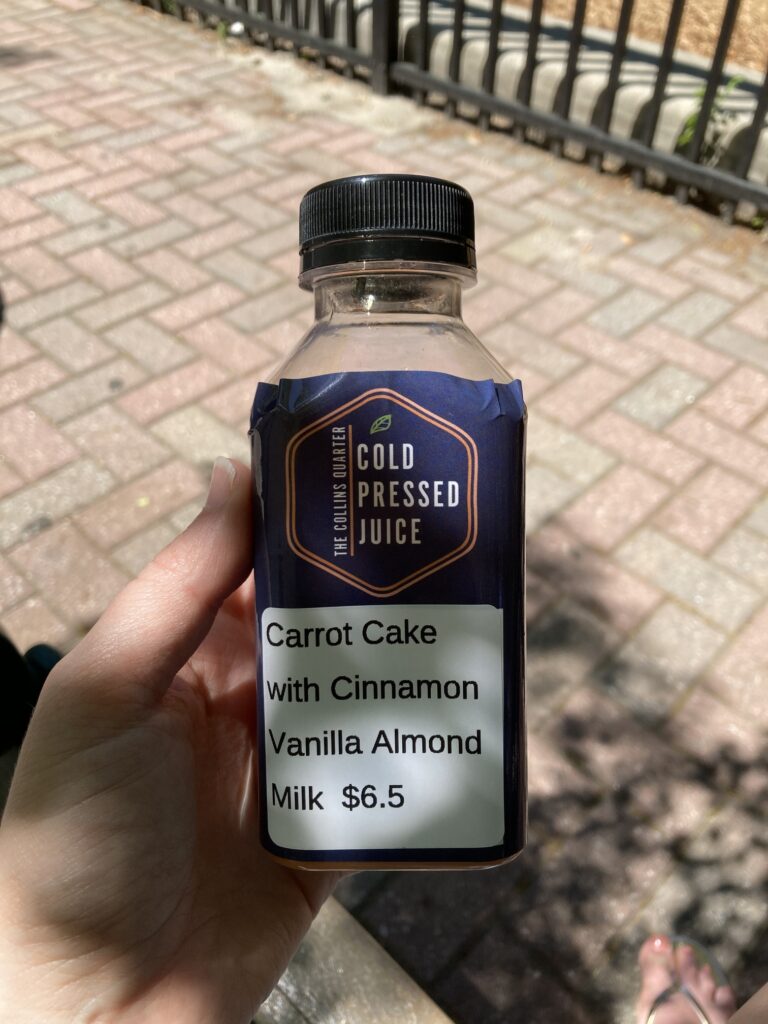 Leopold's Dairy Free Ice Cream in Savannah, GA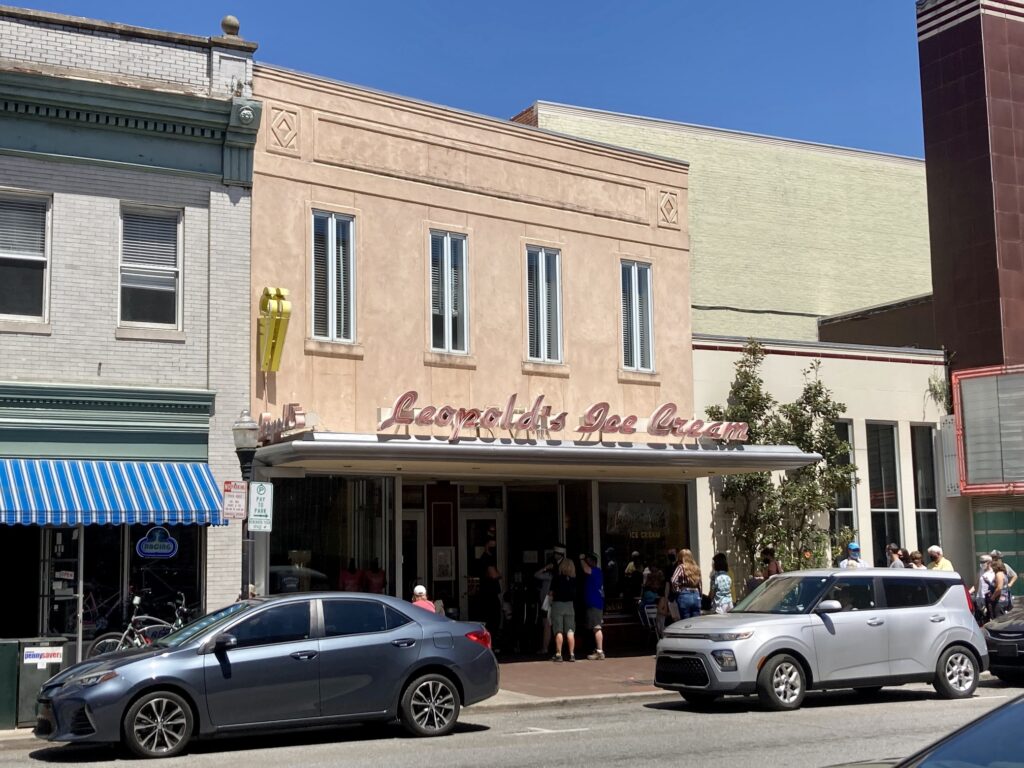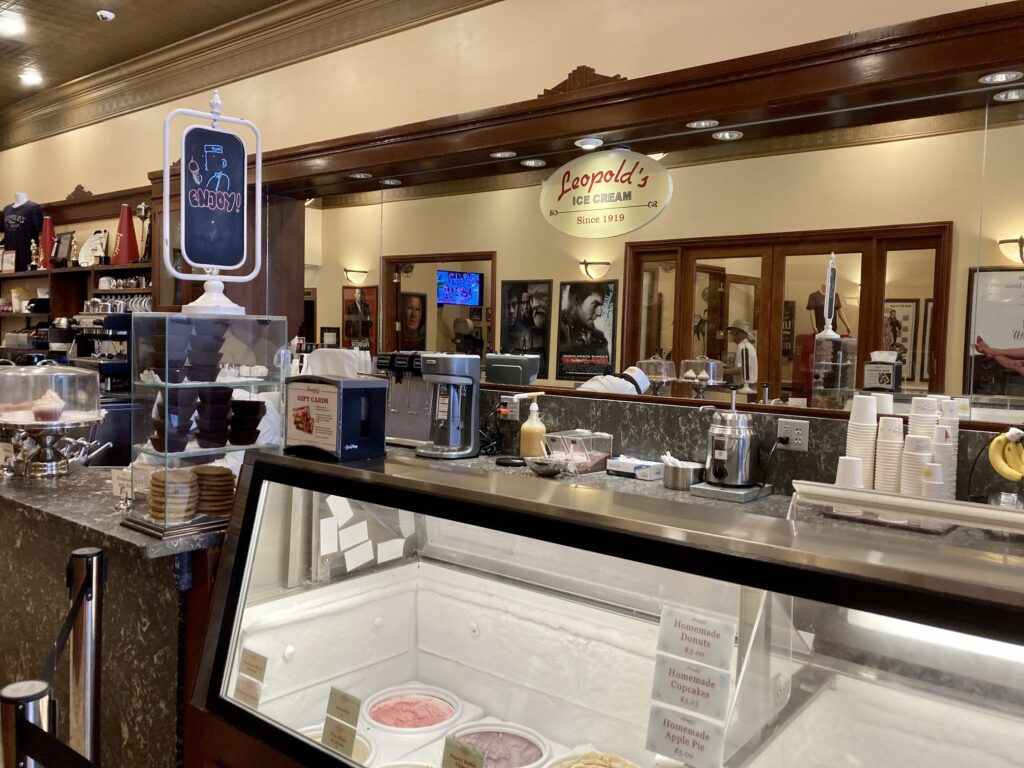 You cannot come to downtown Savannah, GA and not experience Leopold's Ice Cream! Since 1919, Leopold's has served the same great ice cream.
You can get vegan dairy free ice cream at Leopold's!! And I got confirmation that they are (you'll need to confirm too in case things have changed!) free of gluten, corn, and soy! Those ice cream flavors that have chocolate chips in them are not, however, so you'll need to be careful. You may want to contact them ahead of time, as they do not serve every flavor every day. The vegan ice cream flavors are on a rotating schedule.
We waited in line in the hot sun for over 30 minutes for Leopold's ice cream, and it was worth every second! I have never had such creamy and delicious dairy-free ice cream!
You do not want to miss Leopold's dairy free ice cream!
Fox and Fig Plant-Based Restaurant
What a great find!
This plant-based restaurant is located south of Colonial Park Cemetary on Habersham Street and Troup Square. It took us a bit to walk there from River Street (you may want to drive), but it was SO worth it! They have a full espresso bar plus a dining menu at Fox and Fig. Grab a latte to go or enjoy their outdoor seating and a full meal like we did!
The Fox and Fig menu also indicates several gluten-free menu options. When we ate there, I let them know ahead of time that I was not only dairy and gluten-free but also corn and soy-free. They took all of my dietary needs seriously and helped me find the best item on the menu.
And the food was delicious! This was probably my favorite dairy free gluten free restaurants in Savannah of all the restaurants mentioned here.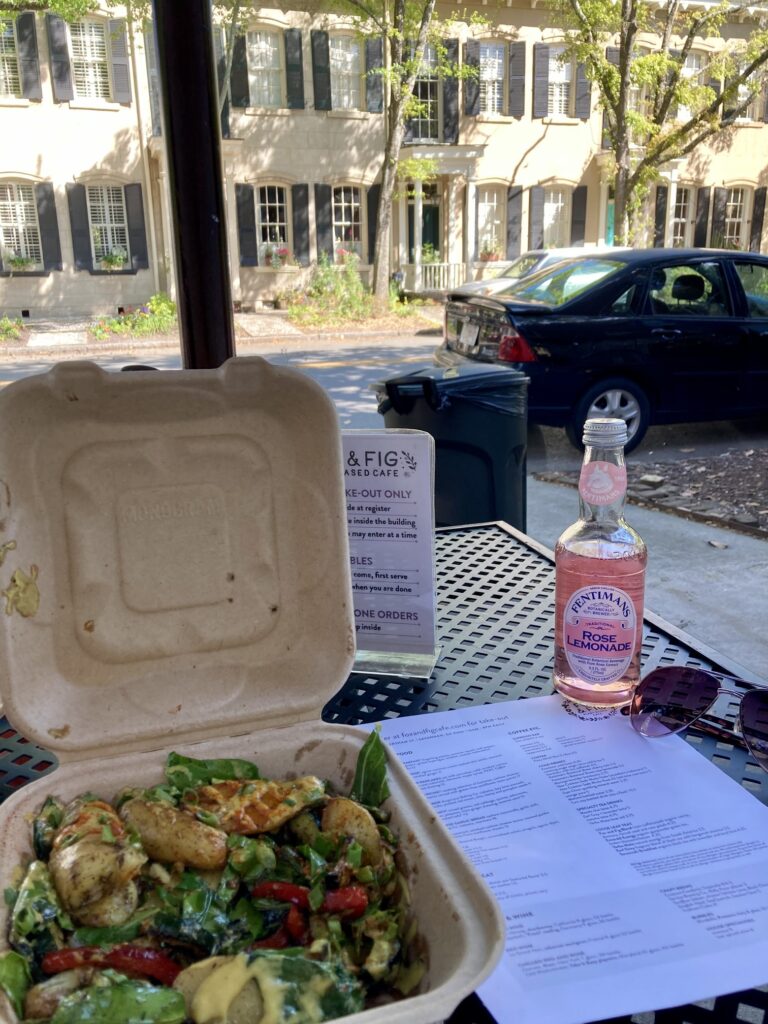 Fox and Fig's seasonal menu changes, so you are always getting fresh, in-season ingredients. We were there in April, and I ended up going with the Proper Breakfast (served to me around 2pm!) with potatoes, greens, asparagus, squash, and cashew hollandaise. I absolutely loved it! I could have eaten that every meal for days! My mouth still waters thinking about that meal!
Vegans that aren't gluten-free may enjoy cashew cheese garlic bread or "Smoky Mac", macaroni with cashew cheese. And the Beyond Burger came with many toppings, including caramelized onions and arugula, if burgers are your thing! You can even get a gluten-free bun at Fox and Fig!
Make sure to communicate your dietary needs with the staff at all restaurants. I never assume something will be safe from any of my food allergies unless the menu specifically says it. And even then I often share my intolerances with the wait staff to prevent cross-contamination.
When I first became dairy-free over 10 years ago, it was not uncommon to get a waiter or waitress who seemed annoyed by my request. But that's rarely the case these days. Sometimes I can't eat at the restaurant (that actually happens quite a bit) or have to have a plate of vegetables because they cannot accommodate me. Still, the kitchen staff usually takes my order very seriously. They did at each of these downtown Savannah restaurants!
Several Dairy Free and Gluten Free Restaurants in Savannah, GA
Traveling with dietary restrictions is not easy. But these dairy free and gluten free restaurants in Savannah, GA made it so much easier! Check out Coco & Moss, Collins Quarter, Leopold's Ice Cream, and Fox and Fig next time you're in Savannah!