11 Great Dairy-Free and Gluten-Free Restaurants in Indianapolis
As an Indiana native with food restrictions, I've had ample opportunities to check out dairy-free and gluten-free restaurants in Indianapolis, Indiana. Fortunately, there are a lot more options these days than there used to be! After much consideration, here's my list of the best options in Indy.
I am a Hoosier. Born and raised in Indiana, just outside of Indianapolis.
I've had food restrictions for a long time. About 10 years ago I went dairy free due to stomach issues. Soon after, I went gluten free. Today, I try to avoid corn and soy as well, but those are almost impossible to fully avoid! (Did you know the wax put on fruits and veggies at the grocery store is usually made of corn?!)
I've written posts on allergy-friendly restaurants in Washington DC, Savannah, GA, and even Jacksonville, FL. But the allergy-friendly posts for Indianapolis (this one and the one on gluten free and dairy free bakeries around Indy) needed to be the best yet, so I took my time.
I wanted to make sure to highlight restaurants mainly in the downtown Indy area. I will do another post on restaurants in north Indy… of which Matt the Miller's Tavern will definitely be on that list!!
Writing this post has been a goal of mine for so long. And now here we are!
If you're checking out all that Indy has to offer, here are some of the best restaurants for food allergies while exploring!
---
**This information is not meant to circumvent medical advice or to identify what foods bother you personally. Each person is different and responds differently to things in their environment. This blog shares Kaleb and Alicia's experiences and options you may want to try if you are trying to live a healthier life and avoid similar things. Please do your research, speak with your healthcare professional, learn what bothers you and helps you personally, and take the steps needed from there. Also, please remember that menus change, so you will need to look at the current menu.
---
What are the Best Dairy-Free and Gluten-Free Restaurants In Indianapolis, IN?
1. Café Patachou: Very Conscious of Allergens
With several locations around Indy, Café Patachou is a great option for anyone with food allergies. The cafe has an allergy menu available upon request. It also offers oat milk for coffee.
Those following a gluten-free diet may like their breakfast bowls, power bowls, or gluten-free waffles for breakfast. For dinner, you may want to try the coconut curry chicken, a sandwich with gluten-free bread, or a salad. Even better, Café Patachou also has a bakery that offers gluten-free baked goods. At the time of writing this post, they have a cashew chocolate cookie and a pecan bar that are both gluten-free. Yum!
Breakfast and lunch are available all day. But visitors should note Café Patachou's hours. Each location is a little different. Most are open from around 7 or 8am to 3pm.
Café Patachou has several locations around Indy, including two locations in Indy (inside of I-465) and a few locations directly north of the city. Below are the two locations in Indy.
Cafe Patachou in Meridian Kessler:
4901 N. Pennsylvania St.,
Indianapolis, IN 46205
Cafe Patachou in Downtown Indy:
225 W. Washington St.,
Indianapolis, IN 46204
2. Public Greens: A Great Farm-to-Table Option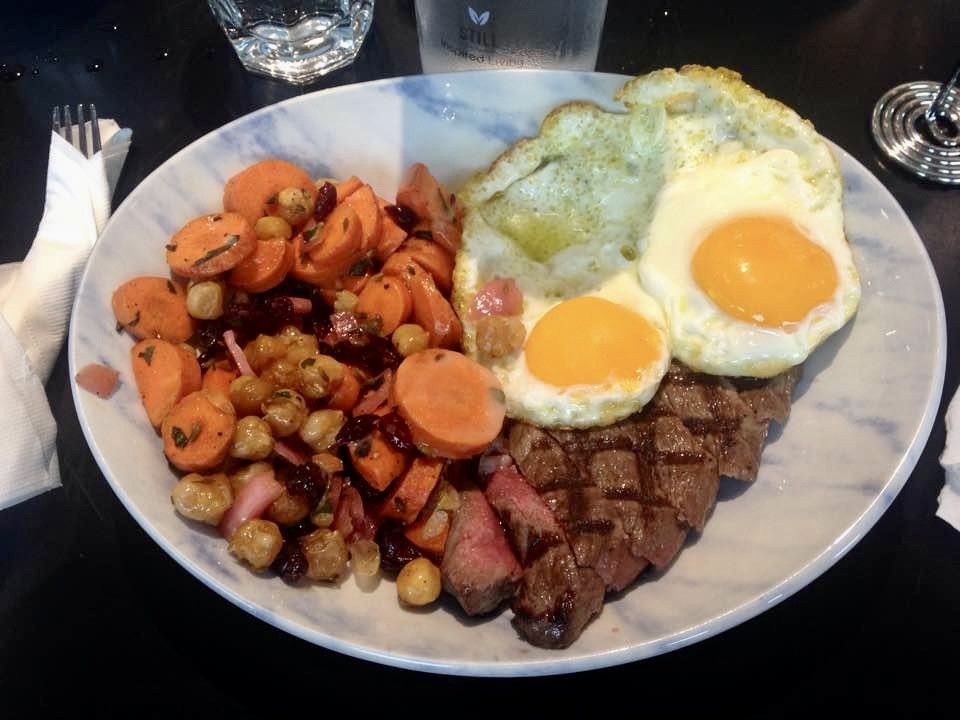 A personal favorite of mine, Public Greens is a farm-to-table restaurant. In fact, they have a working micro farm at their restaurant that a farmer and beekeeper manage.
Public Green's menu is seasonal and changes regularly. This means you'll need to check out their menu to make sure they have options that fit your diet before making the drive. They usually have at least a few (delicious!) gluten-free baked goods from which to choose. But they also often have menu items that are gluten-free and dairy free.
They also have a dedicated gluten-free fryer, which is so important if you have celiac disease or try to fully avoid gluten. Although fries are naturally gluten-free, the cooking process is very important!
I have loved every single thing I've gotten from Public Greens! In fact, I've told more people than I can count about the restaurant. Several of them have come to me later to share how much they loved the restaurant!
Public Greens is located just north of downtown Indy in Broad Ripple.
Public Greens Address:
902 E 64th St.,
Indianapolis, IN 46220
3. Condado: Dairy-Free and Gluten-Free Tacos
Located both in Broad Ripple and in the heart of the downtown area, Condado is a great option for a casual night out or a celebration of Taco Tuesday!
Known for its funky, casual atmosphere, Condado offers an extensive menu of make-your-own taco options. Condado Tacos menu indicates whether each ingredient is considered vegetarian, vegan, gluten-free, or contains dairy.
At two locations, Condado is located both in the Broad Ripple area and downtown on Mass Ave.
Condado in Broad Ripple:
838 Broad Ripple Avenue,
Indianapolis, IN 46220
Condado on Mass Ave:
530 Massachusetts Avenue, Suite 190,
Indianapolis, IN 46204
4. Bru Burger: Gluten-Free Burgers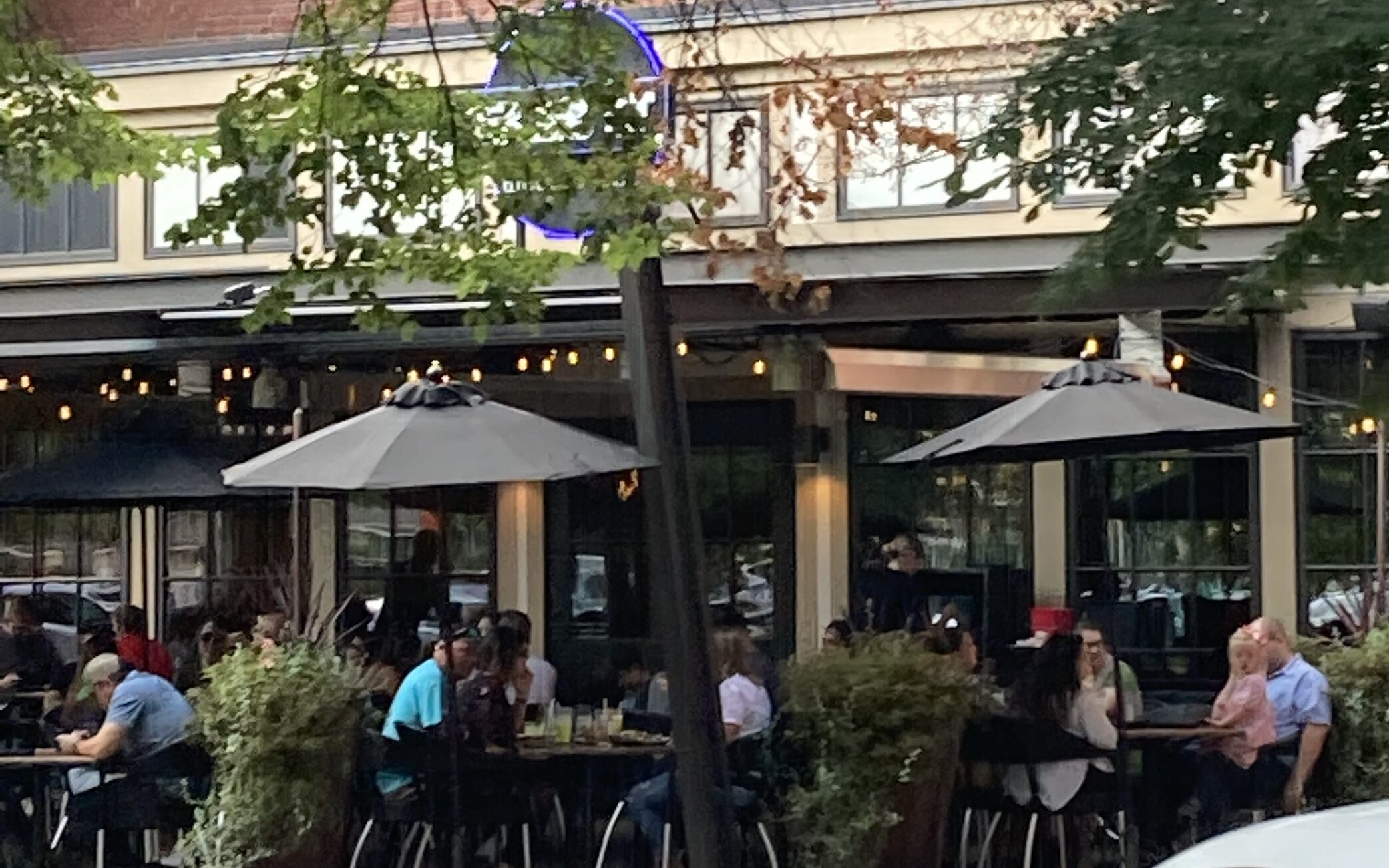 Another great casual dining option for those that are gluten-free is Bru Burger.
Located all around Indy, Bru Burger's Mass Ave location is a popular destination for dining downtown.
Many around Indy would say Bru Burger serves some of the best burgers in town. The restaurant is known for serving signature sirloin and locally sourced produce. While they serve a great burger, they also serve salads and sandwiches, some of which are marked as vegetarian or vegan.
Bru Burger's menu lists gluten-free salads as well as gluten-free burgers (on a gluten-free bun). Unfortunately, I was a bit disappointed by their gluten-free bun. It seemed very dry, much more than I've experienced at other restaurants. However, I would love to go back and either order a salad or order a burger on lettuce.
Note: If you have celiac disease, be careful here. Some Bru Burgers seem to take allergies more seriously than others. I have heard great things about the one north of Indy in Noblesville. However, I do not know how this one compares.
Bru Burger:
410 Massachusetts Avenue,
Indianapolis, IN 46204
5. The Indiana State Museum's Farmer's Market Cafe: Great Location!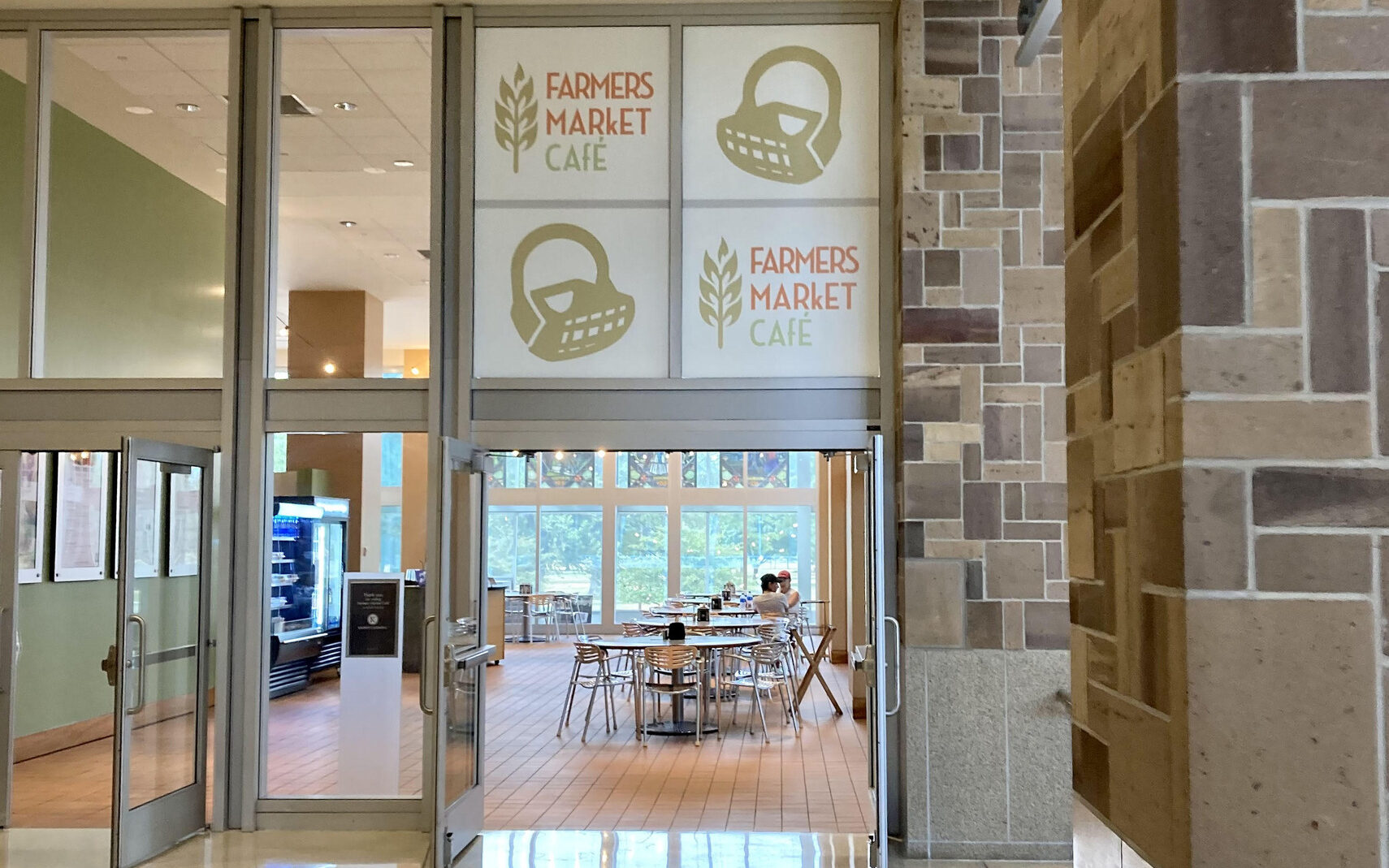 This one made our list because of its location. The Indiana State Museum is in the heart of downtown Indy. Those going to and coming from the canal can access it by walking through the Indiana State Museum.
If you're looking for a quick bite to eat, check out Farmer's Market Cafe located on the 2nd floor of the Indiana State Museum (but still accessible to the public without museum admission).
Their menu indicates dairy-free, gluten-free, and vegetarian options. It's definitely not the best list of options, but it allows you to experience everything downtown Indy has to offer and still eat something.
Farmer's Market Cafe Address:
650 W. Washington St.,
Indianapolis, IN 46204
6. Top Out Cafe: A Vegan and Gluten-Free Restaurant in Indianapolis
Top Out Cafe is located in a rock climbing facility! My mom and I tried out this cafe a while ago and LOVED it! The menu lists several gluten-free, dairy-free, vegan, and even nut-free options.
When I visited, the representative at Top Out Café said they do not use soy or corn in any of their products. Because I try to avoid soy and corn as well as gluten and dairy, that was a huge relief! Additionally, many of Top Out Café's products are both vegan and gluten-free.
Top Out Café offers gluten-free sandwich buns and toast. The café also offers some delicious gluten-free, dairy-free power bowls. I had their Island Acai bowl which is gluten-free, vegan, and nut free (pictured at the very top of this post), and it was wonderful! It was very filling though. It was so filling, in fact, that I didn't get a chance to try their gluten-free, dairy-free, and nut-free smoothies like I had hoped. Next time!
Even better, you can also enhance your bowl or smoothie with nut butter, protein powder, collagen powder, turmeric, and more.
This would be the perfect place to spend a Saturday morning eating breakfast and rock climbing, coming for brunch with some friends, or even spending a day doing some online work. When we visited, we saw several people doing homework on their computers. It felt almost like a coffee shop.
Top Out Café Address:
1411 Roosevelt Avenue.,
Indianapolis, IN 46201
7. Tinker Street: A Nicer Restaurant Option
If you're looking for a nicer, celebratory dinner option, Tinker Street may be perfect! Recently, we went to celebrate my birthday and loved it!
The menu changes regularly, so you will need to check out the current menu.
We were impressed, however, that the menu indicated their vegan and gluten-free options as well as which ingredients contained soy or nuts.
While they had two menu choices that were gluten and dairy free, I also try to avoid corn. Both options contained corn. So I asked for a menu option that was gluten-free but did contain dairy to be tweaked. Instead of a pork chop with (dairy-containing) mashed potatoes, I asked to switch the mashed potatoes out for anything without gluten, dairy, or corn. The waiter graciously talked with the kitchen staff and made a change to gluten-free black rice. And the food was delicious!
My husband also mentioned his shellfish and mushroom allergies to them, and they took those seriously as well. After considering his options, he ended up going with the lamb and ricotta cappelletti with pumpkin vodka sauce. He said it was wonderful as well.
Please note: Tinker Street is a 21 and above establishment. No children will be allowed to enter, and you'll want to make sure you bring your ID.
Tinker Street Address:
402 East 16th Street.,
Indianapolis, IN 46202
8. Three Carrots: A Vegan and Gluten-Free Restaurant in Indianapolis
Located in the Fountain Square area, Three Carrots is another completely vegan restaurant in Indianapolis. No need to worry about dairy if you are dairy-free.
Three Carrot's menu indicates a number of gluten-free items, including Buffalo Cauliflower, a Falafel Bowl, and a Shepherd's Bowl. And gluten-free desserts can even be made upon request!
This would be a great option for anyone enjoying the Fountain Square area. Duckpin bowling, anyone?!
Three Carrots Address:
920 Virginia Avenue,
Indianapolis, IN 46203
9. King Dough: Delicious Gluten-Free, Dairy-Free Pizza!
Looking for an amazing gluten-free, dairy-free pizza?! You have to try out King Dough!
King Dough offers gluten-free pizza dough with several pizza topping options. I can attest that their gluten-free vegan pizza (made with red sauce, mushrooms, arugula, sweet peppadew peppers, and kalamata olives) is amazing! However, King Dough also offers make-your-own pizzas, so the topping combinations are endless!
King Dough's gluten-free pizza crust is delicious! I loved the pizza at True Food Kitchen in Jacksonville, FL, but King Dough's pizza crust is even better. Plus, King Dough offers vegan and dairy-free cashew ricotta if you are dreaming of cheese on your pizza!
And, according to my husband, their regular pizza is just as phenomenal!
Oh! And possibly just as exciting, they offer handcrafted beverages from The Soda Guy that are naturally sweetened and aren't full of corn syrup and other concerning ingredients! We had root beer and lemonade on our last trip to King Dough and were very impressed!
King Dough Address:
452 North Highland Ave.,
Indianapolis, IN 46202
10. P.F. Chang's: A Gluten-Free Asian-Inspired Restaurant in Indianapolis
Another great choice, P.F. Chang's is a good option for anyone following a gluten-free diet. This Asian restaurant's menu contains gluten-free options. However, if you are also dairy free, you will have to sift through the menu for dairy-free options. The menu only identifies vegetarian options, not vegan.
PF Chang's is willing to customize meals at least to some extent. If you find something on the menu that's gluten-free, ask the staff if it's dairy free or if they know a way to make it dairy free!
P.F. Chang's at Keystone:
8601 Keystone Crossing,
Indianapolis, IN 46240
P.F. Chang's in Downtown Indy:
49 W Maryland St., Suite 226
Indianapolis, IN 46204
11. Cheesecake Factory: An Excellent Dairy-Free and Gluten-Free Restaurant in Indianapolis
Who would expect that the Cheesecake Factory would be an excellent gluten-free and dairy-free restaurant choice?! But it is!
At the time of writing this post, the Cheesecake Factory Allergen Menu states that grilled chicken, salmon, steak, the old fashion burger, and the impossible burger can all be made without gluten or dairy! Gluten-free broccoli, french fries, or sweet potato fries could be side dishes. Additionally, the Cheesecake Factory offers omelets that are gluten and dairy free.
The hard part might be abstaining from the cheesecake!
Cheesecake Factory Address:
8701 Keystone Crossing,
Indianapolis, IN 46240
---
Check out our list of great gluten free and dairy free bakeries around Indy!
Several Options for Dairy-Free and Gluten-Free Restaurants in Indianapolis
I hope this list of dairy-free and gluten-free restaurants in Indy is extensive enough to give you a few great ideas of places to eat while in Indianapolis, Indiana It has been collected over many years of research, trials, and errors. Hope it's helpful!