7 Great Dairy-Free and Gluten-Free Restaurants Near Columbus, OH
Columbus, OH may be the most populated city in Ohio, but it also has several gluten-free and dairy-free restaurants and eateries! From culturally influenced options like sushi, tacos, and Lebanese food to gluten-free and dairy-free pizza, barbecue, and even delicious baked goods, Columbus, OH has options for everyone! Here's our list of the best dairy-free and gluten-free restaurants near Columbus, OH!
Residing in Indianapolis, my husband and I seem to end up in Columbus, OH about once a year!
One time we were checking out the Columbus Zoo (one of the best zoos in the Midwest!). Another time we were spending the weekend camping and hiking at Hocking Hills State Park (one of the best state parks in the nation!). So far, the other times we were driving through Columbus headed to Washington DC and Cleveland, OH.
Somehow, we usually drive through around lunch or dinner time! So we've had ample opportunities to check out the restaurants in the area!
What are the Best Dairy-Free and Gluten-Free Restaurants near Columbus, OH?
Here are a few great dairy-free and gluten-free restaurants near Columbus, OH!
1. FUSIAN Sushi and Bowls: Gluten-Free, Convenient Sushi and Bowls!
In the mood for sushi?! FUSIAN serves convenient and delicious sushi, bowls, and salads. Most of their rolls and all of their bowls and salads are gluten-free. They also serve organic juices and teas!
FUSIAN actually started in Cincinnati, OH, but now has more locations in Columbus than Cincinnati. There are also several locations in Dayton, if you're headed to the US Air Force Museum!
We have visited FUSIAN twice now, one in Dublin, OH not far from the Columbus Zoo and one in Grandview Heights (downtown) on our way back from Cleveland, OH.
Our Experience at FUSIAN Sushi and Bowls in Columbus, OH
Conscious of Food Allergies
FUSIAN quickly became one of our favorite fast food dairy-free and gluten-free restaurants near Columbus, OH. They were conscientious of my food allergies, and the food was delicious!
Both times we visited the server changed gloves without me even asking. They were very careful and made sure to serve me the gluten-free soy sauce when I ordered sushi (though I kicked myself for forgetting my coconut aminos so it could also be soy-free!)
Great Experiences
The first time we visited FUSIAN I got the California Roll (marked gluten-free in-store even though their website does not say so… and I did not react to it). The roll was delicious! It was hard to believe it was "fast food"! My only complaint was that it was not rolled tight enough and therefore crumbled pretty easily.
My husband got a make-your-own bowl with rice, chicken, peppers, greens, and a sweet chili sauce (that he said was the best part!). He doesn't eat sushi, so he wasn't sure what to expect, but he was pleasantly surprised.
The second time I ordered the salmon super food salad with kale, salmon, peppers, cucumbers, and a spicy chili-ponzu (pictured in the collage above at the bottom left). The sauce definitely had a kick, but it gave more flavor to the often bland salmon. I was impressed by how much salmon was in the bowl as well! Overall great experience!
2. True Food Kitchen: Great Option for Dairy-Free and Gluten-Free Restaurants Near Columbus, OH!
While we haven't made it to this location, True Food Kitchen is high on our list after our experience at the one in Jacksonville, FL. They took my food allergies very seriously, having a manager speak with me, carefully keeping it apart from others in the kitchen, and sending it out with a food allergy flag.
In addition to pizza, True Food Kitchen also has burgers (with gluten-free buns), steak, fish, and salads that could be made dairy-free.
One of the best things about True Food Kitchen is their willingness to accommodate many food restrictions! At the bottom of their menu online, they actually state that they can accommodate any need including Keto and Paleo!
My Dairy-Free and Gluten-Free Pizza at True Food Kitchen
I LOVED their gluten-free and dairy-free pizza! I would order it again in a second!
And I've experienced that willingness to accommodate first-hand. They made sure my pizza could be made gluten-free, dairy-free, corn-free and soy-free. I was very impressed!
3. Condado: Dairy-Free and Gluten-Free Tacos in Columbus, OH
Condado is a hip taco place with several make-your-own taco options. Those who are gluten-free and dairy-free may enjoy gluten-free corn tortillas or a make-your-own taco bowl. Vegans can enjoy Korean BBQ pulled jackfruit. Others can pick among several gluten-free meat options.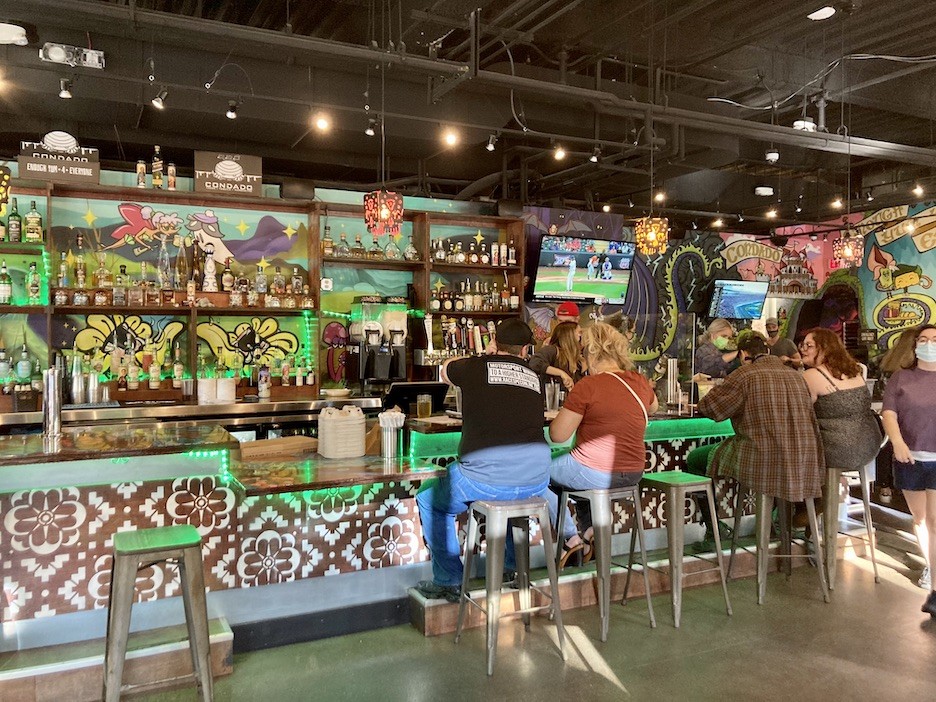 Note: Some of Condado's taco toppings pack quite the kick! If you and/or your children cannot handle too much spice, make your waitress aware. They can help you choose a more mild option.
My Experience with the Dairy-Free and Gluten-Free Restaurant, Condado Tacos
This was such a fun restaurant! I made my own taco bowl (because I couldn't eat the gluten-free tortilla thanks to my corn intolerance) with lettuce, tomato, jackfruit, and more. The taco had quite the kick(!), but was otherwise great!
4. Aladdin's Eatery: A Dairy-Free and Gluten-Free Restaurant Near Columbus, OH with Lebanese Food Meal Options
I am not a huge fan of Lebanese food and cannot attest to this restaurant. However, I have done enough research to know Aladdin's Eatery will probably be a great option for individuals looking for dairy-free and gluten-free restaurants near Columbus, OH. The menu lists several gluten-free, vegan, and vegetarian options.
Gluten-free and dairy-free individuals may enjoy hummus, falafel, and "Jasmine's Favorites", chicken, beef shawarma, shish kabobs, lamb, and other options over rice. Several of their salads may also be an option. Unfortunately, the pita pitzas and rolled pitas are out because the bread is made with gluten.
Aladdin's Eatery has several locations in central and north Columbus, OH.
5. Millstone BBQ Around Hocking Hills: Lots of Gluten-Free Options
Visiting Hocking Hills one hour southeast of Columbus, OH? Millstone BBQ is likely the best option for gluten-free and dairy-free food.
Located in Logan, OH just across the street from an amazing(!) campground called Campbell Cove Campground, Millstone BBQ has several menu items that are gluten-free including baby back ribs, pulled chicken, beef brisket, ribeyes, salmon, and more.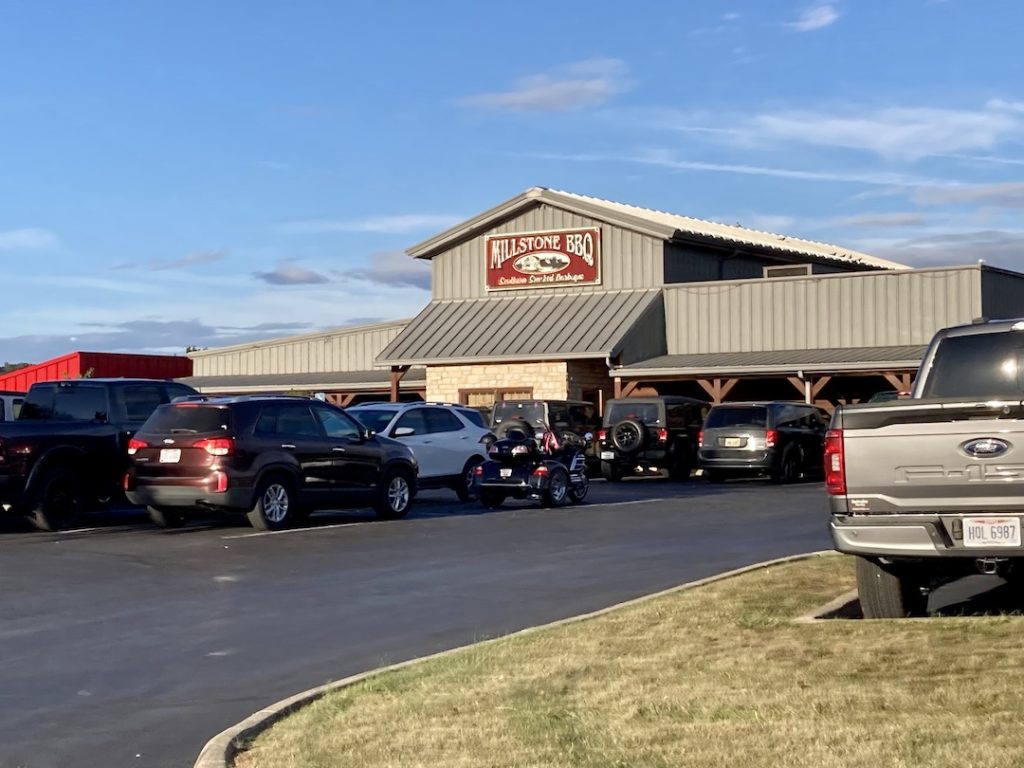 This is a great option for anyone who loves barbecue. But be aware that most of the gluten-free side options contain dairy.
Our Experience with the Dairy-Free and Gluten-Free Restaurant, Millstone BBQ
We sat on the patio on a nice summer night. We heard they often have live music there(!) and several people had their dogs with them.
Gluten-Free Appetizer
We ordered bacon-wrapped burnt ends as an appetizer to begin. They were the only gluten-free appetizer on the menu.
We both found the appetizer to be "okay". They didn't taste burnt at all, and the meat was cut pretty thickly. Honestly, I probably wouldn't order them again.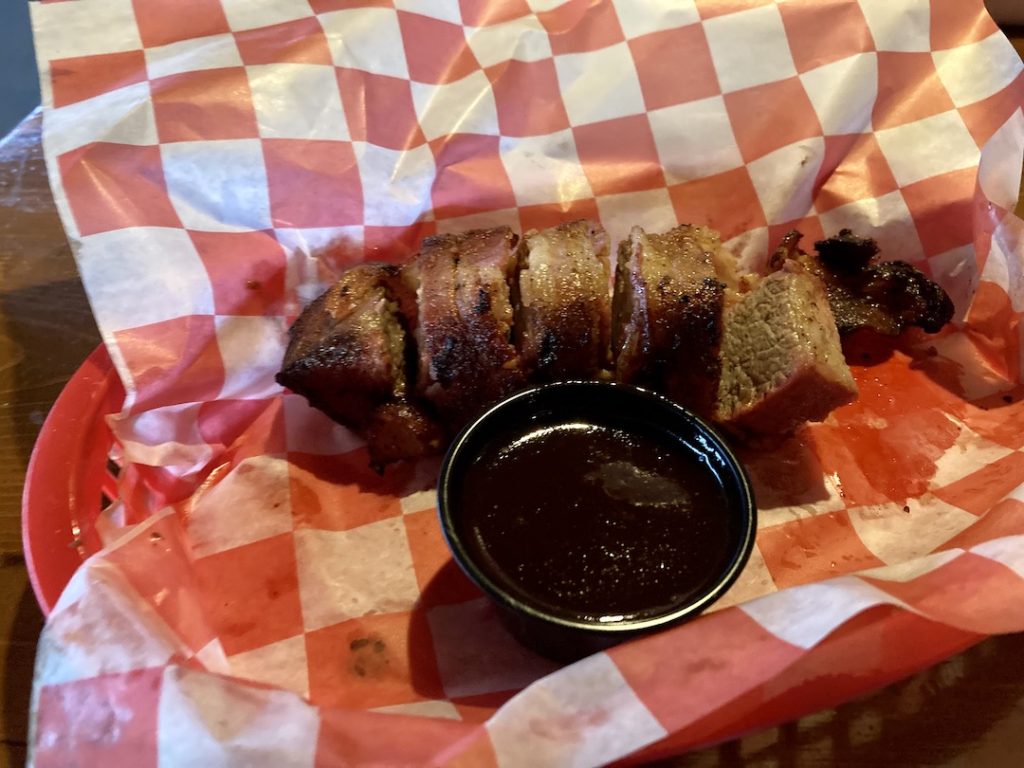 The Sweet and Tangy BBQ sauce was delicious though!
Gluten-Free and Dairy-Free Entree
Next up I ordered the Texas beef brisket. It was delicious, tender and thinly cut.
It came with two sides. One was baked beans. But every other side on their menu seemed to be made with gluten or dairy or both! I thought I could make the steamed broccoli work but the waitress came back saying it had dairy in it. So I ended up being very grateful I brought a piece of dairy-free cheese "just in case" in a sealed bag from camping. I asked for a plain baked potato and added the cheese while it was still hot.
Gluten-Free Fryer
Looking back, I wish I'd asked if they had a gluten-free fryer. We had a waitress who had just started that night! She was overwhelmed by my order, so I was trying not to make it more difficult for her.
But I notice now on their catering menu that they mention french fries and sweet potato fries as gluten-free. So hopefully there is a dedicated gluten-free fryer!
If anyone goes to Millstone BBQ and finds out, please let us know in the comments below!
Logan, OH
Even if baked beans and a plain baked potato were the only options, that's okay. Hocking Hills/ Logan, OH is not in a very populated area, so I can't be too disappointed. I'm just glad Millstone BBQ had gluten-free options available!
The lack of other gluten-free options in Logan, OH makes Millstone BBQ a wonderful choice for dairy-free and gluten-free restaurants near Columbus, OH.
6. Chipotle Mexican Grill: A Fast and East Dairy-Free and Gluten-Free Restaurant near Columbus, OH
Of course, Chipotle is a great on-the-go option for anyone who's following a gluten-free and dairy-free diet.
Some Chipotle Mexican Grills are better than others at being careful with food allergies. Always make sure to request they change their gloves and the same person work on your order start to finish. You'll want to order a burrito bowl without cheese to avoid gluten and dairy.
Chipotle also has some delicious organic juices and lemonades!
7. Bake Me Happy Gluten-Free and Dairy-Free Bakery in Columbus, OH
Well, this isn't a restaurant, but I couldn't turn down an opportunity to share about this amazing gluten-free and dairy-free bakery in Columbus, OH!
Bake Me Happy has quickly become our favorite gluten-free and dairy-free bakery for sweets (bread is still best from Native Bread!) in all of the Midwest!
Woah! I know… that's a bold statement! And there are still some we have not tried yet, so things may change. But I doubt it.
Bake Me Happy deserves so much praise for the quality of gluten-free and dairy-free treats they produce!
Why is Bake Me Happy So Popular for Gluten-Free and Dairy-Free Treats?
Bake Me Happy is a 100% gluten-free bakery! THAT alone is so helpful!!
But they also have several delicious dairy-free treats from brownies and blondies to lemon poppyseed muffins, morning glory muffins, vegan snickerdoodle cookies, cakies (cake cookies), hot chocolate flavored brookies (brownie cookies), and rice crispy treats. (Note: These were the baked goods available when we went. Some may be seasonal.)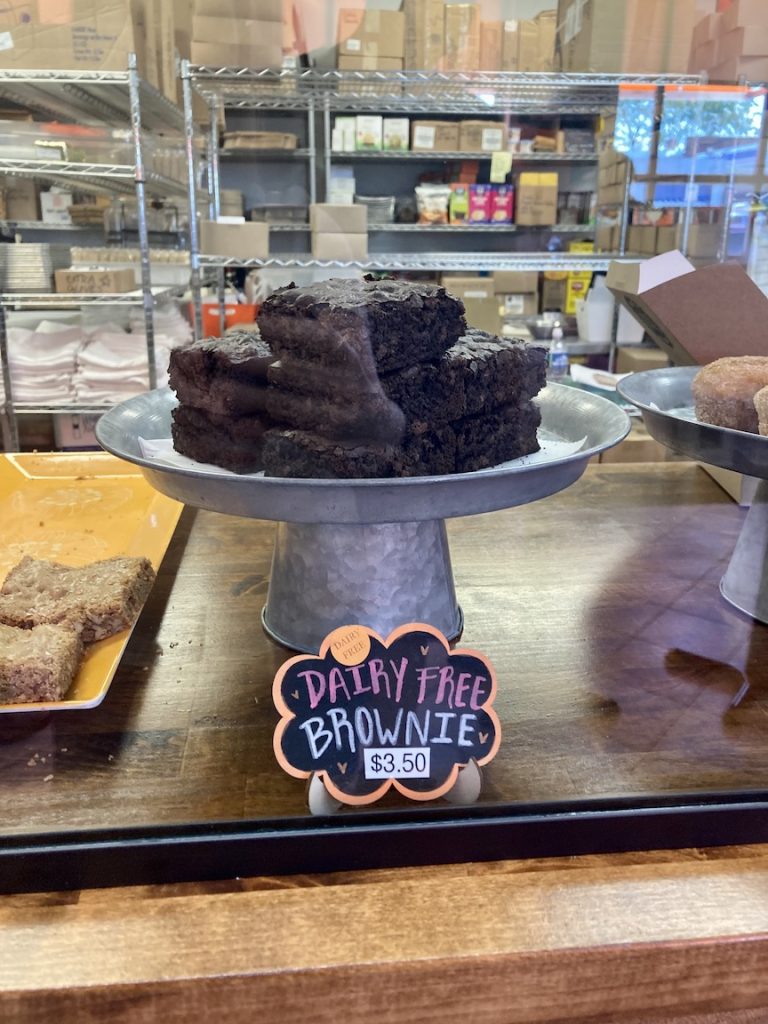 Our Experience at Bake Me Happy Bakery
We actually stopped by on our way to Hocking Hills recently. We thought it would be a one-time thing but after falling in love with their food, we decided to drop by again on our way home!
Others' Testimonies
The lady in front of us in the line the first time we went actually said she's from Florida and has Celiac Disease. Every time she comes to Ohio to visit her friend, she asks to stop by Bake Me Happy bakery! Her favorite item on the menu was one that I couldn't try, zebra cakes (not dairy-free), but my husband decided to try them.
Our Testimonies
We had a great experience at Bake Me Happy Bakery!
My husband, who does not follow a gluten-free diet (outside of our house), said he never would have known that anything from there was gluten-free if he hadn't gone with me. The baked goods were that good!
We ordered several different things. We got a lemon poppyseed muffin, the hot chocolate-flavored brookie, and an apple cinnamon cakie (all gluten-free and dairy-free). My husband also got a zebra cake and donut muffin (gluten-free only).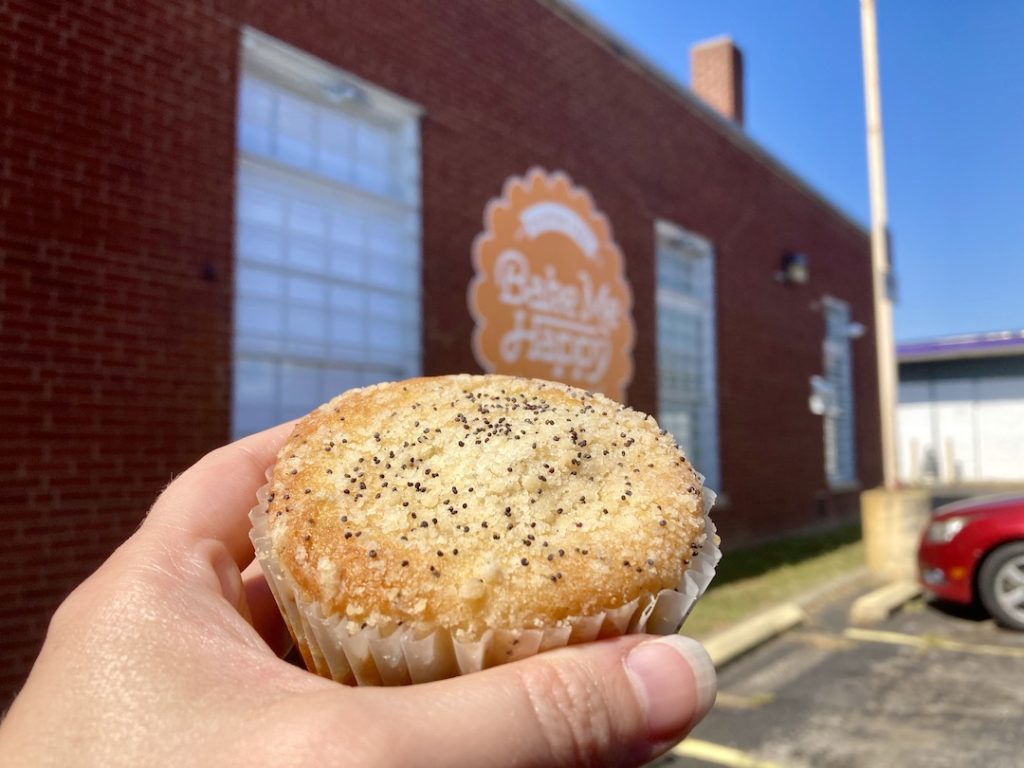 By far my favorite item on their menu is their cakies! They were so soft and fluffy. And the icing wasn't overly sweet.
My husband tried the zebra cakes and donut muffins (both not dairy-free), and said both were fantastic!
Note: It does not look to be in the safest of areas. If you are traveling with lots of things in the car, like we were, make sure to keep your valuables in a safe place.
Our Dairy-Free and Gluten-Free City Restaurant List
Here are just a few of the posts I've written on gluten-free and dairy-free restaurants…
Summary of Dairy-Free and Gluten-Free Restaurants Near Columbus, OH
If you are looking for dairy-free and gluten-free restaurants near Columbus, OH, you have options! Here are 7 great eateries that are either 100% gluten-free or very conscious of food allergies. You are sure to find something to work for you! We sure did!