Indiana Dunes National Park: Beaches, Trails, Dogs, and More
Indiana Dunes National Park, located in northern Indiana along Lake Michigan, provides opportunities for visitors to experience the unique ecosystem of an area once covered by glaciers and now blanketed with sand dunes. Visitors can explore the national park's beaches and trails while learning what makes this area unique.
Contrary to popular belief, Indiana Dunes National Park and State Park are not the same place. In fact, Indiana Dunes State Park was around long before the national park! (Here's our experience at the state park)
Indiana Dunes National Park is comprised of several beaches and properties, many of which surround Indiana Dunes State Park.
Let's dive into everything related to the national park!
Where is Indiana Dunes National Park?
Indiana Dunes National Park is located on the northern tip of Indiana touching Lake Michigan. It is about an hour outside of downtown Chicago.
How Much Does It Cost to Go to Any of the Indiana Dunes National Park Properties?
Admission for the day to the Indiana Dunes National Park (and all of its properties) is $25 per carload.
Or, if you plan on visiting the national park several times this year, you may consider the $45 annual Indiana Dunes National Park pass. Unfortunately, it does not get you into the state park next door. The state park has a separate cost.
Additionally, you may be interested in the Annual National Park Pass. A one-time fee of $80 gets you and your carload into every national park in the United States for the year. If you plan to visit several national parks this year, this may be the best option for you!
Are Dogs Allowed at Indiana Dunes National Park?
Yes! Dogs can go with you to the national park.
Most U.S. national parks do not allow dogs on the trails. However, dogs are allowed at Indiana Dunes National Park. Provided they are on a 6ft leash (or shorter), they can go on most trails and beaches. The only beach currently excluded from that list is West Beach during the times of the year when lifeguards are monitoring the swimming area.
We brought our dog and she loved splashing in the water, rolling in the sand, and watching the lizards scurry in front of us on the trails!
Please also remember that hot sand and even hot concrete can be hard on a dog's paws. We encourage you to consider protective booties. We were lucky enough to go in the morning when the sun was not as bright. But we still had the booties in our backpack ready to put on her if needed.
Here is the link to the national park site with up-to-date info.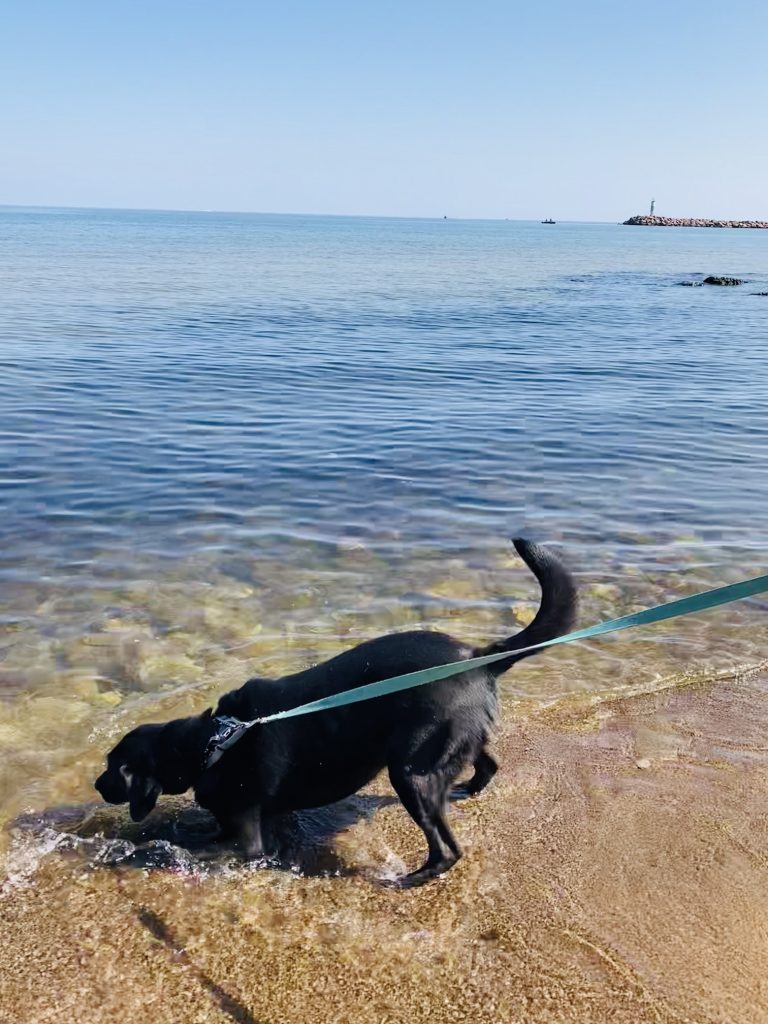 If you're looking at heading to Michigan next, check out our post on Dog-Friendly West Michigan.
History of Indiana Dunes National Park
A glacier from the north began covering Indiana 700,00 years ago. It was this process that flattened the state, drastically changing the topography of Indiana. As the climate warmed, the glacier receded. Several valleys were carved from the glaciers, and during the warming process, the glacier ice became The Great Lakes.
Similar to oceans, a waterbody that size has incredible power. Over time Lake Michigan began eroding its surrounding land. As the lake eroded rock, it formed into sand. That sand was carried by the currents and deposited into what we now call the Indiana Dunes.
Indiana Dunes National Park Properties and Beaches
Indiana Dunes National Park has several properties where visitors can experience the area's land formations, plants, and wildlife.
Portage Lakefront and Riverwalk Trail
This lakefront location is a little difficult to locate. In fact, we questioned if we were going the right way when GPS told us to go over an old bridge and past a metal company. But, right as we thought we were lost, a sign for the national park appeared!
Soon after the sign visitors will come across a lone parking lot. This is where the paved trail leading to the lakefront begins. It is .09 miles long.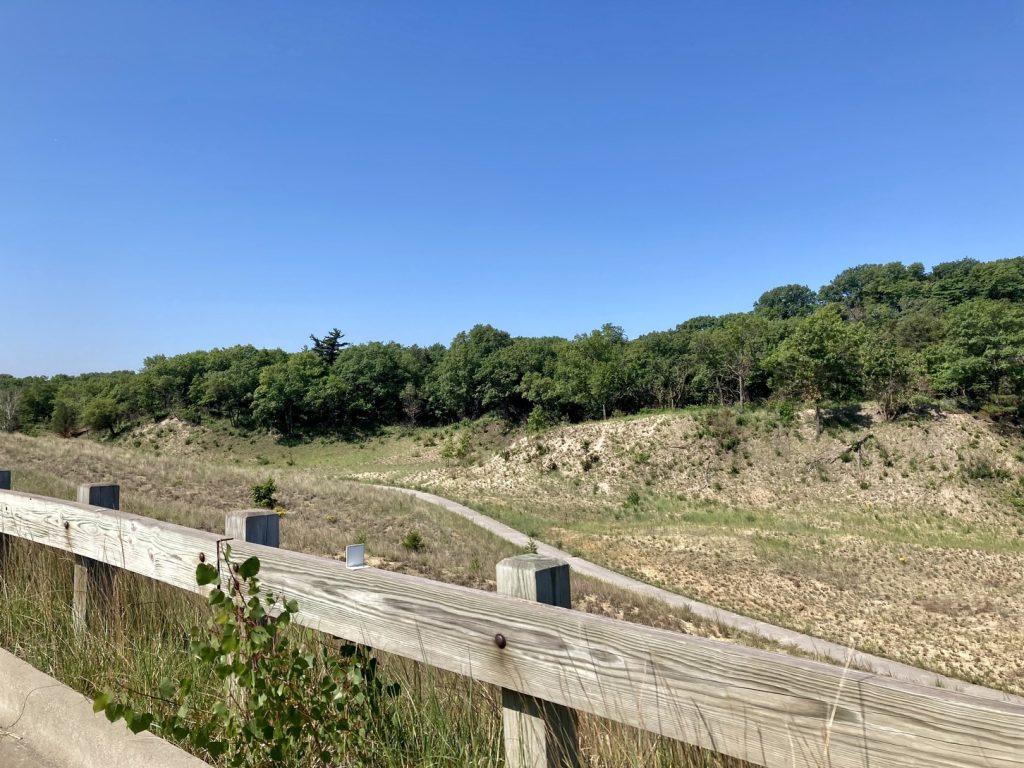 However, we chose to keep driving and soon came upon a much larger parking lot and pavilion next to the beach.
At the pavilion, visitors can pay the national park fee and get stamps for their national park books, grab snacks at a small lakeside grill, and use the restroom.
The lakefront has two distinct areas: The beach and the walkway
Portage Lakefront Beach
Portage Lakefront Beach is small but beautiful. Like many spots around Lake Michigan, the beach boasts some beautiful views with clear, blue water! However, the view is a bit obstructed by the walkway and old lighthouse off to the right.
But the beach was relatively peaceful.
At 10am there were only three families on the beach. If you're looking for a relatively quiet beach, this would be a good one.
Portage Lakefront Pier
Porter Lakefront Pier leads visitors out toward an old lighthouse. (Unfortunately, we did not see a way to walk all the way to the lighthouse). It is a beautiful walk!
When we went, the walkway was lined with fishermen hoping to catch some of the big(!) catfish swimming nearby. We enjoyed walking the path, watching the fish, and checking out the blue, blue water.
Thoughts on Portage Lakefront and Riverwalk Trail at Indiana Dunes National Park
This would be a great place for a family that enjoys both the beach and exploring. The trail and the opportunity to fish/watch the fish make it a great place to spend the day!
Tolleston Dunes Trail and Overlook
We also had the opportunity to check out Tolleston Dunes Trail and Overlook.
Tolleston Overlook
I will start by saying, don't go to the overlook! The overlook "overlooks" state road 12, a busy route with railroad tracks on the other side. There is no view worth seeing at this location. This may be an option for those needing wheelchair access and hoping to have a picnic lunch. But be warned that the view is not an enticing factor!
Tolleston Trail
Tolleston Trail, though, is definitely worth a stop!
There is ample parking (with lots of shady spots!) at the trailhead. (There are not bathrooms, though, so be aware!)
The trail is 2.9 miles. Along the trail, hikers will encounter wildflowers, prickly pear cacti, lizards, and more.
We really enjoyed Tolleston Trail. I am from Indiana and honestly didn't know that cacti grew in the wild in Indiana! It was a fun experience for a girl from the Midwest!
A Few of the Beaches at Indiana Dunes National Park
Lake View Beach
Lake View Beach is located just north of state road 12 up Broadway Street. There is not a lot of parking so plan to arrive early or risk not getting a spot. (While there are rock spots along the shoreline as pictured below, there is also a sandy beach available for guests to enjoy.)
Dunbar Beach
Another option would be Dunbar Beach. It has just as much parking as Lake View. It is a short maybe 2-3 minute drive west of Lake View Beach. There is a parking lot at Dunbar Beach (across Lakefront Drive) available for guests. And the beach is just as beautiful!
West Beach
West Beach is a popular one at Indiana Dunes National Park… so popular, in fact, that the wait to get to the beach can be hours long! Because it is the closest national park beach to Chicago, my guess is that Chicagoans flood to this beach on weekends in the summer. If you're up for the crowds, this beach may be an option for you. We opted to forgo the line on our most recent trip.
Also, if you are headed to West Beach with a dog, remember they are not allowed in the swimming area in the summer months. (Currently, dogs are otherwise allowed at every national park beach).
Camping at Indiana Dunes National Park
Indiana Dunes National Park has a few campgrounds, most well-known is Dunewood Campground. Dunbar Group Site and Central Avenue Walk-in Sites make up the other campground options. We camped at Dunewood in 2019, just a few months after it became part of the national park.
Note: At this time, the camping sites at the National Park seem to all be primitive. If you are looking for electric site, check out Indiana Dunes State Park's sites up the road.
Dunewood Campground holds reserved sites and first-come-first-serve sites. We reserved our site just to make sure we didn't get stuck without a site.
We loved Dunewood! Not only were the sites secluded, but it was a short walk to the small(!) Beverly Shores Railroad Station (where we took a commuter train into Chicago) and a bit longer walk to Lake View Beach (mentioned above).
What is the Best Time to Visit Indiana Dunes?
This is a difficult question. It really depends on your preference.
If you enjoy the beach and love swimming, go in the summer months when it's warm enough to swim!
If you love bird watching, March through May will likely be the best time. In fact, the Indiana Dunes holds a birding festival in May each year.
If you plan to bring your dog, try to go in the spring and fall when the sand is not so hot on their paws.
If you plan to hike the trails, the cooler months are going to be a better choice. I would consider April, May, September, and October.
According to the NOAA, the average temperature at the Indiana Dunes in the cooler months is as follows: April: 57 degrees, May: 68 degrees, September: 74 degrees, and October: 62 degrees. These temperatures reflect the heat in the dunes/wooded areas, not the beach. The beach will be warmer.
Any Suggestions for Those (Like Me!) with Food Allergies (Gluten-Free and Dairy-Free)?
This blog was created to help those with multiple food restrictions. I am dairy and gluten-free, and my husband cannot have shellfish and mushrooms.
Unfortunately, the Indiana Dunes area is not known for being food allergy friendly (but, unfortunately, that's pretty common for the Midwest!). Here are a few options that may work.
Goblin and the Grocer, located just outside of Dunewood Campground is another option for those that are gluten-free or dairy-free. There wasn't too much on the menu that fit both diets (other than salads), but it's nice to know they have at least some options!
I have heard great things about Octave Grill. They are a burger place with gluten-free buns. Unfortunately, the gluten-free buns have dairy in them. But some people with dairy allergies aren't bothered by dairy in baked goods. Check out Octave's menu here!
We grabbed dinner on our way back to Indianapolis at Azzip Pizza in Lafayette, IN. They have several gluten-free and vegan options. I got their gluten-free and dairy-free pizza. I definitely wouldn't say it was my favorite pizza (King Dough in Indy still holds that place!), but it was nice to even be able to eat pizza!
And they have a CoreLife Eatery next door!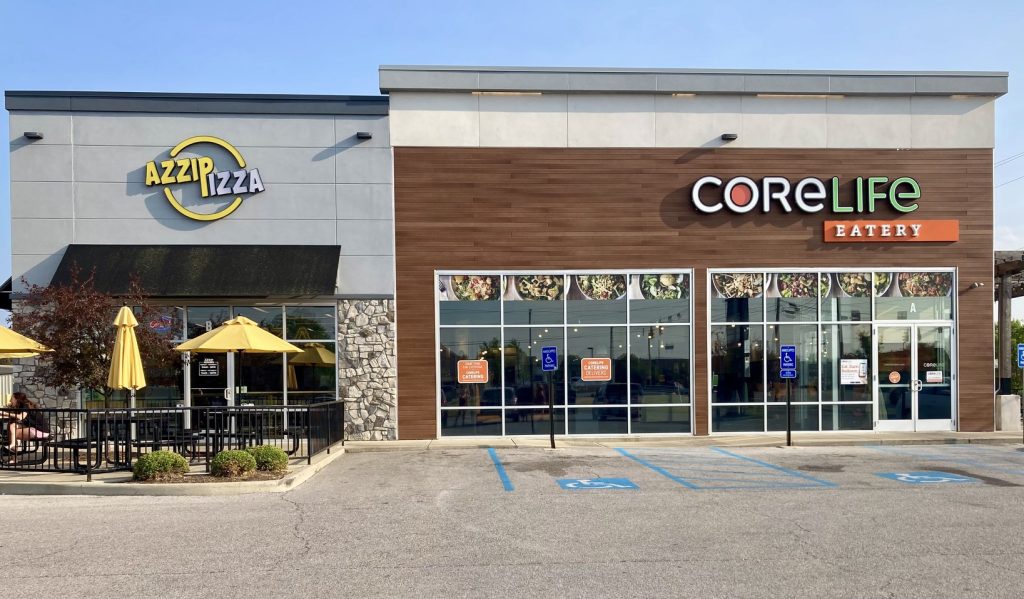 And, if you plan on camping at Indiana Dunes National Park, check out our suggestions for Paleo camping meals.
Comparing Indiana Dunes National Park to Other National Parks
My husband and I have been to several national parks including Dry Tortugas, Mammoth Cave, Yellowstone, Rocky Mountain, Shenandoah National Park, and more.
I know a lot of national park enthusiasts who have been underwhelmed by Indiana Dunes National Park. It's not spectacular like Yosemite, Glacier, or Yellowstone National Park. Overall, Indiana is a pretty flat state with fewer scenic views. Visitors need to come into the park with these expectations in mind.
This park is a great place for someone looking to relax and enjoy the water while taking in some easy hikes and beautiful views. It's not a park meant for great adventure.
It's meant to experience and preserve the biodiversity of a location once carved by glaciers and eroded by Lake Michigan with biodiversity like none other.
In fact, of the 420+ locations managed by the national park system (many of which are called national lakeshores, memorials, etc… only a select few are called "National Parks"), Indiana Dunes National Park has the 8th highest number of biodiversity. There are thousands of species of plants as well as numerous fish, birds, and reptiles (among others).
By naming Indiana Dunes National Park a national park, there are greater opportunities for research of the area and preservation of species (due to funding). Researchers are still trying to understand how cacti and lizards manage the cold winter months of the north.
Indiana Dunes National Park deserves national park status, even if it doesn't look as spectacular as some of the bigger name parks. Looks aren't what make a national park a national park!
But I do have to say the park hosts some great views!
Summary of Indiana Dunes National Park
Indiana Dunes National Park is the perfect place to spend a few days relaxing in the sun, hiking the trails, and experiencing the incredible biodiversity of a state once covered by glaciers and later eroded into spectacular dunes. Plus, the views of the water are breathtaking!