Is a Day Trip to Dry Tortugas National Park Worth It?
Situated 70 miles off the coast of Key West, Florida, Dry Tortugas National Park is not the easiest national park to access. However, that does not prevent tens of thousands of visitors from flocking to the park each year. Before our recent trip, we questioned the cost. But, as you will see, a day trip to Dry Tortugas National Park is worth every cent!
Located about several miles west of Key West, Florida, Dry Tortugas currently consists of seven islands between the western Caribbean and Gulf of Mexico.
What is the Cost of a Day Trip to Dry Tortugas National Park?
Okay, guys, I'm going to be honest. I cringe when I spend money. A little bit of my hard-earned paycheck is leaving my possession as I swipe that card and thank the attendant, cashier, or waitress taking my money.
Day Trip Ferry Ticket Cost
When I saw that ferry tickets to Dry Tortugas National Park were so pricey ($380 for my husband and me at the time of our travels) to spend the day there I about had a heart attack. Thankfully, that did cover the $15 National Park admission cost!
Sure, it would be beautiful. And, sure, it's cheaper than the seaplane option or taking a private boat tour. But were these the only three choices to see the park?! The answer became clear… yes.
Is a Day Trip to Dry Tortugas National Park Worth the Cost?
In an effort to better understand, I reached out to friends in travel groups with the one question "Is it really worth it to go to Dry Tortugas National Park during our time in the Florida Keys?".
Now, I would expect in a travel group with 55 thousand members, you'd have a few that would have negative reviews, right? I mean I can't be the only one who holds my money tight and is questioning spending that kind of money for only 4-5 hours on this island, right? No.
I received 81 comments on my post all saying "Go!" I had several comments on the cost saying, "Yes, it was expensive, but it was worth every penny". Some were even adding that it's worth the cost of the seaplane so you can spend more time there! I was in shock! How cool does this place have to be to impress 81 travelers with varying preferences and bank accounts?!
It was time to find out for ourselves!
*This post contains affiliate links. We may earn from qualifying purchases when you click on the links This is at no cost to you.
Yankee Freedom III Day Trip to Dry Tortugas
3 days after marrying my best friend we boarded the Yankee Freedom III and began the 2-hour 15-minute trek to Dry Tortugas National Park!
Yankee Freedom Breakfast
While boarding the ferry, the attendants served us a paper bag breakfast. But, unfortunately, my strict diet (I am gluten-free and dairy-free and try my very best to be soy and corn-free as well) didn't allow me to eat the bagel or yogurt. I did take the apple for later though. Those of you who follow our blog know, I plan for traveling with food restrictions. I had actually already had breakfast. I packed apples and almond butter for a few breakfasts on our trip.
Yankee Freedom Boat Ride
After passing the Marquesas Keys, the water got choppy. Prior to Marquesas Keys, there were enough other islands to keep the boat from rocking too much, but I was definitely glad I took the recommended Dramamine (and had another for the return trip!) between Marquesas Keys and Dry Tortugas!
Fort Jefferson at Dry Tortugas National Park
The History of Fort Jefferson and Dry Tortugas National Park
Fort Jefferson located on Garden Key was constructed by the United States in the mid-1800s to protect their shipping channels while providing a harbor for passing boats, giving them a chance to resupply or get refuge from a storm. However, after many years of construction, the fort was never completed due to supply issues and was soon after turned into a military prison. Today, preservation efforts to protect the fort from the damaging effects of saltwater are a priority.
Marine Life and Coral Reef at Dry Tortugas National Park
Dry Tortugas today is largely known for its vast marine life and expansive coral reef. The park is actually 99% underwater(!) so visitors have a lot of underwater exploration available to them here! Check out the National Parks' site for more information on Dry Tortugas National Park and Fort Jefferson.
First Impressions of the National Park
The island is spectacular! In the middle of blue, blue water, the fort stands rich with history and strength. They were doing construction on the lighthouse during our trip, so we didn't get to see much of it. But the fort stood in all of its glory, tall enough for passersby to spot the island anyway.
We arrived at Fort Jefferson in Dry Tortugas National Park around 10:30am (maybe closer to 10:15am, but docking and unloading took some time). Therefore, we had about half an hour wandering around the moat before meeting up for a guided tour around the fort at 11am.
Lunch and Snorkeling Provided by the Yankee Freedom Ferry
Upon arrival, the ferry provided lunch consisting of an apple and sandwich. Of course, I couldn't eat the sandwich, but Kaleb said the bread was pretty high quality.
The ferry also provided snorkeling gear free to anyone who signed up during the morning ride over. We grabbed snorkeling gear and spent the afternoon laying by the beach and checking out coral and fish along the north wall.
The water was not as clear as I expected considering how blue it was, but it was still possible to see things a few feet in front of you.
If you have your own scuba gear, you may want to bring it so you can ensure it fits correctly. I had trouble with the mouthpiece on the free rented one not fitting well and ended up using Kaleb's personal set some of the time. (Here's a scuba set similar to his). We still saw fish and some coral though.
And I still felt like someone needed to pinch me when I looked around at where we were! Just like Cumberland Island National Seashore, I could have spent days sitting by that beach!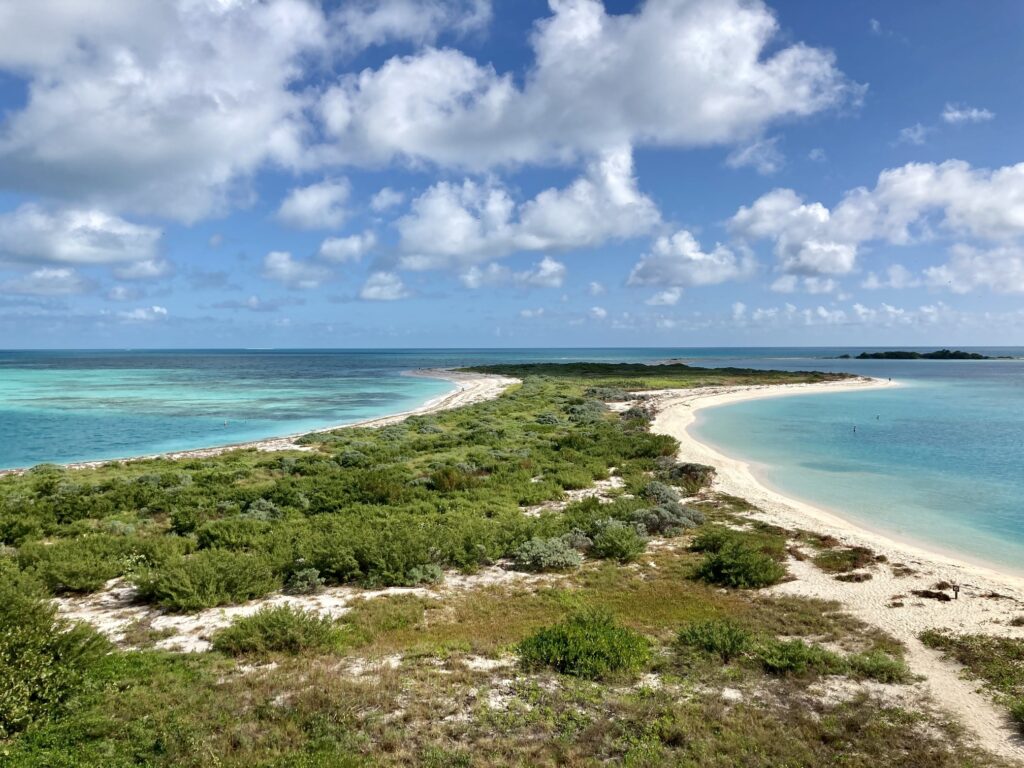 Packing List for Your Day Trip to Dry Tortugas
–Snacks or meals if you have dietary restrictions that prevent you from eating what the Yankee Freedom ferry provides.
Note: Unlike Cumberland Island National Seashore, there will be no cell reception pretty soon after leaving Key West. Plan ahead for your day at Dry Tortugas National Park. Don't plan for a call with the rental car company like we did! LOL
Any Suggestions for Those (Like Me!) with Food Restrictions?
As mentioned above, the Yankee Freedom did not serve gluten or dairy-free food options. However, we had great luck at The Fish House in Largo, FL. (They were so helpful!) And I have heard good things about how accommodating Caroline's Cafe in Key West was to others with gluten allergies. These may be options before or after your adventure to Dry Tortugas!
A Day Trip to Dry Tortugas National Park is Worth It!
To anyone considering going on a day trip to Dry Tortugas, especially if you're already going to be in Key West, I am going to join all 81 of my travel buddies and say "Do it!". I know we will be back to Dry Tortugas at some point. I'm pretty sure my husband would love to go every few years! But even if it's a once-in-a-lifetime opportunity for you, take it! You might need Dramamine for the trip and you might have to financially plan for it, but I promise you it's very worth it!