NASA Kennedy Space Center | Cape Canaveral, Florida
A short drive from Orlando to Kennedy Space Center, visitors are sure to be immersed in the world of space, engineering, and more when visiting NASA Kennedy Space Center in Cape Canaveral, Florida.
My husband is currently studying planetary geology. As you can imagine, this means we make every effort we can to check out the air force and space museums! We went to Dayton, OH to the largest Air Force Museum in the world. We went to Washington DC but happened to be there when the National Air and Space Museum was under construction and closed! (We were so bummed!) And we are headed to the US Space and Rocket Center in Huntsville, AL very soon!
So, naturally, when we were in Orlando, FL NASA Kennedy Space Center has to be on our list!
I had gone as a child before all of the great improvements. It was fun to go back with my space-loving husband and see all of the new exhibits!
Let's dive into the best of NASA's Kenndy Space Center!
Is the Drive From Orlando to Kennedy Space Center Simple?
NASA Kennedy Space Center is located in Cape Canaveral, just east of the coast of Florida. The drive from Orlando to Kennedy Space Center is estimated to be 55 minutes.
Though it's only an hour's drive, there are some things to consider before heading out.
We made the drive to the Kennedy Space Center when visiting Orlando, Florida recently. Here are a few noteworthy details about the drive:
This route involves tolls. Plan to spend a few dollars.
There are virtually no gas stations or places to stop between Orlando and NASA Kennedy Space Center. It is mainly swampland with two wildlife management areas on either side of main road. Plan to have a full tank of gas and an empty bladder!
The Kennedy Space Center is on an island, so the last part of the drive involves a long bridge.
Watch out for wildlife, as you will surely pass quite a bit!
NASA Kenndy Space Center Tickets
Kennedy Space Center tickets are $75 for adults and $65 for children (at the time of writing this post).
Discount Kennedy Space Center Tickets
Discounts can be found on their website. Or we got discount Kennedy Space Center tickets with our AAA membership.
The Admission Cost to NASA Kennedy Space Center is Worth It
While the admission cost is steep, the tickets give you access to all of the major areas of the Kennedy Space Center Visitor Complex and the Appolo/Saturn V Center (accessible when you take the bus tour). As you will see in the descriptions below, there is quite a bit for guests to do!
NASA Kennedy Space Center Exhibits
The Kennedy Space Center Visitor Complex is more like a park. There are multiple buildings and outdoor exhibits available for guests to explore, learn, and embrace their inner astronaut!
US Astronaut Hall of Fame
The US Astronaut Hall of Fame begins with a short fully immersive theater experience that introduces the life and accomplishments of US Astronauts over the years. Visitors then head into a room meant to remember and honor their legacy. Plaques with the astronauts' pictures cover the walls.
We were excited to find the plaque for Gus Grissom, an Indiana native (we're from Indiana) and one of the very first US astronauts. He is known as the 2nd American in space.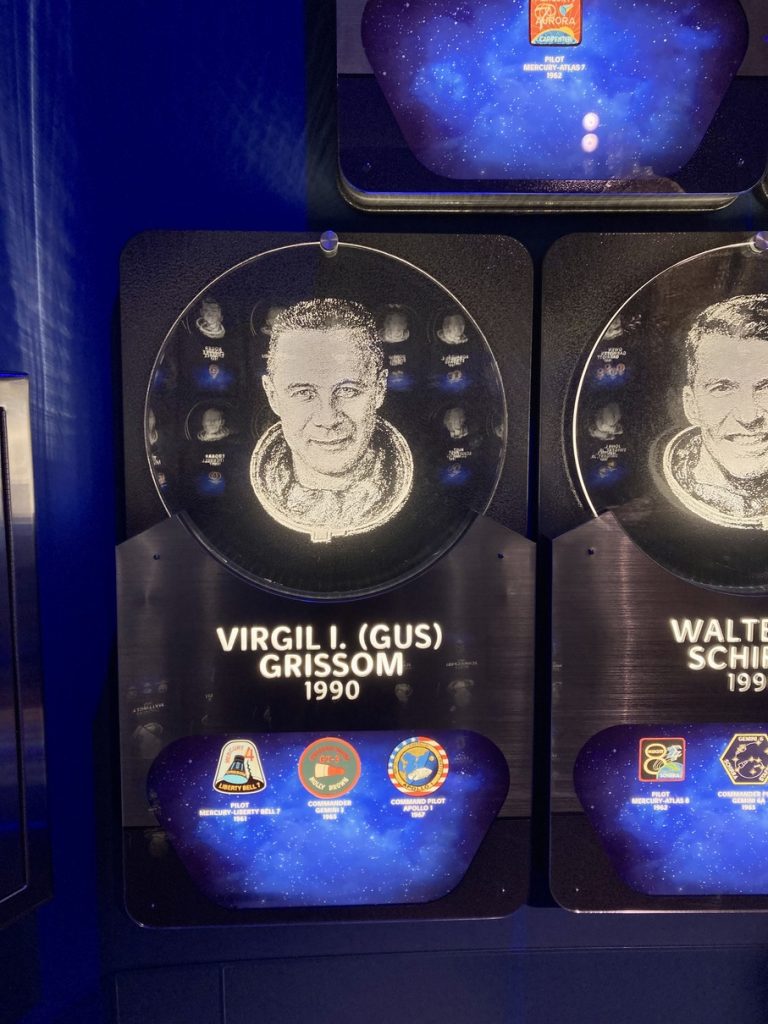 Rocket Garden at NASA Kennedy Space Center
Just ahead is the Rocket Garden, an outdoor exhibit of nine rockets ranging in length from 71ft tall to 223 ft tall. Various famous rockets from history are positioned throughout the Rocket Garden. We enjoyed the history and comparing and contrasting the changes in design over the years.
Additionally, the NASA Kennedy Space Center offers special chats in the Rocket Garden several times a day. We went back later to listen to their descriptions and found them very informative. If you are interested in the Rocket Garden, I would highly suggest trying to attend one of these sessions.
Gateway: The Deep Space Launch Complex
Get a peak at what's to come in this futuristic building that gives visitors a look into various cutting-edge deep space exploration vehicles and technologies. My husband loved the screens they used to display information in this building; the screens were see-through!
Once you are done looking at the exhibits, head up the ramp and hop in the Spaceport KSC, an interactive ride. Chose between 4 different rides that take you to Mars, Trappist-1 to see cosmic wonders, or on the flight path of the Juno and Cassini probes.
IMAX / Planet Play
The IMAX and Planet Play are in the same building on the north side of the park.
This space-themed IMAX included with admission offers rotating space movies. The daily schedule (upon arrival) lists the movies currently offered and show times.
Planet Play is the perfect place to bring kids to get some energy out! Kids can jump, climb, and explore in this indoor, space-themed interactive playground! And, for parents, Planet Play offers coffee, wine, and beer!
Universe Theater
This theater is used mainly for educational entertainment with a live performance that immerses the audience in science. When we went, the presenter was performing an experiment and teaching the three forms of matter.
Journey to Mars
Get a closer look at the Red Planet by learning what technology NASA is currently using on Mars! Visitors can use a simulator to control the Mars Rover and more.
Atlantis: Highlighting NASA's Space Shuttle Program
The history of the space shuttle is a complex and fascinating part of NASA's history. Running for 30 years between 1981 and 2011, the Space Shuttle program is now retired.
Visitors start their journey in a large theater where they experience the historical triumphs of the time. The movie screen then turns transparent and reveals Space Shuttle Atlantis, an authentic shuttle used for several missions, hanging from the ceiling on display.
After viewing Atlantis, visitors can explore the rest of the room including a mock-up of the inside of a spaceship, a Hubble Telescope exhibit, a kids' play area, and a "Forever Remembered" memorial, a remembrance for those that passed on the Challenger and Columbia space missions.
NASA Tour
Free with admission, visitors can take a bus tour over past NASA's restricted facilities.
The NASA Bus Tour
The NASA Bus Tour was probably our favorite activity of the day. Not only was our bus driver so knowledgeable and fun, the Apollo / Saturn V Center was fascinating!
While an informative video played on our bus, our bus driver often paused the video to share fun and interesting facts. Several times she pointed out alligators (all by name!) that she saw out and about. She also pointed out various buildings at NASA and explained some of the work that takes place at each.
We also had the unique opportunity to see the SpaceX Faclon-9 rocket arriving back from the launch pad. Additionally, we got to see the Vehicle Assembly Building, where the rockets and shuttles were actually built. This is one of the largest buildings in the world and contains the world's largest garage doors as well as the world's largest American flag. Our bus driver noted that the flag took over 500 gallons of paint per color!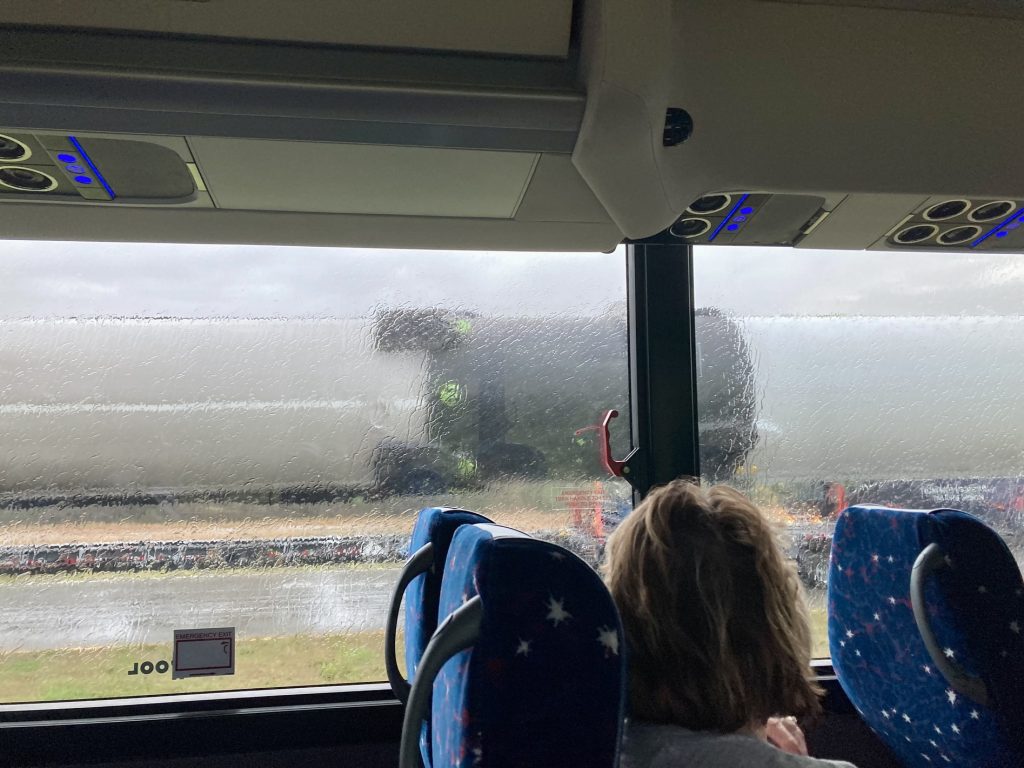 Apollo / Saturn V Center
The bus tour doesn't simply take you back to the same point in which you left. It first drops you off at the Apollo / Saturn V Center, where you can step back in time to the 1960's just in time for the great space race! As you enter the museum, you are placed into a theater that really gives you the experience of being in the room with the rest of the scientists and engineers that launched the first Saturn V mission.
Once the theater experience is finished move into one of the largest buildings the space complex has to offer. The obvious highlight of this building is the Saturn V rocket hanging from the ceiling. This is a real unused rocket that has since been decommissioned. The size of it is simply awe-inspiring!
Among other exhibits, make sure you check out the vault, where there's a collection of highly precious treasures from the Appolo Moon missions like a moon rock, space suits, and more.
NASA Kennedy Space Center Souvenirs
If you are a NASA enthusiast, this is the section for you!
There are two different gift shops, one larger one in the main visitor complex and one at the Appolo/ Saturn V Center. One big thing to note is, just like at Disney, there are different NASA Kennedy Space Center souvenirs at each gift shop.
My husband found a nice zip-up jacket at the Appolo/ Saturn V Center. We are so glad we went ahead and bought it! Because, although the gift shop at the main visitor complex is much larger, they did not have that specific jacket. They actually had quite a few different souvenirs.
Restaurants Near Kennedy Space Center
Cafes and Restaurants Near Kennedy Space Center
There are a few cafes at the Kennedy Space Center, one being a cafe next to the Visitor's Center gift shop. I have heard they do provide gluten-free buns for burgers and pulled pork sandwiches. However, if you're not interested in eating there, you have two choices… head further east in Cape Canaveral or head west toward Orlando, stopping in Titusville, FL just to the north.
Grills Seafood Deck and Tiki Bar in Cape Canaveral is a fun and casual seafood restaurant not far from the Kennedy Space Center.
Pier 220 in northeast Titusville, FL is a nicer restaurant located on the water with beautiful views. If you're looking for a nicer dinner option, this is a great one!
Gluten-Free and Dairy-Free Restaurant Options Near NASA Kennedy Space Center
This blog was created for those with multiple food allergies (especially gluten and dairy). Here's our list of gluten free and dairy free restaurants near NASA Kennedy Space Center.
Fishlips Waterfront Bar and Grill in Cape Canaveral has a few vegetarian options and a gluten-free menu upon request. You will need to talk to the staff about dairy free accommodations.
Pizza@ Titus Landing offers gluten free and dairy free options. While they have stopped allowing customers with allergies to order online, you can find several options for gluten free and dairy free diets when ordering in person.
For those that are dairy-free, egg-free, or vegan, several of the breads at Sunrise Bread Co. in Titusville, FL are free from dairy and eggs. Their breakfast and lunch sandwiches look delicious!
If you're gluten-free and in the mood for barbeque, Woody's BarBQ in Cocoa, FL (on the space coast to the south) has a gluten-free menu! However, currently, I'm not finding the gluten free menu on their online ordering site, so I suggest walking in to order.
Summary of NASA Kennedy Space Center
Space enthusiasts will love NASA Kennedy Space Center Visitors Center! With several amazing exhibits, a bus tour past some of NASA's restricted areas, the largest NASA gift shop in the world, and several areas for kids to play, a drive from Orlando to the Kennedy Space Center is a must-do!