15 Downtown Jacksonville Attractions
A city known as the most populous city in the sunshine state, Jacksonville, Florida offers more than just warm weather and skyrise buildings. There are numerous downtown Jacksonville attractions!
Recently, we had the opportunity to get an in-depth tour from a Jacksonville local, my friend Lauren. Lauren was born in Jax, lived in South Carolina for most of her adolescent years but visited her extended family in Jacksonville regularly, and made Jacksonville her home over ten years ago. She loves art, nutrition, and natural health. She also became a vegan for health reasons several years ago. Lauren is the iconic definition of a Jacksonvillian (or Jaxon)!
While Jacksonville's roots are conservative, a progressive movement seems to be sweeping the city.
Jacksonville, Florida boasts a notably large number of murals and food trucks. The city has a growing vegan population with vegan dishes on menus all across the city. (Check out our post on Jacksonville Eats here!)
Whether you are into the food and arts scene, are more interested in science and history, or are a beach go-er who would rather soak up the sun, Jacksonville has it all!
What are the Best Downtown Jacksonville Attractions?
Here are a few things to check out downtown in the River City.
1. Check Out the Many Murals while Exploring the Other Jacksonville Attractions!
With the city and land owner's permission, any artist can try their hand in painting one of these large canvases. And that permission seems to be coming easily!
Today, Jacksonville's street art numbers continue to grow. Creative minds are transforming boring and massive concrete slabs into colorful, attention-grabbing canvases.
Our personal favorites were the large mural on the Museum of Science and History Museum, showcasing both history and science, and the Dangers of Extinction mural on Forsyth Street. Both vastly different in color and in design, but both very eye-catching.
Go on the hunt for a few murals or snap a few pictures as you travel downtown. With so many murals, you are sure to come across several without even trying!
2. Main Street Bridge
A stroll down by the river is a great opportunity to view Jacksonville's Main Street Bridge in all its glory. For years tourists and natives alike have looked to the bridge as an iconic feature of the city.
Because of its downtown location, drivers can see quite a bit of the city by driving over the bridge, but what might be more impressive is its views from nearby.
With a span length of 1680 ft (or 512 meters), this structure has worked as one of Jacksonville's many playgrounds for color. Also called the "blue bridge", it is often lit up in blue lights, however, it is not uncommon to see it in other colors as a homage to various causes or current events.
Jacksonville's Main Street Bridge is truly an icon of the city.
3. Friendship Fountain- a Downtown Jacksonville Attraction
Once the world's largest and tallest fountain, this impressive and beautiful water structure is quite a site in downtown Jacksonville. Often lit up in brilliant colors at night, the fountain is situated right next to the St. John's river giving passersby quite the show, especially with the Main Street Bridge lit up as well!
4. Mirrored River Mosaic
While downtown, make sure you also check out the "Mirrored River", a mosaic displaying the city's significant St. John's River nicknaming Jacksonville the River City. Located under the Main Street Bridge, this elaborate, and detailed mosaic is worth a walk by the river, if only to view its beauty. Take the Southbank Riverwalk by Friendship Fountain to view this iconic piece of art.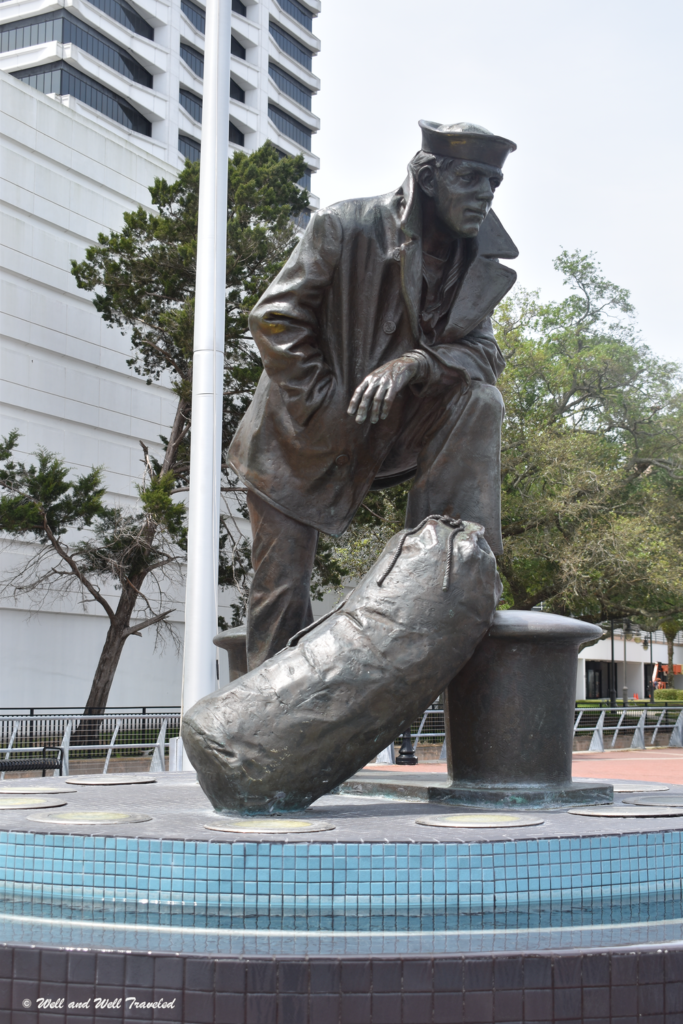 Also located at the east end of the Southbank Riverwalk, the Jacksonville Navy Memorial represents the relationship between the Navy and Jacksonville, Florida.
The bronze navy sailor statue is posed as if he's looking out over the water contemplatively. What he's thinking is up to the visitor's interpretation but many believe he's thinking about his family back home.
This memorial is a good reminder of the sacrifices our armed forces make.
6. Jacksonville Attractions- Museum of Science and History (MOSH)
Bordering Jacksonville's Friendship Fountain, the Museum of Science and History is a great place to take the family!
We spent a Friday morning there exploring the museum and all it had to offer. The museum did a great job of highlighting marine life, energy sources, space exploration, the parts of the body, and the history of Jacksonville.
An Outer Space Exhibit
The space exhibit had a planetarium that presented a show on the Moon, Earth, and Stars. It was perfect for children, though a little too elementary for my planetary science studying husband 🙂
Seasonal Exhibits
MOSH also had a seasonal exhibit on the history of toys through the years. Kids could play with some of the more iconic toys that have been loved over the years. Check their website linked above for the current seasonal exhibit.
7. Concert on the Lawn- One of Many Downtown Jacksonville Attractions in the Summer
Depending on when you visit, you may be able to get in on a concert or event on the lawn. Head on down to Riverfront Plaza located on the north side of the river just over Main Street Bridge for music, food trucks, and more!
We were lucky enough to be there during an event put on by Jax River Jams, but there are other concerts and events held there as well. This is a great way to enjoy downtown Jacksonville, check out the local eats, and also get in on some of the local fun!
8. Andrew Jackson Memorial
Why not visit the man the city was named after? Andrew Jackson served as a military governor of Florida and was highly revered by landowners of the city now known as Jacksonville. Though he never visited the city, Jacksonville takes pride in the statue in his honor.
Located right next to the Riverfront Plaza, this is a good landmark to see if you're already in the area.
9. Free Skyway to All of the Other Downtown Jacksonville Attractions!
Traveling from point A to point B is easy in downtown Jacksonville thanks to this free above-ground subway system. Though it does not reach the far ends of town, taking the Skyway is a great way to get around downtown or to see the sites from a bit of an aerial view if you're crunched for time.
When we visited, I was very impressed by the cleanliness of the Skyway as well. I have been on many subways that were crowded and dirty. This one was impressively spacious and clean. Many times we were the only ones in our train car.
10. Hemming Park's Gaping Mouth- Weird but Fun Downtown Jacksonville Attractions!
You may be a bit intrigued to find this otherwise calm and peaceful park houses a giant head and mouth once located at the Museum of Science and History! Now, visitors can enjoy the bizarre and yet creatively inspiring gaping mouth displayed at the park's entrance off of Duval Street.
During your visit, take some silly photos as you walk or drive by!
11. Sweet Pete's Candy Shop
Like something out of Willy Wonka and the Chocolate Factory, the elaborately themed decorations will amaze you!
14. Riverside Arts Market (RAM) and Farmer's Market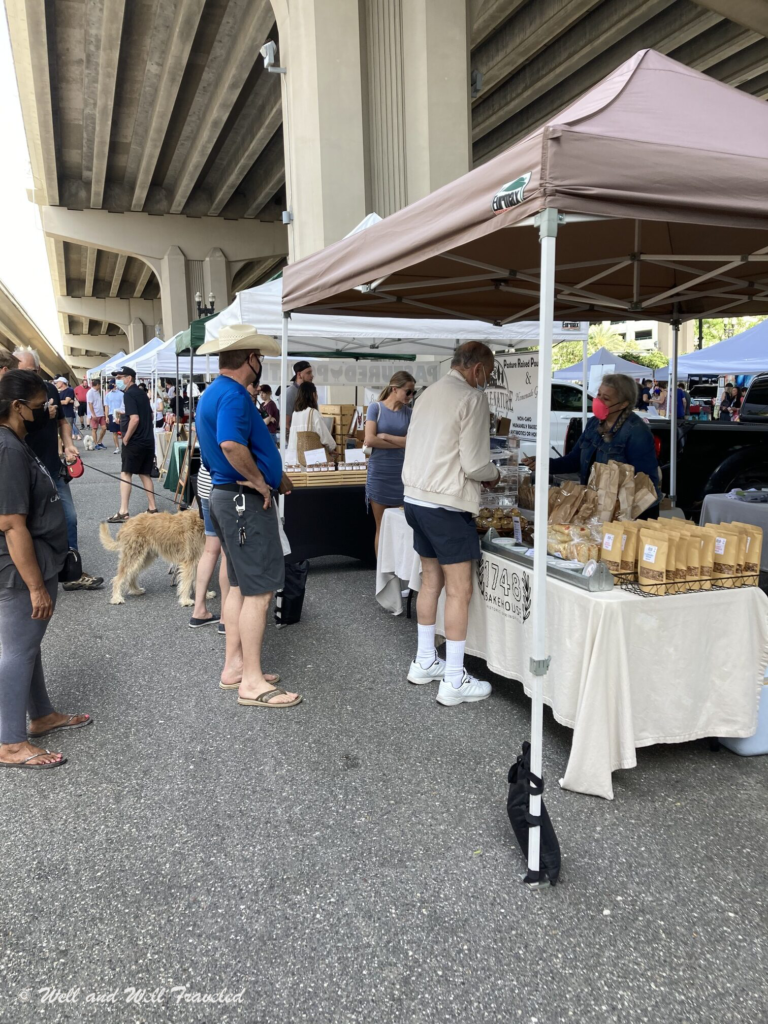 The Riverside Arts Market is a well-known destination in Jacksonville, FL today. On a Saturday morning, it's not uncommon to find hundreds of people under the Main Street Bridge perusing through the vendor booths. One can find anything from handmade soaps to macrame and vegan, gluten-free treats.
Food trucks line the perimeter, giving you ample choices if you chose to eat lunch while shopping.
12. Jacksonville Attractions- Cummer Museum
If you love art, this is the museum for you! Originally a large mansion owned by the Cummer family, the Cummer Museum now showcases centuries of creative masterpieces.
Currently, there are 15 gallery rooms consisting of paintings, sculptures, and other artifacts. The earliest piece we identified dated back to 1336 BC from Ancient Egypt.
With so many exhibits, art lovers of all kids are sure to find something that interests them!
Free Admission to This Downtown Jacksonville Attraction!
It's worth it to check out the admission options on their website because this museum seems to provide free admission often! College students can use their student ID to get in free most any time, but free admission may also be available to all on Tuesday and Friday evenings. We were able to take advantage of this when we went on a Friday night.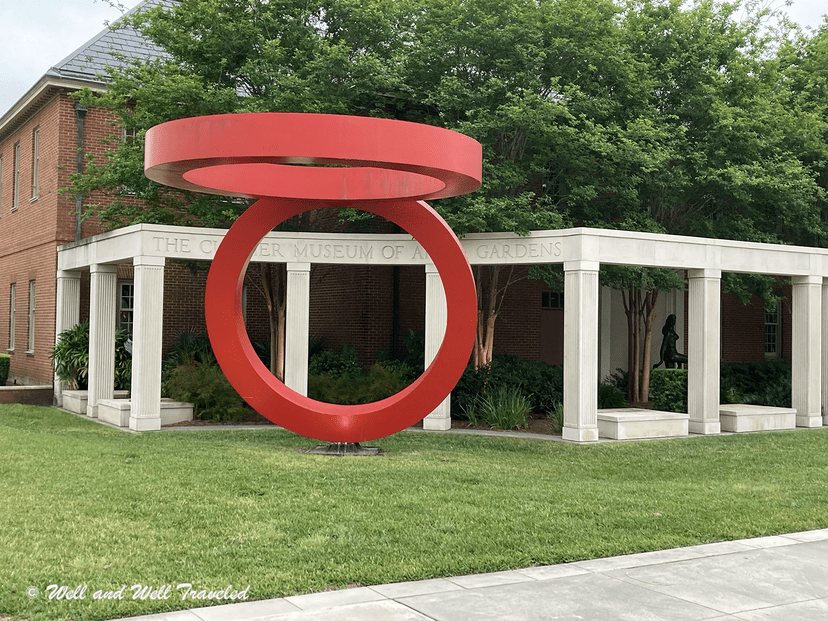 13. Cummer Museum Gardens
Your museum admission ticket also provides access to the Cummer Museum's beautiful gardens overlooking the St. John's River.
There are 2 gardens on the property: An English garden and an Italian garden… both vastly different but just as beautiful. When we were there, a man was playing his violin as he walked through the gardens.
One could easily find themself believing they are in a Jane Austen novel while visiting these gardens. They were just beautiful!
15. Full of Other Jacksonville Attractions- Five Points District
The Cummer Museum is actually part of the Five Points district. The district's name comes from one intersection where five streets meet.
Five Points' bohemian eclectic feel is great for those wanting to spend a day strolling through interesting shops and eating at unique restaurants.
Antique shops, boutiques, and bars define this area. There is also an old cinema theater that shows unique films not likely to be shown in many theaters today. River and Post, a rooftop restaurant, may be a great option for an aerial view of the city. Be prepared for large crowds in the evening though. It is definitely a popular spot, so popular, in fact, that we couldn't get a table when we visited! We snapped a picture and headed back out.
---
Looking for things to do near Jacksonville, check out Cumberland Island National Seashore for a day of adventure.
So Many Jacksonville Attractions!
Jacksonville has definitely made a name for itself over the last few years! The city's creative minds have turned Jacksonville into their canvas. From restaurants to music to art and more, this city has become a great tourist destination! You are sure to find several great Jacksonville attractions!