FAQs About Disney's Jungle Cruise Ride at Magic Kingdom
One of the most popular rides at Magic Kingdom is the Jungle Cruise ride. But you may have questions like I did the first time I rode it in a while. How long is it? Do you get wet on the Jungle Cruise ride? And more. Here's my list of popular FAQs about Disney's Jungle Cruise Ride at Magic Kingdom and answers to each of them!
The Jungle Cruise ride is very popular. In fact, there can be very long lines to get on the ride as the day continues.
One of the best pieces of advice I have is to arrive early. Head straight to this ride before tackling the rest of the park if you don't want to stand in line. That's what we did, and we walked straight on the ride. When looking at wait times about an hour later (and again throughout the day), we were really glad we did it first! The wait was an hour long throughout most of the day.
Today, let's dive into some of the most frequently asked questions about the Jungle Cruise at Magic Kingdom!
What is Disney's Jungle Cruise Ride?
A longstanding Disney World water boat ride through the pretend waters of the Congo, the Jungle Cruise ride is a popular one for adults and kids alike!
Visitors will pass thick fauna, lifelike elephants, monkeys, lions, zebras, and rhinos, a waterfall, and even a plane crash in this trek through the jungle. There is even an ancient temple the cruise will navigate through.
Of course, it's nothing like being in a real jungle like we experienced in Costa Rica, but it's also not nearly as dangerous! Haha!
Personally, I love the skippers' tales most of all! They keep me laughing by saying things like "That's how I landed this job" as we passed a plane crash or "The world's most impressive waterfall" as we passed one about 8 feet tall. Corny dad jokes are always a riot!
Where is the Jungle Cruise in Magic Kingdom?
Disney's Jungle Cruise ride is located in Adventureland in Magic Kingdom. After heading down Main Street and past Plaza Ice Cream Parlor with the castle straight ahead, veer to the left to enter Adventure Land. Pass Sunshine Tree Terrace and the Swiss Family Treehouse. The Jungle Cruise ride will be on the left across from Skipper's Canteen.
How Long Is The Jungle Cruise at Magic Kingdom?
The Jungle Cruise ride is about 10-15 minutes long.
While it's a wonderful ride, I don't suggest spending too much time in line waiting for a ride that will be over that quickly.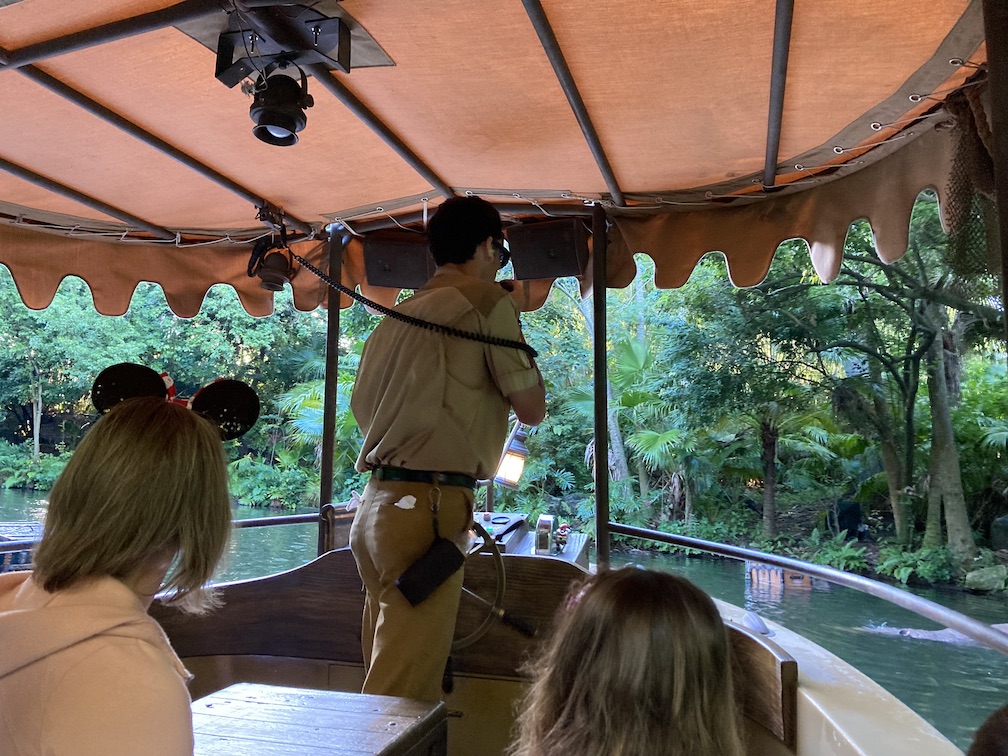 Do You Get Wet on the Jungle Cruise Ride?
One of my biggest questions boarding Disney's Jungle Cruise after several years was "Do you get wet?". I couldn't remember. And we had just arrived at the park, so I was not ready to be drenched!
Despite the skipper's intimidating warnings that you will get soaked and won't come out alive, the ride is pretty mild. You may feel the mist from the waterfall or get a few drops on you from the elephant's trunk, but you will not get reasonably wet.
If you want to cool down and feel more of the midst on a hot day, I suggest you try to sit on the far side of the boat upon boarding. Unfortunately, though, you probably won't be given a choice.
Summary of the Ride
The Jungle Cruise ride in Adventureland at Magic Kingdom is a popular one for good reason. Overall, the ride will be a nice leisurely (and dry!) stroll for 10-15 minutes through the pretend waters of the Congo with several laughs along the way! Hope this answers your questions about the ride!