My Top 10 Grain-Free Snacks for the Road (Also Dairy-Free)
Anyone who's living grain-free probably has a story to tell about getting stuck traveling without grain-free snacks. Because I eat mostly grain-free, dairy-free, and soy-free, I have several stories!
Updated Oct. 2023
One time after an elimination diet (and several months without going out to any restaurants), we went hiking with our dogs before dropping by to visit my aunt. I packed some food for the car, but I soon realized it was not enough. To make matters worse, we were on country roads in the middle of nowhere!
After being on the lookout for a grocery store for several miles with no luck, I made the very bad mistake of grabbing fast food. My stomach was a mess!!
That was my wake-up call! It was time I made sure I had the food I needed or knew how to get it quickly. I needed to start packing the right foods and planning meals ahead of time.
Now, I have a long list of grain-free options available.
Why Grain-Free Snacks?
Lots of people have trouble digesting grains. The Keto diet, Paleo diet, and AIP Protocol all encourage taking out grains to prevent inflammation and help the body heal.
But that's not easy! Gluten, corn, rice, oats, and more are all grains.
What's the Secret to Traveling While Grain-Free?
The key is to be prepared!
If you avoid gluten or all grains and are looking for some ideas for on-the-go snacking, here are a few options for the car, the airport, or even just a day out with the family. And, better yet, all of these are also dairy-free!
*This post contains affiliate links. We may earn from qualifying purchases when you click on the links. This is at no cost to you.
What are the Best Grain-Free Snacks for the Road?
Over the years, I've created quite a long list of grain-free snack options. We usually bring several of these along on our road trips!
Let's dive in!
1. Nuts: A Crunchy Grain-Free Snack
Nuts are a great grain-free option. Here are our favorites!
Easy to Make Grain-Free Snack: Roasted Almonds
I love making roasted almonds for the road or even for a hiking trip!
Just grab raw almonds at the store, mix 2 Tbsp. of hot water with 1-2 tsp of sea salt to dissolve the salt, toss the salt mixture with the almonds, spread out on a cookie sheet (I like to add parchment paper), and roast in the oven on 375 degrees for 15-20 minutes or so. You'll need to watch them and pull them out to mix halfway through.
Once roasted, you can add a bit of oil and seasoning such as garlic or cumin, or you can eat them plain. Either way, they are delicious and so simple to make!
Easy to Buy Grain Free Snack: Pistachios
This is another easy one. Kaleb and I love to have pistachios from Costco around the house and in the car. We find we like the ones still in the shell better, but it's all preference. Here's the brand we eat: Wonderful Pistachios
2. Raw Veggies: A Naturally Grain-Free Snack
Carrot sticks, celery sticks, cucumbers, bell peppers, and snap peas are all great options for the car. I love to eat them plain, but you can always add something for dipping. My husband loves to dip carrots in peanut butter (or I prefer almond butter).
Try some dairy-free ranch dressing like this one from Primal Kitchen, if you're looking for one without dairy. Or you could always dip them in hummus (made from chickpeas) or baba ganoush (made from eggplant). Food Network's Alton Brown has a great video on baba ganoush here, if you're interested.
*Pictured are greenzla reusable bags. Looks like they've updated the look, because here are the new ones…
3. Cassava Flour Crackers: A Simple Grain-Free Snack
You guys! I've found the most amazing grain-free cracker recipe! When you eat grain-free, crackers are hard to come by! But, wow! These AIP and Paleo-compliant grain-free cassava crackers from Wendi's AIP Kitchen are so full of flavor!
They're made from cassava flour, a root vegetable, meaning no grains while still getting the consistency of a cracker!
Make sure to follow her advice for dividing the dough in half, possibly divide it into thirds. The middle section can be a bit too chewy if not properly baked.
My husband and mother both say these are their favorite grain-free snack. Also, you could always play around with other flavors if oregano, onion, and garlic aren't your thing, but we find these delicious!
The best cassava flour out there in my opinion is Otto's Cassava Flour, the same one this blogger recommends.
I would, however, recommend that you double this recipe. It doesn't make a whole lot. And, believe me, you're going to want several!
These crackers would also pair well with roasted red pepper dip!
4. Barbecue Chickpeas: A Delicious, But More Time-Consuming Grain-Free Snack
Does anyone remember corn nuts?!!
This recipe is a great alternative option!
Also known as garbanzo beans, chickpeas are packed with protein and fiber. I love this recipe from the Wheat-Free Meat-Free blog for Korean BBQ Chickpeas. I just replace the brown sugar with coconut sugar, and I like to tone them down with a little less hot pepper flakes.
Please note: this is not a quick recipe. In fact, it will be 6 hours of baking, but, fortunately, little work involved! As the author Kalinda explains, by baking them at higher temperatures, the middle of the chickpeas wouldn't get crunchy while the outside burns. Instead, a lower temperature for a longer period of time is key.
You can replace the brown sugar with coconut sugar 1:1 if you chose. Here's the brand of coconut sugar I use. And to remain gluten and soy-free, I use coconut aminos. But they can be found in almost any grocery store if you're on the road.
5. Fruit: A Naturally Grain-Free Snack
Fruit Medleys or Fruit Cups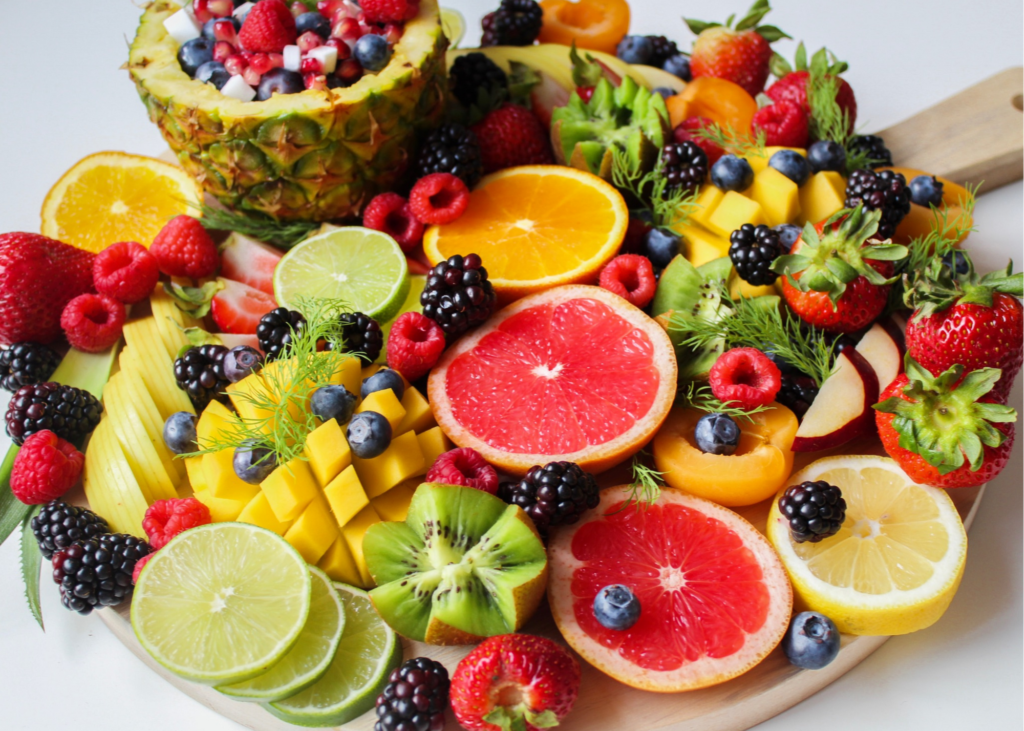 Grab fruit to make a fruit medley for the road or grab a fruit cup from the grocery store or convenience store in the airport. I also find apples are easy to find in airports. While I can't eat the sandwiches in the refrigerated deli sections at the airport, there are often apples or fruit cups sold right next to them. Just make sure to wash them well.
Fresh fruit is a great option for grain-free snacking!
Another Fruity, Grab-n-Go Grain Free Snack Option
Other fruit options include fruit smoothies or even fruit leather! Fruit leather can be bought or made. We like these strawberry ones from Stretch Island Fruit Company, but apricot sounds good too!
6. Plantain Chips: A Crunchy Grain-Free Snack
At first, they might look similar to a banana chip, but they taste blander… like a small thick potato chip. I often choose to buy them, but you can also get adventurous and make them!
Note: I definitely try not to make these my go-to snack because they pretty much keep your mind subconsciously thinking that all chips are okay (and there are many reasons they aren't!), but they do taste great!
7. Salty, Chocolate: A Delicious Snack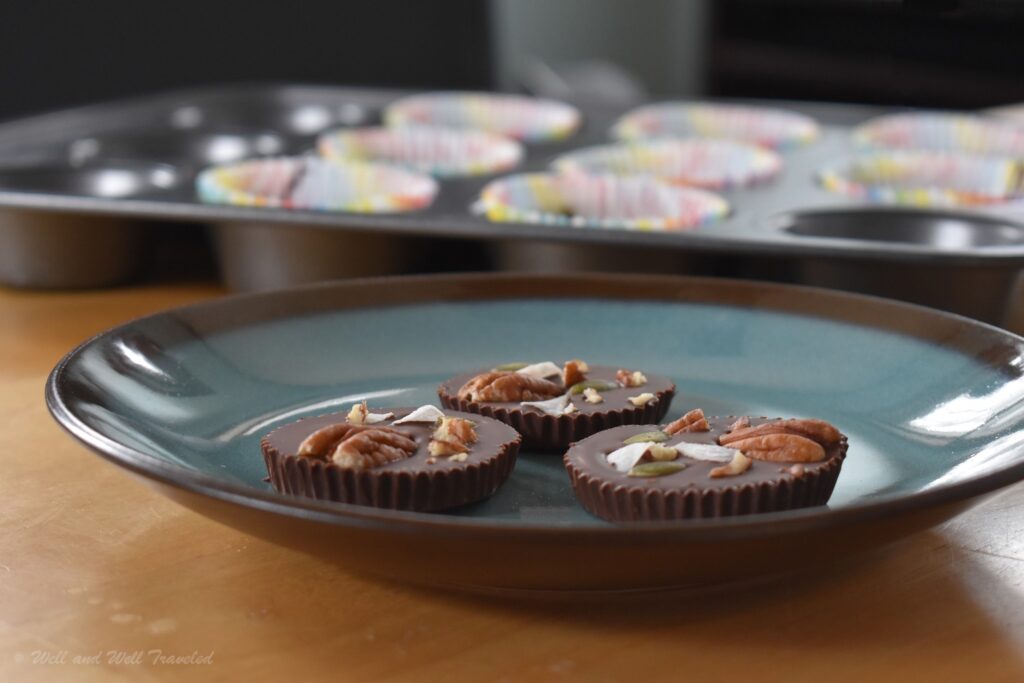 This recipe from Diet Doctor allows you to enjoy chocolate without most of the drawbacks.
Made with just 5 ingredients, these "Salty Chocolate Treats" can be made in only a few minutes. The directions for melting the chocolate are the hardest part, but it doesn't have to be! Just melt it in the microwave. It will need around 1-1.5 minutes. I recommend checking it every 15 seconds and stirring before adding back to the microwave as needed.
Here's the allergen-free dark chocolate I use. It is gluten-free, soy-free, and dairy-free!
8. RX Protein Bars: An Easy-to-Find Grain-Free Snack
These can get pricey, but RX Bars are my go-to when I'm on the road and realize I'm hungrier than I expected… Maybe I haven't packed enough snacks for the car ride and the next meal is a few hours out.
They can be found at most gas stations or grocery stores and contain only a handful of ingredients.
Note: these can be pretty sweet(!), but the best part is they have no artificial sweeteners! They are naturally sweetened with dates, honey, or maple. Also, they are pretty filling, so you likely won't need more than one to hold you over until the next meal.
And there are many flavors to choose from!
Make sure you check the ingredients to confirm they are compliant with your diet. The peanut butter ones are not compliant with the whole 30 or paleo diets. However, at the time of writing this, their website claims all of them are gluten, dairy, and soy free.
9. Almond Bars: Another On-the-Go Snack
You can always make your own almond bars, but these from Simple Mills are delicious! They are made from nut flours, seed flours, molasses, egg whites, and a few other ingredients, depending on flavor.
While they currently (as of October 2023) claim to be grain-free and gluten-free, only the carrot cake one claims paleo-friendly on the packaging. My guess is the chocolate chip one contains small amounts of dairy. I personally struggle with significant amounts of dairy, but I don't seem to react to these. Buy at your own risk!
Where do I buy them? I get them at my local grocery store. Hopefully, they are that easy for you to find!
10. Grain-Free Protein Balls: A No-Bake Grain-Free Snack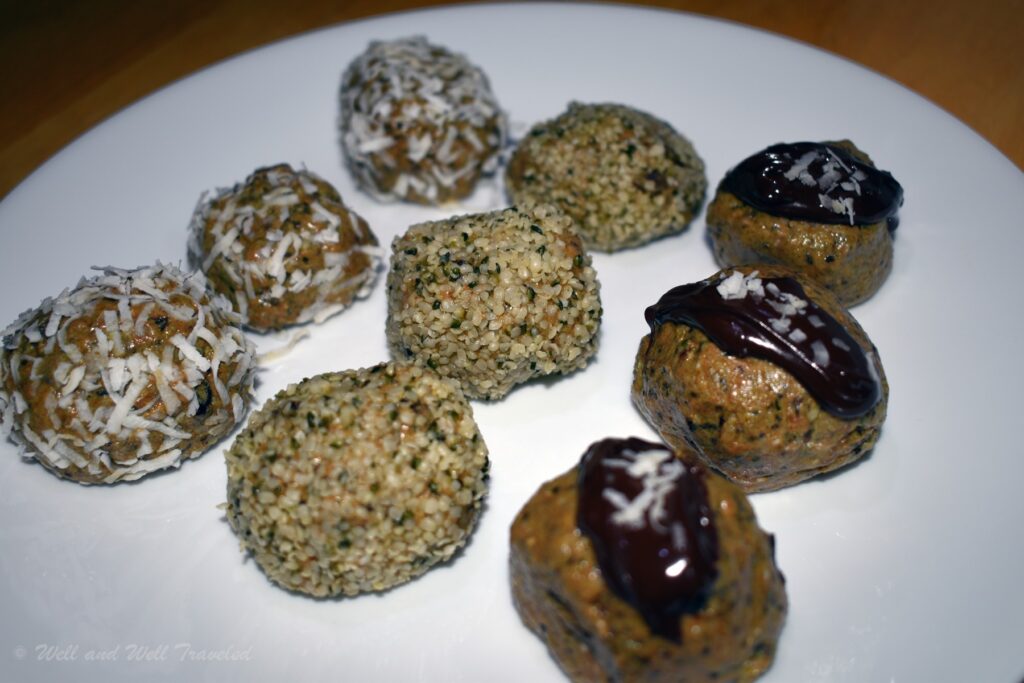 These grain free, no-bake, 5 ingredient protein balls from the Minimalist Baker are ideal for traveling or working out. Packed with protein and fiber and low in sugar, these protein balls are made of nut butter, Medjool dates, hemp seeds, chia seeds, and protein powder. AND… they are customizable! Switch up the protein powder or try different toppings to enjoy them the way you like!
Making While Traveling
The recipe mentions using a food processor, but if you are willing to cut the dates into small pieces and work the dough a little more, you can easily make this without any kitchen gadgets, making them easier while staying in a rental home, etc. (I didn't use a food processor for them in this picture.)
And, because they are no-bake, no need for a full kitchen. You could even make these in a hotel room with only a little kitchenette if really needed. Just make sure you have a microwave for the chocolate and a fridge to keep them cool.
Bonus Gluten Free Option
Hippeas! Not grain-free, but gluten-free… these gluten-free, soy-free, and vegan chickpea puffs are great for on-the-go snacking! They come in flavors such as barbecue, nacho, and white cheddar. Check out Hippeas here! (Note: check the citric acid if corn bothers you)
Grain-Free Snack Tips
Costco
Another great tip for grain-free snacks is to check out Costco! They have several grain-free, gluten-free, and dairy-free snacks. We love finding good allergy-friendly snacks at Costco!
Consider Transportation Accommodations
Of course, when traveling all of these grain-free snack options will be dependent upon your transportation accommodations and the activities planned for your trip. For example, peanut or almond butter, if it's more than 3oz, won't make it through the TSA checkpoint at the airport. But an apple or crackers will. Chocolate will melt on a hike and not give you the energy you need, but roasted almonds are often a great choice for hiking. Cassava crackers or seed crackers work well at a museum or even a day at the beach.
Some Great Grain-Free Snack Options
If you're looking for grain-free snacks for the road, planning ahead and packing what you need is a must. Hopefully, this list gave you some great suggestions. Good luck!