Best on the Map: The Henry Ford Museum in Dearborn, Michigan
The Henry Ford Museum is quite possibly the most comprehensive and interactive history museum in the midwest. Located in Dearborn, MI, this museum showcases American innovations starting as early as 300 years ago.
Henry Ford is known for the construction of the first Ford automobiles but actually has quite a history as an innovator. After founding the Ford Motor Company, Henry Ford created an organized system for his assembly lines, lowered the prices of his automobiles, offered English language classes to his employees, and began paying his workers well enough they could own one of his cars, a revolutionary concept for the age.[1] Henry Ford was so well-liked, in fact, that he won the presidential nomination in 1923.[1]
The Henry Ford Museum not only highlights Henry Ford's success but also that of many other forward thinkers.
How Big is the Henry Ford Museum?
The Henry Ford Museum is huge!
The museum is made up of two main sections: The Henry Ford Museum of American Innovation, which is their massive indoor museum, and Greenfield Village, their outdoor interactive history museum. The museum also offers tours of the Ford Rouge Factory, but we have not visited that yet(!).
Henry Ford Museum of American Innovation
Here is a list of some of the exhibits that impressed us in each section…
Transportation Exhibits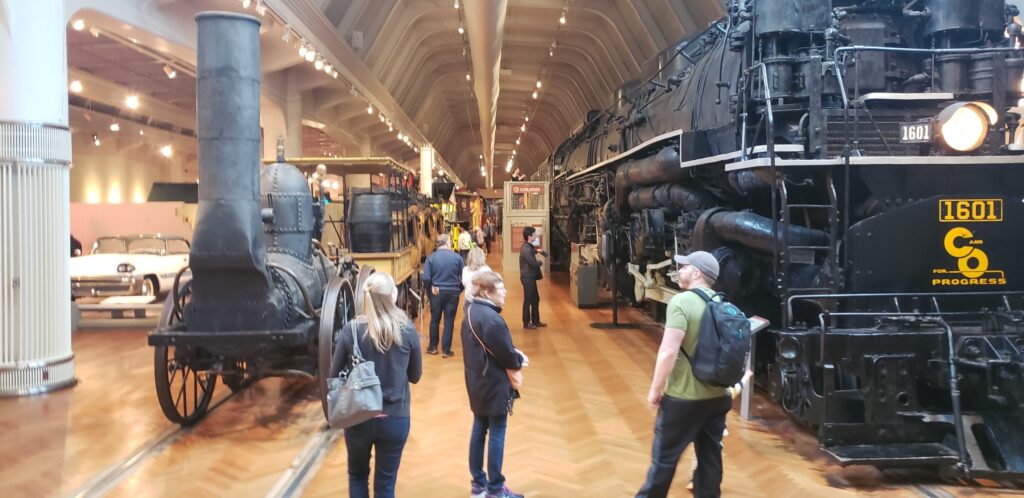 Locomotive Train where we could climb up inside the engineer's cab.
Car Museum called "Driving America" complete with popular vehicles such as…○ Henry Ford's Quadricycle made in 1896, which was his first gasoline-powered vehicle

1909 Model T
927 Bluebird School Bus
1931 Duesenberg Model J Convertible
1949 Airstream
1949 Volkswagon
1962 Mustang I Roadster

Presidential Cars from President Franklin D Rosevelt's 1939 Lincoln Limousine to John F Kennedy's 1961 Lincoln Continental in which he was assassinated.
A hanging breakdown of the parts that make up the Model T.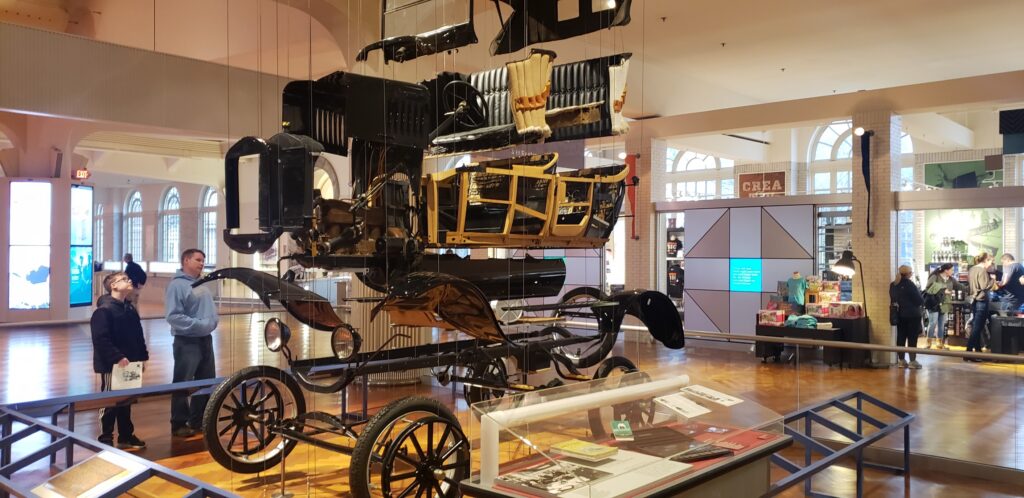 "Hero's of the Sky" section displays the work of Henry Ford (did you know he dabbled in aerospace?!), the Wright Brothers, and Amelia Earhart. A replica of the Wright Brother's plane is displayed in this section. There was also an area where kids (or kids at heart!) could make a paper airplane and measure the distance it could fly!
Steam engines, including a rotative steam engine from 1788 and a very impressive gas-steam engine from 1916 that powered all of Highland Park's needed assembly lines and machinery for a few years.
"Mathmatica" section where my husband geeked out at all of the fun interactive math exhibits!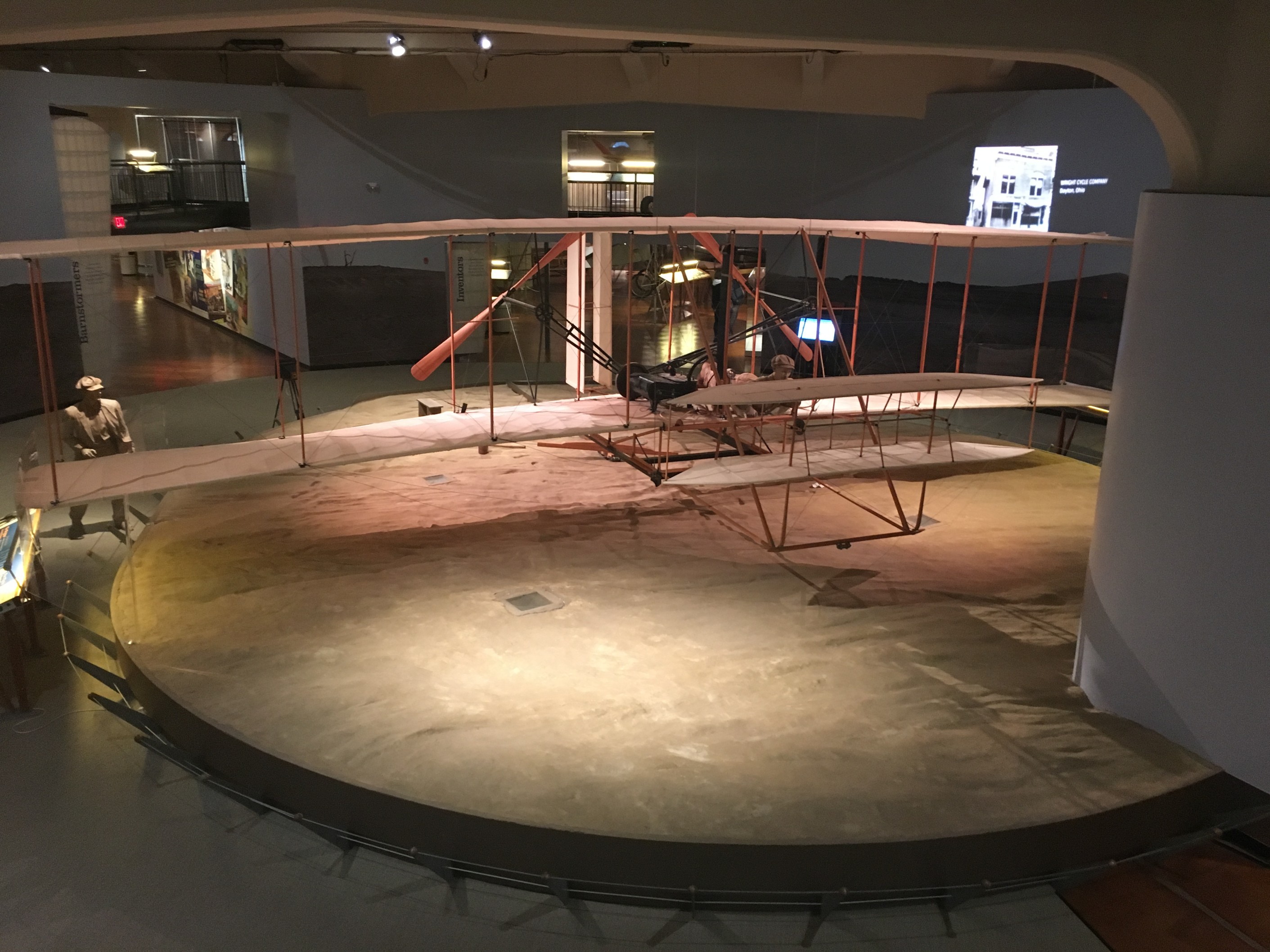 Social Justice Exhibits at The Henry Ford Museum
 A very informative section on social injustices that showcased the Common Sense Book by Thomas Paine, the chair in which President Abraham Lincoln was assassinated at Ford's Theatre (you could still see the blood stains on the red velvet covering!), and the bus Rosa Parks sat on when she refused to give up her seat.
This section was by far my favorite! The museum asked about 15 people or so to file onto the bus as a short history lesson presented over the intercom. Without knowing so, I actually picked Rosa Park's seat! It was amazing to realize I was sitting on such influential and formative ground.
And that's only what we saw in the indoor section of the museum!! There was still an outdoor interactive history museum!
We came in April 2019 when the weather was still pretty chilly and not very conducive to outdoor visits. Our goal then was to only visit the indoor museum, which did require a day for us three adults. Honestly, if you are bringing children, I don't know if a day pass will do. The museum is huge!!
After being so thoroughly impressed by the Henry Ford Museum of American Innovation, my husband and I decided to make another trip a few months later to experience everything that Greenfield Village had to offer. Once again, we were very impressed!!
Greenfield Village at the Henry Ford Museum
Henry Ford Museum Outdoor Exhibits
Greenfield Village boasts 80 acres and 300 years of innovation including…
Thomas Edison's Menlo Park laboratory, where jars of exotic materials lined the walls upstairs and where we were given a full explanation of phonographic invention downstairs.
The Wright Brother's bicycle shop where their first airplane was constructed, though a replica of their first airplane is displayed in the indoor museum.
---
Interested in aviation history? Check out the National US Air Force Museum in Dayton, OH!
---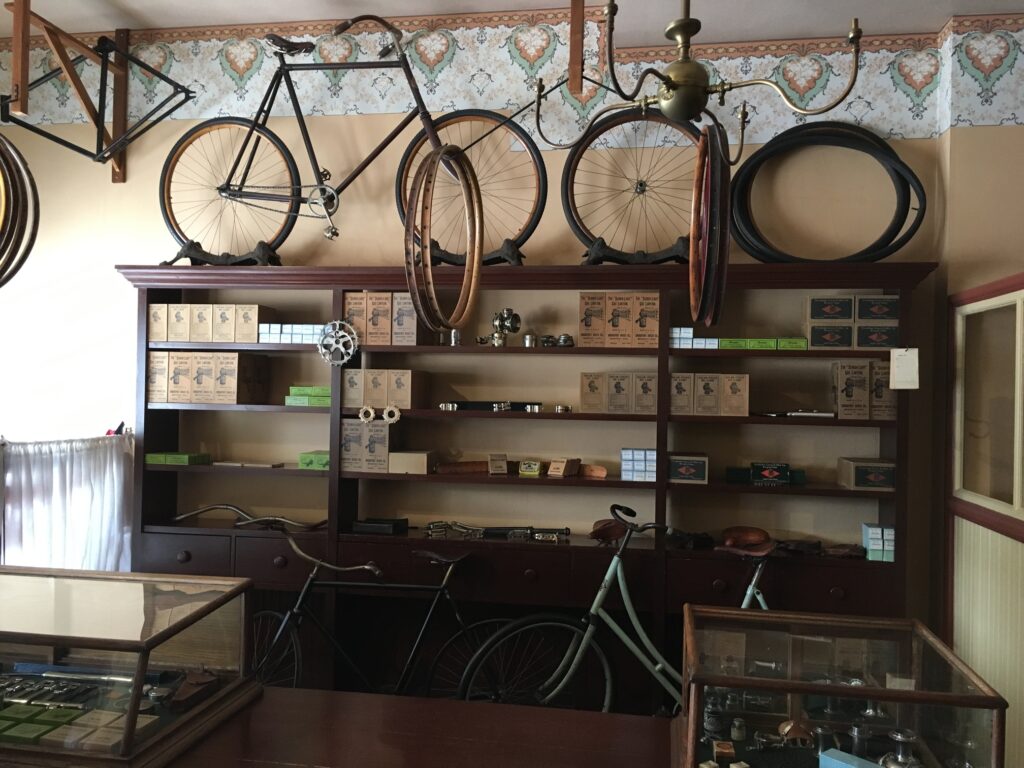 Abraham Lincoln's Illinois courthouse where he practiced law in the 1840s
Artisans showcasing the making of pottery, tin, and weaving
Several sawmills where lumber is cut and distributed to the village
Working farms where visitors can better understand the farming process from beginning to end
The famous home of Henry Ford himself
Dining at Greenfield Village
A few dining locations, including a large-scale cafeteria and a mid-1800s restaurant called Eagle Tavern where we ate by candlelight.
Greenfield Village even has an 1873 steam engine, horse-drawn carriages, and buses from the early 1900s available to ride as public transportation from one district of the museum to another!!
They also provide Model T tour rides that start and stop at one location. I had always wanted to ride in a Model T car; I finally had my opportunity on a short, guided tour around the village.
Common Questions When Visiting the Henry Ford Museum
How Accommodating is The Henry Ford Museum for those with Food Restrictions (Like Me!)?
I found little I could eat with my strict diet. They did offer a gluten-free chicken salad sandwich at both the indoor museum and outdoor village (in the large cafeterias), but I found the bread to be very, very dry. There was also chicken and a few side dishes at the Eagle Tavern restaurant, where seasonal meals from local farms were served, that I was able to make work. And it tasted great!
But if you have multiple food restrictions like I do (mine now include dairy, gluten, corn, and soy), I suggest bringing your own meal. You could always see what's on the seasonal menu at Eagle Tavern and have food available if they cannot accommodate your diet.
Eagle Tavern is quite the experience if you're able to make it happen!
How Long Should I Plan to be at the Henry Ford Museum?
This museum contains so many interesting attractions you will likely need a few days here. We did the indoor museum (Henry Ford Museum of American Innovation) in one day, but we were moving at a very fast pace and exhausted by the end of the day. I would love to go back and stretch the indoor section alone over 2 days so we could see every exhibit and take it all in.
And the outdoor history park, Greenfield Village, requires just as much time, especially if you have children with you! It covers 80 acres and, while there is public transportation available, the wait for the bus, wagon, etc. to pick us up was longer than the estimated times presented in the brochure. Often that meant we could sit down and take a break, but it also meant we saw less of the village. With kids, I would plan on two days at the village as well.
*Note: There are wheelchairs and mobility scooters available to rent at the front. Greenfield Village also had quite a few ramps to accommodate those needing them. However, I'm not sure you could easily load a stroller or wheelchair onto some of the public transportation options available (such as the bus in the picture below). For more on accessibility, click here.
Any Suggestions for Bringing Children There?
If I were bringing kids to this museum, I would make sure they were at least 5 years of age for the outdoor section (and I'd still consider bringing a stroller or plan lots of rest time! I've taught children 5 years old and know how quickly they can wear out!). Additionally, I'd wait until they were 7-8 years of age for the indoor section.
The museum is massive, which means walking for so long will be challenging. (See the above section for more information on the estimated length of time needed and stroller accessibility).
All grade school children would probably get quite a bit out of the museum. From climbing up in a locomotive engine and sitting in the seat where Rosa Parks made a stand for equality to seeing the workshop where the Wright Brothers built their first plane and walking through Edison's laboratory, the museum does a fabulous job of making history come alive!
Is The Henry Ford Museum Worth Visiting?
I could go on and on about how impressed I was by this museum! Believe me, it's more than "worth visiting". If you love history, add it to your "must see" list. I promise you won't regret it. You just might be like us, trying to find your next opportunity to see it all again!
Consider Bringing:
Stroller or wheelchair if needed
Good walking shoes!
Layered clothing for varying temperatures throughout the day
Umbrella if the weather report shows rain. You'll be outside a lot!
Food you can eat if you have multiple food restrictions. Maybe consider making a meal that is more likely to be eaten in the mid-1800s to early 1900s to stay with the theme for the day! Here's the link to Eagle Tavern's cookbook, if you want to grab one in the museum gift shop on the way out for future use! And you could also grab some of my grain-free, dairy-free, snack ideas mentioned in this previous post! 
---
Looking for some other great things to do in Michigan, check out our post on Dog-Friendly West Michigan: Muskegon, Holland, and Saugatuck for places you can take your canine companions!
---
How Does the Henry Ford Museum Differ from Conner Prairie in Indiana?
Conner Prairie, located northeast of Indianapolis, is a living history museum similar to Greenfield Village. While the Henry Ford Museum focuses on innovation in the late 1800's and early 1900's, Conner Prairie focuses on frontier life from 1975 to 1863.
Both are phenomenal history museums and worth a visit, especially if you have children in elementary school or middle school children.
Conner Prairie also offers live, outdoor concerts (mainly tribute bands) and air balloon rides.
Henry Ford Museum
As you can see, The Henry Ford Museum is a history-lover's dream! This is the perfect place to spend a few days immersing yourself in history. The indoor museum boasts many great transportation and social justice exhibits, while the outdoor section called Greenfield Village is a huge interactive history museum.
The Henry Ford Museum is truly a "must do"!