Conner Prairie (Indiana): Living History Museum for Kids
Conner Prairie is a large living history museum just outside of Indianapolis. It holds an early 1800's Indian camp, an 1823 historic home, an 1836 prairie town, an 1863 civil war town, and so much more! This is the perfect place to embrace history in a fun and immersive environment!
Growing up, Conner Prairie was just down the road from me. I remember spending hours watching the potter in Prairie Town spin the clay or answering the schoolhouse master's quiz questions.
As I got older, the concerts on the lawn became more interesting. Spending summer nights sitting in lawn chairs listening to music would have driven me crazy as a child. But now I would go anytime if I could!
There is so much to do at Conner Prairie, Indiana's first Smithsonian-affiliated museum! Let's dive into everything Conner Prairie has to offer!
Where is Conner Prairie?
Conner Prairie is located in Fishers, IN, just northeast of Indianapolis.
Address: 13400 Allisonville Rd. Fishers, IN 46038
(For other things to do in Indianapolis, check out our post!)
How Much Are Conner Prairie Tickets?
At the time of writing this post, general admission to the museum is $24 for adults (13+) and $18 for children (2-12). You can get a $2 discount on tickets by purchasing them online.
You can purchase them here.
Conner Prairie Activities
This interactive history museum/park is impressively large with 800 acres of property to explore!
Lenape Indian Camp
This section of the museum is relatively small but strives to showcase the culture of Indian tribes who lived in Indiana from 1795 to 1820.
Visitors will first come upon a wigwam that kids usually love to run inside and explore! There is also a dugout canoe they can climb in.
We were also lucky enough to attend when a Native American was there to share about his culture and the use of glass bead art.
In this section, there are also two buildings: a trading post and a cabin. Visitors can learn about the fur trade at the trading post and be introduced to pioneer life in 1816 in the cabin.
This is a great section to help kids begin to grasp what experiences lie ahead. We took my niece with us recently. She had never been before and was quite shy in this area as she began to understand what was going on. As you'll see later on, she warmed up!
William Conner House and Farm
William Conner was a fur trader, farmer, translator with the Native Americans, and politician.
Conner became a wealthy man and built this house in 1823. In fact, he became so wealthy at one time he owned over 4,000 acres across the county!
Conner Prairie is named after this successful man.
The Conner House is available for tours of the house as well as demonstrations of various things around the property including the kitchen, weaving on a loom, gardening, and farming.
Visitors can pet the animals in the barn by the William Conner House. We petted a few goats and a young chicken. We were also lucky enough to see a lamb that had just been born a few hours prior (pictured below)!
And a loom house is just outside of the garden. The process of dying the yarn used to weave is amazing!
1836 Prairietown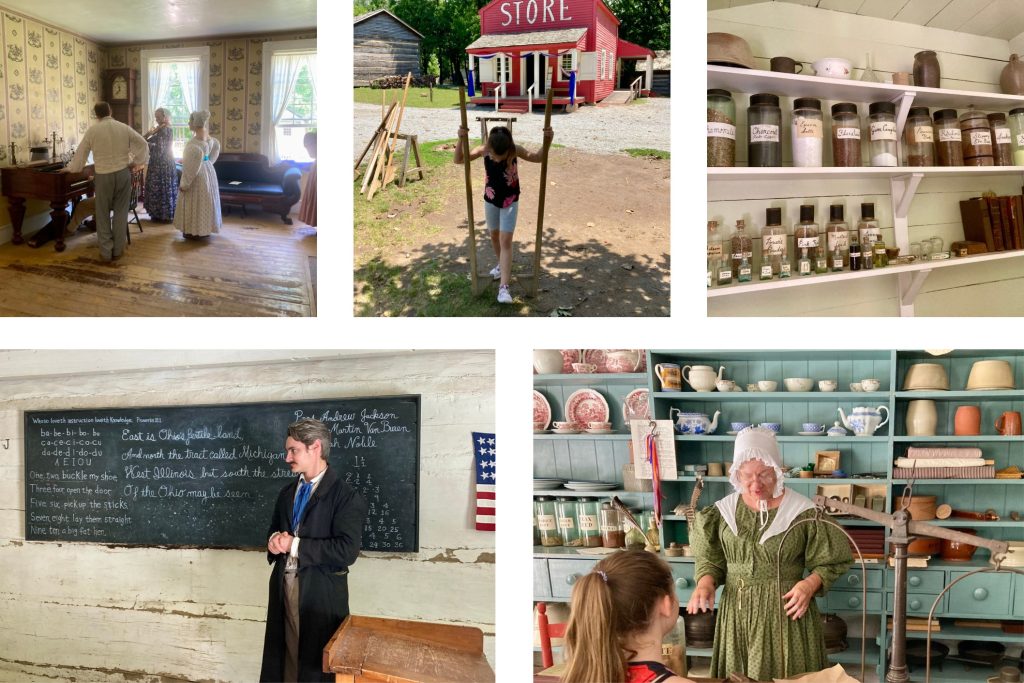 This is definitely my favorite section of this interactive museum! Here, Conner Prairie provides reenactments in each of their many buildings throughout Prairietown.
Buildings include…
Schoolhouse
General Store
Blacksmith
House
Doctor's House and Office
Carpenter
Apothecary
Inn and Stables
Outdoor Meeting Area
Pottery Shop
… and more!
There is so much to do in Prairietown! Get quizzed by the town headmaster, talk to the blacksmith, carpenter, or potter about their creations, try out the fun walking stilts in the grassy area, attempt to reserve a room at the inn, help the general store owner measure out her products, or talk to the town doctor about your ailments.
When we went, my niece told the doctor her arm was likely broken. He evaluated all options and decided amputation was the best! LOL
1863 Civil War Journey
Cross the bridge into the Civil War area, Dupont, Indiana in 1863. Immediately upon arrival, visitors are informed of a terrible invasion from the Confederate soldiers that left buildings burned to the ground and residents grieving and terrified.
Here, visitors can check out the schoolhouse-turned-quartermaster building where the reenactors share the supplies they are gathering in case an invasion occurs again.
There is also a nice house that visitors can walk through. This building also contains an informative film. However, when we were there recently, there was a sign on the door saying it is closed for updates. So I'm not sure that will remain.
Additionally, the Civil War area contains an indoor play area with an outdoor water table and splash area. It is the perfect place to take a break on a hot day!
Note: Visitors can also take a tram to/from the Civil War area and the Welcome Center. We like to take it at the end of a long day when our legs are tired.
---
Another great Civil War Reenactment we've seen in Indiana (both years on Memorial Day Weekend) was at Spring Mill State Park which holds a Pioneer Village among other things!
Conner Prairie's Treetop Outpost
This is the newest area of the museum. Kids (and adults!) can explore a huge treehouse with several interactive activities along the way. Those on the first floor can speak into a talk-tube where those on the top floor can hear and speak back. On the third floor is a lookout tower with images to find painted on large rocks below.
There is also a fort with a rock climbing wall and tube slide as well as a music area with a large xylophone, bongo drums, and more all off to the right.
Treetop Outpost is the perfect place for kids to get out some energy and explore!
Indoor Activities at the Welcome Center
Inside the welcome center, kids can…
climb and play in the indoor play area
claim a spot at the craft table and create anything they wish with the materials available
build, design, and create in the STEM area
The indoor section of the museum is especially popular on poor-weather days.
Air Balloon at Conner Prairie- 1859 Balloon Voyage
Take a ride in Conner Praire's air balloon!
Learn about the life of John Wise, the designer and pilot of the first successful air mail system in the United States.
This balloon is unique in that it doesn't use hot air. It uses helium. Therefore, it is tethered to the ground. The balloon lifts about 8 stories in the air for a wonderful view of the greater Hamilton County area!
Note: a balloon ride is an additional cost. It currently costs $9-$18 per person depending on age and if you have a membership to the museum.
Conner Prairie Concerts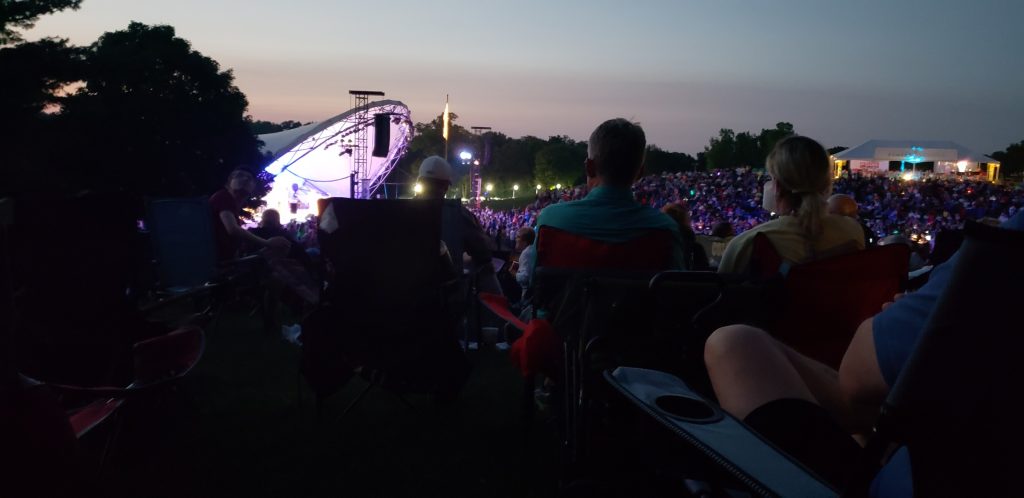 Symphony on the Prairie is a popular activity for locals! Spend an evening with family and friends on the lawn listening to live tribute bands and other entertainment.
We have attended a 4th of July celebration (with fireworks finale), a tribute to the Beatles, and a tribute to Fleetwood Mac there. All were outstanding!
Seasonal Activities
Conner Prairie embraces the seasons and holidays!
Summer at Conner Prairie
The summer is a busy time at Conner Prairie! The outdoor exhibits are open during the summer months. Additionally, Symphony on the Prairie is a very popular activity in the summer.
And Prairie Town has a popular July 4th celebration. Celebrate the country's independence with the residents of Prairietown!
Fall at Conner Prairie
Fall is another popular time at Conner Prairie. The museum hosts the Headless Horseman Festival with a spooky headless horseman, hay rides, corn mazes, fall food, and more.
Additionally, they also have an apple store selling fresh apple cider and other apple desserts. The store is on the far north part of the property, close to the entrance of Symphony on the Prairie.
Winter at Conner Prairie
Though the hours of operation are limited in the Winter, Conner Prairie does offer a few things during the winter season.
Around the holidays, historic holiday celebrations and tons of Christmas lights are available to enjoy. They also have intertube slide rides and a carousel.
And, later in the season, Hearthside Suppers that include a celebration of traditional hearth cooking around a communal table are available.
The welcome center is open year-round for guests.
Spring at Conner Prairie
Conner Prairie's outdoor exhibits are closed the first part of spring. However, the grounds are open to explore. Indoor activities at the welcome center are also available. As temperatures warm up, the museum will be fully open.
And Suggestions for Those (Like Me!) Who Eat Gluten-Free and Dairy-Free?
Anyone who follows this blog knows I cannot have gluten or dairy.
There is a small snack shop by the Air Balloon at Conner Prairie, but it doesn't have too many choices. There was applesauce offered as a side, so they are definitely trying to be more conscious of health.
However, because we live just a few miles from this museum, I have several dairy-free, gluten-free options in the area! Looking for fast food? Check out Bibibop or Chipotle. Looking for a sit-down restaurant? Check out C.R. Heroes, Bru Burger or Verde.
I suggest you start with Balloon Voyage next to the welcome center. Then head to Indian Camp to get a feel for life in the late 1700/ early 1800s. Then, go to the Conner House where you can explore the house and pet the farm animals. Next, head to Prairietown set in 1836.
Now, by this point, the kids may be ready to get some energy out. Head over to Treetop Outpost for some child-led play. Lastly, finish at Civil War Journey set in 1863.
This plan allows kids the opportunity to step ahead in time as they explore.
Tips for Conner Prairie
Wear old shoes! You will be walking on muddy streetways and will be glad you're not in new shoes.
There are not a lot of bathrooms at Conner Prairie. The only ones are at the welcome center and at the River Crossing Play Area in Civil War Journey (so pretty much the beginning and end of the park). While the map indicates some at the back of Prairie Town, that area was under construction when we went. Plan accordingly! With my niece, we went to the bathroom before we set out and then dropped by the welcome center again halfway through Pioneer Village before heading toward Treetop Outpost and Civil War Journey.
Take the shuttle to/from the welcome center to Civil War Journey to prevent sore feet. We always like to start in the Indian Camp, work our way back to Civil War Journey, and then take the shuttle back to the welcome center.
Compare and Contrast to the Henry Ford Museum
Greenfield Village at the Henry Ford Museum outside of Detroit, MI is similar to Conner Prairie. Both are interactive history museums with several homes, shops and more.
Both, however, showcase very different happenings in our country. Conner Prairie covers 1795 to 1863 frontier life while Greenfield Village at the Henry Ford Museum showcases the innovation efforts of the late 1800s and early 1900s. Both are phenomenal history museums and worth a visit, especially if you have children in elementary school or middle school who are studying these time periods. What better way to teach than to immerse them in the culture of the time!
Summary of Conner Prairie
Conner Prairie, a living history museum just north of Indianapolis, inspires children and adults alike to embrace history in a fun and immersive environment. Visiting in the spring, summer, fall, or winter each comes with new and exciting activities for the season. Visitors are sure to find something for everyone!