Brown County State Park (Indiana): Best for Scenic Views
Brown County State Park, located in central southern Indiana is most known for its steep hills, ridges, and beautiful views. Visitors come from all over to experience what some equate to a smaller version of the Smoky Mountains.
Brown County State Park boasts scenic lookout points with beautiful views, hiking and biking trails, horseback riding, a swimming pool, a restaurant, and overnight accommodations including a lodge, cabins, and campgrounds.
Additionally, Brown County is located right next to the cutest little shopping town called Nashville, IN!
We love our Indiana State Parks! We love camping at them, relaxing at them, and boating at them. But we especially love hiking at them! We've made day trips to hike at Brown County State Park many times in the last few years. But I hadn't camped at this park campground in many years until we recently returned.
Where is Brown County State Park?
Brown County State Park is located in Nashville, IN in south-central Indiana. It is one hour directly south of Indianapolis, IN.
Address: 1405 State Road 46 West Nashville, IN 47448
List of All Indiana State Parks
What is There To Do at Brown County State Park?
Pause for the Scenic Views
Who would have thought Indiana had views?! Haha! Indiana may be known for being flat, but not in Brown County!
There are ample scenic viewing spots throughout the park. The state park roadways take visitors up and down hills and across ridges with great views. And, while the views are better in the fall, they are pretty spectacular in the spring as well!
So which lookout spots are the best at Brown County State Park? There are some great ones, but the West Lookout Tower and Hesitation Point are our favorites. Enter through the West Gate (on state road 46) if you want to access them immediately.
Here's a Brown County State Park map.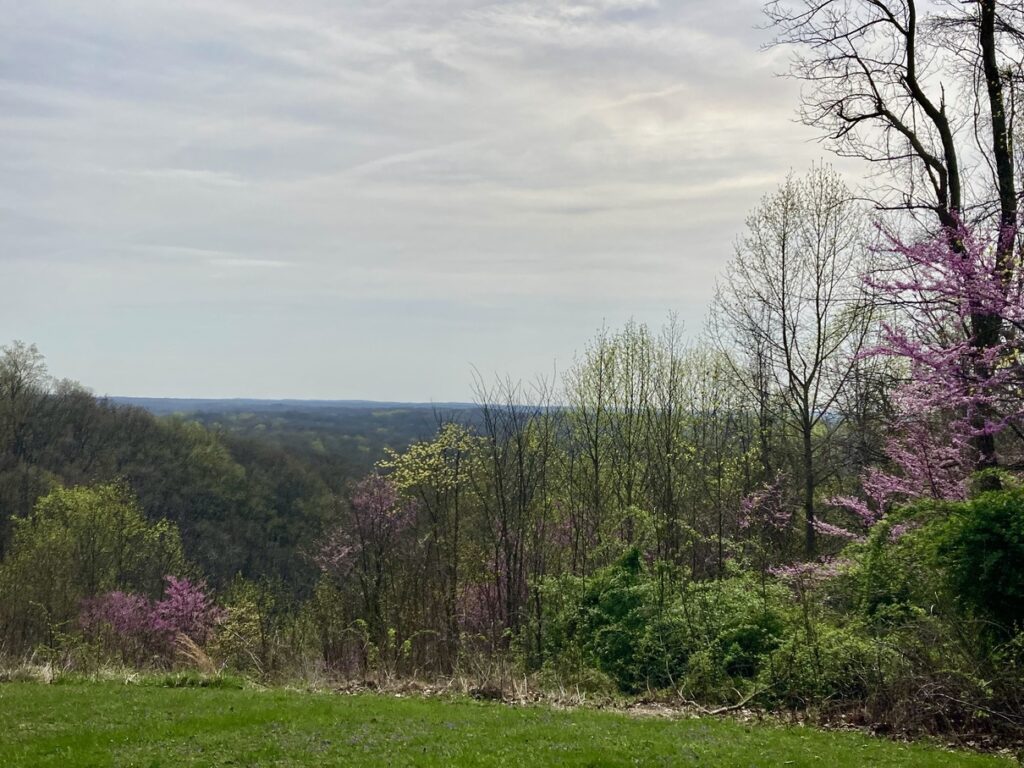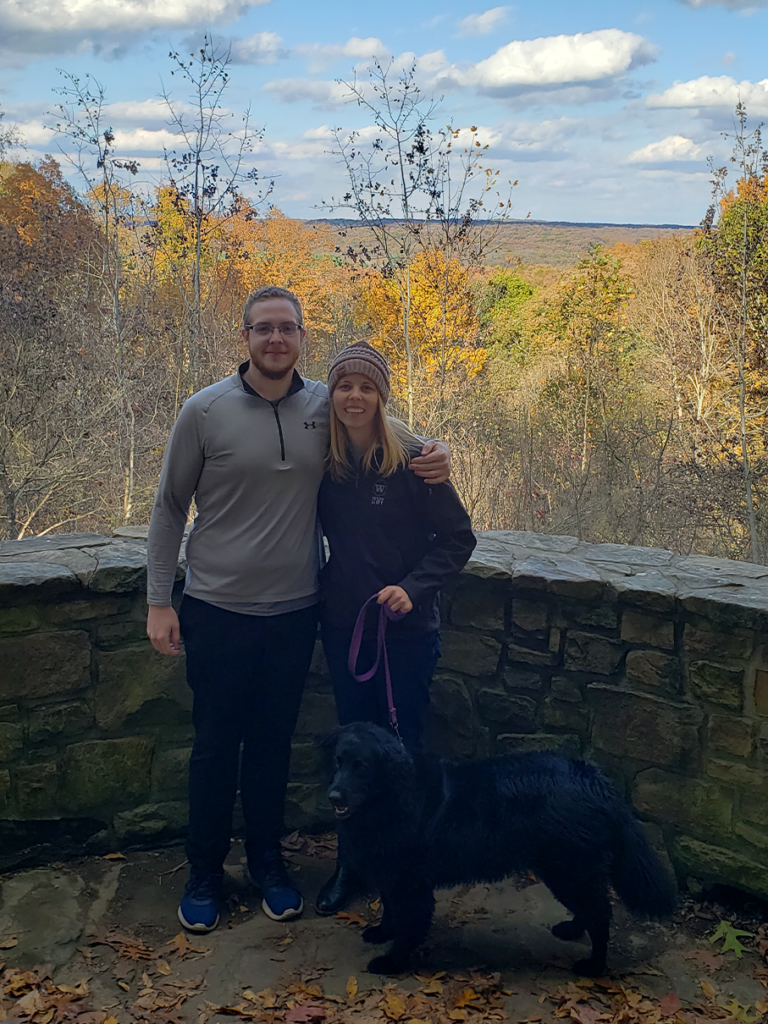 ---
Spending time in the Midwest in the fall? Check out this post from Midwest Explored on the beautiful fall foliage in Illinois!
---
Enjoy the Hiking and Biking Trails at Brown County State Park
Probably one of the most well-loved activities at Brown County State Park is hiking. The park contains 13 hiking trails that wind throughout the park.
Most popular among visitors are trails 8 and 7.
Trail #8 starts at one lookout spot and passes one of the most well-loved lookouts called Hesitation Point.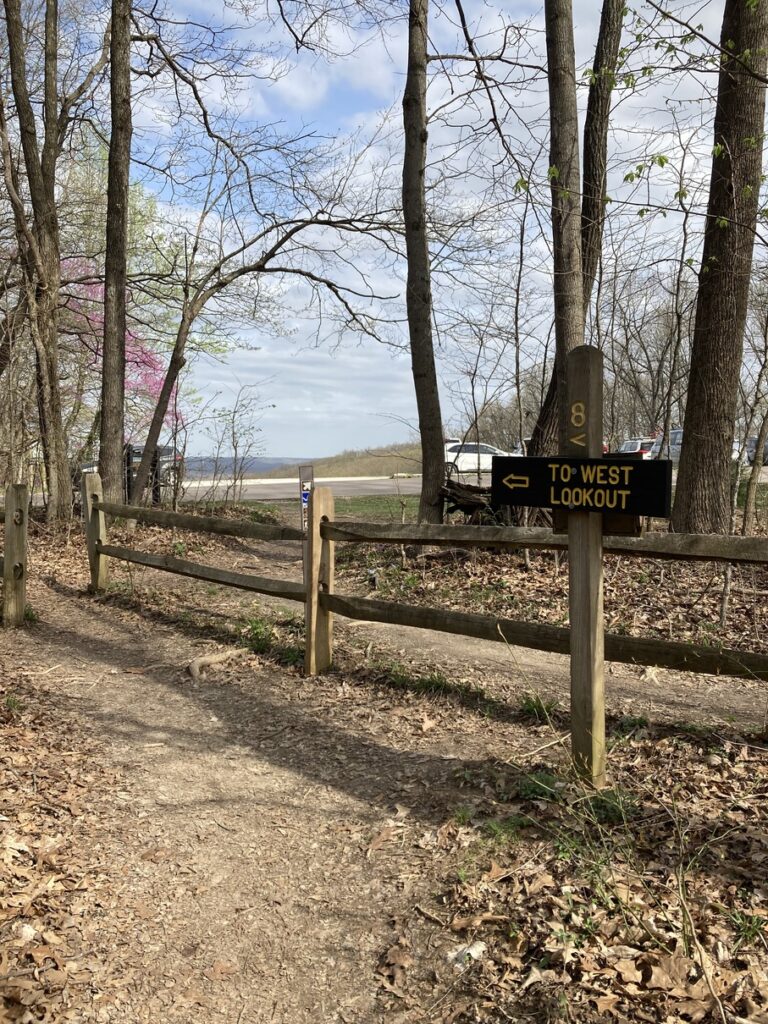 Conversely, trail #7 takes adventurers around Ogle Lake. Considered moderate according to the park map, the trail is very family-friendly. There are a few steps and some inclines, but it is not too difficult. Picnic tables are spread throughout the trail where hikers can take a quick break. Kids may also like seeing the animals along the trail. We saw numerous frogs and turtles when we hiked it!
Also worth noting, the parking lot for trail #7 is very busy. One time, we planned to hike it and had to pick a different trail because there was nowhere to park. If you can find a spot, though, the trail is worth it. And there's even a playground available next to the parking lot.
The state park also has 14 mountain bike trails and loops. None of the hiking and biking trails overlap, so unfortunately I don't have experience with their bike trails. But I can imagine they have just as many great views as the hiking trails!
---
Looking for an easy hike for the family? Check out Mounds State Park just outside of Indianapolis. The park is a great option for those who like history and easy hikes!
Or if you're looking for more rugged hikes, check out Turkey Run State Park east of Indianapolis. The park has amazing rock formations!
Horseback Riding at Brown County State Park
Brown County State Park is a horse lover's dream! Not only can you bring your own horses and stay at the horseman's campground on the south side of the park, but you can also take a guided trail tour with the park horses. There are even pony rides for the kids!
Please note: these prices may not be accurate at the time of your arrival. These were the prices posted during our trip in April 2022.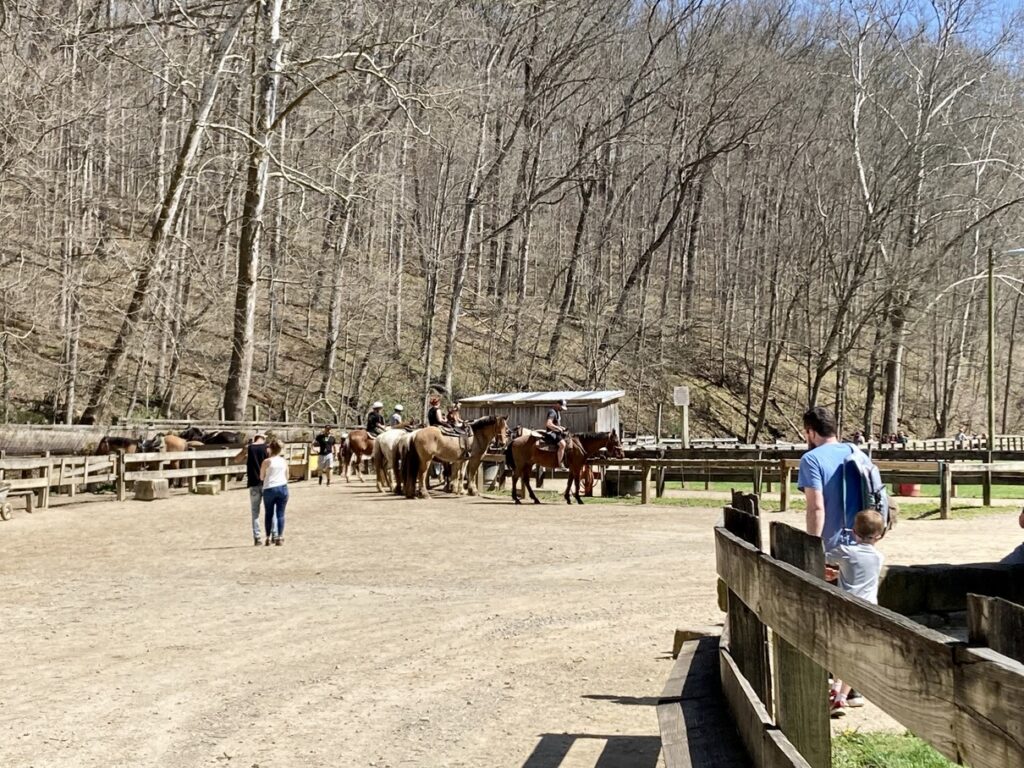 Shopping in Historic Nashville, Indiana
Nashville, Indiana has to be one of the cutest places to spend a day! The town is full of eclectic shops, artwork, restaurants, wineries, and more. If you plan to visit, prepare to spend a few dollars on parking. But it will be very worth it for a day of shopping and eating with friends and family!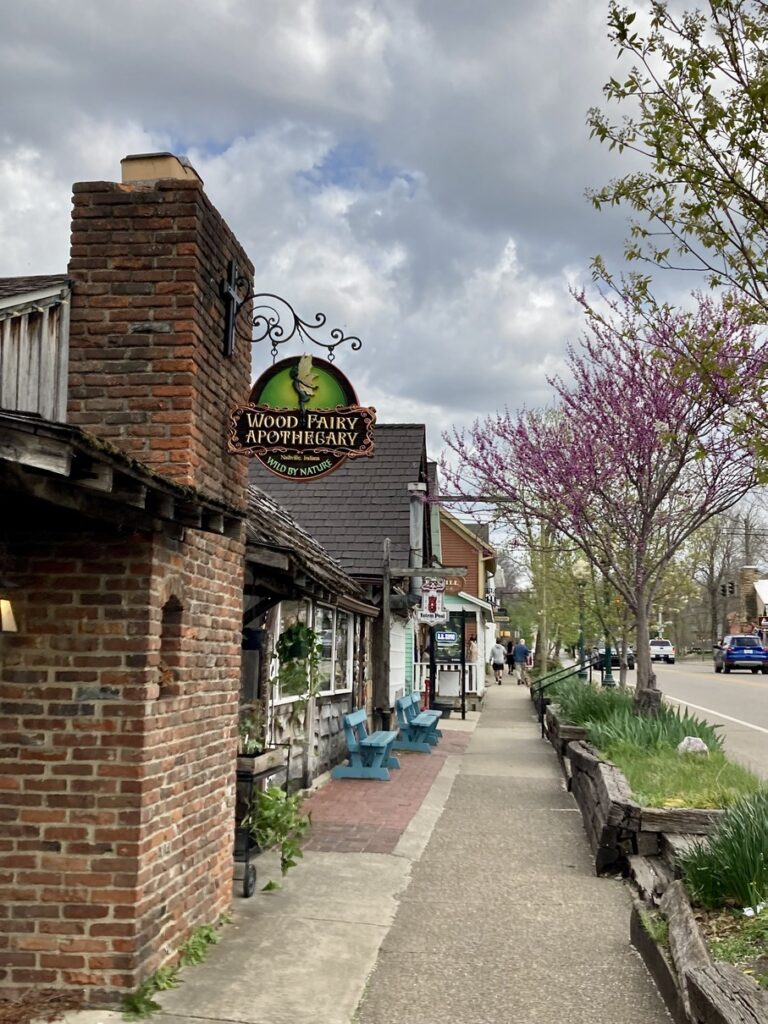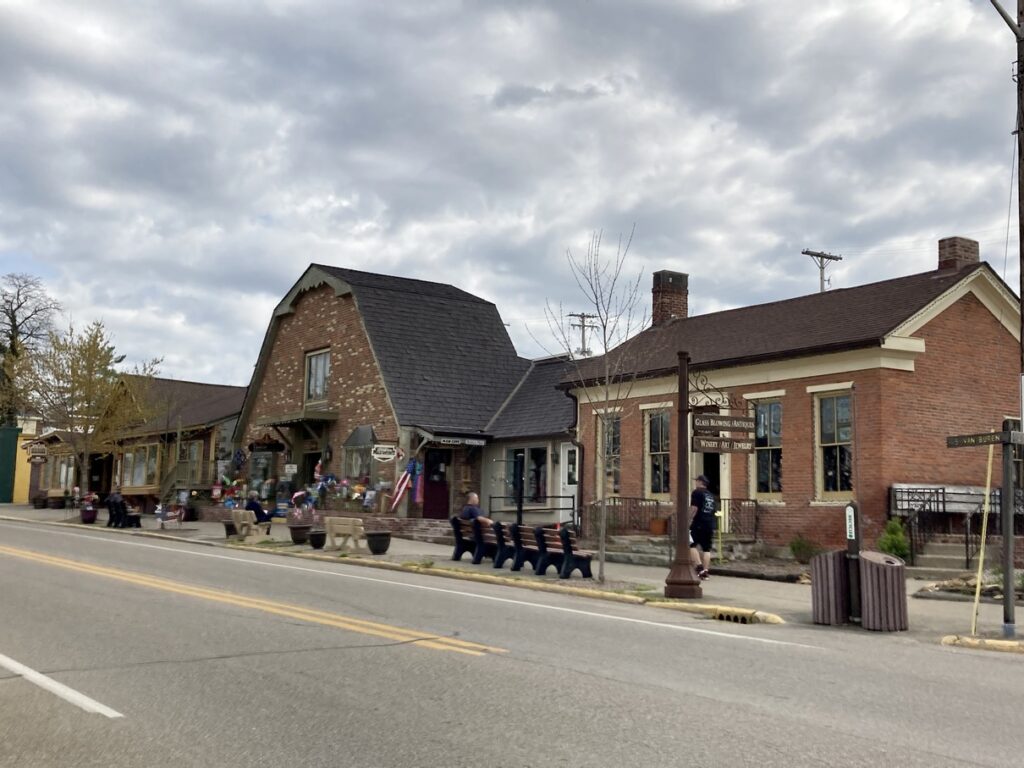 Where Can You Stay at Brown County State Park?
Abe Martin Lodge, Cabins, and Restaurant
Located inside of Brown County State Park, Abe Martin Lodge is a well-known vacation destination. Visitors love getting away to enjoy the outdoors without the hassle of camping equipment. Rustic cabins, family cabins, and lodge rooms are also available for booking. There's a restaurant at the lodge with great views. There's even a water park at the lodge!
However, if you want to stay there in the fall, make sure to make your reservation early. Due to the beautiful scenic views, it is a busy place in October and November!
Brown County State Park Family Campground
Many veteran campers to Indiana campgrounds will say Brown County is their favorite. Most of the campsites are on ridges with great views. Also, there is so much to do at the state park and surrounding area in Nashville, IN!
There are three ridges that make up the family campground. They are Buffalo Ridge, Raccoon Ridge, and Taylor Ridge (Electric). Buffalo Ridge is quite sunny and flat. Many families staying in travel trailers with kids choose this ridge. The second ridge, Raccoon Ridge, is made up primarily of small sites on an incline. The third ridge is Taylor Ridge. This one is the largest and also most popular. Most of the sites are a bit small (most are bigger than Racoon Ridge though), and there are steep dropoffs on quite a few of them. However, the beautiful views and seclusion have many campers coming back often.
Please note, tent campers should be prepared for a bit of an incline at most camping spots at Taylor Ridge. Your air mattresses or cots will likely be on an incline.
Common Questions
Anything to Note for Those (Like Me!) with Food Restrictions (Dairy-Free and Gluten-Free)?
While there are several restaurants in town that might not work for those on a restricted diet, I have found a great coffee/tea shop! Sweeteas in downtown Nashville does not use corn syrup in any of their syrups (great for someone like me that tries to avoid corn!). All are sweetened with cane sugar! They also have several dairy-free alternatives including almond milk and oat milk.
For those following a vegan diet, the Chocolate Moose located across the street from Sweeteas offers vegan ice cream.
Big Woods in Nashville also has cauliflower crust pizza for those that are not dairy-free. Hobnob Corner also lists a few vegetarian and gluten-free options.
There are probably more, but those are the ones I've found (and remembered!). Often, I bring my own meals or plan to eat at a campsite just to be careful.
Where Can Campers to Brown County State Park Stock Up on Supplies?
If you're looking to stock up on supplies, there is a camp store in the park located just outside of the campground. Campers can buy firewood and other necessities there. Additionally, there is an IGA in Nashville not far from the state park with a larger selection of items.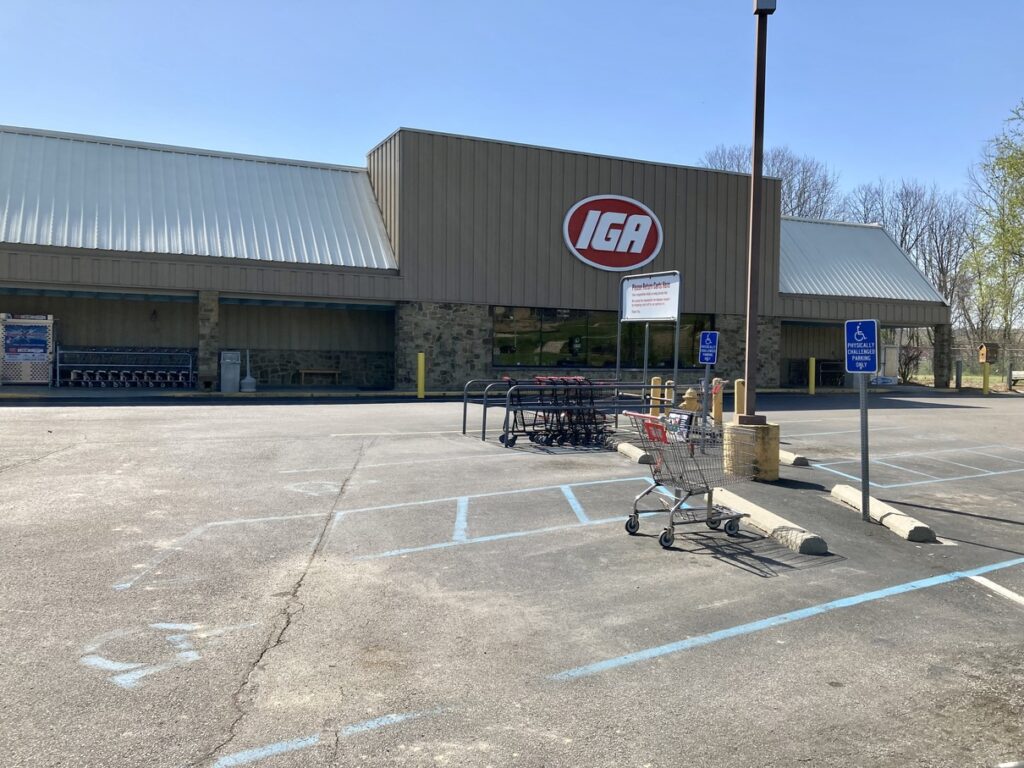 ---
Interested in visiting other Indiana state parks? Check out our post on Salamonie Lake State Park (Best for Boating!) in north-central Indiana and our post on Spring Mill State Park (Great for History and Caves!) in southwest Indiana!
---
Consider Bringing
· Bikes- Because the campground is so big, bikes may be very helpful! Campers may enjoy biking along the campground ridges. But, if you plan on using the campground bathrooms, you may want to bike them. They are spread out with lots of pit toilets in between.
· Bug Repellant- The park is mostly wooded. Bug repellant would be helpful.
· Nice Camera- There are some great views to capture.
Enjoy the Great Views at Brown County State Park!
Brown County State Park in Indiana is a wonderful place to spend a long weekend or even a full week. With great scenic views, several beautiful hiking and biking trails, horseback riding, a swimming pool, a quaint, small town just minutes away for some great shopping, and several lodging options, you're sure to find something for everyone at Brown County State Park!