Peaches and Cream Smoothie (Dairy-Free, Paleo, and Vegan)
I love smoothies! I went through a season of drinking a smoothie every day, and I still lean toward them for a fast breakfast option! They are especially craveable on hot summer days! Since peaches are in season now, I thought it was the perfect time to share this dairy-free peach smoothie recipe.
*This post contains affiliate links. We may earn from qualifying purchases when you click on the links. This is at no cost to you.
Is this Dairy-Free Peach Smoothie Recipe Easy?
If you've followed me for any time, you know I follow a gluten-free, dairy-free, corn-free, and soy-free diet. I eat a mostly grain-free, paleo diet and love recipes that are simple and easy to make.
This recipe is just that. It's simple!
It's also great because it's vegan and paleo compliant. This means it's dairy-free and grain-free! Anyone following a vegan diet or anyone who suffers from allergic reactions or intolerances due to grains or dairy will understand why that's so helpful!
Great for Traveling
With only 5 ingredients this recipe is also great for travel or a busy day out and about!
We love traveling, but I'll be the first to say it's not easy with so many dietary restrictions. Fast food restaurants rarely can accommodate. Even sit-down restaurants often have to tweak the meal to accommodate.
That means we usually book a rental home and bring all of our own food to cook.
So when I can find or create a simple and quick recipe to make at a rental home or as we're headed out the door for a day away, I jump at it! Dairy-free smoothies, thankfully, are often a great option! You'll just want to confirm that your rental home has a blender. Otherwise, you should be set!
Ingredients for this Dairy-Free Peach Smoothie:
Peaches- Of course, peaches are needed. They're the star of the dish! And they are so easy to find in the summertime.
Canned Coconut Milk– The coconut milk, specifically the thick cream at the top of the can, brings the "creamy" aspect to this dairy-free dish. Make sure to not shake the can when you go to open it. You will want the cream to be at the top.
Cinnamon- Cinnamon brings the spice. You may also consider adding nutmeg.
Maple Syrup- The maple syrup brings the sweetness and pairs so nicely with the peaches and cream. But you are welcome to replace with honey or completely omit it if you prefer.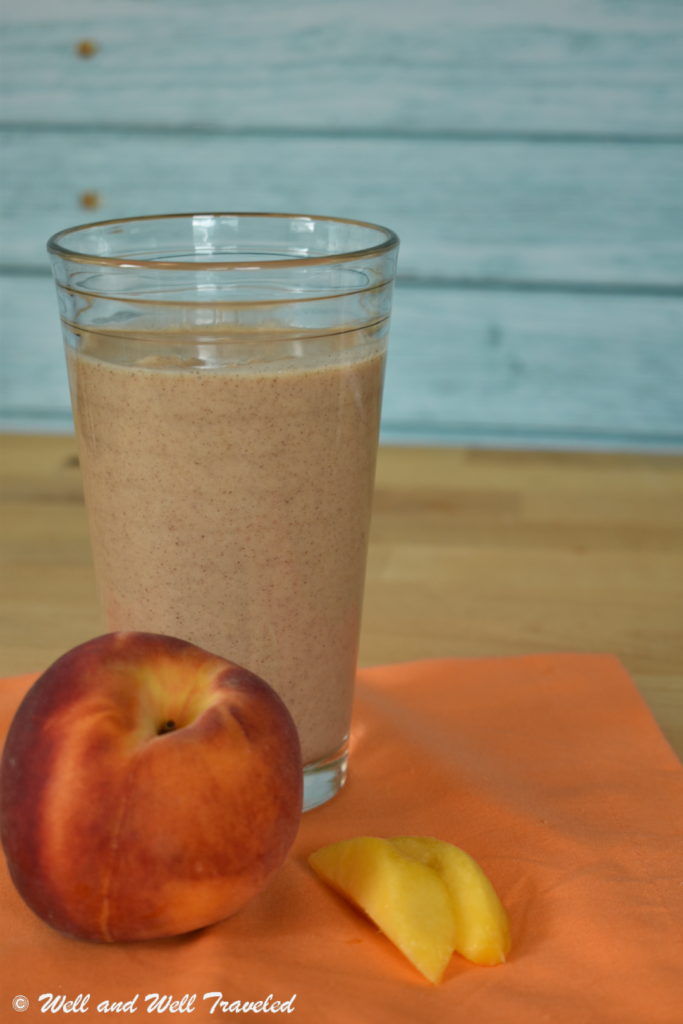 Servings for this Dairy-Free Peach Smoothie:
This recipe has been written to serve one person. Feel free to multiply the recipe if everyone in your party wants to partake!
Almond Milk- I chose almond milk, but you're welcome to pick a different dairy-free milk. This adds the needed liquid to the smoothie. Cashew milk or oat milk may be an option, depending on your dietary restrictions.
---
Looking for another great summer drink? Try our Fresh Paleo Strawberry Lemonade!
---
And now for the recipe!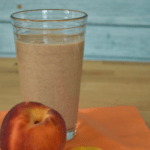 Print Recipe
Simple and Healthy Peaches and Cream Smoothie (Dairy-Free and Paleo)
Ingredients
1.5

peaches (peeled, pitted, and chopped)

1

can

coconut milk

1

tsp

cinnamon

2

tsp

maple syrup

½

cup

almond milk (or another dairy-free milk)
Instructions
Combine the peaches, 9 tbsp of the thickest part of the coconut milk (at the top of the can when first opened), cinnamon, maple syrup, and almond milk in a high-powered blender and blend until smooth

Let chill in the fridge or freezer until ready to serve.
Notes
You could substitute the maple syrup for honey.
To make it colder faster, reduce the dairy-free milk and add ice.
This deliciously creamy dairy free peach smoothie is completely void of dairy! It's great for a summer treat when peaches are in abundance. Hope you love it as much as I do!
Like It? Pin It!