Mistico Arenal Hanging Bridges | La Fortuna, Costa Rica
Mistico Arenal Hanging Bridges might possibly be the best place in all of Costa Rica to experience the country's unique ecosystem and capture breathtaking volcanic scenic views.
As you will see, there is so much to see and do at Mistico Hanging Bridges.
Want to experience the amazing views of Arenal Volcano while also experiencing the diversity of the Costa Rican rainforest? Then Mistico Arenal Hanging Bridges is the place for you!
Mistico Arenal Hanging Bridges was by far our favorite activity in the entirety of our one week in Costa Rica! Soon you'll understand why!
How Much Does Mistico Arenal Hanging Bridges Cost?
At the time of writing this post, it costs $28 for adults, $18 for teens, and $23 for seniors to visit the hanging bridges. Children are free.
I can attest that that money will be very well spent!
In fact, if you can swing the additional cost, sign up for the guided tours! The tour guides are so knowledgeable and point out things solo visitors would likely miss.
Arenal Hanging Bridges Path
There is one main trail through Arenal Hanging Bridges.
Not only can visitors see the volcano while on some of the hanging bridges, but they will surely see more species of plants and animals than one could ever count!
The Hanging Bridges Garden
The Hanging Bridges path begins with a beautiful garden. Rufous Garden holds various species of flora, a waterfall, and a bee pollinator hotel.
The Hanging Bridges Trail
Upon leaving the garden, visitors head down the trail into the dense forest. While there are some steep sections of the trail, overall the path is pretty easily navigatable.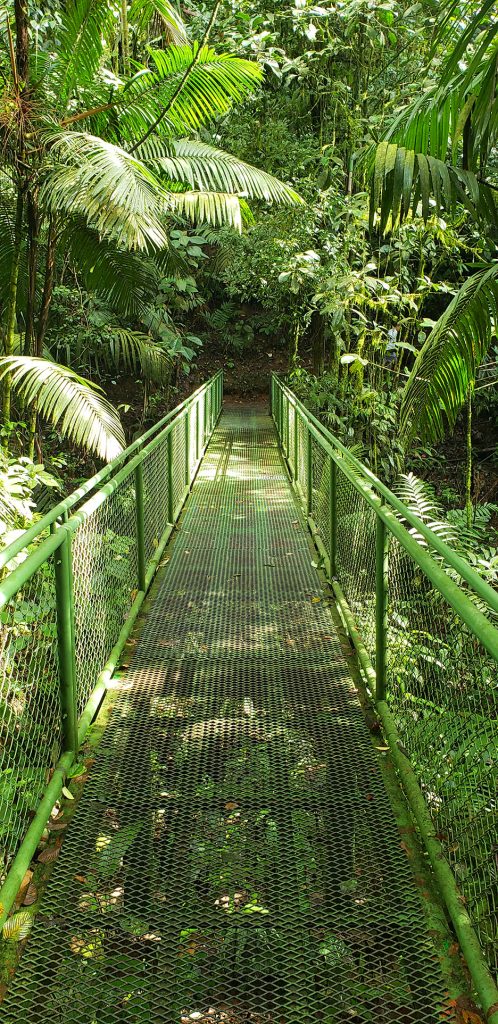 Visitors will trek over 16 bridges (6 hanging bridges), through a tunnel, and past a few waterfalls.
The Hanging Bridges
There are 6 hanging bridges on the trail. While there are a few bridges that are under 100ft long, all of the hanging bridges are considerably long at 150-300ft in length. They hang between 69 and 148ft in the air.
While the hanging bridges can be a bit intimidating, when we visited, we saw some of our most memorable animals on the highest bridges! Read further down for our account of the monkeys and a baby viper!
There were also employees stationed at each hanging bridge to help with crowd control. They would tell us when to go to prevent too many people on the bridge at one time (which greatly reduced the rocking on the bridges!)
Additionally, you can take some great photos on the bridges! We took this one of the mountains, though you can get some of Arenal Volcano on other bridges.
Arenal Hanging Bridges Flora and Fauna
Flora
We saw some amazing flowers in the garden at the beginning of the trail. As we progressed down the trail, there was more and more vegetation but less color (other than green!).
In the garden, we saw Heliconia psittacorum, an Alpinia Tropical Flower, Shampoo Ginger plants, and more. In the dense forest, we saw many more trees, mushrooms, and moss.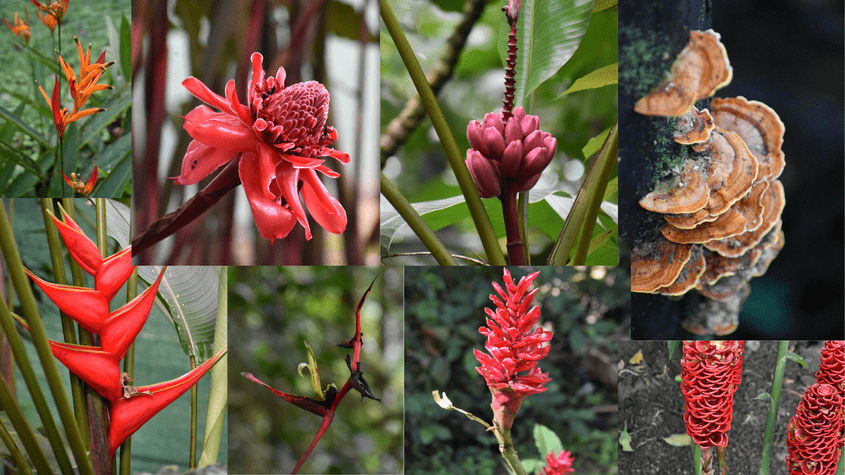 Fauna
We were amazed at how many animals we saw on our trek through Mistico Arenal Hanging Bridges!
Early on we saw several coatimundis (coatis) hunting for food on the ground. They were so cute(!), but you can definitely tell they are a member of the raccoon family! LOL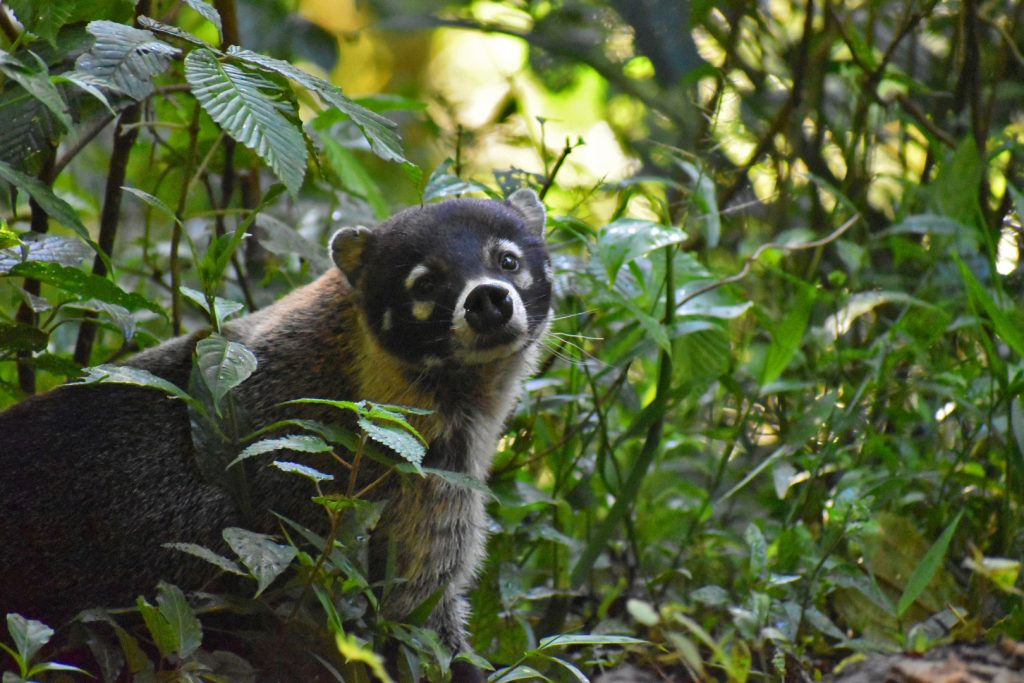 On Arenal Bridge, which suspends 147 ft in the air, we saw monkeys swinging in the trees just 8 feet or so away from us. There was even a baby monkey peeking around the leaves to watch us!
On Waterfall Bridge, which suspends 148 ft in the air, we saw a baby viper on a tree only 2 ft away from us! We actually stayed to the opposite side of the bridge as much as possible while passing to hopefully prevent him from striking at us!
(Baby vipers are particularly dangerous because they don't know how to control their venom. We did not want to get too close!)
We also saw a few other snakes, birds, spiders, insects, and more.
Note: We arrived around 9am and spent 3 hours there. I'm not sure if the time influenced our ability to see so many animals or not, but I thought it might be worth sharing!
Arenal Hanging Bridges View of Arenal Volcano
While you can get some pretty spectacular views of Arenal Volcano on Arenal Bridge (pictured above), the best views of the volcano can be captured from the viewing area at the visitor's center and the restaurant next door upon arrival.
We enjoyed snapping a few photos before and a few after our hike. The clouds hid the volcano from view on our first attempt, so it was nice to snap a few more after the hike!

Note: There is also a photo opportunity just off of the parking lot at Mistico Hanging Bridges. The view from there is in our featured image at the top of this post.
Arenal Hanging Bridges Restaurant
There is also a restaurant on the property (to the right in the picture above). Unfortunately, we did not peek our heads in to look at the menu because we were rushing to get to the sloth tour! (Check out a full list of things to do in La Fortuna, Costa Rica here!)
But we did not notice that the restaurant, compared to everywhere else on the Hanging Bridges property, gets the best views of the volcano. If you're looking to relax with some amazing views out the window, consider Arenal Hanging Bridges restaurant!
Would Kids Enjoy the Hanging Bridges?
Yes! Even the young kids around us were loving spotting animals just off the trail. And they will definitely enjoy it more if you pay for a guided tour where more animals are pointed out!
As long as they can handle two miles of walking with a few steep inclines (nothing major) and some steps, they'll be fine! Or you can always use a child carrier hiking backpack for little ones!
Any Tips for Arenal Hanging Bridges?
Here are a few…
There are no bathrooms available once you head out on the trail. Be prepared!
Take your time on the trail. There is so much to see! The slower you go and the more observant you are, the more you'll get out of the experience!
There was a coconut water stand just outside of the property, right before reaching I-142 (by the Lake Arenal Dam). I LOVE fresh coconut water and was so excited to get some after a hot and humid hike! If you've never drank coconut water out of a coconut, you should definitely check this place out!
Summary of Arenal Hanging Bridges
If you only have time for one activity in La Fortuna, Costa Rica, make Mistico Arenal Hanging Bridges that activity! This two-mile walk will give you a chance to view Arenal Volcano, see more flora and fauna than you could ever imagine, and experience the biodiversity of the beautiful country of Costa Rica!