Make a Gluten-Free and Dairy-Free Thanksgiving Meal While Traveling
Updated October 2023
Traveling while gluten-free and dairy-free is no easy task, especially during a holiday like Thanksgiving! Here's how we made a delicious Thanksgiving meal at a rental home with few ingredients!
Kaleb and I got married the Friday before Thanksgiving. We flew out 2 days later for Miami and stayed in the Florida Keys for a few days and Ft. Lauderdale for a few more.
While I packed snacks and some breakfast items for us, we knew we'd be headed to a few grocery stores along the way. The flight made it impossible to pack too much.
Unfortunately, due to a very late arrival at our Airbnb in Ft. Lauderdale (and the fact that we had stayed in a hotel our previous days and therefore hadn't collected cooking ingredients prior to this), we spent Thanksgiving morning at the grocery store.
How Did We Make a Gluten-Free and Dairy-Free Thanksgiving Meal While Traveling?
We ran to the grocery store in Ft. Lauderdale and grabbed only 14 ingredients for a full Thanksgiving meal!…
ham
Brussels sprouts
bacon
maple syrup
olive oil
red potatoes
fruit
eggs
pumpkin puree
full-fat coconut milk
arrowroot powder
vanilla extract
pumpkin pie spice
gluten-free pie crust (I would have LOVED for that pie crust to be grain-free, but I was on a tight budget and a time
Within a few hours, we had glazed ham, brussels sprouts with maple syrup bacon jam, fried potatoes, fruit medley, and a pumpkin pie! It was delicious.
---
*This post contains affiliate links. We may earn from qualifying purchases when you click on the links. This is at no cost to you.
---
The Brussel Sprouts
The roasted Brussels sprouts with bacon jam recipe came from one of my all-time favorite cookbooks called Celebrations by Danielle Walker. If you don't know about her Against the Grain cookbooks, you have to check them out! The Celebrations cookbook is organized by holidays with such delicious recipes you'll be making them all year round! We've actually made the recipe so many times that we didn't need to reference it at all.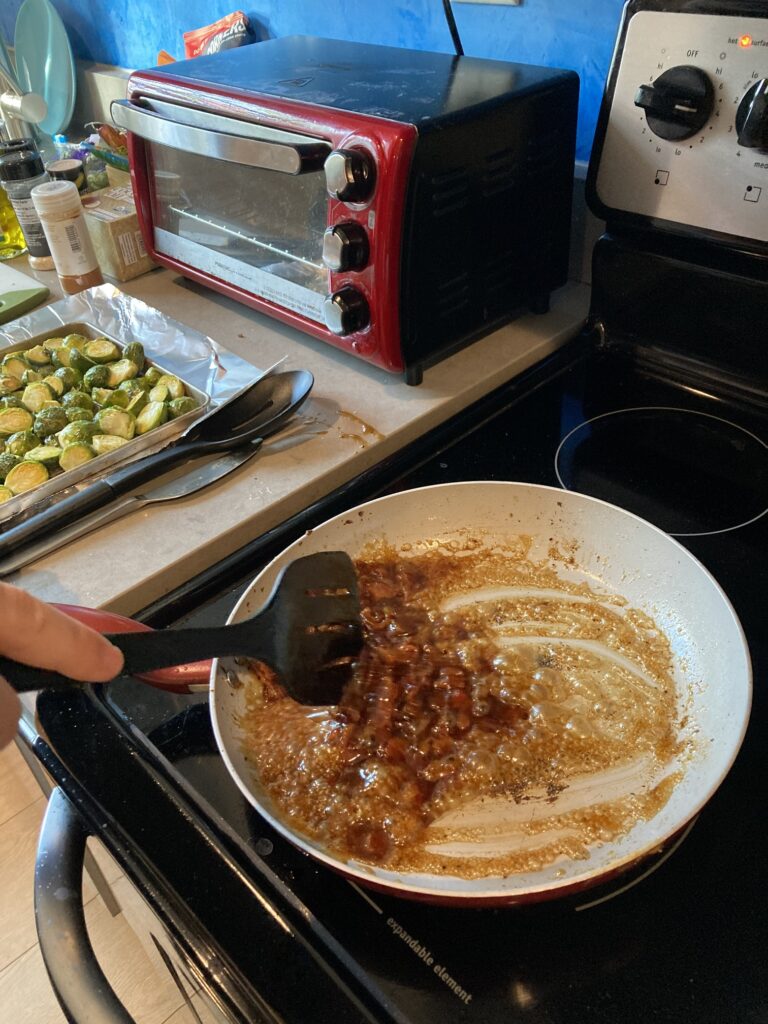 My goal is always to reduce and reuse ingredients, so the bacon was also a part of our breakfasts for the next few days, and we chose to make both the Brussels sprouts and the pumpkin filling with only maple syrup and forgo the coconut sugar to reduce ingredients.
The Gluten-Free and Dairy-Free Pumpkin Pie for our Thanksgiving Meal
I used this pumpkin pie filling recipe from the blog The Banana Diaries. It had very few ingredients and yet didn't use dairy, gluten, corn, or soy (which I try to stay away from). I didn't make the crust in this post, but it looks to be pretty simple! I also replaced the coconut sugar with more maple syrup to reduce the number of ingredients bought on the road.
Additionally, the spices, vanilla extract, and arrowroot powder did make the 1000+ mile flight back with us to Indiana. I have since learned to plan ahead and pack the essentials so we don't have to re-buy!
Cooking with gluten-free and dairy-free while traveling is definitely a learning process! I know lots of people with food restrictions who throw their hands up in the air and choose not to travel. I'm here to say it IS possible. It just takes planning. You got this! I'm here to help!
There are simple steps you can take to make traveling with food allergies enjoyable! One of our tips is to reuse ingredients as often as possible. If you are making a Thanksgiving meal with turkey, check out this Paleo-Friendly Turkey, Cranberry, Apple Salad to use up your leftover turkey! Never let an ingredient go to waste if you don't have to!
---