Amazing Gluten-Free Bake Me Happy Bakery in Columbus, OH (with Dairy-Free Options!)
Bake Me Happy Bakery might just be the best gluten-free bakery in the Midwest. It's definitely the best I've found so far! Located in Columbus, OH, Bake Me Happy is a 100% gluten-free bakery that also sells several vegan and dairy-free baked goods. And they sell absolutely delicious, melt-in-your-mouth, cookies, brownies, muffins, and more!
My husband and I have been through Columbus, OH more times than I can count. Living in Indianapolis, we go through Columbus, OH pretty much any time we are headed to the east.
Just this year we made two trips through Columbus, one to Cleveland (where we found a donut shop selling delicious gluten-free and dairy-free donuts!) and one to Hocking Hills State Park (for some amazing camping and hiking!).
We've found the best gluten-free and dairy-free restaurants in Columbus, OH. And we've found this great bakery!
We've now been to Bake Me Happy Bakery twice. Both times we were thoroughly impressed!
What Gluten-Free Baked Goods Are at Bake Me Happy Bakery?
Bake Me Happy has dozens of gluten-free baked goods! Everything at Bake Me Happy is 100% gluten-free!
Upon arrival on our first trip, there was a customer in the store who said she had Celiac Disease and lived out of state. She said every time she comes to Columbus, OH to visit her friend, they have to drop by Bake Me Happy Bakery. That alone tells me the food is amazing!
When we visited, they were selling the following gluten-free-only (not dairy-free as well) baked goods…
donut muffins
oatmeal cream clouds
zebra cakes (which were recommended by a customer when we were there)
coffee cake muffins
But there were a lot more gluten-free AND dairy-free baked goods I list below.
While I am gluten and dairy-free, my husband can eat both. Both times, he decided to order a few gluten-free but not dairy-free items. He said his favorite was the donut muffins. They were fluffy and had great flavor. He said he'd be happy in any bakery to eat that, not just a gluten-free one!
He also tried the zebra cake and said anyone who likes white chocolate would love it.
What Dairy-Free Baked Goods Are at Bake Me Happy?
As stated above, everything at Bake Me Happy is gluten-free. But I am gluten-free AND dairy-free, so this is the list of what I had available to me when we visited Bake Me Happy Bakery in late September and early October.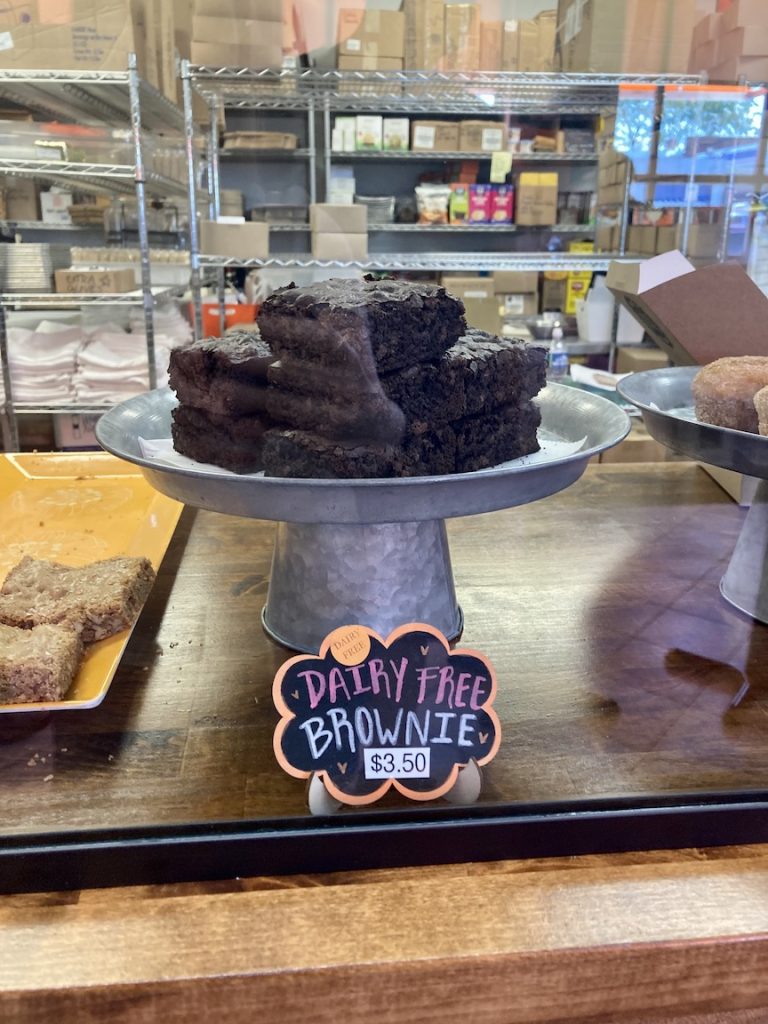 brownies
blondies
poppyseed muffins
morning glory muffins
vegan snickerdoodle cookies
cakies (cake cookies)
hot chocolate-flavored brookies (brownie cookies)
rice crispy treats
By far my favorite was the cakies!
I used to love those Lofthouse soft vanilla cookies with the flavored icing and sprinkles decorated for each holiday. Honestly, I have craved them many times since restricting my diet.
But those cakies make up for every single time I've enviously watched others go for the Lofthouse cookies! They were amazing!
The cakies were seasonally flavored apple cinnamon.
Do Bake Me Happy's Cookies and Muffins Taste Different Because They Are Gluten-Free?
There is definitely a difference in taste and texture with baked goods sometimes. But the crazy part was these tasted like we'd walked into a regular bakery! No, they did not taste different than non-gluten-free baked goods!
It would not surprise me if lots of customers in Columbus, OH regularly go to this bakery and yet don't have any food allergies at all! The food was just that good!
In fact, my husband even said he would have never known these were from a gluten-free bakery if he hadn't come with me to pick them out! That's how delicious they were!
Even More Options!
The bakery also serves tea and coffee with dairy-free milk options.
But that's not all! Bake Me Happy also has a section in their store off to the side with all of their premade items, everything from baked goods they have prepackaged to Sonny Marie's hot dog buns, oatmeal packs, and boxed gluten-free snacks. A gluten-free person's dream! Several were also dairy-free.
Thoroughly Impressed With Bake Me Happy
Bake Me Happy owners and employees are truly sharing their love for baking delicious goods not only with the gluten-free community but with the world!
Anyone who follows a dairy-free and gluten-free diet (or not!) should not pass through Columbus, OH without checking out Bake Me Happy Bakery located in downtown Columbus.