Campbell Cove Campground Review: Tent Camping on Lake Logan (Ohio)
Campbell Cove Campground is among the best places to stay in Logan, Ohio. Those tent camping and wishing to enjoy Hocking Hills State Park and Lake Logan Ohio, look no further! While every campground has its challenges, this campground has very few. This is our Campbell Cove Campground Review!
My husband Kaleb and I were fortunate enough to tent camp at Campbell Cove Campground recently. We were so excited to relax and enjoy views of the water when we weren't hiking the beautiful trails in the area.
The campground is beautiful and perfect for tent campers. As with any campground, there are areas that could be improved. But overall this Campbell Cove Campground review is very positive!
Where is Campbell Cove Campground?
Campbell Cove Campground is in Logan, OH, a little less than 1 hour southeast of Columbus, OH. It is on beautiful Lake Logan where visitors can enjoy boating, sailing, kayaking, fishing, and more at Lake Logan State Park.
Hocking Hills State Park in Logan, Ohio
One of the best things to do around Campbell Cove Campground is hiking the many spectacular trails at Hocking Hills State Park also in Logan, OH.
Voted in the top 50 places in the world to visit in 2023 by Forbes, Hocking Hills State Park has waterfalls, cliffs, gorges, and a plethora of spectacular hiking trails. With 59 miles of captivating views, it's not surprising visitors come from all over the nation to experience Hocking State Forest and Hocking Hills State Park in Logan, OH.
What Does Campbell Cove Have to Offer? A Campbell Cove Campground Review
Kaleb and I were very impressed with all that Campbell Cove has to offer. Here's our Campbell Cove Campground review!
Review of the Location of Campbell Cove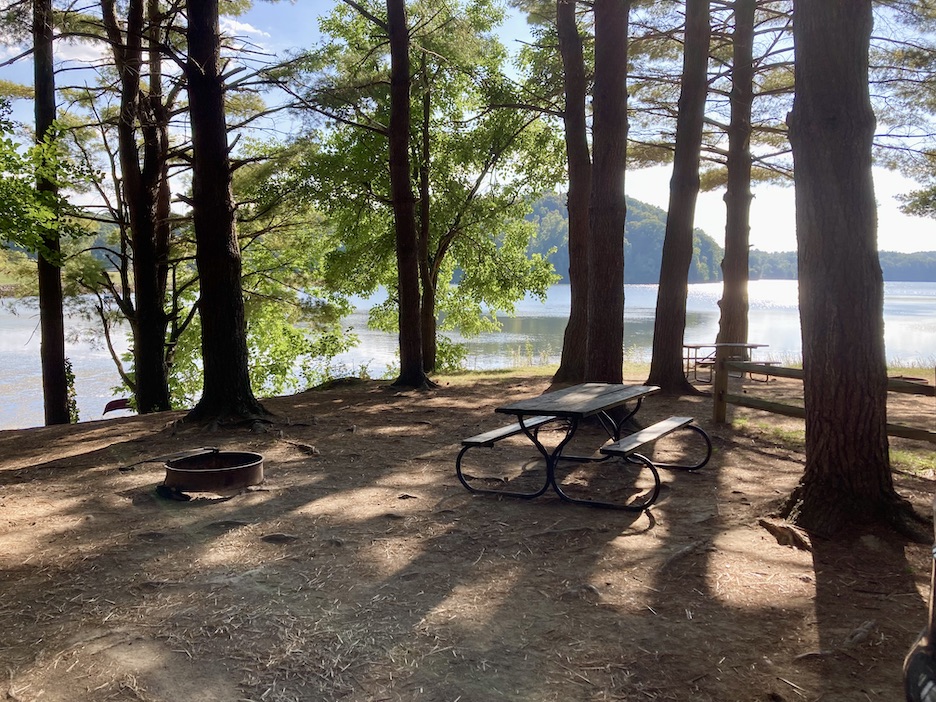 As mentioned above, Campbell Cove is on beautiful Lake Logan Ohio. This means visitors can enjoy the views of the water and even try a few activities on the water.
However, this also means it is not very close to Hocking Hills State Park. In fact, the drive from the visitors center to Campbell Cove Campground is 17 minutes down winding roads.
Fortunately, it is in Logan, OH, the best place in the area for camping supplies and restaurants.
Review of Tent Camping Spots
While Campbell Cove does have RV camping spots and even seasonal camping spots, the best camping sites by far were for tent campers! (I know that's hardly ever the case!)
Here's why we love the tent camping spots and the campground as a whole!
Lakeside tent camping spots! A majority of tent camping spots are close to the water with great views of Lake Logan. RV sites are not as lucky!
The camp spots were, for the most part, flat and on even ground, making it easy to pitch a level tent.
The bathhouses are nice! They are somewhat newly renovated.
Firewood is very reasonably priced at $6 per bundle.
Ice is also available at the camp store.
The wifi is phenomenal! We were camping far from the front office and had perfect internet at all times of the day!
Review of Activities Available
Campbell Cove's front office has a camp store in addition to several great activities for the family including…
A mining sluice- This is very small but may be fun for young children
Arcade- We didn't see anyone using the game room, but it looked nice!
Ping pong table- We enjoyed playing ping pong on their beautiful back porch!
Large Playground- Very popular whenever we went by!
Jump Pad- This was also popular at all times of the day.
Ice Cream Shop- About 10 different flavored bins of ice cream are available at the front office!
A wormburner park golf course (for a small additional fee)- This is actually the 2nd course for this type of golf in the nation! It was a sunny, flat course, but still looked like fun!
Not far from the front office is a small pond with a beach divided into two sections… one for fishing and one for swimming. This area was definitely less busy. We saw only one family all weekend enjoying the beach and two different families all weekend fishing.
Visitors can also rent a golf cart from the campground to enjoy all that the campground has to offer.
Campbell Cove Campground's Nearby Restaurants
Oasis at Campbell Cove Campground Review
Campbell Cove Campground actually has a food truck (camper turned into a food truck) called Oasis Coffee Shop on site. Oasis sells several different coffees, smoothies, muffins, brownies, and more. However, we had lots of trouble trying Oasis.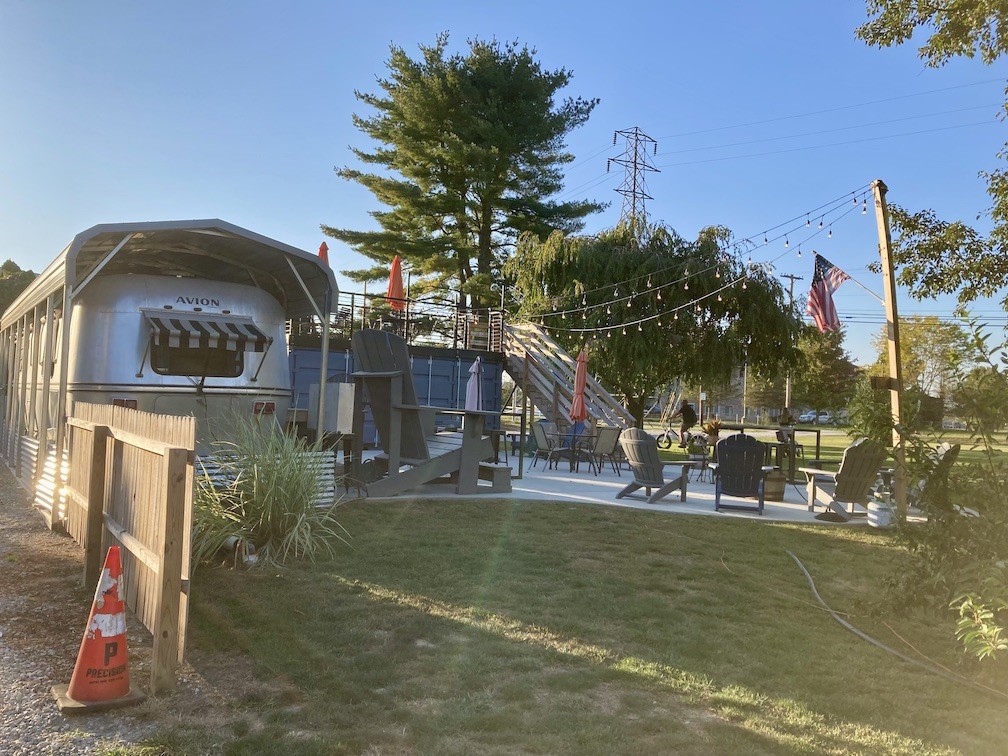 The first time we went by just after they closed. We were hoping to ask the owner if they had dairy-free milk for coffee to know if this was an option for us the next morning, but he was not interested in making eyesight with us and opening his window to discuss. Considering the circumstances, we understood.
We then tried again at 7:20am the next morning. Though the sign said Oasis opened at 7am, they were not open. No one was parked or inside to take orders.
We didn't even try walking over the following morning.
We were disappointed. We saw they had a gluten-free option and hoped to get a muffin and coffee to go. Hopefully, others have better luck. The seating area looks very inviting!
Campbell Cove Campground Review of Restaurants in the Area
We loved that we could walk from our campsite to the restaurants across the street! It was only a 2-lane road, so I think families could easily cross safely.
Here are the restaurants across the street from Campbell Cove Campground:
Dairy-Free and Gluten-Free Restaurants in Logan, OH
Those who follow this blog know that I try to share my experiences with gluten-free and dairy-free food options as we travel.
Honestly, in all of the Hocking Hills area (Logan, OH, and beyond), I only found one restaurant that had dairy-free and gluten-free options. It just so happened to be across the street from the campground and is listed above!… Millstone Southern BBQ.
We tried them out while tent camping. Millstone BBQ has several meat items listed as gluten-free. The challenge was finding gluten-free and dairy-free sides to eat with the BBQ. Even the broccoli has dairy added. I ended up getting baked beans and a baked potato.
There are great gluten-free and dairy-free restaurants in Columbus, OH including Millstone BBQ. Or you could always make your own Paleo camping meals!
Things to Note About Campbell Cove Campground and Logan, OH
Here are a few things worth noting…
If you don't have a tent or an RV, try one of Campbell Cove's cabins or tiny homes also available at the park. Though they do not have great views like the tent spots do, I believe they are all air-conditioned. The cabins are also located reasonably close to the bathhouses, which would be helpful, as they do not have bathrooms in the cabins.
Logan, OH is a pretty rural area. There is a Walmart and Kroger grocery store but that's about it for large stores. We realized we had left our bear spray at home and hoped to grab another one, but we opted to forget about it after seeing how few options we had. Also, I really wanted Starbucks coffee one morning. There is no Starbucks in the area other than one in Kroger. I waited more than 30 minutes due to a long line of other coffee lovers.
Downtown Logan, OH has very little to offer. The downtown area was a ghost town on a Saturday night when we drove through.
Campbell Cove Campground Review Pros and Cons
Probably the most noteworthy pro of staying at Campbell Cove is the number of activities available to families camping at their facility. Additionally, the views from most of the sites are beautiful! The best views, by far, are available to tent campers.
As far as areas for improvement, Oasis Coffee Shop would benefit from having clear business hours for all Campbell Cove guests. Visitors see the food truck on the map and expect it to be opened when advertised, but we did not find that to be the case. Hopefully, we just came at a bad time.
Otherwise, the only other disadvantage is Campbell Cove's distance from Hocking Hills. The drive from Hocking Hills State Park is a bit long. But the benefits of being close to the water make the drive to the campground worth it.
Campbell Cove Campground Review Summary
Overall, Campbell Cove Campground in Logan, OH is great! It is perfect for tent camping due to the amenities, activities, and scenic views from the campground. There are even great restaurants close by. But there are definitely disadvantages like fewer businesses available in Logan, OH, a further distance to Hocking Hills State Park, and the disappointments we experienced with Oasis Coffee Shop on site. All in all, though, we found tent camping at Campbell Cove Campground to be a wonderful experience!