Bigmouth Donuts in Cleveland, OH: Gluten-Free and Dairy-Free Restaurant Review
Bigmouth Donuts in Cleveland, OH just made my day with their delicious gluten-free and dairy-free donuts!
Those of us who follow a gluten-free and dairy-free diet know how hard it can be to get a donut at all… let alone a good donut!
My husband and I live in Indiana. We recently were in Cleveland, OH visiting family and checking out the Cleveland Zoo. We decided to drop into Bigmouth Donuts for some dairy-free and gluten-free donuts.
Wow! Bigmouth Donuts blew us away!
Where is Bigmouth Donuts?
Bigmouth Donuts is actually in Rocky River, a charming town just outside of Cleveland, OH along Lake Erie. Rocky River's eclectic and yet up-and-coming vibe drew us in right away! A tavern across the street from Bigmouth Donuts has taken up shop in an old movie theater. The inviting restaurants and boutiques lined the streets downtown. The town was even hosting an art festival down the street. It definitely felt like a cute, small town within a big city!
What is the Vibe at Bigmouth Donuts?
I definitely got the coffee shop vibe! Though they only seem to sell basic coffee drinks, the big couch up front, the fun artwork on the brick walls, and the old wooden donut display all made me feel like we'd walked into a cozy coffee shop on a brisk fall day! My favorite!
The staff were also really friendly, eager to help, and suggested great donut options.
Gluten-Free and Dairy-Free Donuts at Bigmouth Donuts in Cleveland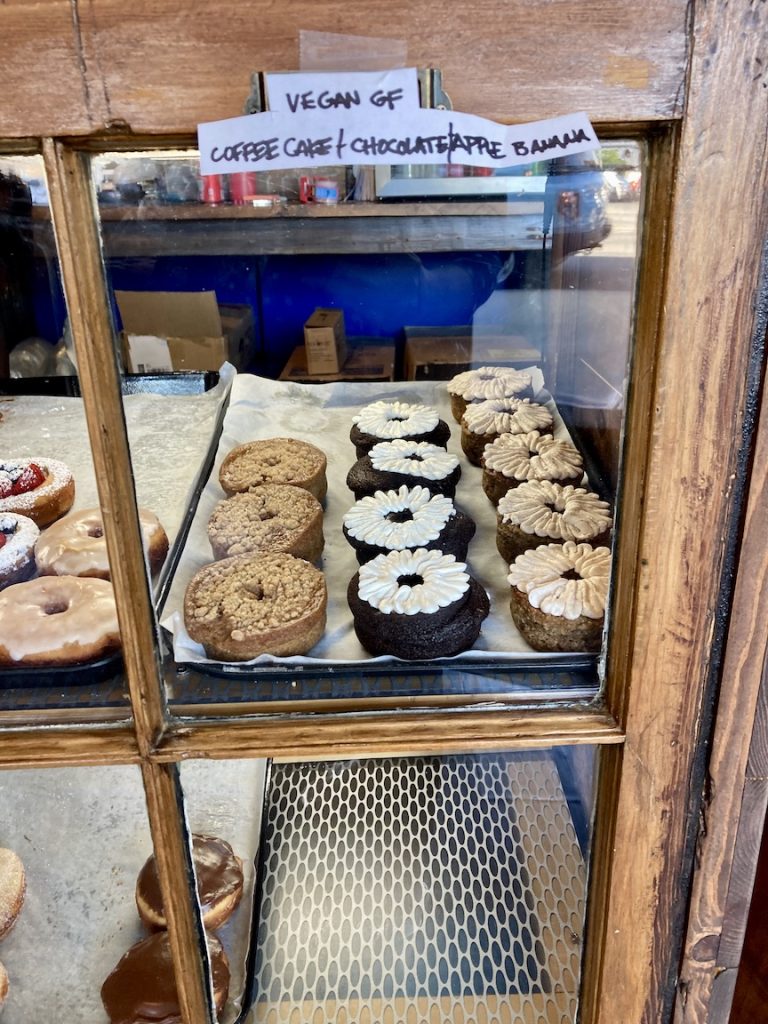 Okay, let's talk donuts!
Bigmouth Donuts had several gluten-free donut options. There were maybe 7 gluten-free options, three of which were also vegan.
Gluten-Free Donut Options (Not Dairy-Free)
Bigmouth Donuts in Cleveland had probably 10 gluten-free donut options, many of which were the same flavorings as the regular donuts, such as chocolate frosted or cream-filled.
The gluten-free donuts were separated from the regular donuts to prevent cross-contamination… something I very much appreciate!
Gluten-Free and Vegan Donut Options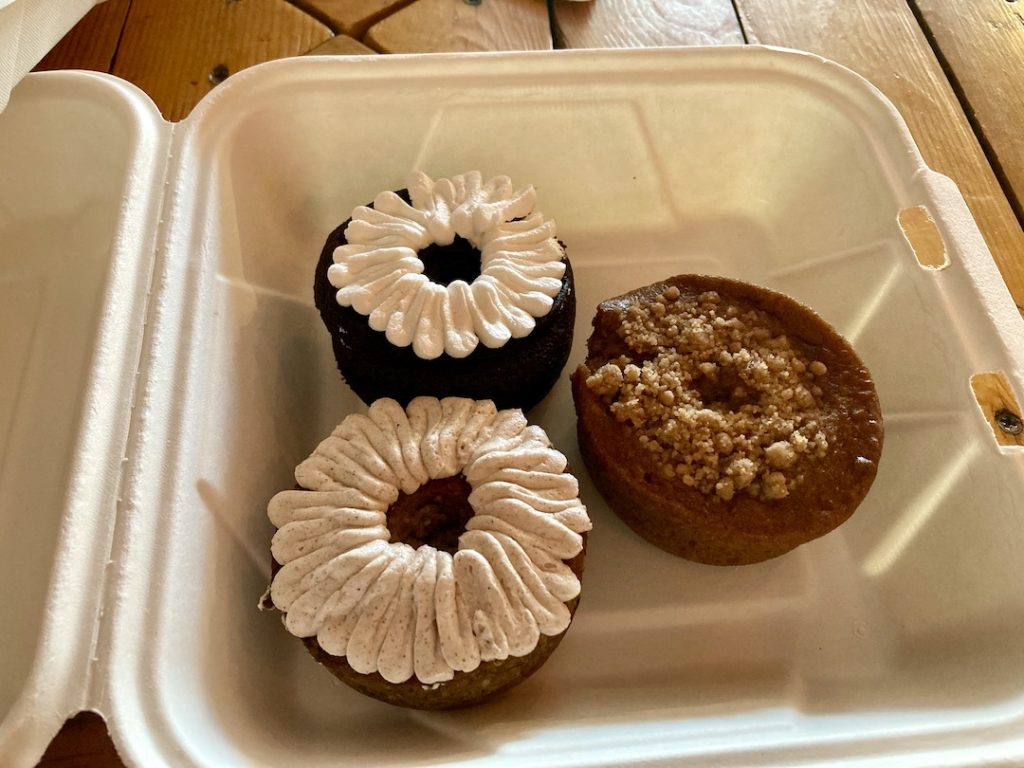 When we visited, Bigmouth Donuts had three gluten-free and vegan donut options. Two of them had a whipped frosting on top. They said it was made with whipped buttercream and maple syrup. I'm guessing these flavors change seasonally, but hopefully, this will give you a better idea of their offerings.
Coffee Cake Donut (pictured above on the right): This was my favorite based on flavor!
Chocolate Donut with Vanilla Frosting (pictured above at the top): If you love Oreos, this is the donut for you! It tasted a lot like an Oreo! It was also the "fluffiest" of the three choices, more resembling a regular donut.
Apple Banana Donut (pictured above on the bottom): This one reminded me of banana bread with pieces of apple and oats in it. I wasn't so sure about it when I ordered, but was glad I decided to get it. I feel like it was more of a breakfast muffin than a donut. Still tasted great though!
ANY Donut Can Be Gluten-Free?!!
The guy behind the counter DID tell me that, if we give them 4-5 hours' notice, they can take ANY of the regular donut flavors and make them gluten-free!!!
I was so excited by the prospect of getting any of them gluten-free next time we're in town that I forgot to make sure they could make them all dairy-free as well!
My guess is donuts like the (highly coveted!) apple cider donut could easily be made dairy-free. They likely are dairy-free in nature. But the cream-filled ones may be too challenging. If anyone here tries ordering a custom donut gluten-free AND dairy-free, comment below and let us know how it went!
Our Experience with Bigmouth Donuts in Cleveland, OH
My Gluten-Free and Dairy-Free Donuts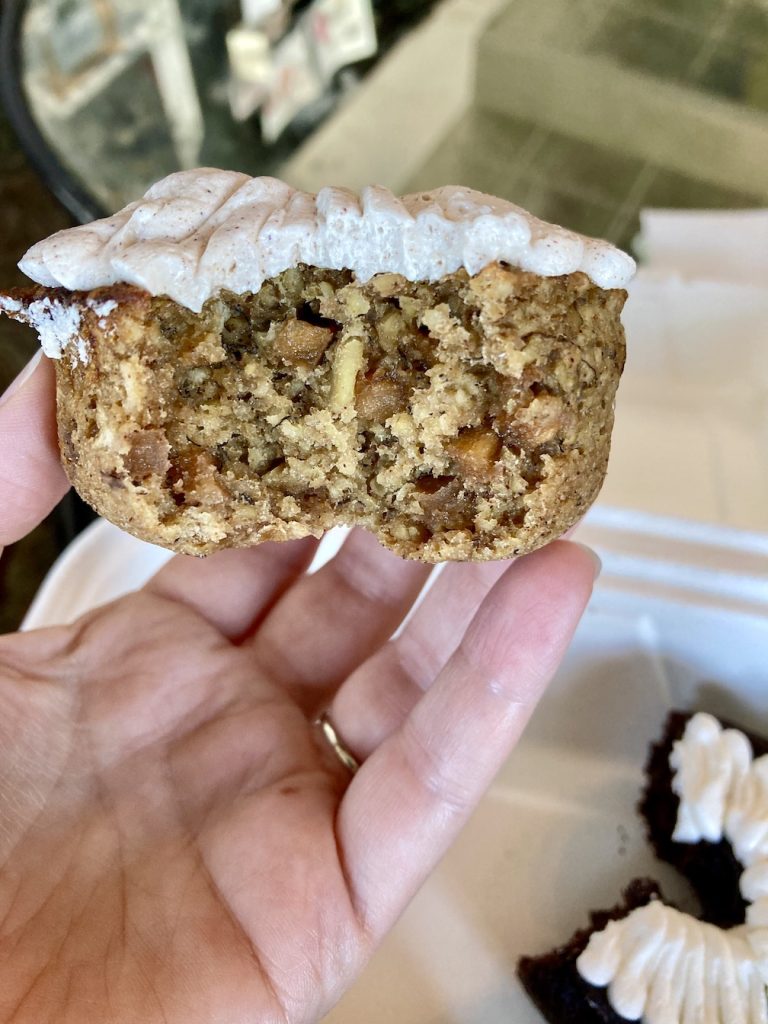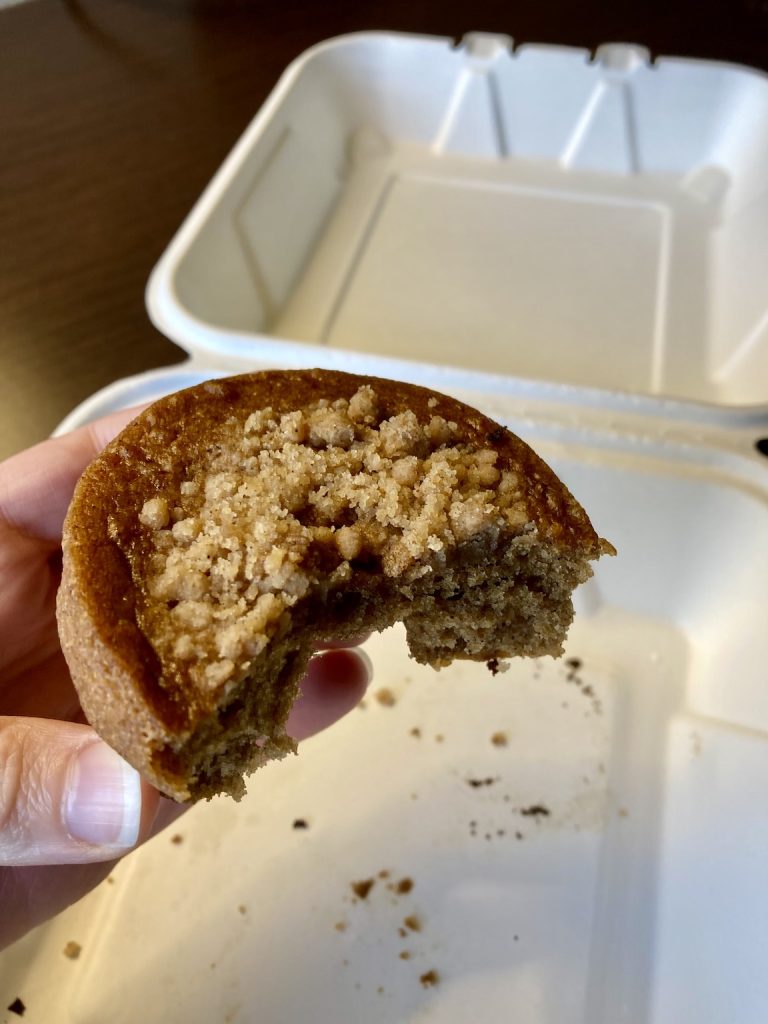 We loved Bigmouth Donuts! The donut shop was cozy and inviting. And it was so nice to have some choices for allergy-safe donuts!
We ordered half a dozen donuts for around $20. Kaleb got three regular donuts, and I got the three dairy-free and gluten-free donuts (in a separate box).
My donuts were very dense but also soft. I've learned it's hard to get a dairy-free and gluten-free donut that's soft! But these definitely were!
Most great donuts I've had in Indy have regular frosting, but I loved the whipped frosting on the chocolate and banana apple donut the best! It was to die for!.. very light and creamy and not too sweet! My favorite flavor of donut was the coffee cake. If only I could have gotten that one with the whipped frosting! (But then I guess it wouldn't have tasted like coffee cake!)
My Husband's Regular Donuts
My husband ordered the regular donuts pictured above on the right… one lemon, one berry-filled, and one cookies and cream.
His favorite was the cookies-and-cream donut, though the staff said the berry-filled donut is very popular.
He also loved the lemon. If you do decide to get the lemon made gluten-free, know that it has a strong lemon flavor!
Other Gluten-Free and Dairy-Free Restaurants Nearby
If you are traveling through Cleveland, perhaps on a Chicago to DC Road Trip, and follow a gluten-free and dairy-free diet, you may want more than donuts!
I cannot attest to the following restaurants and cafes. However, they would be worth checking out, as they are in close proximity to Bigmouth Donuts in Cleveland and have gluten-free and dairy-free menu options!
Propaganda Coffee: Bigmouth Donut Company doesn't seem to have a lot of coffee options, but Propaganda's got you covered. Propaganda Coffee is a vegan and gluten-free coffee shop. (I did not see any baked goods for sale when we visited). And it's only 3 minutes away!
First Watch: Good option for a gluten-free and dairy-free breakfast! However, I know some people who have not felt like First Watch took their allergies seriously enough. Always share your allergies with the waitstaff and be willing to leave if you do not feel heard. First Watch can be a great option if they are careful with your order. And it's just across the street from Bigmouth Donuts!
Mellow Mushroom: Gluten-free and dairy-free pizza! And it's just a few businesses down from Bigmouth Donuts!
Summary of Bigmouth Donuts in Cleveland
Bigmouth Donuts in Cleveland, OH is a charming and inviting donut shop perfect for gluten-free and dairy-free individuals. Bigmouth Donut Company not only has delicious donuts available for purchase at a moment's notice but also can make several regular donut flavors gluten-free with advanced notice. Their gluten-free and dairy-free donut options are incomparable!