Visiting Arenal Volcano in La Fortuna | Costa Rica
Costa Rica boasts some of the most spectacular volcanoes in the world. Visitors from all over the globe come to see Costa Rica's 60+ volcanos and experience the culture, flora, and fauna surrounding them. But Arenal Volcano in La Fortuna, Costa Rica continues to draw more guests than any other volcano… and for good reason! If you're considering visiting Arenal Volcano and its surrounding attractions in Costa Rica, this post is for you!
Arenal Volcano is located in north-central Costa Rica in the province of Alajuela. It is roughly 55 miles from San Jose, the capital of Costa Rica.
My husband and I had an amazing vacation in Costa Rica, but our time around Arenal Volcano was by far our favorite part! This post will share lodging options around Arenal Volcano, highlight the history of Arenal Volcano, and provide suggestions on things to do in the area while visiting Arenal Volcano.
For a complete guide to Costa Rica in One Week, check out our post!
Where Should I Stay While Visiting Arenal Volcano in La Fortuna, Costa Rica?
There are so many hotel and resort options to choose from! However, those that follow our blog know that we have some dietary restrictions that make eating out challenging. We chose to rent an Airbnb where we could cook our own food. (This is a great tip for those traveling with food restrictions!)
We stayed in the most amazing rental home in La Fortuna! A cabin high up on a ridge with hammocks on the front porch and a BEAUTIFUL view of the volcano, this rental was phenomenal! Plus it was so quiet!
Tip: If you have food restrictions as we do, check out Organico Fortuna in downtown La Fortuna. They offer plant-based and gluten-free options. And there are a few grocery stores in town. We went to Mega Super for fruits, veggies, eggs, and meat that we could take to our rental to cook.
Other hotel and resort options include…
The Springs Resort and Spa (a luxury hotel)
Hotel Arenal Kioro Suites & Spa (a luxury hotel)
Baldi Hot Springs Hotel Resort and Spa
History of the Volcano
Costa Rica's Arenal Volcano is estimated to be around 7,000 years old, causing it to be considered a "young" volcano.
In 1968, Arenal Volcano experienced the largest eruption in hundreds of years. Due to inactivity, many locals had come to the conclusion the volcano was inactive. But on July 28, 1968, Arenal Volcano erupted with force! 87 people were killed, and 3 small villages were obliterated.
It is currently considered an active but dormant volcano. In 2010, Arena Volcano began a resting period. It has not erupted since that time.
Things To Do Near Arenal Volcano and La Fortuna
Arenal Volcano is located near La Fortuna, Costa Rica, a bustling small town with numerous activities for visitors. View the volcano while exploring the surrounding ecosystem, taking in a sloth tour, or lodging and relaxing at your hotel or rental home. There is so much to do in La Fortuna!
Hike on Lava Trails While Visiting Arenal Volcano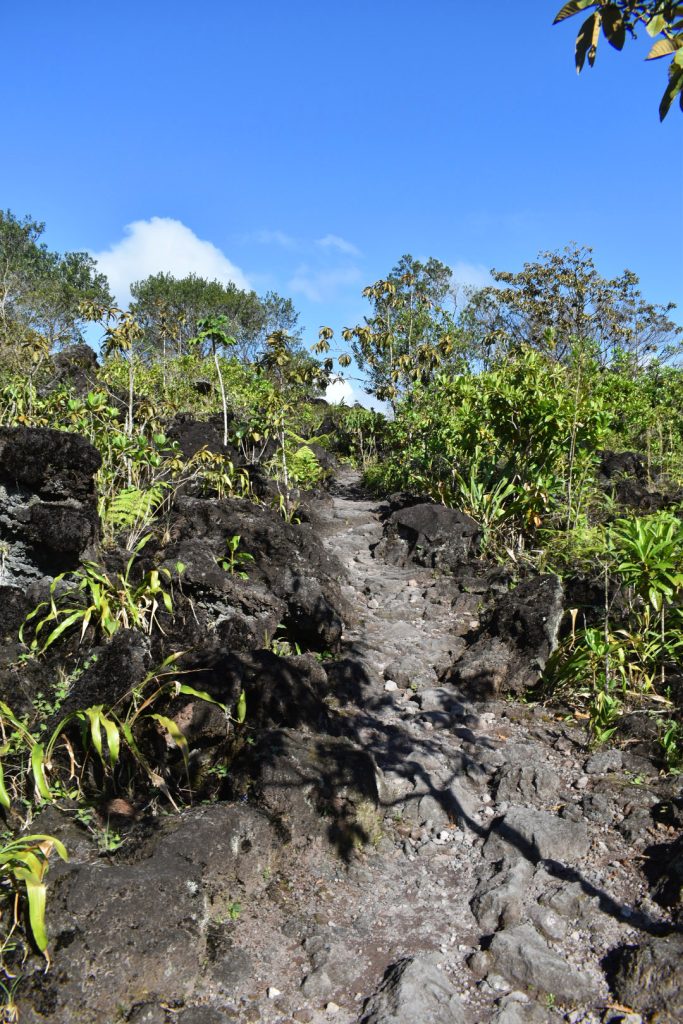 One of our favorite activities in La Fortuna was hiking the lava trails.
There is a lava trail that takes visitors on some of the paths the lava formed during its 1968 eruption. While there are trails in the national park, most visitors prefer this trail for the views of the volcano.
Hiking the Arenal 1968 Lava Trail is a fantastic experience!
We woke up early one morning to hit the trail and beat some of the heat. The trail was much rockier than we expected, but the views were amazing!
Large rocks prevent hikers from having a great footpath, so plan to wear shoes that support your ankles or move slowly on the trail. However, the rough terrain will all be worth it when you get to the lookout spot and have a completely unobstructed and beautiful view of Arenal Volcano and Lake Arenal!
Experience the Hanging Bridges While Visiting Arenal Volcano
Mistico Arenal Hanging Bridges was by far our favorite activity in Costa Rica!
The two-mile walk through the dense forest takes visitors over 16 bridges (6 hanging bridges), through a tunnel, and past a few waterfalls. We were amazed! Not only can visitors see the volcano while on some of the hanging bridges suspended in the air, but they will surely see more species of plants and animals than one could ever count!
Here were a few of our favorites…
• A baby viper resting on a tree next to the hanging bridge as we crossed
• A family of monkeys swinging from the trees as we crossed another hanging bridge
• Flowers of wide varieties, including many ginger flowers
• Mushrooms growing on the trees next to us, thanks to the high humidity of the rainforest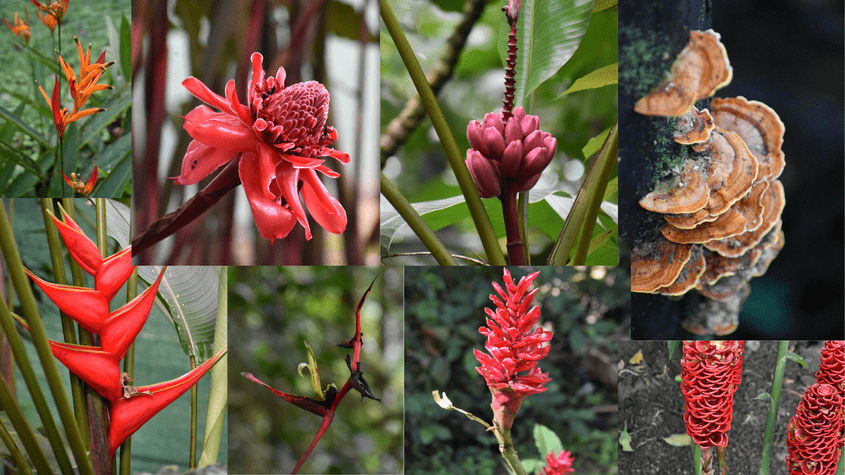 Both of the photos below were taken while hundreds of feet in the air on a hanging bridge.
To read more about our experience, check out our post on Mistico Arenal Hanging Bridges. It was truly an experience of a lifetime!
Take a Sloth Tour in La Fortuna
There are a few sloth tours to choose from in La Fortuna. We chose this Sloth Watching Trail in La Fortuna. When we arrived they told us earlier in the day they had spotted a 6 ft boa on the property and invited us to pay extra for a guide to help us find the sloths and other animals along the trail. We chose not to pay the extra fee and soon regretted our decision.
While we found several iguanas and birds along the route, we didn't see even one sloth! Because we had seen one on our coffee and chocolate tour, it did not disappoint us too badly. However, if you want to ensure you see a sloth, pay the extra for a guide!
Take a Coffee and Chocolate Tour in La Fortuna
As with the sloth tours, there are a few coffee and chocolate tours to choose from in La Fortuna, Costa Rica. We went on a tour by Don Juan Tours and were very impressed! The 2- hour tour was led by a very knowledgeable guide who taught us how to recognize cocoa and coffee growing in the wild, how they're harvested for consumption, and how they're prepared for just the perfect flavor.
We were thoroughly impressed with our tour guide. He even pointed out birds flying overhead, a sloth asleep in a tree, and a tree frog resting on a huge leaf right at dusk. We learned so much more about coffee and chocolate than we ever expected. And we even got to add ingredients and form our own chocolate bar to take home.
The gift shop was also a great place to grab a few Costa Rican gifts to take home to family and friends.
Dip in the Hot Springs While Visiting Arenal Volcano
This is one activity we did not do in La Fortuna. However, there were several places to enjoy the hot springs, some right on the main road often taken to the volcano, 142.
Hot springs could be a great relaxing way to spend an afternoon in La Fortuna.
Go Ziplining While Visiting Arenal Volcano
While my husband and I did not go ziplining around Arenal Volcano, we did go ziplining in Costa Rica. This could be a unique way to enjoy the area. When we originally looked at ziplining in La Fortuna, we were most interested in Sky Adventures' ziplining experience. Because we didn't end up using them, I cannot vouch for them. However, this would be a great place to begin your research!
Ziplining in Costa Rica was an experience we will never forget. I encourage you to add it to your bucket list!
Is It Worth Visiting Arenal Volcano?
If you're considering visiting Arenal Volcano, do not turn up the opportunity! It is very much worth visiting! I would recommend any individual or family (especially those with older children) add La Fortuna and Arenal Volcano to their Costa Rican bucket list. There's so much to do in the area while still experiencing the flora and fauna of the area. It's truly a nature lover's dream!