10 Family-Friendly Attractions in St. Louis, MO
Living in the Midwest, I've been to and through St. Louis, Missouri more times than I can count. However, this past year, I became more acquainted with the city after making a few trips to St. Louis. Spending extended periods of time there allowed our family to see more of the city and experience new things we hadn't before. There are so many family-friendly attractions in St. Louis!
Are the Attractions in St. Louis Better Than Other Cities?
St. Louis always amazes me! The city is full of history and charm. (Washington University, anyone?) But it also has a 630ft beautiful steel arch at the center of the city!
St. Louis, MO also boasts many free attractions, giving your family a chance to see more of the city without breaking the bank! In fact, St. Louis is a very budget-friendly city compared to most!
10 Family-Friendly Attractions in St. Louis, MO
Many national park lovers debate if The Gateway Arch should really be considered a National Park. Some think visitors should explore the outdoors when visiting a National Park, not a large structure. But, whether they like it or not, it is! And its magnitude will surely leave you in awe! The Gateway Arch represents St. Louis' part in the welcoming of travelers to the West in the 1800s. Today, it still stands as a symbolic gate for those traveling West.
Take some time to enjoy the magnitude of the arch before heading to the underground museum.
The free national park museum is located under the arch. Larger in size than expected, the museum highlights St. Louis' popularity among those in the 1800s beginning their journey to the West. But it also covers everything from Louis and Clark's expedition to the architectural design and construction of the arch.
Tram rides to the top of the arch are also available in the museum. If you're claustrophobic, though, this is not the place for you! The tram cars to ride in are quite small. We didn't plan our trip well enough ahead of time to get the opportunity to ride to the top. All reservations were taken. That's okay. When I saw the size of the trams, I wasn't very interested anymore. I'm not sure I would have enjoyed being in that very, VERY tiny car with lots of people!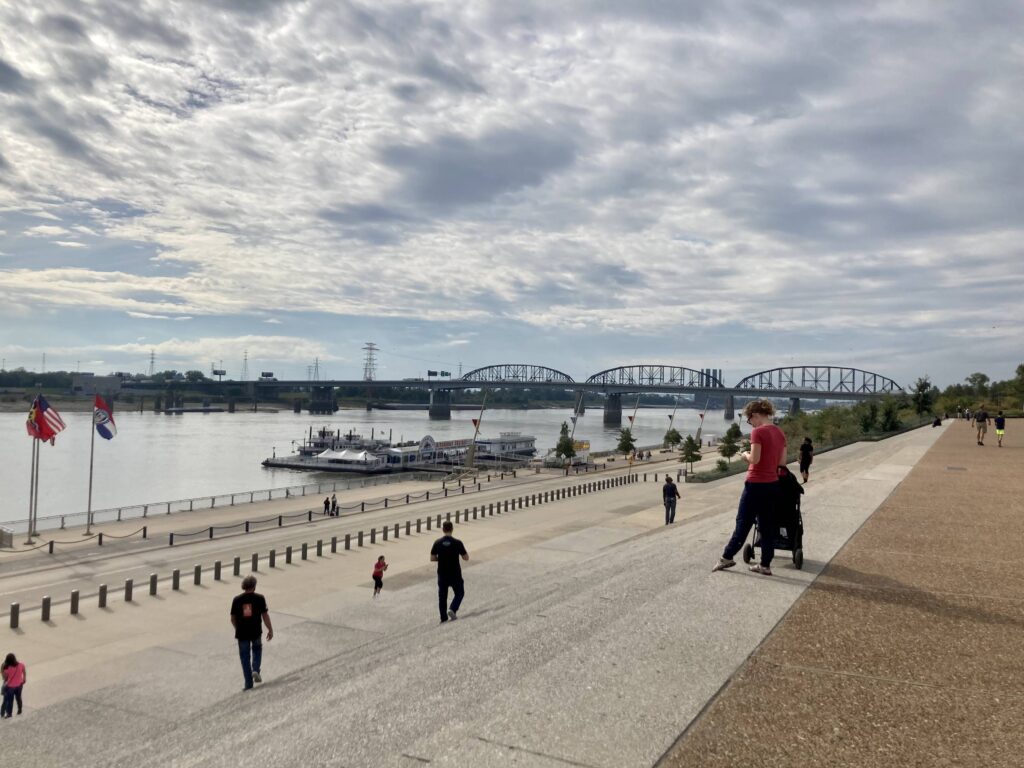 Looking for a fun activity for an afternoon or evening? The riverboat rides in St. Louis are great options! One-hour boat rides take visitors on a cruise along the Mississippi River. 0-2 year olds are free!
My first riverboat ride as a kid was actually in St. Louis! We took a riverboat ride down the Mississippi River. Many (many!) years later I still remember that cruise!
---
Looking for another fun city for riverboat cruises? Check out our post on Savannah, GA!
---
3. Watch the Fish at the

St. Louis Aquarium

at Union Station
Wow! We were not prepared for how fun this aquarium would be! Located inside the old Union Station, the experience begins with a virtual "ride" in a train car to enter the aquarium.
The aquarium contains several large tanks full of stingrays, sharks, puffer fish, and hundreds of other species. When we visited, we had so much fun talking to the staff and asking questions during feeding time. We found it really fascinating that all of the sharks learn a certain color. When they see that color in the shape of an X in the water, they know to go to the X to get fed.
The integration of technology in the St. Louis Aquarium amazed us. My husband, Kaleb, loved checking out the augmented reality topographic sand table. Kaleb's currently studying planetary geography, so he found this activity exciting. (As you can imagine, he also loved our trip to Mammoth Cave!)
While St. Louis, MO overall is very budget-friendly, I found the cost of the aquarium a bit high. But children 0-2 years old get in free!
4. Get Some Energy Out at The

Ropes Course

in St. Louis' Union Station
Check out the wildly popular Ropes Course at Union Station. Located on the 2nd floor of Union Station, overlooking the entrance to the aquarium, is a ropes course. They offer a little kids' course for little ones and a large course for older kids and adults. We were visiting on a Tuesday afternoon, and there were several families there enjoying it!
What a fun way to get some energy out!
A popular evening activity, the St. Louis Wheel attracts visitors to Union Station on a daily basis.
Grab a bite to eat at Landry's Seafood Restaurant or 1894 Cafe, or even just a cookie at Cookies and Cupcakes. Enjoy miniature golf or a carousel ride. And then jump on the lit-up St. Louis Wheel for a beautiful view of the city!
6. Spend a Day at the FREE, Family-Friendly

St. Louis Zoo

in Forest Park
Every time I go to the St. Louis Zoo, I'm amazed that it's free! It provides the same quality that any other zoo provides and yet admission costs nothing. Plan to pay for parking though. It's currently $15 per normal-size carload. And rides and shows, such as the Sea Lion Show will cost something. But the price is reasonable.
The zoo animals are organized into sections such "River's Edge", "The Wild", "Red Rocks" and more.
---
We love zoos! Here are our articles on two zoos in the Midwest: Ohio's Columbus Zoo and Indiana's Fort Wayne Children's Zoo!
---
7. Explore St. Louis' Forest Park
Not many cities will designate so much space in the middle of the city to a park. St. Louis' Forest Park is 1300 acres of roads, trails, a playhouse, the St. Louis Zoo, The Science Center (discussed below), and more. This is a great place to get out and enjoy the outdoors… hike, bike, take a stroll, and get some fresh air!
During our most recent trip to the city, we stayed right next to the park and drove through it regularly even when taking the main roads would have gotten us there faster. It's nice to escape the city feel, even if only for a few minutes. Several times I thought, if we had our dogs with us, I'd bring them here for some exercise.
8. Check out the FREE St. Louis Science Center… one of many Family-Friendly Attractions in St. Louis
The FREE St. Louis Science Center is centrally located and easily accessible. Close to the St. Louis Zoo, this Science Center offers a wide variety of activities to explore the world around us. We found the exhibit on Mars interesting. Using a simulated control center, we could even control the "rover" located on the other side of the building!
While not free, the Planetarium at the Science Center was by far Kaleb's favorite activity in St. Louis! McDonnell Planetarium holds an impressive sky projector, only three of which exist in the nation. We went to a show on what to see in the night sky. The presenter was very educated and yet easy to follow. She went through various constellations in the sky at that particular time and what could be seen with the naked eye that evening.
After the show, there are displays to peruse, including one on living in space and another on rocks from outer space.
10. Don't Miss the St. Louis

City Museum

… A Great Family-Friendly Attraction in St. Louis!
I remember loving this place as a kid!
The St. Louis City Museum is a family favorite! Kids will love exploring this 10-story warehouse converted into a play-place made entirely of recycled material! There are tunnels, bridges, ball pits, and more. Young kids will love exploring the City Museum! I was an older kid when I first came, and even I loved it! Note: make sure to check their hours before arrival. They are a bit restricted.
What Should I Bring on a St. Louis Vacation?
· Good Walking Shoes- The rope course requires close-toed shoes. But, even if you don't plan on going to the Ropes Course, with all these family-friendly attractions, you're going to want a good pair of shoes.
· Snacks and/or Meals- If you have a very restrictive diet (like I do), you're going to probably want to bring food with you. Honestly, I was pretty disappointed by the options of gluten-free and dairy-free meals in St. Louis. I found a few through research and got there only to be told they had only one pre-packaged option. At one family-owned smoothie business, we stood at the counter to order for at least 20 minutes before leaving. No one ever came to take our order.
Revel Kitchen was by far our best gluten-free, dairy-free, soy-free option. They took my food intolerances seriously and helped me find several options on the menu. However, I would bring snacks and maybe even some meals that you can eat if you don't find any options that work for you. For suggestions on meal planning, check out our post on traveling with food restrictions.
Budget-Friendly and Family-Friendly Attractions in St. Louis
There are numerous family-friendly attractions in St. Louis, MO. Younger kids will love watching the fish at St. Louis Aquarium or the bears at the free St. Louis Zoo! Older kids may enjoy climbing the Ropes Course at Union Station or looking at the night sky at McDonnell Planetarium. You are sure to find activities in St. Louis for children of every age. And with so many free activities, visiting families will have no problem staying within the budget!