The Ark Encounter Museum and Park in Northern Kentucky
Located south of Cincinnati, OH and north of Lexington, KY, the Ark Encounter in Kentucky has a small zoo, ziplining, and most notably, a life-size model of the ark that Noah built in the story of Noah and the Ark in the Bible (Genesis 6-8).
Recently, Kaleb and I took a day trip to Northern Kentucky to visit The Ark Encounter. We were excited to check out the museum located inside the (huge!) ark as well as the other animals and activities on the property.
Is the Ark Encounter a Museum or Park?
Some would call The Ark Encounter a museum. Others would call it an amusement park.
Honestly, it's a little of both!
This post contains affiliate links. We may earn from qualifying purchases when you click on the links. This is at no cost to you.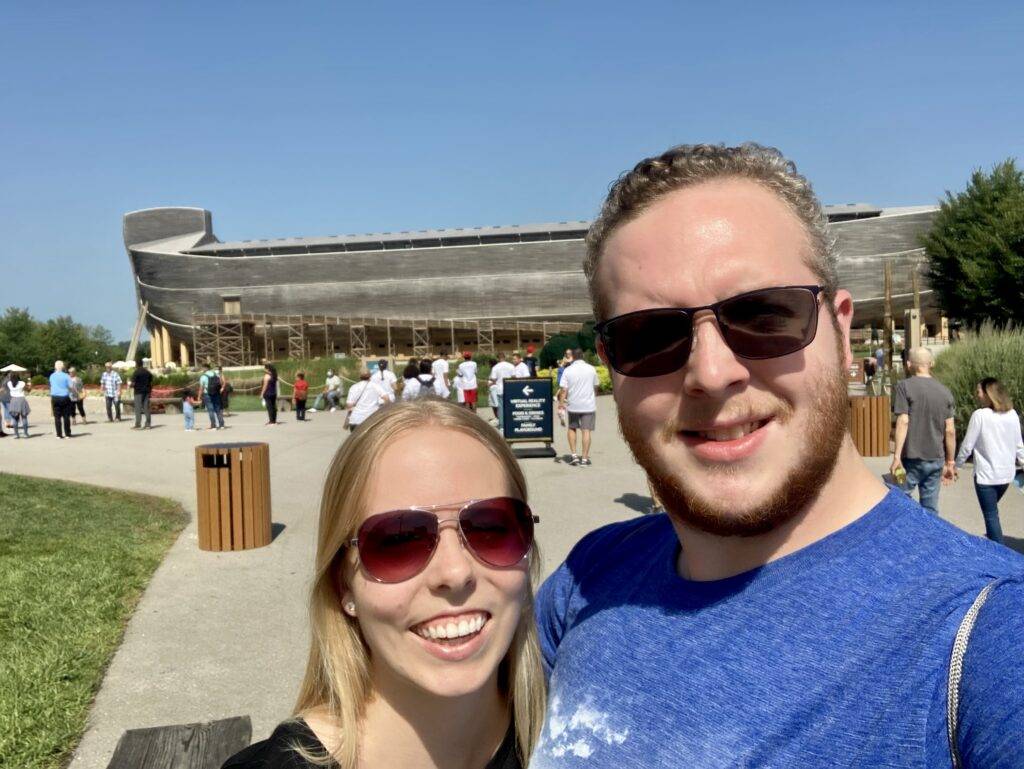 Is It Best to Visit the Creation Museum First?
If you're planning to go to both museums on your trip, you probably want to go to the Creation Museum just outside of Cincinnati first. That museum focuses more on creation, though the Ark Encounter does have quite a bit of info on it.
If you aren't able to go to both museums now, I don't think you need to wait to go to the Ark Encounter. This museum can be attended/viewed separately from the Creation Museum.
The Ark Encounter Museum
The Ark Encounter campus holds a life-size model of the ark. The dimensions follow those God gave to Noah, so it is big! Honestly, I didn't realize how big it would be until we were walking up to it. At 510 feet long, it's massive!
Inside, visitors can spend hours exploring the three floors of the ark, complete with…
• the materials and techniques he likely used in construction
• life-size cages and containers that the animals could have been in
• an idea of how irrigation, feedings, and waste would have been managed
• the living quarters he and his family may have created
• a short video of Noah building the ark and how other civilians would have viewed his endeavors during construction
• reading areas containing information about the creation and topography of the world from a Biblical perspective
The museum did an impressive job of sharing how Noah and his family could have made things work on the ark… everything from construction to irrigation to containing and feeding the animals. We found it very interesting!
The Ark Encounter Amusement Park
In addition to the ark, the Ark Encounter also contains zip lining, camel rides, a small zoo, a playground, a building for presentations and other videos, and several outdoor restaurants and gathering areas.
We saw zebras, donkeys, camels, a tortoise, kangaroos, lemurs, and a beautiful crane.
Kaleb loves kangaroos. We first walked through an exhibit with kangaroos at the Columbus Zoo in Ohio. (Check out more on our trip to the Columbus Zoo here!) But we had never petted one until our trip to the Ark Encounter. They are much softer than we expected!
Common Questions:
Any Suggestions for Bringing Children to The Ark Encounter?
While we did see young children there, the little ones seemed to struggle to enjoy the museum. They, of course, do not hold live animals in the cages in the ark. However, there are some sculptures. There is a lot of walking past plaques and videos on the walls inside the ark. Older kids would be able to read and understand what they were looking at much better than little ones.
While younger children would enjoy the small zoo and the playground, I would not recommend children younger than 3rd grade come. I think they would enjoy the museum a lot more when they're able to read and comprehend all that the museum has to offer.
How Accommodating is this Museum and Zoo for Those with Food Restrictions/Sensitivities (Like Me!)?
We were actually pretty impressed by their ability to accommodate multiple food sensitivities!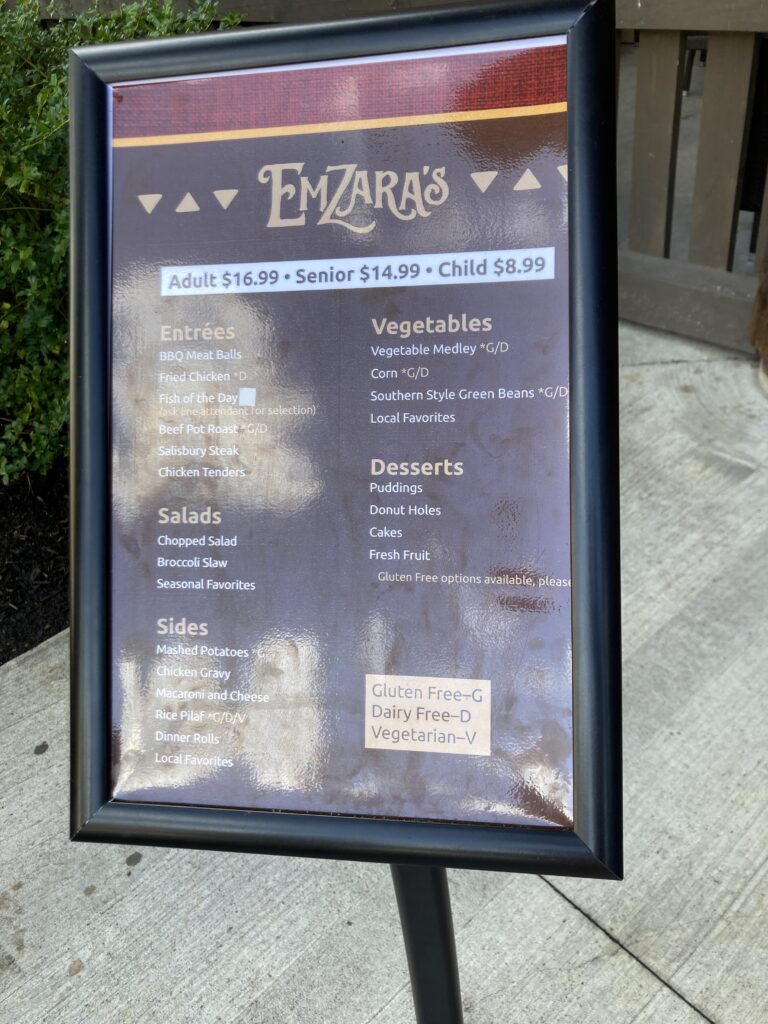 The bottom floor of the ark (right as you're leaving through the gift shop) has a coffee shop with several dairy-free milk choices. Additionally, there is one restaurant called Emzara's that labels its dairy-free, gluten-free, and vegetarian menu options on the board outside of the restaurant. However, Belle's Smokin BBQ and Southwest Grill, two other restaurants on the campus, look like they have menu options that may be able to be tweaked to fit within some restrictive diets as well.
We actually regretted not doing more research ahead of time. We brought our lunches not realizing they would be so accommodating.
---
Looking for other things to do in Kentucky? Check out our post on Mammoth Cave National Park and its Neighboring Cave, Crystal Onyx.
---
Consider Bringing to the Ark Encounter:
• Stroller or wheelchair if needed. I will warn you that there were areas of the museum that were very crowded (we were there on a Saturday). If you can get away with NOT bringing a stroller, it's probably worth it. The parking lot is about a half-mile away from everything else, but there are free shuttles that transport visitors from the parking lot to the campus. Therefore, there won't be an extremely large amount of walking, other than the three floors of the ark and around the small zoo.
• Not much else! You should be set!
All in all, I think The Ark Encounter is a worthwhile museum for anyone looking to bring the stories of the Bible to life. Kids that can read are likely to really enjoy all that the museum and zoo have to offer!